Saint Saito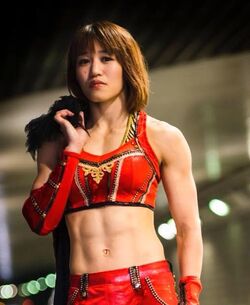 Omae wa mou shindeiru.
Birth name
Sara Yoshiko Saint
Born
May 3rd, 1994
San Francisco, California
Resides
Tokyo, Japan
Family
Ross Saint (father)
Emi Saito (mother)
"Rampaging" Jack Saint (grandfather)
Sumie Saito (aunt)
Daisuke Saito (cousin)
Haruka "Siren" Saito (cousin)
Professional wrestling career
Ring name(s)
KG Saint
Yoshiko Saint
Yoshiko Saito
Saint Saito (current)
Height
5 ft 4 in (1.64 m)
Weight
58 kg (128 lb)
Billed from
Tokyo, Japan
Trained By
Emi Saito and Ross Saint
Sumie Saito
Debut
2007
Retired
Not applicable
Sara Yoshiko Saint (born May 3rd, 1994) is a Japanese-American Professional Wrestler, Actress and Mixed Martial Artist currently under contract with Joshi Extreme Takeover under the pseudonym Saint Saito.
She is notable for being the daughter and niece of Japanese joshi wrestlers, Emi and Sumie Saito respectively, as well as the daughter and granddaughter of Ross Saint and "Rampaging" Jack Saint respectively, thus making her a multi-generation wrestler of two wrestling families.
Her current stage name, Saint Saito, is said to represent both the paternal and maternal sides of the wrestling family she is a part of.
An expert in Japanese Strong Style, Sara excels in hard, fast strikes and brutal "full contact" wrestling moves, making her an exceptionally dangerous foe to go up against.
She is currently residing in Tokyo, Japan in an apartment she shares with her cousin, Haruka "Siren" Saito.
Early Life
Sara is the daughter of Emi Saito and Ross Saint, the eldest of two children. Her mother is a semi-retired joshi from Japan, and formerly one half of the tag team "The Saito Clan" alongside her younger sister, Sumie. Her father was also a wrestler, mainly working the old Texas and California wrestling circuits during the 1990s before meeting his future wife in Japan, and his own father: Sara's grandfather, "Rampaging" Jack Saint, wrestled in carnivals and the circuit around Texas during the 50s and 60s.
As a second-generation wrestler in one family, and a third-generation wrestler in the other, one might say that professional wrestling was in her blood. As a child, Sara had always been fascinated with fighting, and at a young age began to train in kickboxing and karate. She is currently a black belt in both disciplines.
In 2006, when she was twelve years old, Sara expressed an interest to follow in her parents' footsteps and become a professional wrestler and asked her parents to train her. Although her father had a hand in his daughter's training, she was for the most part trained by her mother in the Japanese Strong Style of wrestling, and while the training was exceptionally difficult Sara had taken to the training as easily as she had learning martial arts.
Professional Wrestling Career (2007 - Present)
Early Career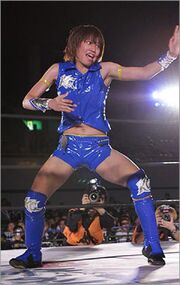 In 2007, Sara would wrestle her first match aged only thirteen at an independent promotion based in San Francisco, on a Saturday night in front of ten people. The owner of the promotion gave her an atrocious blue costume to wear and gave her the name KG Saint. While to this day she still has no idea what the KG meant, she did later learn that her father had put the owner up to it as a form of hazing. In this match, against an older and much experienced opponent, she lost in a way that the the match could only be described as "one-sided."
While the loss was humiliating, on the advice of her parents Sara took the loss as a learning experience, an opportunity to see what she did wrong and then improve on it. The next few of her first matches were also humiliating losses, but in spite of that Sara took her parents' advice to heart and she did nothing but improve with every bit of experience she managed to gain. Eventually, Sara was beginning to win more matches than she lost.
Since Sara was still a teenager she was still in school, and so would wrestle only as a part-timer, on the weekends or during the summer. A few months after the start of her wrestling career, she was allowed to drop the hated KG Saint gimmick and she was then repackaged as,
Yoshiko Saint
, a combination of her middle name and her surname.
In the summers, she and her little brother would spend time in Japan, visiting relatives while her parents worked the occasional tour. When she became a wrestler herself, Sara would join them, wrestling under the name Yoshiko Saito, a combination of her middle name and her mother's maiden name, to play on her Japanese heritage.
Relocation to Japan
In 2010, after a personal tragedy that Sara was not dealing with very well, Emi Saito contacted her (then estranged) sister Sumie concerning her daughter, and within a week of that call Sara was living with her aunt and her family in Tokyo. Following her relocation, she enrolled in her aunt's dojo and then tried to go about her life as she did prior to her father's passing: wrestling as a part-time free agent on the days when she wasn't at school or in training.
It was at this time when she decided to rebrand herself Saint Saito, a combination of both her parent's surnames, in recognition of both.
By the time she turned seventeen, Sara had accomplished as much in her wrestling career, despite being a part-timer at the time, as any adult full-time wrestler had achieved--if not more--including at one point holding three titles from three separate promotions at the same time. Despite still working as a part-time wrestler she was still able to turn a lot of heads of people who were interested in adding the young joshi to their roster, even temporarily. When she turned eighteen Sara made the decision to place all of her focus on her career.
Seishin Joshi Puroresu (2015-2016)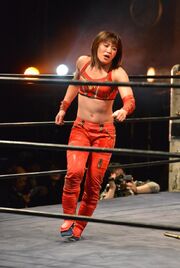 In 2015, Sara signed a contract with Mariko Inoue, co-founder and general manager of Tokyo-based joshi promotion Seishin Joshi Puroresu. The promotion was new, but Inoue had made a lot of promises to the young woman, including a high salary. Sara made her in-ring debut at the famous Korakuen Hall against Kai Shizuka as part of the tournament held by Inoue to decide who was the new promotion's first Champion of Seishin. Her first match with the company was a successful one, soundly defeating Kai Shizuka and advancing to the tournament.
Sara's time with Seishin was short lived, but impactful. She impressed fans and her peers with not only her skill in ring psychology, but also with the ferocity and sheer brutality in which she wrestles when she is properly motivated. Not to mention her brash attitude earned her more than a few fans during this time. It was also at this time when she made the acquaintance of Merlot Ayano, a fellow member of the Seishin roster at the time.
While working for the company, Sara struck up a rivalry between herself and May and June of Team PRD, as well as Cherry Oliver and Candi of the Sleepover Club. In the four women's opinion, Saint Saito was nothing more than a bully, and Saito saw them all as nothing more than a bunch of weak little cheerleaders, dancing fools and Barbie dolls.
This rivalry came to a head on November 2015, at a three-way dance between herself, Junko of Team PRD and Cherry Oliver. Saito was so confident of the outcome that she bragged that she would be the winner of the match even if she was blindfolded and had one arm cuffed to her back. The challenge was accepted, and despite the massive handicap that was imposed on her Sara acquitted herself very well against her opponents. Unfortunately, victory was not as assured as she believed, as moments after delivering a Saito Smash to Oliver, she was quickly rolled up from behind by Junko, defeating them both and advancing to the final of the tournament.
No sooner was Junko's arm raised in victory did her cousin Haruka, better known these days as Siren Saito, emerged from out of nowhere and attacked the two women with a kendo stick. Saint Saito joined in on the attack and in the end they were joined by Sara's aunt, Haruka's mother, Sumie Saito, who wasted no time in announcing the formation of the "next generation" of The Saito Clan, to pick up where she and her sister left off.
At the closing of 2015, Seishin held its first supershow, Destiny: Seishin Rising, at the Tokyo Dome. Its main event: a three way dance between "The Alpha Bitch" Jacqui M, Merlot Ayano and Junko to determine the first Champion of Seishin. Sara and the rest of The Saito Clan crashed the main event, and Sumie Saito announced a deal she had made with the General Manager, Mariko Inoue. If nobody from The Saito Clan was to be Seishin's first queen, then someone from The Saito Clan would be the queenmaker, and that whoever would become Seishin's first champion would be so only with the clan's blessing. It was then when Sara opened her robe to reveal the referee's shirt she wore underneath, announcing that she was going to serve as the match's official referee: If she was not going to be the queen, then she would be the queenmaker.
It eventually became clear that Sara had no intention of calling a fair match, especially where the Team PRD who had defeated her was concerned. As the end drew near, Jacqui M and Merlot Ayano were both down, and Junko made the cover. Sara counted to two, then stopped, and then moments later had hit Junko with a Saito Smash before she dragged Merlot over the fallen Junko and made the three count, making Merlot the first Champion of Seishin, entirely on Saint Saito's blessing. Holding the championship Sara then pressed her lips against the large golden plate before draping the belt across the unconscious Merlot's shoulders and giving Merlot a smirk and a small round of applause before she herself exited the ring, forever tainting what was supposed to be a grand end to an otherwise terrific show.
Sadly, Seishin was not to last, however. A combination of overspending, a series of lawsuits and a sex scandal involving one of the co-founders of Seishin had led to the short-lived promotion to close its doors.
Tag Team With Siren Saito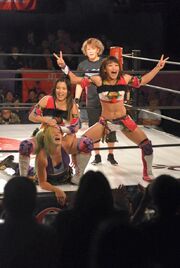 Sara and her cousin Haruka Saito seldom work at the same company, at least for any long period of time and much of that time was generally spent fighting each other. When the pair were both signed at Seishin Joshi Puroresu and reformed their mothers' old tag team as it's "next generation," they sadly did not get the opportunity to make much of an impact before the company closed its doors, seemingly killing the tag team in its crib.
But despite the closing of Seishin, the team-up stayed strong. over the next six months after Seishin's passing, The Saito Clan toured promotions across Japan, making names for themselves in the tag team division. Since both of their careers were mostly spent as singles wrestlers, Sara and Haruka met with mixed success in the early days of The Saito Clan's return. Eventually, however, they had proved that they were indeed an effective tag team, and over the next six months after Seishin's passing The Saito Clan toured promotions across Japan, making names for themselves in each of their tag team divisions. During the course of their time together, much like their mothers, Emi and Sumie, Saint Saito and Siren Saito gained reputations for being a couple of bullies and "violent assholes," bringing with them a "reign of terror" everywhere they go.
In mid 2017, The Saito Clan were signed to Puroresu QUEENDOM, where they quickly struck up a feud with the (then) reigning champions, the Sakura Shoujo: Kaho Takemoto and "Horrorcore" Hikaru Hojo. The feud began after an incident involving Hojo spilling coffee over Haruka by accident. Despite receiving an apology, The Saito Clan later interrupted one of Hojo's matches and then beat her up until Hojo's partner Takemoto ran in to intervene. Two weeks later, the feud came to a head at QUEENDOM's supershow, when The Saito Clan challenged the Sakura Shoujo for their Tag Team titles and then emerged victorious over them, becoming the company's newest champions.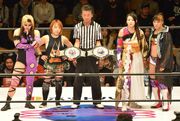 Two months later, the titles returned to the Sakura Shoujo, after Hikaru Hojo made Siren Saito submit. The victory was short-lived, however, as The Saito Clan did not choose to take the loss lying down, beating their two rivals within an inch of their lives and thus renewing their feud, which became more heated than ever. One evening at one of QUEENDOM's shows, Sara ambushed Takemoto backstage, where she came close to choking the other woman out with a modified version of a kata gatame before they were separated by QUEENDOM officials. The Saito Clan shortly rechallenged the rival tag team for the belts they claimed were "stolen" from them, despite being won fairly, and eventually regained the titles after a gruelling match which lasted almost thirty minutes.
Joshi Extreme Takeover (2018 - Present)
On July 31, Sara signed with the Japanese all-women's promotion Joshi Extreme Takeover. A little over a week later, she made her debut at JET 7 going up against Kyoko Watanabe, whom she defeated via pinfall.
On August 23, it was announced that Sara would be set to face Kem Dynamo and Stela Delgato in a three way dance at their latest event, JET Goddess Dream. At the press conference for the match, Sara took very little of it and her opponents seriously, even going so far as to use the conference to deliver a message to her cousin about stolen chocolate ice cream and the need for more milk, explaining to those present that it was "More important than...whatever this is." Then on September 9, the night of JET Goddess Dream, the match ended when Sara reversed an attempted Bad Luck Charm from Kem Dynamo, and locked in a Saint of Killers to gain the win via submission.
The next day, Sara would be announced as one of the participants of JET's RISE Grand Prix tournament, beginning on September 14 and 15. She was set to face guest participant Tarah Nova as part of the tournament's Block A group.
Mixed Martial Arts Career (2016 - Present)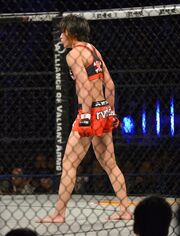 On May 2016, it was announced that Sara announced that he had signed a multi-fight contract with MMA promotion RUSH, and had been in training for it since January. She also announced that she would be making her mixed martial arts debut on June 12. When asked if she would compete under her ring name or birth name, she said in the interview: "I've come this far with Saint Saito. That's what people know, now, so I'm trying to stick with that." Her official MMA profile lists her as Saint Saito.
Later, it was announced by RUSH officials that Sara would compete in the women's bantamweight division.
On June 12, in her debut match at RUSH 7, she defeated Cara Mitchell via unanimous decision.
Sara's second MMA fight took place on July 24, when she defeated Noelle Lopez via unanimous decision. Sara's third fight took place on November 13, when she defeated Sachiko Honda via TKO due to punches in the first round.
On February 5, 2017, Sara defeated Annette Ragnarsdottir via knock out in the main event of RUSH 15 to remain undefeated.
On May 28, 2017 at RUSH 18, Kondo defeated Cristina Kovacs via submission to become the inaugural Women's Bantamweight Champion.
Sara faced Ragnarsdottir for a second time on October 8 at the main event of RUSH 23, where she lost the match and the Bantamweight title by submission in the second round. She would regain the title at RUSH 30, however, when she faced Kimberley Sharma and won the fight via split decision.
She is the current RUSH Women's Bantamweight Champion.
Other Media
In the closing months of 2017, Sara featured in the documentary film "Tykebombs," which documented the lives of four professional wrestlers who began their careers at a very young age. In the film she discussed her love of professional wrestling and what it was like to be a part of as extensive a wrestling family as hers. Although the documentary had not reached a wide audience, reviews had been quite favourable.
In 2018, Sara appeared in an episode of the post-apocalyptic martial arts romance, Hontō no Sukuinushi (本当の救い主) as the assassin known as Butterfly, who was hunting the main characters. The popularity of her character has led the show's producers to enter into talks with Sara on becoming a recurring guest star on the show.
Filmography
| Year | Title | Role | Notes |
| --- | --- | --- | --- |
| 2017 | Tykebombs | Herself | Documentary |
| 2018 | Hontō no Sukuinushi (本当の救い主) | Butterfly | Episode: "Do you live or die! - A red hunter!"/"Ikiru ka shinimasu ka! Aka no hantā." (生きるか死にますか! 赤のハンター!) |
Personal Life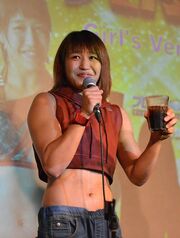 Sara Saint was born in San Francisco, California. She has a younger brother, her mother still wrestles but is largely semi-retired. Her father is deceased, after he took his own life. When she was sixteen years old, Sara came home from school to find her father lying dead in the bathtub with his wrists slit open. The loss of her father to suicide and being the one to find him had put her in a dark place for a time, to the point where her episodes of violently lashing out at people had her expelled from two schools over the course of six months.
In the years after her move to Tokyo to live with her aunt Sumie and her family, she has since brought herself out of her grief, and on occasion volunteers for a suicide hotline in her free time.
Sara has a background in karate and kickboxing, having learned both at a young age in addition to her training as a wrestler, and she puts both to heavy use as a joshi and as an MMA fighter. She is also currently training in Brazilian Jiu-Jitsu.
Sara holds dual citizenship in Japan and the United States. Although she was born and raised in San Francisco, Sara has in recent years come to associate more with the Japanese side of her heritage than that of the American. In an interview, Sara said, "I've come to the point where I consider myself less a Japanese-American and more as a Japanese citizen who happened to be born and raised in America--that's how I see myself, these days," in response to a question about her life since moving to Japan.
Despite being separated by an ocean, Sara keeps regular touch with her relatives living in America, especially her mother and younger brother, though she seldom visits them unless her career brings her back to the States.
Sara abstains from alcohol, drug consumption and tobacco, once commenting, "I get high on life. And Pepsi."
The two people whom she considers her closest friends are her cousin and sometimes tag team partner, Haruka, also known as Siren Saito, as well as Merlot Ayano, who has also worked with Sara, both as a rival in Seishin and as a tag team partner in another promotion. While she is close to both women, their relationships with Sara have been known to become somewhat antagonistic and prone to (good-naturedly) sniping at one another. On her cousin Haruka, she said, "If you can't understand how we could both be as close as sisters one day and want to wring each other's necks the next then you were probably an only child. Haruka can be a major pain in my ass sometimes, and vice versa, but we really are as good as sisters as far as either of us are concerned--I mean, hell, we certainly fight like sisters."
Sara is an avid fan of anime, and she cites Fist of the North Star as her absolute favourite. Her oft-spoken catchphrase, Omae wa mou shindeiru, comes from that anime. Her other interests include shopping in the Shibuya district of Tokyo, gaming and music, and has since developed a love for old school J-Rock from the 80s and 90s.
Sara is openly bisexual, although she has a slight lean toward other women.
Wrestling Persona
Saint Saito is, for lack of a better term, a jerk. She is disrespectful to absolutely anyone except members of The Saito Clan and fans wearing either her merchandise or that of The Saito Clan's. As disrespectful as she often is, she notably has a soft spot for children, and she has been known to stop her matches for a few moments to exchange fist bumps with young fans wearing her t-shirts.
As a joshi, Saito is lazy; a slacker who prefers to do as little as possible to win. But as lazy as Saito is, she also has a mean streak. Her temper is such that when somebody has "pushed [her] berserk button," as she calls it, she would waste no time trying to kick their head off their shoulders in as swift and as brutal a fashion as she could manage.
She routinely attacks referees, commentators and announcers purely for the hell of it, regardless of the consequences of her actions. She will mock opponents frequently before and during her matches, and she'll spit on them and use every underhanded tactic allowed. Most of this is par for the course for members of The Saito Clan, but Saint Saito is particularly vicious when she is angered.
Saint Saito is a young woman who has often been compared to a sleeping dragon who is at her most dangerous when her opponent is unlucky enough to "wake her up." At her most dangerous, her oft-spoken catchphrase becomes all the more appropriate: "Omae wa mou shindeiru." Translation: "You are already dead."
In Wrestling
Finishing Moves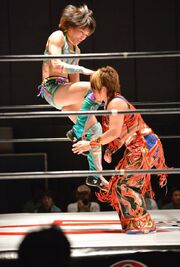 Singles Wrestling
Saito Smash: Running or Jumping Knee Smash to opponent's face (2013-present)
Saint of Killers: Modified Kata Gatame (2018-present, not used as often as Saito Smash)
Tag Team Wrestling
Double Smash: Double Running Knee Smash to opponent's face. (with Siren Saito)
Signature Moves
Singles Wrestling
Saito Kurasshu: Running Shotgun Dropkick, adapted from her mother
Ross Saint Special (RSS): Rolling German Suplex, adapted from her father*
Rope Hung Juji-gatame, considered an illegal move in matches with disqualification rules
Spit in opponent's eye
Double Knee Backbreaker
Hurricanrana
Spinning Headscissors
Multiple Strike Variations:

Penalty Kick
Shoot Kick
Roundhouse Kick
Multiple Elbow/Forearms
Uraken (Spinning Backfist)
Yakuza Kick
Corner Dropkick
Multiple Elbow/Forearms
Knee Smash to a sitting opponent in the corner
Headbutt
Knife Edge Chop
Multiple Shoot Kicks to a cornered opponent
Enzuigiri
Gamengiri
Superkick
Spin Kick
Spinning Wheel Kick

Multiple Suplex Variations:

Vertical Suplex*
Snap Suplex*
Dragon Suplex*
Japanese Ocean Suplex*
Saito Suplex*
Snap Suplex*
Tiger Suplex*
Half-Hatch Suplex*
German Suplex Variations:

Bridging German Suplex*
Release German Suplex*

Japanese Arm Drag
Running Senton
Running Lariat
Enzui Lariat
Juji-gatame (Cross Armbar)
Fujiwara Armbar
Dragon Sleeper
Abdominal Stretch
La Magistral
Crucifix Pin
* Used on opponents that weigh below 250 lbs.
Tag Team Wrestling
That's F**king Teamwork!: Assisted Camel Clutch (with Siren Saito)
Nicknames
The New Ace of Professional Wrestling
The Best of the Next Generation
The Murder Pixie
The REAL Saint of Killers
The Girl With 1004 Ways to Kill You
Saito Claus (during Christmas time)
She-Beast from the East (courtesy of Melinda Rhodes)
Entrance Theme
"Lust SIN" by Daisuke Ishiwatari
"I'll Face Myself (Little V Remix)" by Shoji Meguro
"Endless Despair (vocal)" by Daisuke Ishiwatari and Jamison Boaz
"The Sun Rises (For Great Justice Mix)" by Rei Kondoh (current, solo)
"Rising" by Ambience (current, as part of The Saito Clan tag team with Siren Saito)
Championships and Titles
Professional Wrestling
West Coast Pro Wrestling

WCPW Women's Champion (2 times)

Bay Area Extreme (BAE) Wrestling

BAE Wrestling Openweight Champion

Ringbelles California Wrestling

RCW Champion
RCW Tag Team Champion (with Emi Saito)

Southwest Interstate Wrestling

Interstate Tag Team Champion (with Ross Saint)

Seishin Joshi Puroresu

OMG! Moment of 2015 - Championship of Seishin Three Way Match, as Special Referee

Puroresu QUEENDOM

QUEENDOM Intercontinental Champion
QUEENDOM Tag Team Champion (2 times, with Siren Saito)
Mixed Martial Arts
RUSH Mixed Martial Arts

Women's Bantamweight Champion (2 times, current)
Female Fighter of the Year, 2017