Sean O'Riley
Talk

0
11,354pages on
this wiki
Sean O'Riley

Ring Name(s):
"The People's Hero"
"Elevation"
"The Human Lemming"
Height:
5 Foot 6 Inches
Weight:
167 lbs
Resides:
Atlanta, Georgia
Billed From:
The Old Country (Belfast, Ireland)
Wrestling Style:
High Flying
Lucha Libre
Extreme
Sean O'Riley, better known by his ring names of "The Peoples' Hero", "The Human Lemming" and "Elevation", is an Irish/American wrestler currently contracted GroundZero Global as a trainer at Trouble Trax, though he also wrestles for the company from time to time. He is perhaps best recognised for his role in the "United Front" and "toXin" stables in UCW and GZW2K1.
Although he has been in the wrestling business for 30 years, Sean has only recently broken onto the bigger stage. His long career has been mostly played out in small venues on the independent circuits in South America, Europe and Japan, although he had a notable run in Canadian based promotion UCW where he won their championship twice.
Though he has only won a single championship in one of the "big three" companies in the Globalverse, a brief run as United States Champion, his friendly approchable personality outside the ring and his longstanding gimmick as the "everyman Irishman" have earned him the nickname "The People's Hero".
Early life
Sean was born in Belfast to a Roman Catholic family, the third of five children. His father worked at the Harland & Wolff shipyards, while his mother was a teacher in a Roman Catholic school. All of the O'Riley children attended that school for their education.
When Sean was still young, the "Troubles" (conflict between Great Britain and Irish dissident movements) began to flare up again. One of his brothers was killed by a car bomb as he walked home from school, and his father was injured when a demonstration turned violent, putting him out of work.
Wrestling career
Early Years
Desperate to help provide for his family, Sean left school at the age of 16 and began wrestling on the Irish independent circuit. He could only afford basic training, so the majority of his matches involved, in his own words "being thrown around the ring by very large men until [he] stopped twitching". Sean sent all the money he could home to his family, saving wherever he could. It was not uncommon for him to finish one event, drive to the arena for an event the next day, and sleep in his car until it started.
His dedication was recognised by larger promotions in Great Britain and he would go on to make several appearances on "Sportsworld", a UK Television programme which showcased professional wrestling as one of its primary attractions. Sean's high-risk style ran in contrast to the slow mat-based work of the British scene and so he was never really pushed as more than a sideshow attraction on the undercard. However, the money was good and Sportsworld had a high viewership, garnering Sean a small but dedicated fanbase.
When Sportsworld came to an end in the early 90s, Sean continued to wrestle on the British Independent Circuit for a couple of years. However, as the British wrestling scene declined in the face of an emerging American scene, the money dried up, Sean found himself getting fewer and fewer bookings.
South America
Still having to provide for his family back in Belfast, Sean lobbied hard to get a try-out with one of the emerging American promotions, but none of them were interested in his high-risk style of wrestling. While lobbying and sending VHS tapes to any address he could find, Sean returned to Ireland and began working at the shipyard where his father had worked. His uncanny balance made him the perfect choice for crane work.
After a year or so, Sean received a letter from a small lucha libre promotion in Mexico. The pay was poor, but it was a foot in the door and included an offer of proper wrestling training. Additionally, the American wrestling scene was starting to become more interested in the high flying style of the luchadores in Mexico, which offered Sean a chants to showcase his talents on a bigger scene.
Sean thus moved to Mexico, where he would see out the 90s and the start of the 2000s wrestling for various promotions. In contrast to his earlier career where his style had been shunned, the lucha libre scene welcomed Sean's high risk style, and as he wrestled he was able to incorporate many lucha-libre elements into his own style.
Though he usually appeared as a heel character under various masks, Sean's friendly demeanour outside of the ring made him popular among his peers, and he was able to increase his bookings significantly.
UCW (2002 - 2004)
Eventually, Sean received his first big-money offer, a contract with Canadian promotion UCW. Able at last to have a comfortable living as well as provide for his family, Sean could finally enjoy some peace and quiet for once.
It was here that Sean enjoyed the majority of his success, as a member of the "United Front" alongside Jack Heart and Kamchanterberry Ambergree. The popular threesome were welcomed by UCW crowds, and the promotion built many of its storylines around them.
Using a combination of his own high-risk style and the lucha libre training he had received in Mexico, Sean quickly became one of the most popular superstars on the roster. Even after the United Front split up, Sean would see considerable solo success, capturing the Internet Championship twice, and the UCW Championship twice. However, a serious knee injury cut short his World Championship reign, and Sean disappeared from UCW for several months while he healed up.
Coincidentally, Kamchanterberry Ambergree was injured around the same time, and Jack Heart had taken a leave of absence. When the three had all recouperated, the United Front reunited and returned to UCW in time for its anniversary celebrations. The group then had a feud with the renegade faction known as toXin, led by Ultimatum.
The celebrations would be short lived, however, in a match between the United Front's Kamchanterberry Ambergree and toXin's Ultimatum for the UCW Championship. With the referee down, Sean ran to the ring obstensibly to help his United Front teammate. Instead, Sean shocked the crowd by striking the champion with a hard kick and allowing Ultimatum to pick up the win and the title, joining toXin.
The alliance was an uneasy one, however, with both Ultimatum and Sean playing pranks on one another. Ultimatum stole Sean's entire stash of Guinness and sent him a ransom note, while Sean demolished the stage under the band during a live performance of Ultimatum's entrance theme. The angle would have eventually led to a match between them, but Sean re-injured his knee and Ultimatum left for the UWA. UCW closed shortly afterwards.
Independent Circuit (2004 - 2005)
Sean used his newfound popularity from UCW to gain bookings on the Canadian Independent Circuit. Further exposure allowed him to finally crack the American circuit, and he made a single appearance for the UWA before being released when the company was bought out. He also wrestled a handful of dates in Japan, including a hardcore match in the Tokyo Dome during which he lost close to a pint of blood after becoming tangled in barbed wire.
He continued his independent work until being called up to the biggest stage of them all.
GroundZero Wrestling 2K1 (2005 - )
2005 - toXin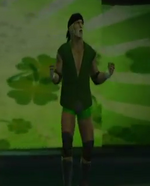 Sean was reunited with Ultimatum, now wrestling under his real name of Jon Kellar, as a newly reconstituted toXin stable. The two continued their "uneasy alliance" storyline from UCW, but many fans complained that it was simply a rehash of an angle which had been done.
During the Lord of the Coliseum tournament Sean was booked as a control freak, desperately trying to predict every possible outcome and move of each match. He would use wall charts, stats and videos to prepare Jon Kellar for the Lord of the Coliseum tournament, teaching him to counter each and every move that could be thrown at him, to be prepared for anything. When Kellar failed to win the tournament, Sean demonstrated the traits of a crazed conspiracy theorist, convinced that someone in the company was trying to hold Jon Kellar back.
The angle continued until the end of the year, when the conspiracy was revealed to be the work of Kev Mania and Brutal Ben David, Kellar's allies within toXin who were tired of his constant abuse. These two would decimate both Sean and Jon Kellar at the Aftermath 2K6 pay per view, claiming that they would restore the toXin name without Kellar.
2006 - The People's Hero
With toXin split, Sean was employed as a singles competitor. Appearing under the moniker "The People's Hero" he was portrayed as the everyman wrestler that he had wrestled as during his early days in Ireland and Great Britain.
He received several title shots but, each and every time, would fall just short. Nevertheless he became popular with the fans during this time, and attended many fan conventions on behalf of the company, sharing stories from the road and spending time with the fans.
2007 - Part time
Sean remained with the company, wrestling intermittently, but as creative had nothing for him, he was mostly employed for convention purposes. He was also involved in the creative team, particularly in the undercard where he helped identify potential talent.
2008 - Reuniting with David and Mania, Retirement
In 2008 Sean returned to GZW2K1 managing Brutal Ben David and Kev Mania. The three were portrayed as down-on-their-luck ex wrestlers who were desperate to get back to the big time. Unfortunately, the storyline never really gained traction and, although the skits are generally viewed as amusing, the three were released from GZW2K1 shortly afterwards.
Shortly afterwards, Sean announced his retirement from the ring. He became a motivational speaker, and was a frequent guest on round-table discussions on wrestling, talking about the industry in general and sharing his memories.
2011 - 2012 - Trouble Trax and return to GZW2K1 TV
In 2011, GZG Multimedia reported that Sean had been re-signed to GroundZero Wrestling 2K1. Though the article did not specifically state what role he had been employed in, it implied that Sean would be working at Trouble Trax as an instructor due to his lengthy experience of the business. Sean remains employed in that capacity to this day.
On 1 July 2012, Sean made his first appearance on GZG 360 (GroundZero Wrestling 2K1's 24/7 Broadcast), revealing that he would be Jon Kellar's welness mentor, monitoring his old team mate for drug-usage as well as training him back into his proper ring shape. At present, it is unknown whether he will make an in-ring return.
Wrestling Style
Description
Sean's unique style employs a fast high-risk style effectively using his body as a weapon. He uses his small physique and incredible balance to his advantage, employing numerous springboard-based maneuvers, innovative headscissor variations, and a never-say-die attitude to overwhelm slower, bigger opponents.
Signature Moves
Other
Accolades
Wrestling
Titles
UCW Internet Championship (2002)
Personal life
Sean is not married but has a large extended family in Ireland, who he remains close to. Although it is no longer necessary for him to provide money for his family, he continues to put money into a trust for his nephews and nieces.
Despite their on-screen demeanour, Sean O'Riley and Jon Kellar are close friends, with Sean one of the few people invited to attend Jon Kellar's wedding to Dyna Might.
Although Sean has frequently portrayed stereotypical Irish drinking habits on GZW television as part of his everyman Irishman gimmick, and has been called an alcoholic by Kellar several times, he is not an alcoholic outside of the ring. When asked about this during an interview, Sean humorously replied "I'll take that as a compliment of my acting talent!"