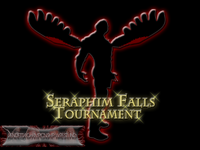 The Seraphim Falls Tournament is a tournament currently being held by Vendetta Championship Wrestling to determine the very first VCW World Heavyweight Champion. It began at VCW Live 1.1 and will conclude at Crimson Dawn.
Bracket
Endnotes
1. The superstars involved in the Fatal Five-Way Elimination match were Kennith Noisewater, Deacon King, Adam Wylde, Captain Courage, and iSav.
2. Both superstars on the winning team would advance in the tournament, although they were split up onto different sides of the bracket.
3. As the winner of the Fatal Five-Way, Magnum was allowed to choose his opponent for the second round. He chose to take a bye.
4. Since Deacon King was the runner-up of the Fatal Five-Way, he also advanced in the tournament.
5. This match was a latecomer's Fatal Four-Way match.
6. John /d/unn was placed back in the tournament for winning the Wildcard stipulation. 7. At VCW Live 1.3, the mysterious voice once again overturned Christ's decisions and took all the remaining competitors to a Fatal Four-Way match at Crimson Dawn, which will serve as the Finals. However, due to being a latecomer, Craig Christ booked Thomas Hookton in a match against an as yet undetermined opponent for his spot at the Fatal Four-Way. If Hookton loses the match, the resulting title match will be a Triple Threat match.
The Wildcard
At the beginning of VCW Live 1.2, Craig Christ announced the Wildcard stipulation, a stipulation that allowed VCW fans to vote for a wrestler eliminated from the tournament to be in round 3 (kayfabe; in reality the VCW handlers were the ones made to vote). All eliminated wrestlers were eligible to be voted for. At the card promo for VCW Live 1.3, Craig Christ revealed the Wildcard to be John Dunn.
Criticism
Some VCW insiders have criticized the Seraphim Falls Tournament for having too many shortcuts, such as Magnum's second-round bye, and primarily the Latecomer's Fatal Four-way and the Wildcard stipulation, making the tournament easier than normal to advance in and somehow nullifying the value of those who worked hard to advance in the tournament the usual way - which is, winning their scheduled matches. Despite the criticisms, VCW staff have not announced any changes in standings and continue the tournament as it is.
Ad blocker interference detected!
Wikia is a free-to-use site that makes money from advertising. We have a modified experience for viewers using ad blockers

Wikia is not accessible if you've made further modifications. Remove the custom ad blocker rule(s) and the page will load as expected.