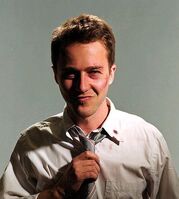 Sickness
[[Image:{{{image}}}|{{{image_width}}}px|Image of Sickness]]
Statistics
Real name
Paul Kelly
The Mini Monster Sicky The Sick One The Lone Wolf The Only ULTIMATE Champion in TWOStars Former Ultimate King of the Ring="hiddenStructure" style="padding-right: 1.2em; vertical-align: top;"
Ring Names
The SickStar

The Mini Monster Sicky The Sick One The Lone Wolf The Only ULTIMATE Champion in TWOStars Former Ultimate King of the Ring

Height
5'11
Weight
234 pounds
Date of birth
02/11/1980
Place of birth
Doncaster, England
Date of death
{{{death_date}}}
Place of death
{{{death_place}}}
Resides
Doncaster
Billed from
Parts Unknown
Trainer
Alan Johnson, Johnny Moss, Keith Myatt, Deadman
Current
federation(s)
TWOStars
Previous
federation(s)
Ex-Rev
Handled by
{{{handler}}}
Win/Loss Record
{{{winloss_record}}}
Debut
{{{debut}}}
Retired
{{{retired}}}
The Janus Years
Paul Kelly was a pretty big guy, who at match-time put on a red luchadore mask and a red singlet and called himself "Janus". Janus was clearly a talented wrestler but Kelly wanted to portray Janus as a complete and utter psychopath, and even though he was doing a good job of this, the LWL wasn't really sure where they could go with the character. A crazy person will always be crazy, and can become stagnant quickly if the character isn't freshened up frequently. The LWL knew this and thought a great angle would be the clearly insane Janus receiving psychological care...from a genuine shrink, no less!
Janus began competing with Dr. Boyo accompanying him to the ring. Janus had always been an enigmatic nutter, but now it would become obvious that Janus desperately wanted to get better. He didn't want to be psychopathically insane any more. During his matches Janus would often go and speak with Dr. Boyo, who would encourage the Big Red Truck to keep his temper in check. The crowd enjoyed this slant on a classic character, and Janus' profile increased within the LWL.
As Janus rapidly progressed up the Top Ten lists, not just in the LWL, but also in UK Wrestling as a whole, it became apparent that Dr. Boyo wasn't as straightforward as he liked to portray himself. Sure, Boyo seemed to have the Psycho Red Bruiser in the palm of his hand, but fans began to suspect that it wasn't achieved through classic prescribed Psychological methods. Rumours began to surface that Dr. Boyo used Electro Shock Therapy to control Janus; the mystery and myths surrounding these terrifying allegations were never proved or disproved, but these would dog Dr. Boyo for his entire career. Fans in the LWL, the UK, and later Japan, Mexico and the United States would also invest their energies into the peculiar relationship between the genuine clinical psychologist, Dr. Boyo, and his patient, ever-increasingly one of the most feared men in wrestling: Janus.
The Extreme Wrestling Association
Scottsdale, Arizona, may not seem like a wrestling hot-bed, but you'd be surprised. Two men would give Janus and Dr. Boyo their opportunity at the big-time, and would also play a central role in both of their careers: Iagan Thaddeus Hellshound and Eric Bischoff. Iagan Thaddeus Hellshound was promoter and superstar of a tough, underground federation called the EWA; based just outside the Scottsdale city limits, on Maricopa Native American land, close to the Casino Arizona, and bordered by Tempe, Mesa, Phoenix and Scottsdale. Eric Bischoff owned the EWA and lived in Cave Creek, 10 miles north of Scottsdale.
Iagan Thaddeus Hellshound was himself from England and always kept a close eye on emerging talent from his native land, and couldn't be anything other than impressed by Janus; a character whose mental instability suited the hardcore EWA style, and whose talent spoke for itself. Iagan Thaddeus Hellshound also thought Dr. Boyo would be a great addition; Bischoff agreed and the two men were drafted over to Arizona.
The EWA, despite having a small roster, had a talented roster. None more so that Iagan Thaddeus Hellshound, a man who put his life on the line each week in ever-increasingly dangerous gimmick matches; and Spiritchaser, the charismatic Hardcore Champion. Janus brought new life into the EWA and started a long feud with Iagan Thaddeus Hellshound, a feud based on who was the most hardcore. Janus would compete in Barbed Wire Matches, Exploding Grapefruit Matches, Pin-Cushion Matches, Poison Ivy Matches, Snakepit Matches, Cactus Matches and an "It's Raining Pain" Match, where a showerhead that squirted Tear-Gas was erected above the ring.
Janus and Dr. Boyo would often compete as a tag-team in the EWA, and feuded with Iagan Thaddeus Hellshound and Spiritchaser. They would call themselves "The Rabid Customers". Every now and again Dr. Boyo would experiment with wearing a luchadore wrestling mask, just like Janus did. Boyo would often favour a green luchadore mask done in the style of a dragon, in honour of his Welsh heritage. He would call himself "Dragon Boyo", or sometimes simply, "Dragon Mask".
Janus, Dr. Boyo, Iagan Thaddeus Hellshound and Spiritchaser worked harder and harder, and put on even more outrageous matches, however the Extreme Wrestling Association was losing money, and eventually had to shut down for ever. The four men, without work but with plenty of admirers and worldwide acclaim, decided that they would stick together and tour the world, fighting in different federations. If a company wanted to book Iagan Thaddeus Hellshound, for example, then they'd have to book all four men, and they gave themselves a name that would resonate around the Independent Pro-Wrestling world.
Regeneration X and the birth of Sickness
RX first showed up in NOAH in April 2002, when they interrupted the Main Event and took out the wrestlers. The NOAH locker-room would rush down to the ring to defend the Japanese wrestlers but they were unprepared for the sheer physical onslaught of the two seemingly psychopathic Janus and Iagan Thaddeus Hellshound; the rough, tough, elusive style of Spiritchaser; and the silky martial arts and submission style of Dr. Boyo. This introduction to Japanese wrestling blurred the boundaries between reality and fiction, something that the respectful Japanese fans traditionally avoid, but this rag-tag foursome certainly piqued the interest of the Rising Sun fans.
Something else that was very important occurred in Japan that would shape the careers of these four men, and it wasn't anything borne out of Wrestling, but out of the Japanese language barrier! As Regeneration X's stock grew in Japan and they earned a loyal fanbase of J-Rock loving teens, they slowly became the marquee talent at NOAH and their names appeared on the advertising posters and TV adverts. "Dr. Boyo" wasn't approved by the Hello Kitty TV Network, as they did not like the representation of a "Doctor" who treats his patients like Dr. Boyo treated Janus, so they simply shortened "Dr. Boyo" to "Boyo"; the same mundane, generic name Dale May adopted way, way back in Cardiff. The Japanese would translate "Hellshound" into "Death and Pain Dog Handler" so they simply used "Iagan". Spiritchaser, luckily, directly translated in to "He That Follows Enlightenment" and Spiritchaser being the repressed thespian he is, decided to stick with the name.
Crucially, the Japanese had no word for "Janus", they simply could not translate it and since the bigwigs at NOAH were concerned that the fans may lose interest in a wrestler that they couldn't make heads or tails of, issued Janus with another moniker that best represented his mental state, and allowed the fans to get what he was all about. The Japanese began to advertise Paul "Janus" Kelly as "Sickness".
Boyo, Sickness, Iagan and Spiritchaser were known as RX and were a huge deal in Japan. They had also been wrestling in CMLL in Mexico, they had gone back to the LWL (where "Sickness" would wrestle as "Janus" again), they wrestled in WCW, ECW and also Ring of Honor. It was during this global touring that RX decided that they should have one final, huge RX storyline, before the eldest RX member, Spiritchaser, would retire. They decided to add the twist that Iagan and Sickness were actually long-lost brothers. This was revealed in NOAH on the night Spiritchaser announced his retirement and was the biggest, most dramatic revelation in Japanese wrestling in 2004.
The Iagan vs Sickness feud was short-lived but very controversial, especially in Japan, where the TV networks try to shy away from stories and angles which perhaps are too intimate instead of being based on competition. Once Iagan and Sickness were established as brothers it was revealed that one brother was truly insane, and that the other brother was just as hard-as-nails. Clearly, Sickness was the truly insane man, but Dr. Boyo (using his Dr. moniker for this angle) insisted that Iagan was the insane one and Iagan was taken away to a mental hospital, where it was rumoured that he burned half of his face in an "accident", before Iagan escaped, biding his time, and waiting to take his revenge on Sickness and Boyo.
Spiritchaser retired to a huge ovation in NOAH in January 2004, wrestling, and losing to, KENTA. Iagan, Sickness and Boyo also decided to call it a day in Japan and focus on cracking the biggest federations in the United States. Boyo had started in Cardiff, and going via Doncaster and Arizona, meeting Sickness and Iagan along the way, and having Eric Bischoff handling their backstage affairs, and with all the contacts Bischoff had...surely it was only a matter of time before the biggest federation in the world, the Extreme Revolution Entertainment, the ERE, would come a-calling?
The ERE wasted no time and in March 2004 signed Iagan, who competed with one half of his face burned, and then in May 2004 signed both Sickness and Boyo, The Rabid Customers. Deadman, the owner of the ERE, wasn't a huge fan of the name, "The Rabid Customers" and promised Sickness and Boyo that the ERE would come up with an alternative name. Deadman also wasn't a fan of Sickness' red lucha mask and red singlet, and suggested to Paul Kelly that he wears a bloodstained white t-shirt and denim shorts, as the visual impact would be stronger. Deadman also insisted that Sickness wrestled without wearing a mask, and Kelly agreed.
Boyo and Sickness' career were just about to go stratospheric.
ERE
In the summer of 2004, Sickness, a lone-wolf with a history of violence and a disturbingly apparent mental disorder, shows up in the ERE and started stalking Nicole. Sickness and Nicole fought at King of the Ring 2004, a match which the sheer brute strength and resiliance of the mightily muscular woman knocked Sickness down for a ten-count. Well, would you mess with Nicole!?
However Sickness would not be defeated so easily. Instead of skulking back to la-la-land with his tail between his legs, Sickness just became more violent, more insane and more of a threat than ever to the entire ERE locker room.
HBK Andy Gee was Commissioner of ERE at the time, with Paul Heyman as the owner. HBK demanded that Sickness was to have a minder, someone to help keep his instability under wraps. Paul Heyman insisted to HBK that a gent called Dr. Boyo would be perfect for this job. Dr.Boyo had a history of working with mentally unstable wrestlers including Iagan Hellshound and Janus; the Doc should have no troubles looking after Sickness. HBK agreed.
However, not long after Dr. Boyo arrived in the ERE it became apparent that the Doc had no intention of helping the poor, mental Sickness to get better. Instead it seemed that Dr. Boyo only seemed to wind Sickness up before unleashing an ever-psychotic animal...
Paul Heyman then made a masterstroke of a decision by putting Sickness and Dr. Boyo in a tag team and calling that team The Dark Alliance, in honour of his clique of ten years previous - The Dangerous Alliance. The ERE would decide to re-introduce the Tag Team Titles and put them up for grabs in a tournament. Badd Company (HBK and Mr Fill), The Empire (MBR and Barry Gower), The New Age Army (The Don and Chris Crisis) and The Dark Alliance (Sickness and Boyo) would compete in this tournament, with The NAA and The Dark Alliance fighting it out in the final at ERE Summerslam 2004.
Not long after their defeat to The NAA, The Dark Alliance were given a shot at the big time when they were given a match against ERE legends, Badd Company. Badd Company consisted of HBK Andy Gee and "The Fabulous One" Mr Fill. Both men had been World Heavyweight Champions in the ERE, they had held Intercontinental Championship and the Tag Team Championships.
The week before this match, HBK had only just gone and retired The Crippler, too; so it was safe to assume that Badd Company were on one hell of a roll coming in to this match. Or were they?
There was, at the time, simmering tensions stirring between the giant egos of HBK and Fill. Despite the massive respect these two men commanded, and had for each other, the cracks in the once unquestioned Badd Company solidarity were starting to show. Fill accused HBK of being too selfish, HBK accused Fill of being too whiney.
This match also proved to be a springboard for The Dark Alliance as singles competitors. Boyo would feud with Fill and Sickness would be granted a World Heavyweight Title shot at HBK the following month. Sickness, as yet unbeaten in one on one competition, beat Andy Gee by countout. Andy Gee faced Sickness one month later and finally managed to beat The Sick One after hitting two Sweet Gee Music superkicks to the jaw of the monster.
The End of ERE
After Boyo won the ERE Intercontinental Championship from ManBeastRhyno he started to get even smugger then normal, even alienating Sickness. Eventually the Mini Monster caused his friend and tag partner to drop the belt back to MBR, causing the two men to eventually agree to face off in a loser must retire match at ERE Wrestlemania. The match however didn't go according to anyones plan, TWOStars owner Darkstar and his stable ran in and caused a double DQ. As neither man managed to 'win' they both were forced to quit ERE forever, much to the delight of Deadman.
TWOStars
Sickness returned and in a dramatic fashion won the ERE Vs TWO King of the Ring and the TWOStars Tag titles on the same night. His partner was the returning Boyo: the DA was back!
After losing the tag belts to Arkham and Retromark the Dark Alliance wanted one thing, to win the gold! Eventually that dream was realised and the DA reigned supreme until Wrestlenova II when the New Blood beat them for the belts. On the following XTV both Boyo and Sickness have been attacked by masked men....what is going on in the lives of the new fan favorites?
Eventuall the two masked men 'Dragon Boyo' and 'Janus' were outed as being trainees hired to keep the heat off of The Dark Alliance, enabling them to attack their enemies without chance of retribution when not under the masks.
The Flaming Dark
After teaming with Jaycey Baby as 'The Flaming Dark' and winning the tag titles Sickness seemed to be on a roll. But in the run up to Wrestlenova Jaycey seemed more and more unreliable as a partner! At 'Nova The Flaming Dark lost the belts to VL:O when Sickness turned on Jaycey and leaving him for Draven Cage to finish off.
The heel turn didn't last for long however, Sickness quickly rejoined the side of the fan favorites as Boyo won the TWOStars World Heavyweight Championship and refused to condem his friends actions against Jaycey.
Winters Echo
After Boyo was forced to retire (again) Sickness was left to fend for himself. New GM Arron Winter hated both Dark Alliance members and after ridding himself of Boyo he set his sights on Sickness. Winters newest associate John Smyth challenged Sickness to a match at PPV, and in a shocking turn of events Smyth managed to make Sickness to utter the word 'I quit'. After the match Winter sacked Sickness, after all there was no need to keep on the monster if he had lost his only redeaming feature by finally submitting.
A few months later Sickness returned with proof that he had never actually submitted. With Boyo in tow Sickness managed to get reinstated.
After beating Smyth in a rematch Sickness turned his attention to other members of 'The Chosen', beating Harry Hart in a 'Flag Burning' match.
Tag Titles and Draven Cage
For several weeks announcers had been declaring that Sickness was a better tag wrestler than Draven Cage, but with the tag division disbanded there was no way to prove it, so Sickness challenged Cage to train a better tag team than the former ERE star could manage. Sickness eventually announced his rookie team would be UK Tag Team Hubba Bubba Lucha (El Ligero and Bubblegum). Unfortunately the team decided on by Draven Cage (T2K) was too much for the young high fliers and Cage got an advantage going into the PPV. In what turned out to be one of the shortest TWOStars matches ever Sickness pinned the Scotsman and walked away with the TWOStars Tag Team Titles in his ownership.
Edward Samson
When TWOStars newest monster started making waves one of the first people he targeted was Sickness, vowing not only to beat the mini monster, but to be the first person to make him submit. And when the two men were drawn to be in the Submissions Only Elimination Chamber for the Triple Crown they knew the crunch time had come... or would have if Sickness had not passed out to give Samson the eventual victory.
For Samson this was not enough, he was taunted by other superstars for his inability to forfil his vow, and so his manager, Lucas Thorp, challenged Sickness to face Edward Samson in a submissions only match where should a wrestler pass out they would be revived by smelling salts and the match restarted. The Sick One agreed, but only if the match was also made No Ropes Bared Wire.
At the PPV both men passed out in each other's submissions finishers, until finally Sickness tapped out for the first time in his career, giving Samson his legitimate submission victory over him.
The return of Boyo at Seasons Beatings should have been enough to get the edge over the heel unit of Edward Samson and GM Aaron Winter, but enraged at his belief that Boyo abandoned him to look after Twiggie Sickness turned on his best friend and teamed with Winter to take down both their partners, leaving The Blood Alliance (as they call themselves) the new TWOStars Tag Team Champions.
The Blood Alliance
The new union of Sickness and Winter took off in style with the two men crowning themselves TWOstars Tag Team Champions after their match against Boyo and Samson. The alliance seemed intent on Sickness getting his own back at Samson and Winter did all in his power to allow Sickness to tear apart his nemesis. Lucas Thorp, Edward's manager, questioned why what Winter was getting out of the deal since only Sickness seemed to be profiting from the deal. The answer was soon revelaed. Sickness got a title shot against Samson but quickly Draven Cage and The Evil Gringo were added to the match. Then on the night of the PPV Arron Winter added himself into the match making a five way dance for the biggest prize in TWOstars.
In a hellacious match All 5 men gave their all for the chance at the 3 belts but in the end Sickness stood over Samson. It looked like Sickness would get his ultimate revenge on Samson but instead Sickness roused his Blood Alliance partner and the two men delivered a double Hibernation/Coma on the champion and Sickness allowed Winter to pin the champion. Finally the realisation dawned and sickness revealed that he had sold his soul to Winter for the chance at destroying Samson on the basis that he would help Winter become the first ever Grandlslam Champion.
The Blood Aliance continued to control TWOStars, with both men as Tag Team Champions, Winter as Triple Crown champion and Sickness eventually winning the United States and TV Championships. Though eventually cracks started to show. Winter started acting strangely, and at one point told Sickness that he was inferior to him. Eventually Sicknes snapped when Winter tried to get The Sick One to attack his friend Becki Moss. Once again Sickness betrayed his partner, explaining to the world that he teamed with Winter on the condition that Winter ensured the safety of the non wrestlers in TWOStars after Rockefeller had started to ttack whoever he wanted due to his 'unsackable' status. This led to an All Or Nothing Cage Match where both men put all their titles on the line with the winner walking out as Ultimate Champion of Champions. Despite being in a cage the match wasn't free of interference with Rockefeller trying to aid Winter before being chased off by Draven Cage. The sudden appearance of Winters sister gave the GM energy to climb the cage, but Sickness managed to catch him before he could escape and the match was ended after Sickness hit a Diamond Dust from the top of the cage to get the pinfall. Sickness was finally the Triple Crown Champion, and the only person to hold all the TWOStars belts at the same time.
Ultimate Champion
On the first show after winning all the belts Sickness was informed that at Wrestlenova he would be defending against Angus McDonald, and to ensure that match was set in stone new GM Darkstar declared that until the 'Nova main event the Triple Crown was not allowed to be defended. That night Sickness defended his TV Title in a 4 man ladder match, a match that was won by Randy Roko. After the match Sickness shook the hand of his friend and as they tried to celebrate Harry Hart ran in to attack The Sick One. Using his Money In The Bank shot Hart pined the worn out Sickness, but due to Darkstars earlier ruling he was enraged to discover he could only win the United States Championship and not The Triple Crown!
At Wrestlenova Sickness and McDonald wrestled a long match, but eventually The Tartan Spartan managed to cover Sickness for the win and become the new champion. The reign of Sickness lasted for a few days over a month.
Rockefeller
After losing all of his titles Sickness was back to a nothing and, determined to become the man he once was, started to reforge links with his past friends. At a press conference a small group of fans started to wind up The Millenium Warrior until eventually he snapped and walked out after yelling at the fans. This was just the start... everywhere he went Sickness was harassed by people accusing him of selling out his friends, his fans and his own self-respect. Even Melv Deltzer reported on Sickness fighting with fans in an airport. As Sickness became more hated by the fans another man was becoming more popular as he pointed out the flaws in the character of Sickness; that man was Johnny Rockefeller. Rockefeller encouraged Boyo to return to TWOStars for the special Tribute To Sickness night, a night ruined when Boyo insulted Sickness, calling him a betrayer and scum and declaring they would never, ever be friends again.
Slowly people drifted away from Sickness, people who had once been his friends: Evil Gringo, Becki Moss, ngus McDonald, Boyo, Winter and even his own half brother Iagan. Recognising that Rockefeller was manipulating people Sickness tried to face him one on one, but Rocky kept cheating to ensure he stayed on top. Eventually Rockefeller declared he had won and Sickness would get no more chances at him... so The Sick One decided to play it on Rockefellers terms.

As Rockefeller started to finally break into films and become a 'real' celebrity he went to the premier of a film he co stared in, but Sickness was waiting and attacked the US Champion on the red carpet, making Rocky into a laughing stock in the eyes of he world. Enraged Rockefeller challenged Sickness to a match of his choice and he accepted. At A Midsummers Nights Destruction they two men would fight in a Hell In A Cell match!
Choosing to be the first man out Rockefeller climbed to the top of the cell before Sickness came out. The Sick One was never one to pass up a challenge and climbed ot the top as well. But before the match got underway Mat denton came out and offered Sickness a contract with Zenith Entertainment. As Sickness prepared to reply, though how he was to reply is unknown, Rockefeller pushed him from the top of the Cell, causing The Lone Wolf to fall through his own car roof! As EMTs tended to Sickness Rockefeller declared the crowd to be stupid and easily manipulated as he caused them to turn on a man who cared for them and to cheer for him, a man who despised them. Rocky signed up with Zenith in Sickness's place.
Out Of Action
The fall seriously injured The Sick One and he was unable to compete for quite some time. On his return he targeted Rockefeller straight away, leading to a retirment match. But, like he did with Boyo before him, J Rock beat Sickness and forced the Dark Alliance stalwart to retire.
As a special goodbye match TWOStars Owner Darkstar brought back Boyo and Twiggie to team for one night only with Sickness against the team of Draven Cage (1 night return), J rock and Edward Samson. Sickness cored the win by forcing Rockefeller to tap out to the Sicknote.
Return
At Midsummer Nights Destruction 2010 TWOStars triple Crown Champion Lucian L Jones agreed to face a mystery opponent. In the run up to the PPV Jones and Lindy Rose investigated several leads, including Sickness and Boyo. Jones was, however, convinced that his opponent was due to be The Maxx and was surprised when The Sick One walked out, The match ended in a count out victory for Jones when Sickness reinjured his knee. TWOStars owner Darkstar realised that there would be a lot of money to be made in a rematch and signed Sickness to face Jones for the Triple Crown again at Night of Champions. Number 1 contender Barry Gower has, however, refused to take this slight lying down. It was later revealed that Sickness had until World War to win the Triple Crown or his contract would be terminated.
At NoC Gower had The Sick One in his Ankhell submission move, but Lucian L Jones managed to interfere and score the pin on Barry.
Not wanting to lose his job Sickness managed to earn a spot in a Scramble Match at World War. At the Pay Per View Sickness was the third entrant in the match and dominated from his entry. However in the dying seconds Jones scored a pinfall on Edward Samson and The SickStar was unnable to score a three count in time to become interim champion.
On the next Xtreme TV Sickness tried ot convince Darkstar to keep him on the roster, but to no avail. Sickness walked out of the arena, shaking hands with old friends and foes as he left. The final man to say goodbye was Lucian and Sickness revealed something in a bag that made The King of Bling laugh... is this really the last we will see of Sickness?
==
==
Entrance(s)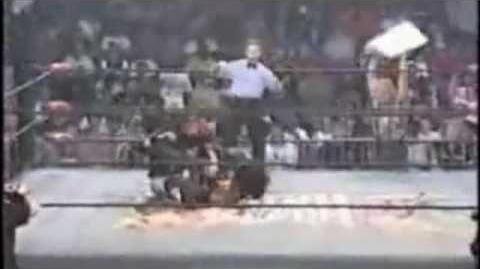 http://www.youtube.com/watch?v=jLuc_aaU5aQ Sickness walks to the ring dressed in his tattered denim shorts and white t shirt. Often both are covered in stains, including blood. Sickness will grin at anybody around him as if he's unsure why he's getting cheered. The Sick One is cheered wherever he is, in any city in any country, even against other faces. Not because people like him more, but because people know they will be due a riot of a match!
Title History
ERE
ERE King of The Ring 2005

TWOStars
TWOStars Ultimate King of The Ring 2005
TWOStars Tag Team Champion (twice with Boyo)
" " (once with Jaycey Baby)
TWOStars Television Championship
TWOStars United States Championship
TWOStars Triple Crown Championship
Sickness is the only man to have held every belt at once.
Finishing and Signature moves
Finishers
Diamond Dust (flipping Ace Crusher from the turnbuckle): Sickness stands on the top turnbuckle with his opponent stood on the mat facing outwards, he the puts an arm around the neck of his foe and flips over into a cutter/RKO style landing.
Sicknote: Tazmission
The Coma: Go2Sleep

Signatures moves
Bareback (set up for a Rock Bottom, but fall to knees almost like a stunner!)
Cross Infection ( a stunner near the ropes, when the target bounces back from the ropes hit a DDT)
Shooting Star Press (November Echo)
The Boyo Bulldog: Sickness locks in a Full Nelson then hits a Dudley Dog while keeping the Full Nelson locked in, slamming his foes face into the mat!
Darkness Falls ( a hammerlock/chinlock/backbreaker combo ) see below for example: The Fabulous One gets Sickness into position for a DDT, but Sickness manages to get his head out of his grip and still hold onto his arm. Sickness then wrenches Fills DDT arm around the back of his waist into a Hammerlock. Sickness holds the hammerlock in for a few seconds. With his left hand Sickness reaches around and pulls on Fills chin, The Fabulous One is now looking at the arena roof. Sickness kicks the back of his knees, making him buckle over backwards. Sickness then drops to his knees and plants Fills spine right on his knee, with the hammerlock and the chin lock still locked in! Can be used as both a normal finisher or held on for a submission.
The Time Warp: Sickness corners his opponent and hits 9 punches to the face before leaping to the second turnbuckle (depending on height of his foe) and lands a 10th strike with his groin. That's right, he punches people with his balls! He doesn't expect to do anything other than anger his opponent with this move.
Normal Moves
Kick to stomach
Headbutt
Armdrag
Fujiwar Armbar
Full Nelson
Double leg takedown
Drop toe hold
STF
Bareback (set up for a Rock Bottom, but fall to knees almost like a stunner!)
Cross Body
martial Arts kicks to the body, normally the legs
Enzigiri
High Knee (normally from a jump attack)
Ad blocker interference detected!
Wikia is a free-to-use site that makes money from advertising. We have a modified experience for viewers using ad blockers

Wikia is not accessible if you've made further modifications. Remove the custom ad blocker rule(s) and the page will load as expected.