Slash
Talk

0
11,353pages on
this wiki
Johnathan "Johnny" Lee Caldwell (born February 29, 1988), better known by his ring name Slash, is an American professional wrestler currently signed with Global Wrestling Association and is the reigning titleholder of the GWA World Championship. Caldwell is also known for his previous appearances with Empire Wrestling and World Elite Wrestling, where he even served as the inaugural titleholder of the WEW World Championship on its Adrenaline brand with the latter promotion.
Early life
Caldwell was born in Menlo Park, California as the youngest son of Daniel Caldwell, the Chairman and CEO of Caldwell Industries, and Hannah Stevens, a retired actress and a socialite. Caldwell is the younger brother of Bobby Caldwell, who was also a professional wrestler known as Eclipz but unfortunately died in 2006 from a drug overdose at the age of 24. Caldwell's paternal grandparents were Lee and Beth Caldwell (née Peterson) while John and Ann Stevens (née Carmichael) were his maternal grandparents.
Along with his brother, Caldwell attended Menlo-Atherton High School where he lettered in football and wrestling. Caldwell, however, failed to graduate after dropping out weeks into his senior year in 2006 because of his arrest. To date, he remains best of friends with Nikki Guerrero, his girlfriend throughout high school, and Ricky Stevens, a cousin from his mother's side of the family. Caldwell remains estranged with most relatives from his father's side of the family.
As a young child, Caldwell and his brother attended with their grandfather to professional wrestling events that were held throughout the greater San Francisco area. Most notably, Caldwell was in the front row when Sting defeated Hulk Hogan for the WCW World Heavyweight Championship at SuperBrawl VIII in 1998; this event and match would become the catalyst to motivate Caldwell onto becoming a wrestler.
Wrestling career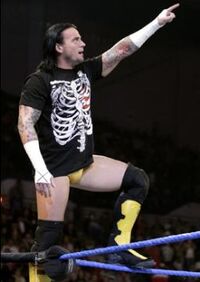 Early career (2010–2011)
After being placed on parole in 2010, Caldwell was contacted by Lenny Cross, a retired wrestler-turned-trainer operating a wrestling school, the Underground Wrestling Compound, just miles north of where Caldwell was raised as a child. Cross, who also had trained Caldwell's brother onto becoming a wrestler, successfully turned Johnny into an in-ring performer within six months after his release from prison. Graduating from UWC in the summer of 2011, Caldwell made his wrestling debut on August 1 in Empire Wrestling under the name Slash. Proving to be one of the most talented wrestlers on its roster, Slash quickly climbed the ranks of the promotion and was the company's weekly points leader, eventually being crowned the August Points Championship. Within a month, he entered his first world championship match facing Heather Helmsley at the Full Throttle pay-per-view event. Unfortunately, Slash lost the bout due to the errant interference by his father, Daniel. The match would be the final portion of Empire Wrestling's telecast before closing its operations by Labor Day. Incidentally, Slash would be arrested the day after the event after violating his parole due to an error on his permit to leave the state of California.
World Elite Wrestling (2011–2012)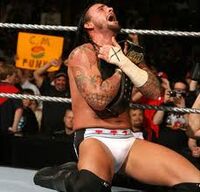 Caldwell made his first appearance in World Elite Wrestling on November 18 as Slash under the persona of a masked delinquent performing a wide array of high-flying moves that generated positive reactions from the crowd and quickly became a fan favorite. Slash won his debut match in an eight-person battle royal on Adrenaline. Per match stipulation, Slash received an opportunity to enter a WEW World Championship match at the ensuing pay-per-view event, Battlefield. Later on the night, Slash along with Michelle McCool, The Rock, and Ryan Jackson volunteered to represent Adrenaline in an eight-person tag team bout set for Battlefield. On December 11 at Battlefield, after losing the tag team match for brand supremacy, Slash defeated Sayge Jemson and Twin K in a three-way non-elimination match to become the inaugural titleholder of the WEW World Championship and thus earning the first world championship of his career. During this period, Slash began to flirt with various members of the company's female talent pool. Slash also entered a relationship with Olivia Crosby after he and Jenna Sky had been seen to show interest toward one another. Crosby then attacked Sky before the two wrestled against each other underneath Slash's watchful eye, who then intervened when both Starlets fought to a double countout. After evidence from Sky's friend, Christina Lucia that proved Crosby to have been using Sky to make advances to Slash, Sky defeated Crosby after the two were placed in a rematch on Adrenaline.
The following weeks Slash faced various opponents including a memorable match on Adrenaline against Jackson, who at the time held the WEW Titan Championship, in a non-title bout billed as a "Champion versus Champion match". The result of the match, however, led to a draw after both competitors brawled outside of the ring and thus leading to a double countout. Two weeks later, Slash gained the first loss of his singles career after being defeated by SM Raye in a non-title match. Slash would lose to Raye again on the ensuing episode of Adrenaline in a tag team match with Jackson and Catelyn Vaine as their respective partners. Meanwhile at the Winter Warzone pay-per-view, Slash successfully gained a victory in his first title defense against JTG, who endured a month-long round-robin tournament to be crowned the number one contender. A week later, Slash made a one-time appearance for Action Packed Wrestling, entering an 86-person battle royal to represent WEW at the Survive and Conquer pay-per-view event held in Miami, Florida in a losing effort.
At this time Slash evolved his personality from being a care-free, flirtatious raver to a no-nonsense martyr of aggression by showing more hostility, snapping at his peers whom he had once befriended, and unable to break submission holds for prolonged periods of time during matches. This was evident after defeating CM Punk, who Slash left a bloodied mess as Punk attempted to exit the ring after the loss. The following week viewers witnessed a similar beating but this time after Slash had defeated Storming Raven on Adrenaline. A week later, Slash declared that any challenger for the WEW Championship would meet a similar demise.
Slash entered a brief feud against Ryan Cavallari, who had defeated Slash in a non-title match on Adrenaline. The ensuing week Slash managed to defeat James Shark in another non-title bout. On the same night, Cavallari became the number one contender to Slash's title after winning the WEW TV Championship from CM Punk. Then on the following edition of Adrenaline, Slash lost the world championship to Cavallari in a memorable bout. During the title defense, Slash had tore his rotator cuff, however, and thus ultimately taking a hiatus from the promotion after having surgery. A month into his sabbatical, Slash was successfully granted his release from the organization.
At Beach Brawl, Caldwell made his return to WEW, as Slash, after a five-month absence by interrupting Ryan Jackson during a segmented promo. Proclaiming to end the tyranny of Nathan Parker, Slash vowed to end Jackson's recently dubbed Nathan Parker World Championship reign. The following week, Slash faced Kevin Kilbourne but the match resulted in a loss. During the bout, Slash suffered an injury to the same rotator cuff he had torn in his most recent bout with the company before his hiatus. Unable to physically compete without rehabilitation, the match would be Caldwell's last appearance with the company after his request to be released from the company was successfully granted again.
Global Wrestling Association (2012–present)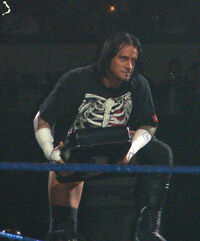 Feud against NBT (2012–2013)
After rehabbing his re-injured shoulder, Caldwell made his debut in Global Wrestling Association as Slash. After weeks of defeating various opponents on Shockwave, Slash was placed in a four-way non-elimination match along with Ace Montgomery, Chase Andrews, and NBT that determined the company's first inaugural titleholder of the GWA Championship at Genesis. Slash was unable to win, however, and began a rivalry with NBT as the two ridiculed each other during the ensuing telecasts of Shockwave before they faced each other in a match to determine the number one contender for the GWA Championship a month later at Full Throttle. The result ended with Slash being defeated by NBT.
Meanwhile, Slash was dubbed "The Charismatic Renegade" for his lone-wolf persona while undertaking the role of an underdog. He embarked on promos describing himself to be a "middle class citizen" and a "regular guy" in comparison to other snobbish members of the company's roster, thus cementing his status as a fan favorite amongst audience members and home viewers. These attributes would later fuel Slash into several rivalries as Slash and his opposition tended to represent different ends of the economic and social spectrum.
By November, Slash established himself as one of the premier members of the talent as he was prominently showcased on television in a weekly basis. Then at the Road to Glory pay-per-view event, Slash defeated Chase Andrews, Clyde Ray, Darren Hughes, and Trevor Adams in a Road to Glory Contract ladder match that named the number one contender for the GWA Championship and a guaranteed title shot at the following pay-per-view. The ensuing week on Shockwave, Slash confronted the GWA World Champion, Ace Montgomery, who had chastised members of GWA's roster for not being able to match his caliber of wrestling. After ambushing Montgomery later on the evening during a scheduled non-title bout, both men continued to exchange verbal insults the following weeks that led up to their title match. At December 2 Remember, the two finally fought each other but Slash was unsuccessful after Frank Richards interfered on behalf of Montgomery.
In the beginning of 2013, Slash renewed his rivalry with NBT as the two faced each other in a Beat the Clock match on an episode of Shockwave that determined the next contender for the GWA World Championship. After neither competitor failed to gain a victory against his opponent in a timely manner, Slash issued a challenge to NBT for both men to wrestle at Inception. Few weeks later at the pay-per-view event, Slash wrestled NBT to a draw after Slash sent NBT through the announcers table resulting in a double count-out as both men failed to respond to the referee's ten-count. Then on the ensuing episode of Shockwave, Slash challenged NBT to a match with the winner of the bout being name the number one contender to the GWA World Championship. The two ultimately wrestled each other a month later at Chaos in a Cage with Slash defeating NBT in a steel cage match.
Feud against Ace Montgomery (2013)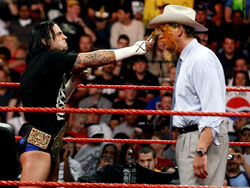 Once again, Slash became the number one contender for the GWA World Championship, in which the title was still in possession by Ace Montgomery. For their second encounter, their back-and-forth diatribes were lessened but more poignant with every moment both men were on the microphone. Leading up to their title match at the following pay-per-view event, Slash was noticeably absent while Montgomery, along with other members of
The Enterprise
, subtly ridiculed Slash on the episodes of
Shockwave
beforehand, even going as far as mocking the
death
of Slash's brother. Slash was even berated at one point, having been called names such as being an overrated
fan favorite
and of possibly being a
paper champion
if defeating Montgomery for the GWA World Championship. Slash closed out the episode by performing a
superkick
to Montgomery. At March Madness, the two finally faced each other for the first time since their initial encounter at December 2 Remember. Prior to the bout, Slash made an agreement with Montgomery backstage, which was mediated by General Manager
Benjamin Jameson
, in that every member of the Enterprise was barred to appear ringside at any time during the match in exchange for the bout being the last time Montgomery defended the GWA World Championship against Slash during Montgomery's title reign. Slash went onto losing the bout after being struck in the head with the GWA World Championship belt by Montgomery while the referee had been knocked unconscious.
During the GWA World Championship match against Montgomery at March Madness, Slash had torn his left meniscus at some point within the bout. Slash stated on his Twitter account that he had apparently suffered the injury after performing the last superkick of the match, in which his knee had buckled when attempting to strike Montgomery. Six days after the event, Slash successfully had surgery to repair the tear in his knee. He was originally expected to be sidelined from in-ring competition for approximately two to three months. However, after a slow recovery process, Slash returned to in-ring competition four months after suffering his injury by competing in the Independence Battle Royal at the Independence pay-per-view event. Slash ultimately won the match and was named the number one contender to the GWA World Championship, replacing himself as the prime candidate to try and dethrone Montgomery from his championship reign. During the ensuing weeks on Shockwave that led up to the Supremacy pay-per-view event, Slash and Montgomery went back and forth, trading on-air barbs and verbally ridiculing each other before their scheduled match. Meanwhile, Slash agreed to Montgomery's proposal in which their encounter would be the last time with Montgomery as the champion if Slash went onto losing their match at Supremacy. Finally at the pay-per-view, Slash defeated Montgomery for the GWA World Championship, thus becoming a two-time world champion and dethroning Montgomery's title reign.
On the following edition of Shockwave, a rematch between Slash and Montgomery was solidified, including a contract signing on the following episode thereafter. Weeks later at the Retribution pay-per-view, Slash defended his championship for the first time, facing Montgomery in what was their fourth encounter while vying for the GWA World Championship. Fortunately for Slash, he successfully defended the title by defeating Montgomery while fending off Frank Richards during the match. This would be the final time Slash and Montgomery faced each other in singles competition.
Personal life
Caldwell lives in a studio apartment in the Haight-Ashbury district of San Francisco, California. Currently single, Caldwell was recently in a relationship with Cassidy Hightower[2]. In the past, Caldwell was romantically linked with other female wrestlers including Olivia Crosby[3], Jenna Sky, and Eliza Gray. He is an avid collector, owning autographed memorabilia, vintage vinyl records, and an array of vehicles including a 2006 Ducati Sport1000, originally given to him as a gift from his brother, a 2006 Kawasaki KX250, and a renovated 1971 Plymouth Barracuda. Caldwell is also an aspiring artist, musician, poet, photographer and traveler.
Legal troubles
On the evening of September 22, Caldwell was arrested by patrol officer after initially being pulled over because of speeding on a highway. The officer, smelling the marijuana odor coming from Caldwell's backpack, then booked him in county jail with bail. Pleading guilty to three felony counts, Caldwell served four of a five-year prison sentence, being released in November 2010 before serving the last twelve months under parole. Unfortunately, Caldwell did not follow the procedures of his parole by traveling out of California in August 2011. He served the remaining two months in a San Francisco County prison. Then in 2011 on the eve of Christmas, Caldwell was arrested outside of his apartment when patrolling officers found him and his friend, Ricky, causing a ruckus with their motorcycles. The officer on the scene then arrested both men for public intoxication. After an overnight stay in San Francisco's county jail, Caldwell was released on bail of $1,000 and ordered to sixty hours of community service.
In wrestling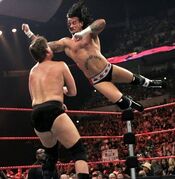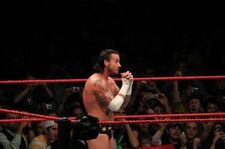 Nicknames

"The Charismatic Renegade"
"The Prodigal Son of San Francisco"
"The Saint"
"(The) Slasher"
"The Wild-child Warrior"
Championships and accomplishments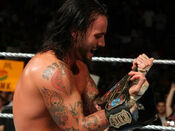 External links
List of GWA personnel
Male wrestlers

Ace Montgomery

• Austin Young • Blake Ambrose • Chase Andrews • Clyde Ray • Colby Jackson • Darren Hughes •

Demon

• Derek Kang • Eli Jordan • Frasier Reed • J.J. Curtis • Keith Parker •

Maxwell Richards

• Mohammed Basara • Monterrey Jackson •

NBT

• Nick Wolfe • Ramon Rodriguez • Samir Wahad Abdul Gaddafi • Sebastian Cross •

Slash

•

Taylor Richards

• Trevor Adams • Victor Sinclair • Zachary Stone • Zyther

Female wrestlers

Ariana • Bethany • Bianca Rhodes • Cassie B • Elena Martinez •

Jeanette Ayers

• June • Maya Carter • Pepper Jackson • Rayven • Stella Wonder

Other talent

Benjamin Jameson

• Dennis Payne •

Frank Richards

• Harold Epstein • Jack Stiles • Jerry Olsen • Lori Sanders • Ms. Gioletti • Philip Malone • Samuel Root

Stables/tag teams

American Werewolves • Demon and Trevor Adams • The Dudebusters • The Foundation • The Jackson Family •

The Natural Express

• Steel City Sinners