Spooky Doom
Talk

0
11,352pages on
this wiki
Spooky Doom
Statistics
Real name
Casper Callaway
Ring Names
The Undead Superstar, The Deadkid, "Evil Dead"
Height
5 foot, 7 inches
Weight
195 lbs.
Date of birth
September 13th, 1990
Place of birth
Death Valley, California
Date of death
{{{death_date}}}
Place of death
{{{death_place}}}
Resides
{{{resides}}}
Billed from
{{{billed_from}}}
Trainer
Old Skull, Various
Current
federation(s)
International Wrestling Federation (IWF)
Previous
federation(s)
SWAT, ICWF, HardKore Japan, SPW
Handled by
{{{handler}}}
Win/Loss Record
{{{winloss_record}}}
Debut
April 2006 (SWAT)
Retired
{{{retired}}}

Spooky Doom is an American luchador, supposedly the nephew of The Undertaker. Straddling the line between parody character and serious competitor, Spooky Doom has fought and gained gold in the ICWF, Hardkore Japan and the early SWAT umbrella project, and is formerly a part of SPW. He is now in FWrestling as a part of their IWF brand.
Gimmick
Known informally as "lil' Taker", "mini-Taker" or "Luchataker" (though only unofficially, as the word "Undertaker" & variants have been barred from play under pretense that they could result in lawsuits from the WWE), Spooky Doom wrestles as the nephew of the mysterious 6' 10" supernatural grappler with a mandate to bury the souls of evil wrestlers. No longer mentioned by name for fear of lawsuit, Spooky Doom's uncle is also known as "that redneck zombie shootfighter guy", wrestles wearing purple gloves and a striped tie during matches, constantly listens to Limp Bizkit and has the bad habit of shooting lightning bolts out of his fingertips whenever he's really really angry.
The handler has stated that Spooky Doom was created as a take-off on the Death Jr./Lil' Death comics and video games in which the Grim Reaper is here replaced by The Undertaker, complete with all the various gimmicks he's used in the past. In fact, Spooky Doom often refers to himself as a "Lil' Grim Reaper-like thingy" and regards his unearthly duties just like any other (apparently governmental) job.
Wrestling career
Origin
Spooky Doom grew up admiring his uncle and wanted to become a pro-wrestler just like him, but the original Grim Reaper of wrestling would not allow any free rides in this business, denying Spooky access to his company until he proved himself in battle. However, endorsements from Spooky Doom's supernatural uncle opened up doors to wrestling schools worldwide and Spooky Doom made the best of it, training at an American wrestling school before moving to Mexico to ply his trade; his small size and propensity to hit high flying moves being better appreciated there.
Since then, Spooky Doom's uncle died. Again. In a manner less embarrassing then the first three times he died, certainly, but he's dead nonetheless and SOMEBODY needs to take his place. Enter Spooky Doom...
Spooky Doom made his first professional appearance in SWAT Arizona, playing the role of the lil' Grim Reaper thingy too cute to be taken seriously by those he was about to destroy. His time there was short but productive, establishing the luchador as a likeable and hardworking babyface. When the region closed down, Spooky was transferred to SWAT Springfield where he defeated popular superstar Marty Donovan at SLAMMIVERSARY to earn the region's championship title. All hopes of building a division around him were dashed however, when the entire SWAT umbrella system closed down citing administrative burnout. Fearing problems for months, Spooky Doom had already accepted bookings from the ICWF which he promptly joined for a full-time contract.
A fixture of the ICWF scene from September 2006 to February 2009, Spooky Doom came in as a young lucha libre prospect with a unique gimmick, impressing management through consistent work and popular appeal across audience groups. He has enjoyed a long undefeated streak in singles competition until the end of the Mother Of All Tournaments, earning notoriety as having the longest TV title reign in its history (an unprecedented 8 month reign, from November 2006 to July 2007). Usually a babyface, he worked heel when the circumstances dictated it, such as during his feud against Dexter Payne throughout Six Feet Under and Holiday Horrors 2006. Spooky Doom truly came into his own after he dethroned ICWF World Heavyweight champion Frostbite during the Satan's Cell match at Six Feet Under 2007, finally attaining the upper card within the promotion.
In fact, during that match which pit Spooky Doom against
Eraser
,
Kuma
,
Adam Northstar
, Jack Venus and champion Frostbite inside of the sinister steel structure; Spooky Doom survived and was even instrumental in pinning the champ with his Crypt-onite Crunch. However, the match ended with both Eraser and the Spooky Doom pinning each other for the draw finish. A similar near-grab at the gold occurred at Holiday Horrors 2007 during a double-elimination main event Battle Royal: the Grim Avenger of Lucha Libre managed to survive all 30 men and essentially win the bout until both Frostbite and
Eraser
used their rematch clauses to immediately regain the belt afterwards. A third near-win occurred when Spooky Doom took Eraser out of action at Rain of Terror 2008 with a 630 senton from the top of the balcony
WHILE ON FIRE
, only for Frostbite to push an exhausted Spooky Doom over and gain the pinfall (along with the
ICWF World Heavyweight title
).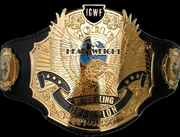 Since then, Spooky Doom had changed his appearance to reflect the death-defying risks he took upon himself, with his darker personality attracting a newfound alliance with Angel to form the tag team of "Heaven & Hell". This was dropped after Angel repeatedly flaked on his promos. With a new change in management, Spooky Doom returned to his old outfit (or rather his Japanese outfit, since that was all he had left) and went into the Caged Championship Chaos at Six Feet Under 2008; a match open only to former ICWF World Heavyweight champion (and which could best be described as Hell in a Cell meets ladder match). Spooky Doom qualified under his "five-minute" reign from Holiday Horrors 2007 and outlasted all other contenders for the victory. Climbing up the outer cage walls and "monkey-baring" his way towards the title, runner-up Eraser could've still won by outfighting the Deadkid but Doom wedged his feet through the cage bars and did an upside-down Spooky Sit-up (inverted sit-up!) to lay hands on the gold first and win the match, finally becoming ICWF Heavyweight champion! Adam Northstar tried pulling his rematch clause to immediately regain the belt but Spooky beat him to a pulp.
Spooky Doom wasn't long for Heavyweight gold: he suffered the verbal slings and barbs of a vindictive Eraser who harried the Grim Avenger of Lucha Libre for not seeking out challenges after gaining his championship. Spooky Doom answered that anyone holding a federation's top title would disrespect the belt by implying there were challenges greater than his own title but management seemingly didn't agree; at Holiday Horrors 2009, Spooky Doom defended his title against Eraser but when Adam Northstar and RJ Souza came down the ring to interfere, ICWF president D. Samantha Montague not only threw the match out but stripped Spooky Doom of his title.
Spooky Doom would not make it to his next PPV, losing a "loser leaves the ICWF" match against RJ Souza inside the confines of a Caged Deathmatch (basically a last man standing match within a steel cage) during the Monday Night Dynamite preceding the PPV. Privately, it was felt that Spooky Doom did not get along with the new president and it would be in his best interest to leave the ICWF for the duration of that president's reign. Then the ICWF died.
Goon Championship Wrestling (GCW)
Spooky Doom also participated in the GWF, an e-wrestling experiment produced by the Something Awful forum goers. These adventures are considered non-canon as they occurred in an environment where few people spoke English as a first language and where e-wrestling was a novelty for those involved. Spooky Doom's character remained somewhat the same: the cupcake-eating nephew of "The Gravedigger" who apparently joined a fantasy metal rock band called DOOMWOLF (bolded and capitalised at all times) along with tag partner Joshua "The Wolf" Woulf while specializing in lucha libre and face-melting guitar solos. Spooky Doom tried unsuccessfully to claim the Heavyweight title from babyface Mark Rickman and ended his tenure there as Goontinental Champion. The fed closed down due to general resentment against the fedhead and his inability to remember who was face and who was heel amongst the ranks.
Hardkore Japan
Hired from the ICWF so as to jumpstart the fledgling promotion, Spooky Doom was brought as a lucha libre talent to show off the various wrestling styles Hardkore Japan could exhibit. The Grim Avenger of Lucha Libre soon made good on his reputation and captured the Hardkore Japan Regional Title in his first night on the job, defeating Fearless/Shameless and CK Panic during the Iga J-Cup Tournament. CK Panic and Doom soon sparked a heated rivalry with Spooky Doom only narrowly defeating his foe at the following Land of the Rising Blood event. The wrestling federation would fold before it's next event, Murder 1.
Spooky Doom would leave the ICWF for Shootfire Pro Wrestling, making his first appearance at the Season 10 Conquest premier and delivering his intention to battle for the newly instaured Fusion title. During that time he came to the rescue of AJ Black's daughter Serena Black, who found herself on the receiving end of Owen Cage's wrath for failing to net him a victory. Accepting Miss Black's managerial services as thanks, Spooky Doom soon embroiled himself in a feud with Owen Cage, culminating at Ringu Faia '09 where the Undead Luchador crashed about three stories worth in an undeath-defying dive to further destroy his foe.
Since then, Spooky Doom has formed a tag team with fellow luchador Colt Montana creating The Deadbeats, SPW's premier lucha libre tag team. Spooky Doom also participated inside the Boneyard Brawl, a steel cage match to determine who would represent the Shootfire Army at Iconoclasm. However, "Bonecrusher" Barry Baldwin used his clout to boot Spooky Doom off the team despite his cage match victory, something which would become emblematic of Spooky Doom's treatment by the SPW. Leaving the company after their Iconoclasm PPV, he would make a one time return for their Charity Carnage "Bring Your Own Weapon Rumble", using a cursed bone sword as his weapon.
Only recently has the Spooky Doom returned to Shootfire Pro, but underneath the management of Steve Greedy. Making his appearance at the second episode of Ascension season 12, Spooky Doom would storm the ring to save James O'Connor only to turn on the Cunning One afterwards, smashing him over the head with a steel shovel! Spooky Doom thus returns to the ring with a new personality, a new outfit and a dangerous new finisher as he becomes one of the team leaders for Wrestlebowl; leading Frostbite, Street Samurai Spade and Johnny Pain to the Sea of Pain finals. Spooky Doom begins the 13th season of SPW with a victory over the world champion Andrew Davis himself and soon enough leading a band of disciples called the Soul Death Society; followers set to destroy all fun in SPW under the premise that "No life means I'm better than you".
Cross-promotional Appearences
Spirit's Glory Tournament (NJWF)
Throughout the months of September and November 2007, Spooky Doom accepted to represent the ICWF in the Japanese Spirit's Glory inter-federation tournament. Since the tournament was an invitational and Spooky Doom one of the last wrestlers contacted, few thought the Grim Avenger of Lucha Libre would make it through to its end. Low wrestler turn-out meant Spooky Doom lasted far longer than most would imagine, with Spooky Doom eliminated by Jakob Volga who went on to win the event as he represented NJWF's partner at the time, SPW.
Season's Beatings Battle Royal
A humoungous 76 person over-the-top-rope battle royale, Spooky Doom managed to get a late pick and showed some quick work against tournament favorites Barbwire Ken and Lexx Love III. Apparently, he didn't eliminate anyone.
RoughKut 2009 Invitational
It sucked: Spooky Doom lost the preliminaries to a guy who sandbagged the competition and wrote with bare mastery of the English language, promos ended up judged on length rather than quality.
Total J Cup Tournament
A competition amongst Junior Heavyweights, Spooky Doom decided to join after leaving SPW while claiming to work for NJWF Japan even though he hadn't appeared in any matches yet. Spooky Doom defeats (in order) Brad Kane, Damion Darkside, AC Thunder and Ethan Cavanaugh to reach the finals of this tournament which never had any conclusion.
Independance Day Rumble (WWA)
As the 36th entrant in the rumble, he eliminates Jork and himself as Nathan Cole pushes both out of the ring while Spooky Doom was in mid Doom Reaper.
Appearence
Physical description
Small and prominently muscular. Spooky Doom hits the gym regularly and it shows. With a bull-like neck, a well-defined upper body and muscular arms; Spooky Doom could pass for a bodybuilder if his build weren't so axed towards agility. Well-tanned caucasian with multiple tattoos since his 21rst birthday, namely a great purple Aztec skull over his chest and an ornately detailed guillotine across his back.
Costume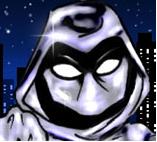 As a babyface, Spooky Doom wears a sleek bone-colored bodysuit open at the shoulders with lime colored crescent-shaped shoulder openings and a black Pac-Man ghost design over the chest, along with matching track pants with twin black stripes running down the side of both legs. Wears a hood stitched together to his mask: the hood is white with a lime trim and extends down to the shoulders while the mask is black and horseshoe-shaped around the mouth, with green flames around the edges. Uses white wrist tape and flexible black slip-on sneakers to aid in his high-flying. He also sports large white bicep bands, each marked by a black Pacman ghost.
Enters the ring wearing a white cape with gold clasps at the shoulders.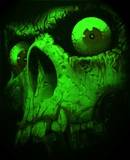 Since his formation of the Soul Death Society, Spooky Doom wears black tights with lime-green highlights and SD in silver right across his crotch. There is but a single red-stained shinguard along his right leg, the leg with which he executes his Jigoku No Dantodai. Black boots are light and flexible in keeping with Spooky's aerial nature. Sports metal-studded black bicep bands. His mask is now more of a traditional lucha libre style, with skull highlights on the sides and the letters SDS printed across the bridge of the nose.
Enters the ring wearing his latest "Soul Death Society" T-Shirt
In the ring
Entrances and theme songs
As a babyface, Spooky Doom is known for coming out from a coffin wheeled (or elevated) to the entrance ramp and bursting through it, spazzing away to his music. For a good chunk of his ICWF career (and particularly for Friday Night Fights), Spooky Doom would ride down the aisle on his DOOMRIDER, the Hell-spawn motorcycle with the particularity that it comes and it goes!! As a heel, Spooky Doom enters the ring with a skull-shaped spotlight shinning over him.
For PPVs, anything goes as far as entrances are concerned and the flashier they get, the better they are! Has been seen entering the ring on pimped-out funeral hearses, alongside animatronic skeletons singing "It's a Doomed world after all" and riding those motorized mini-rings they used for Wrestlemania III. For Wrestlebowl, Spooky Doom made his arrival from a ten foot tall giant coffin, with the members of Grave Desecrator flown in to play "Sign of Doom" as Spooky wore an African mask cover on his way to the ring, all while surrounded by beautiful demonic succubii!
Wrestling Background
Power Luchador: the majority of Spooky Doom's techniques come from modern lucha libre, with additional high-impact slams borrowed from American and Japanese wrestling. Along with practiced technical skills, Spooky Doom becomes a versatile, well-rounded luchador with an affinity for high risk maneuvers. Between his high-speed dives and his high-impact slams, opponents quickly feel the brunt of Spooky Doom's offense.
Strengths
Muscular: Possibly fueled by some sort of Napoleon complex, Spooky Doom spends a lot of time at the gym working on his body. At 207 pounds for a 5'7" frame, Spooky Doom is a little bundle of muscle that crashes into you with all the density of black star matter or just lifts you up and slams you repeatedly.
High Flying: Unlike his uncle, the Spooky Doom loves to jump and flip across the ring with amazing acrobatic agility. He is an accomplished luchador whose aerial skills are comparable to those of the top cruiserweight talents worldwide.
Second Generation(ish): As the nephew to You-know-who, Spooky Doom has something of a sixth sense for the business. Learning wrestling at an outstanding pace to became a world champion at 19 years of age, consider him a wrestling genius with endless potential.
Weaknesses
Short: No matter how you look at it, Spooky Doom is still five foot seven inches tall. Opponents usually end up towering above him, using their height as leverage advantage against the Undead Superstar. Spooky usually needs a head of steam to topple his much larger foes.
Overconfidence: So much early successes have gone to Spooky Doom's head, who pretty much considers himself invincible once inside the ring! Favoring flashy experimental moves over proven beatdown strategies, Spooky seems to perform more like a rock star then a pro-wrestler.
Weak Brawler: Trained in the traditional tecnico style of lucha libre, Spooky Doom has been thought to emphasise wrestling holds over rudo punching and striking. He's a bit at a loss against the more roughshod American "Southern" style and often ends up at a loss in a brawl.
Wrestling Moveset
Finishers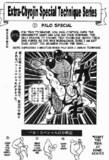 Crypt-onite Crunch (As babyface, main finisher: Back to Belly Piledriver with neck cradled underneath the arm)
Wheel of Doom (as babyface, near-finisher: corkscrew somersault senton)
Hell's Guillotine (Heel finisher, Innovated; opponent draped across second rope, Spooky pulls the bottom rope over their head and runs off to the opposite side, coming back with an over the top rope shin drop to the back of their neck)
Palo Special (Alternate/Japanese finisher: From behind, Spooky Doom jumps and wraps his legs around opponent's waist, grabbing both of their arms and pulls back)
Signature Moves
Doomblade (Innovated; satellite headscissors sling blade)
Eerie-canrana (as babyface, armgrab to ropewalk hurricanrana)
Super Bankrupt DDT (as heel, top rope DDT. A tribute to his manager Steve Greedy)
Spooky Sit-up
BASICS
Snap kicks
Various dropkicks
Flying armdrags
Headscissors takedown
Various monkeyflips, often to outside
AGILITY
Jumping double cross chop
Wheelbarrow bodyscissors flying mare
Run-up the turnbuckle face driver
Top rope tornillo plancha
WEARDOWN/GROUND ATTACKS
Double foot stomp
Zombido Clutch (Opponent on stomach, grab the legs in an inverted Indian deathlock and hook opponent's far arm before rolling him over)
SLAMS
Exploder suplex
Sitdown bodyslam through legs (pin)
Lifting belly to back matslam
Flying Death Valley Driver
Rare Moves
These moves are crowd pleasers that Spooky Doom occasionally brings out to amaze the fans. These are NOT part of his regular moveset, but incredible maneuvers meant to leave the audience breathless and in a state of disbelief.
Super Wheel of Doom (multiple revolution splash/senton from high up, possibly on fire; PPV finisher)
Tombstone Piledriver (banned in Mexico!)
Opponent suspended in the tree of woe, top rope double foot stomp
Poison rana (reverse frankensteiner)
Tag Team Moves
(with Colt Montana, as part of the Deadbeats)
Stereo springboard dropkicks
Managers
From SPW onwards, managers have tried latching onto the success of the Undead Superstar. As long as they're better looking than his uncle's last manager, Spooky Doom lets them be.
Serena Black
Steve Greedy
Heather Owens (current)
Tag partners/Tag Team combinations
Angel, Heaven & Hell (ICWF)
Colt Montana, the Deadbeats (SPW)
Quotes
"Spooky Doom is gonna take your soul... AND ROCK & ROLL!!!"
"(something)... OF DOOOOOOOOOOOOOOOM!!!!!"
"Spooky Doom is gonna kick your ass and take your soul, play guitar and Rock & Roll!"
"Well excu-uuuuuuuse me, princess!!" (to Serena Black)
"JIGOKU NO DANTODAI!!" (as heel)
Merchandise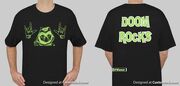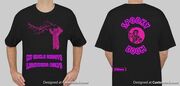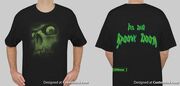 From Shootfire Pro onwards, Spooky Doom has designed his own T-shirts. The first T-Shirt made was a Glow-in-the-dark "DOOM ROCKS" design with his likeness on front. The second (developped for the Bring Your Own Weapons rumble) is black and magenta, bearing his "uncle"'s likeness on front with the inscription "My uncle shoots lightning bolts". As a heel, he now brings a third shirt bearing the likeness of his latest mask along with a matching "skull cap".
There are also Spooky Doom toy scythes and replica masks alluded to in promos and videos, but no pictures of them have surfaced nor do they appear in the SPW (or any other e-fed's) merchandise section.
Accomplishments
Spooky Doom has retired quite a few opponents during his career, claiming that he has "taken their souls". These men include the "Hardcore Bigshot" Traveller (but he came back), Tommy Swinger and "Pretty Boy" Clayton Adams. Attempts to claim "Freakshow" Dexter Payne's soul have been arduous, but so far unsuccessful. He has also defeated some big names in wrestling, such as "Rising Sun" Marty Donovan, "Heartless" Jakob Volga, Frostbite and Andrew Davis. He has retired the SWAT Springfield Championship belt and held the ICWF TV title for a record eight months. He is also responsible for putting Bryce Glacier and Eraser on the shelf for a substantial amount of time, the former by aggravating a previous knee injury and the later by putting him through multiple tables with a flaming 630 senton.
In terms of championship reigns, he is the last Hardkore Japan Regional champion before the territory closed down as well as a former ICWF World Heavyweight champion who was never defeated for his title. There's disagreement on the number of times that Spooky Doom gained the World Heavyweight championship belt, with Spooky Doom himself not acknowledging his first "reign", calling it a phantom switch despite the fact that it was this "reign" that allowed him to participate at the Caged Championship Chaos match to finally win the belt once and for good. As such, we have decided to split the difference and consider Doom a 1.5 times World Heavyweight Champion.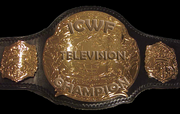 ICWF World Heavyweight champion (1.5 times)
Iga J Cup winner
Hardkore Japan Regional Champion
SWAT Springfield Regional Champion
2010 EWS Heel of the mid-year (tie with Andrew Davis)
Ranked #34 in the EWRT 200 2007
Ranked #70 in the EWRT 200 2006
Winner of the ICWF Conway Fan Favorite of the year Award of 2007
Winner of the ICWF Conway Fan Favorite of the year Award of 2006 (tie with Dexter Payne)
Winner of the ICWF Devlin Rookie of the Year Award of 2006 (tie with Seth Brower, Dexter Payne)
Trivia
Spooky Doom must have first studied psychology early in his life, for he correctly diagnosed fellow ICWF nutcase Havoc as suffering from Multiple Personality Disorder rather than Schitzophrenia. It was revealed that Spooky Doom did intend to study psychology in his life, but was forbidden to follow his dreams by the Marvel Comics legal department, citing Copyright Infringement issues were he ever to receive his degree.
While in his first tour of Japan, Spooky Doom was hired by Honda Motors for advertising purposes, and was greatly rewarded for his efforts with his very own motorcycle! Known as the DOOMRIDER, the bike is an experiemental prototype built with various never-before-seen features. While riding the DOOMRIDER, Spooky Doom is more awesome then ever; however, on a die roll of 1, he must exit the field. He comes and he goes!
Spooky Doom makes occasional appearances on Tyler Hollywood's Ground Zero Radio, rebuffing his detractors and accepting all challenges on air. In his first appearance, Spooky Doom was made famous by Tyler Hollywood's "Fifteen Minutes of Fame" segment. In his second appearance, Spooky Doom went on air to accept the challenge of the "Street Samurai" Spade for a battle occurring in neutral NJWF grounds, however Spade backed out on the engagement at the last second. Finally, and sick to his stomach by the constant depreciating statements by Eraser, Chris Hopper and Spade, Spooky Doom wrote a letter challenging any of his detractors to speak directly to his face, on air. Spooky Doom's opponents promptly shut up.
His best friends in the whole wide world are the tag team of the Cryptkickers, reanimated zombies under the thrall of an evil voodoo doctor. Despite the team's lacklaster win-loss records, Spooky Doom is always quick to laud the greatness of Cryptkicker #2 and Cryptkicker #3 and how they are "cult heroes" to the fans, despite no clear evidence for saying such. He has teamed with them only once, during the elimination battle royal of VD14, but they have made "cameos" in multiple Spooky Doom promos since
Spooky Doom might seem to take his wrestling matches lightly, but he's always there for whom he calls his "lil' Reapers". The name comes from a match which contained no less than three ball shots and with the announcers coining the phrase "straight in the little reapers!". Now that he works heel, Spooky Doom calls his detractors and opponents "Doomkopfs"; a name he claims represents anyone who cannot properly recognize his talent.
Worst moments of Spooky Doom's career: having to do the J-O-B to the Street Samurai with the Street Samurai's handler writing his own win and a beautiful 30 men double-elimination battle royal victory marred by a phantom title change and the match writer writing the Doomster as A HEEL. Nice proofreading, guys!
Best moment? FINALLY WINNING IT FOR REALS!!! Suck on that, haters!
Realizing he had to leave the ICWF ranks with one of the worst moments of his career as well.
It was revealed that Spooky Doom's real name is Spooksimillion J. Doomopolis. However, with Spooky Doom carefully cultivating his air of mystery, he might not have been entirely truthful when saying that. Other fake real name used in a promo: Spookerton Casper Doom.