Steve
Talk

0
11,342pages on
this wiki
Steve

Billing information

Ring name(s)

Steve
Steven Vontavious Danger
Joseph Garcia
Big Dick Daddy
Joey

Height

6'1"

Weight

232 lbs.

Born

September 17th, 1993

Hometown

Hartford, Connecticut

Theme music

"Traphouse(Instrumental)" by Gucci Mane

Affiliation(s)

Federation(s)

NWF

Previous federation(s)

New-Age wrestling federation
Sexual Ass Wrestling
Universal Championship Wrestling
Xtreme Mayhem Wrestling

Wrestling information

Alignment

Heel

Wrestling style

Technical, Hardcore

Signature Move(s)

{{{signature}}}

Finishing Move(s)

Freedom Bomb


Trainer

Rick Martel

Handler

{{{handler}}}

Professional career

Debut

NWF Onslaught 2009

Record

Debated

Accomplishments

{{{accomplishments}}}

Retired

July 26th, 2011
Steve Lawrence Newman. (Born September 17, 1993), better known as Steve or Kayfabe full name Steven Vontavious Danger, is an American professional e-wrestler who is currently active among popular promotions. Steve is a controversial Wrestler backstage subjecting in many disputes and disagreements in the past. Steve has mainly Wrestled in NWF being released several times and quitting on occasions. There are mixed reactions to Steve's career. Some e-wrestling historians state Steve has made people think differently about e-feds with out of this world gimmicks no one else could pull off he tries stuff no one else dared to. Critics state that Steve has poor work ethic and only wrestles when he wants to sometimes does not fulfill his full potential Steve is considered an NWF Original he was with the company when NWF first started but his past behavior has tarnished that label. As of 2011 Steve is under contract with UWF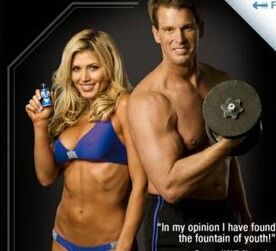 Early life
Steve grew up in a stereotypical Connecticut blue blood family. Though he has tried distancing himself from his blue blood roots. Growing up Steve wasn't always interested in e-wrestling. Steve's first dream was to become a Lawyer something his dad pushed him to be. When Steve decided that his passion was e-wrestling and that he was going to go to the Rick Martel online Wrestling school in Ontario Steve's dad was furious and till this day Steve has not spoken to his father. In an interview with e-wrestling insider in 2010 Steve said he wouldn't want to meet his father until he proved he can be a success in e-wrestling and prove to him he made the right choice. Steve suffers from anger management problems and did have to take classes before joining NWF. Steve is also said to have bi-polar disorder but there is no evidence of that being true. Steve currently resides in Connecticut even though he is billed from Texas. He also has a second home near NWF headquarters in Rockland Maine. Steve stated in the summer of 2010 that he personally does not care for the south and is a proud northerner this being said before his rich Texan gimmick. His current gimmick does raise eyebrows and his stereotypes of Texas he brings upon.
Career
Early career
Before NWF Steve was very unaware of online wrestling. He was introduced to it when Owner and creator Tougie encouraged people to Joined Steve was one of the men. Steve had no prior e-wrestling experience and while the first stint in NWF was considered failure in Steve's career with his lack of mic and ring skills. Even with lack of experience Steve was able to win the NWF Tag team Championship with long time friend TLA. Steve's reign as one half of the tag team champions wasn't a popular one with a lot of heat on him for having a Mexican person as being in the Mexican warriors stable with TLA who was Mexican. Offending the Mexican audience TLA and Steve's reign was short with only one title reign at Breakdown 1. After Steve's reign he rapidly declined and NWF management heard it. Steve was a distracting member backstage and said many controversial things. Steve was released at the end of 2009 after he made an insensitive comment. Steve would later return in the spring for a short time only wrestling in house shows and really nothing changed about his attitude he was again released shortly after.
Sexual Ass Wrestling
After Steve's second release he grew into deep depression. He would shortly be isolated from the e-wrestling community. He would make his name relevant again when he got the idea to form his own e-fed after not being satisfied with the other options he had with his career. Steve opened Sexual Ass Wrestling in the summer of 2010. He ran the company by himself running everything. SAW did have a decent sized fan base for its name recognition. SAW would started having a weekly show every Thursday called Thursday Night Rapedown. Steve would make many appearances on SAW TV but did not wrestle full-time though he did contend for the SAW world championship several times losing each time. Steve believed he shouldn't win a title in his own company "that would be pathetic" he stated. By the end of the summer Steve was growing tired of SAW he was the only one operating it and the fans were becoming bored of it. In late August SAW shut down all operations and SAW was considered history. In 2011 SAW returned in part-time operations until further support is gained. Steve was able to win the SAW world Heavy Weight Championship Twice with the return of SAW. As of May 26, 2011, Steve is the longest reigning SAW General Manager in its history. On May 26, 2011, Steve decided to make Sexual Ass Wrestling a full-time e-fed instead of being a part-time basis e-fed. Steve won the SAW world title at double D-Day but the efed folded and all titles were disbanded. Steve is too lazy to keep an efed open.
Returning to the Ring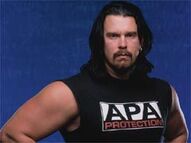 By late 2010 it looked like Steve's career was over with NWF still angry at him he had no where to go at that point. He did get an offer to Wrestle at a new e-fed called Pro Wrestling Nation(PWN)that was run by two NWF roster members. Steve jumped to the offer. Even though PWN lasted very shortly Steve was able to win the PWN World Heavy Weight Champion Becoming the first and only PWN world Heavy Weight Champion. Even though PWN was a small and unknown e-fed. NWF noticed Steve's improvement in the ring when he was at PWN. Tougie felt that staying mad at Steve who was at NWF when it first began was pointless. Tougie decided to sign Steve to a 1 year contract with NWF. With his return Steve has made a great Impact. Steve returned as a porn Star gimmick(Big Dick Daddy) that lasted only 2 weeks. Steve competed in his second Breakdown at Breakdown 3. He competed in the Straight Cash Ladder match where he fell short to former NWF e-wrestler Chase Black. After the event Steve went back to his rich Texan gimmick. Steve and Punisher began in a rival the week following Steve defeated
Hurricane Hawk
and Punisher in a triple Threat match. Weeks after Steve won his biggest match to date when he defeated NWF Veteran and icon Danny. Since returning Steve's in ring skills and mic skills have greatly improved than his first two stints in NWF. Steve has become a revolutionary figure attempting new ideas in his persona and mic work that no one else has done before. Steve has made it clear of his Political affiliation as he tries to implement that in his gimmick and so far it has contributed to a great vast of success. Steve Stated in a 2011 interview with e-wrestling insider that he plans on wrestling online as long as NWF is open. "Hell I will wrestle for another 50 years as long as NWF is still open that is my home and I will proudly put my body on the line until my computer explodes." On May 15, 2011 at Wired Steve won his first singles title in NWF winning the NWF Hardcore Championship in a three way match with Punisher and Seth Skyfire. The Hardcore title was inactivated as of 5/28/11. Steve had his last title defense on Collision Course against Seth Skyfire. After having the Hardcore title retired Steve has teamed up with Taylor, Adam and Rob Ryan in a new stable called the coalition. At Aggression Steve won a triple threat match to earn the number one contendership for the Television Championship, Steve also joined the Adamle regime when he and the coalition attacked TLA in the main event and Drew ended up winning. At the end of the match the coalition lifted Drew up in victory. As of June 11, 2011 Steve is ranked Number one in the select seven rankings. On June 20, 2011 Steve Defeated Tougie via Submission to win his first Television Title. Moments After he kicked Danny's ass on the ramp because Steve is a wreslting god. On July 9, 2011 Steve beat
Adam Aries
in a 2 falls match to retain his Television title and win the straight cash briefcase.
NWF Firing and Retirement
Steve was released from NWF on July 22, 2011 for reasons unknown. Steve has stated he is too good for NWF anyways. The day of his firing he signed a contract with two different efeds and was contracted for a match in both of them. Steve then announced his Retirement on July 26, 2011 something that was going to be expected later in the year. Steve retired before he wrestled for any other promotion and his last ever match was in NWF. His last ever on air appearance was on the debut episode of Uprising where he was a guest commentator. Steve stated that he will not wrestle for any other e-fed despite the controversy he had between he and NWF Owner Tougie who have always had differences with Steve's tenure with the company. Steve still occasionally makes appearances and states he would wrestle again but only in NWF which he also stated will never happen. Steve now resides in Waterloo, Iowa where he is involved in local and State politics. Steve stated he may be looking to run for public office but has not stated what position or when he will do it. Steve is working on a book entitled "Having it all then throwing it away: The self-destruction of Steve Danger. Steve has ended his long time friendship with his fellow e-fed counterpart Adam Aries he stated Adam is a disgrace to e-feds and regrets ever aligning himself with him he explains that if he didn't he could still be wrestling on the internet.
Coming out of Retirement and Tag Team Competition
On August 21, 2011 Steve announce on Sean Hannity's show on the fox news channel that he would be coming out of retirement for one last run. He signed on to Wrestle in UWF. Steve wrestled his first and last match in UWF where he was robbed out of a victory after the match he cussed out management and requested his release. Steve has stated this was his last run with E-wrestling he promises he is fully retired now and wants no part in the E-fed business at all. Steve went on a quick hiatus after his first match and now has a new gimmick as one half of the outsiders with
Adam Aries
.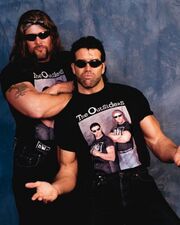 Returning to NWF...Again
Steve was resigned to NWF to a development deal which he is currently competing under he has worked some dark matches on Collision Course and a Dark match at Earned in Blood. Steve made a non wrestling appearance on an episode of Collision course but has yet to wrestle a match on Television and it is said he will appear soon.
Personal life
Steve Won the perfect attendance award his Sophomore and Junior Year of High School. Steve has stated he is uncircumcised and that he is proud of that. Steve is an avid Boston sports fan and attends many professional sporting events in Boston. Steve's strong dislikes are emo people and Canadians and he has made that clear.
In Wrestling
Finishing moves
Signature moves
chop block
Blatant Choke
Back Breaker
Running Clothesline
Sleeper hold
drop toe-hold
Driving Cross body
Russian leg sweep
missile drop kick
inverted DDT
Nicknames
The Patriotic Nightmare
American Jesus
Entrance Themes
Traphouse(instrumental)- Gucci Mane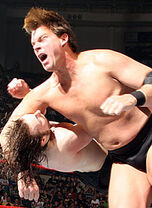 Championships and Accomplishments
NWF Television Championship (1)
NWF Hardcore Championship (1)
NWF Tag Team Championship w/TLA (1)
Straight Cash Winner 2011 (1)
AWL Tag Team Championship w/TLA (1)
SAW World Heavyweight Championship (3)
SAW Universal Championship (1)
Pro Wrestling Nation
PWN World Heavyweight Championship (1)(Current*)
  *PWN closed technically leaving Steve still PWN champion until any future plans to reopen and to defend the title

External links