Steve Storme
Talk

0
11,354pages on
this wiki
Steve Storme
Billing information
Ring name(s)
El Tormenta
Steve Storme
Height
6'1"
Weight
225 lbs.
Born
Hometown
Killa Cali
Theme music
"Deathsmarch" by Cancer Bats
Affiliation(s)
Federation(s)
Lords of Pain Wrestling
Brand(s)
Insanity (LPW)
Previous federation(s)
CAW, CGS, DXX, EW, PCW, ROG & TD
Wrestling information
Alignment
Tweener
Wrestling style
Puroresu
Finisher(s)
"End of Discord"
Will
Won't
Trainer
Ryan Silverstein
Handler
Professional career
Debut
Late 2007 (U.S. Indy)
Record
150-15-2 (incomplete)
Accomplishments
Complete list
Retired
N/A
Steve Storme, is a professional wrestler of unknown origins currently appearing in Lords of Pain Wrestling on its Insanity brand where he is the reigning Television Champion. Storme is a multiple World Champion and one of the most decorated wrestlers in the world today.
After training with Ryan Silverstein, Storme briefly wrestled in both Japan and Mexico. He came to prominence in America through his legendary career on the U.S. Independent circuit, primarily as part of CGS Wrestling and D-Generation XX. In August 2010, he signed a contract with major fed LPW to a mixed reaction from his large smark fanbase.
Storme is infamous for his god complex, uncompromising attitude and acerbic wit. Relentless streams of cutting insults - sometimes even breaking kayfabe - have become a staple of his promos. Despite being loathed by fans and wrestlers alike for most of his career, Storme has earned the respect of many and now polarizes opinion throughout the Indy circuit. His actions are questionable but Storme belives in consequentialism - the ends justify the means.
Early life
Despite showing great promise at Muay Thai, his real passion had always been wrestling. After leaving school, he worked menial jobs to make enough money to enroll at Ryan Silverstein's puroresu dojo in Long Beach. The roughness and intensity of the training caused several students to drop out but Steve persevered and as 2005 came to a close, he was ready to wrestle professionally.
Japan and Mexico (2006-2007)
Having wrestled in Japan for many years, Silverstein used his old contacts to get Steve a try-out match for Rising Sun Wrestling. Competing under his real name Steve Ashton, he managed to impress RSW officials with his cat-like agility and punishing strikes. They would book him frequently in the junior heavyweight division throughout the rest of 2006 and despite not winning any championships, he did reach the final of the annual Nakamura Cup.
During this time, Steve striked up a friendship with Arturo Carrera, an Alianza Universal de Lucha Libre wrestler who appeared sporadically in RSW. Carrera suggested Ashton join him in AULL and keen for more experience, Steve readily accepted the offer. Donning a mask as the villainous El Tormenta (Spanish for The Storm), he quickly became one of the most hated rudos on the roster. By summer '07, he was challenging for the AULL World Cruiserweight Championship, coming close to victory on multiple occasions.
Steve's stellar matches in Mexico had attracted attention from some of the U.S. Independent circuit's major promotions. He was keen to stay in AULL but CGS Wrestling offered him a deal and the money was too good to turn down. While his stints in RSW and AULL weren't long, Steve has often stated they were crucial in his development as a wrestler and has expressed fondness for both Japan and Mexico.
CGS Wrestling (2007-2010)
First stint (2007-2008)
When pressed for his ring name by CGS road agents, he decided on Steve Storme, combining his previous two monikers and adding an extra "e" to set himself apart from all the other Storms in wrestling. He made his debut on an episode of Monday Night Mayhem, taking out the CGS World Heavyweight Champion Dash Blade with a steel pipe. Unfortunately for Storme, his main event push wasn't followed up and he spent the next several weeks in lower-card matches.
At Interactive Sunday, Storme defeated HardKore, another underutilized mid-carder, to claim the vacant Hardcore Championship in a bloody Barbed Wire Massacre that won Match of the Year. After trading the belt back and forth, HardKore changed his ring name to STL and they formed a rebellious tag team called The Anarchists. The duo started doing well but was broken up prematurely when Steve was traded to the new brand Slam.
Storme excelled in new territory, defeating Dash Blade to become the first Universe Champion and then unifying it with Mayhem's World Heavyweight Title with a victory over The Witty Twit. After defending both belts in a memorable Steel Cage match against STL, Storme left CGS because he hadn't been paid in weeks. The fed would collapse a few weeks later in spring 2008.
Second stint (2008-2010)
Now owned by Jimmy DeMarco, CGS returned in September 2008 and most of its former roster were quickly re-signed. Storme immediately returned to his heated feud with Dash Blade, beating him in a 2/3 Falls match and then going to a no-contest in a Ladder match. Shockingly, they would then form a tag team out of a new found respect for each other. They had a decent reign with the Tag Team Championships before Steve had to take time off in December to heal nagging injuries.
He returned in March 2009 and after dispatching of Seth Omega (the former STL) in a brutal Hardcore match and breaking his former partner's leg, Storme set his sights on CGS' top prize again. He defeated Leon Caprice in April to start the longest World Championship reign in CGS history with defences against the likes of Black Dagger, The Bazz, Tya Kanellis, Michael Cash and The Witty Twit. During this time, Steve joined an interpromotional super-stable called The Brotherhood. They dominated CGS, holding every title available to them. The group even stuck together after overall leader Kyle Evers snatched the belt from Steve by pinning Jay Brooks in a six-man tag.
A few months later in the Match of the Year, Storme defeated Evers to take his belt back and the next month at Uprising, they fought to a one hour draw. This was the last straw and The Brotherhood imploded when Evers' jealousy consumed him, setting up a third consecutive PPV match between them. At Evers vs Storme III, Steve would lose in a sixty minute Ironman match by one fall to none. Following this, Omega bought CGS from DeMarco but didn't have the business accumen to succeed and it closed in January 2010.
Third and final stint (2010)
With Jimmy DeMarco at the helm again, CGS made its third comeback in August 2010 - just in time for its signature event A Night To Remember. However, gone were the big crowds and international tours, now CGS shows were all live from the Hammerstein Ballroom. Evers and Storme returned to face off in another Ironman match at A Night To Remember II. Fans were eager to finally see the score settled but in a shocking twist, Evers and Storme beat special ref "The Eliminator" Zachary so badly that he would never wrestle again. Storme revealed they were disgusted with the new CGS and had reunited as The Last Hope to save it.
The next week, Storme unveiled Psycho Dragon as his new student and billionaire heiress Scarlett as his new girlfriend and valet. They clashed frequently with General Manager Donny King and his supporters but Storme was mainly focused on a deeply personal feud with Black Dagger. Inside the Cage of Death at Aftershock, Storme led The Last Hope to victory over Team Dagger in the most barbaric match in CGS history. The feud ended several weeks later when he defeated Dagger in a Career vs Career Steel Cage match. Meanwhile, his personal life was in turmoil as he split with Scarlett amid rumours that he had beaten her.
Regardless, Storme soon won the Television Championship from Aesha and then notched up successful defenses against Nathan Harter, Master of Destruction and The Bandit. Despite Storme's best efforts, he could not save CGS from its third and final death. At End of Days in December, Scarlett revealed she had bought CGS just to sell off its few remaining assets. There was no way this could make her any profit but the real motive was to kill what Storme wanted to save. Scarlett's new boyfriend - disguised as The Antidote - then threw a fireball at Storme, burning half his face.
D-Generation XX (2009-2010)
In July 2009, Steve joined his CGS allies from The Brotherhood in D-Generation XX as well as competing in CGS. He was briefly placed on the C-brand Rated but made the switch to Monday Night Massacre after a few weeks. He immediately defeated Edge to win the Hardcore Title but it was vacated and replaced by the Empire Championship, a MMA-rules style belt that Steve would win twice during a feud with Khwame Myles.
Recognizing themselves as the future of Massacre, they teamed up and won the DXX Tag Team Titles from Tristagi and Ryan Black. Storme continued his singles career though, holding both the Empire and Junior Heavyweight Championships at the same time. After dominating Massacre all summer, Storme was set for a World Title shot against Chad Jennings but this was cancelled when DXX changed ownership in the fall.
The new owners restarted everything under one brand called Mass-Mayhem. With three belts and a title shot taken from him, Storme had a right to be unhappy. He linked up with Brotherhood member Kevin Kompiler to take the Tag Titles and then began chasing the crown jewel again. But DXX was struggling and by January 2010, it announced it would be closing due to financial problems. At The Last Stand, Storme lifted the World Heavyweight Championship after defeating Ryan Black and the champion Jimmy James in a Triple Threat match.
Takedown Wrestling (2010-2011)
First stint (2010)
Storme had some history with Takedown Wrestling going back to an interpromotional show in fall of 08. The Anarchists defeated The Militia to win their Tag Team Championships but Takedown management hadn't given authorization for the belts to be on the line so the reign wasn't officially recognized. Omega and Storme would then make some disparing remarks about Takedown officials on CGS programming in the following weeks.
However, Storme was able to repair bridges and sign an open contract with Takedown in April 2010. He was soon scheduled to fight The Crazy Connection of AJ Tornado and Krash with their Tag Team Titles on the line. Everyone thought Storme would reveal Omega as his mystery partner but instead Krash turned on AJ during the match and revealed himself as Storme's new protégé. They won the belts but their reign was cut short when management decided to remove the tag division due to lack of competition.
Storme would then enter a heated feud with Cesar Pineda. They traded vicious insults for weeks before Steve defeated him for the Challenge Championship in a Match of the Year contender at Manifest Destiny in September. They shook hands afterwards but Storme then announced he was leaving Takedown to commit to the returning CGS. Several Takedown veterans were not impressed with this lack of respect for the belt and Storme left on awkward terms.
Second stint (2011)
Despite prior ill-feeling, Takedown resigned Storme with the intention of providing a new challenger for Ryan Evans, the Takedown World Heavyweight Champion. Much like Storme with CGS, Evans is widely considered the poster boy of Takedown, and many fans were salivating at the thought of this dream match. But first, Storme had to defeat Krash in a Number One Contender's match. After dispatching of the former champion, he was victim of an attack by Evans, Derek Levy and Matt Ashburn, collectively known as The Golden Age.
Storme realized he was outnumbered 3-to-1 and quickly recruited former foe Cesar Pineda and returning veteran Ramon, to even the odds. Despite internal differences, all three wanted an end to The Golden Age. The makeshift alliance would prove successful, with Pineda defeating Levy for his third Challenge Championship reign, and Storme defeating Evans for the World Heavyweight Championship. Unfortunately, Takedown was later cancelled by its network OWW, with just one last show granted. Furious with the decision, Storme no-showed this event in protest.
Apex Pro Wrestling (2012-2013)
After several non-wrestling appearences on APW TV, Storme returned to the ring in January 2012 to defeat Wes Malvora at Apex Pro Wrestling's Unbreakable. In March at Relentless, Storme faced Cesar Pineda and the APW World Heavyweight Champion, Alyster Black, with the title on the line. Storme eliminated Pineda, but Black was able to pin his trainer with a roll-up to retain his belt. Storme claimed to have retired following the loss and even no-showed his own Appreciation Night the following week.
But Storme returned in November, losing to Tyrone Thomas and then Wes Malvora. These shocking losses revitilized Storme, spurring him on to win several matches before defeating his former student Krash for the World Heavyweight Championship in February. At Quest For The Gold, he retained this title by knocking Krash out with a Jack Daniels bottle. Storme would remain champion until August, when Austin Graves defeated him for the belt in a vicious Falls Count Anywhere match at Supremacy. Once again, Storme disappeared.
In November 2013, APW announced it would be closing after one more show. The World Championship had been previously vacated, and so Transcendence would feature an 8-man tournament to determine the final champion. In the first round, Storme lost to Matt Maximo by pinfall. Despite keeping quiet publicly, Storme was allegedly frustrated with his role in the event.
Other federations
Ring of Glory (2008)
When CGS closed for the first time in 2008, several of its stars signed with Ring of Glory, a respected Indy fed with a focus on pure wrestling. Storme debuted as a headliner and immediately feuded with Steve Ace over the ROG Universe Championship for the next several months. After holding the title once, Storme reformed The Anarchists with STL to take the Tag Team Titles before departing for CGS again in the fall.
Evolved Wrestling (2010)
After DXX folded, Storme and Kompiler both joined EW in January 2010 and won the Tag Team Championships within weeks. Storme entered the 35-man Battleground match at number one and ended up winning despite competition from the likes of Jakob Azazel, Ryan Black and Joseph Johnson. He then faced Kompiler for the World Championship but the two partners fought to a sixty minute time limit draw, meaning KK retained his title. Following this, Storme quit the fed, later explaining "I was tired of facing the same people over and over - a lot of them had been in CGS and DXX."
Premium Championship Wrestling (2010-2011)
In August 2010, Storme joined Desiree Miles and Shannon Saint as commentators for Premium Championship Wrestling. After ten months at the announce table, Storme quit this role and was replaced by James Baker. Storme would then wrestle a few matches for PCW, even managing to win the Platinum Championship from Michael Morrison before the fed closed in July 2011. On the final show, Storme was inducted into the PCW Hall of Fame for his work as color-commentator.
Combat Arts & Wrestling (2010-2011)
Hiding his burns behind a white prosthetic mask, Storme signed with Combat Arts & Wrestling in December 2010. He soon revealed Kayla as his new girlfriend and valet, known for obsessively stalking him in CGS. Due to several mutual enemies, he then formed None More Evil with his masked student Alyster Black. Despite capturing the Tag Team Titles in a Gauntlet match, their dysfunctional partnership quickly deteriorated until Storme defeated Black in a Mask vs Mask Deathmatch at The Downward Spiral. In March 2011, the company suddenly folded and Storme underwent extensive skin grafting to correct his burnt face.
In wrestling
Finishing moves

Broken Dreams (Just Facelock)
End of Discord (Schwein Redline)
Shining Wizard

Signature moves

Backhand slap to an opponent's face
Dragon suplex
Leaping lariat
Moonsault
Rope hung snap swinging neckbreaker
Roundhouse kick
Running arched big boot
Steel chair thrown into an opponent's face
Suicide dive

Nicknames

The E-Fed Messiah
The King of the Indies
The Next Level
The Saviour of CGS

Managers
Signature weapon
Stables
Entrance music

"Bullet With Butterfly Wings" by The Smashing Pumpkins
"Mother" by Danzig
"Deathsmarch" by Cancer Bats
Wrestlers trained
Aesha
Alicia
DJ Cameron
Emmanuel Jackson
Championships and accomplishments
Combat Arts & Wrestling
CGS Wrestling

CGS Hall of Fame (Class of 2009)
CGS World Heavyweight Championship (4x)
CGS Universe Championship
CGS Television Championship
CGS Tag Team Championship (3x) - with Dash Blade, Chad Jennings and Josh Majesty/Kyle Evers
CGS Ultraviolent Championship (2x)
CGS Hardcore Championship (3x)
CGS Bloodshed Cup Winner (2009)
CGS Wrestler of the Year (2008, 2009, 2010)
CGS Most Hated of the Year (2008, 2010)
CGS Match of the Year (2007) vs HardKore in a Barbed Wire Massacre match at Interactive Sunday
CGS Match of the Year (2009) vs Kyle Evers at Declaration of War
CGS Match of the Year (2010) with The Last Hope vs Team Dagger in the Cage of Death at Aftershock
CGS Feud of the Year (2008) vs Dash Blade
CGS Feud of the Year (2010) with The Last Hope vs Aesha
CGS Tag Team of the Year (2009) with Dash Blade
CGS Stable of the Year (2010) with The Last Hope
Fastest win in CGS history 3.9 seconds over Black Dagger
Longest streak in CGS history 31 wins in a row

D-Generation XX

DXX World Heavyweight Championship
DXX Empire Championship (2x)
DXX Tag Team Championship (2x) - with Khwame Myles and Kevin Kompiler
DXX Hardcore Championship
DXX Junior Heavyweight Championship

Evolved Wrestling

EW Tag Team Championship - with Kevin Kompiler
Battleground Winner (2010)
Only wrestler to ever win the Battleground Match from the #1 spot

Takedown Wrestling

TD World Heavyweight Championship
TD Challenge Championship
TD Tag Team Championship (2x) - with Seth Omega and Krash
Wrestler of the Month (September 2010)
Match of the Month (September 2010) vs Cesar Pineda at Manifest Destiny
Promo of the Month (April 2010, June 2010, September 2010)

Premium Championship Wrestling

PCW Hall of Fame (Class of 2011)
PCW Platinum Championship
PCW Non-Wrestling Personality of the Year (2011)

Ring of Glory

ROG Universe Championship
ROG Tag Team Championship - with Seth Omega
ROG Most Hated of the Year (2008)
Personal life
Storme is currently single. He has had several previous relationships, the most notable with model Kaya Rodrigues who he dated on/off for several years. The emotional impact of their break-up sent Storme into depression. Other girlfriends and sexual conquests include DXX General Manager Ashley Fox, billionaire heiress Scarlett, CGS backstage interviewer Ella DeMarco and Indy wrestlers Destiny and Kayla.
As a result of wrestling in Mexico for Alianza Universal de Lucha Libre, Storme can speak Spanish to a decent standard. He's lived in various cities including New York, Tokyo and Mexico City, but currently resides in Toronto, Ontario, Canada.
Storme's drug consumption has been well-publicized and numerous promotions have come under fire for seemingly turning a blind eye to it. His use of powder cocaine is known throughout the industry but reports also claim Storme has experimented with psychedelic drugs such as LSD. In February 2011, Storme admitted to using valium to treat anxiety and insomnia. Rumors persist that he is hooked on anti-depressants.
Miscellaneous
Storme's in-ring and psychological tutelage is widely respected as several of his students have been at least reasonably successful in the industry. In November 2010, he declared
Psycho Dragon
his "star student" after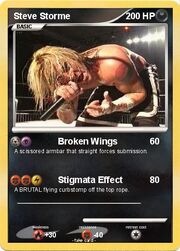 PsyDrag achieved two feats that Storme did the previous year: winning both the Bloodshed Cup and the CGS World Heavyweight Championship.
Despite his usual arrogance, Storme approached LPW veteran Morpheus for advice prior to a tag team match with Seth Omega against Jude Maxwell and cYnical in February 2011. Storme pinned Maxwell to win the match for his team and Morpheus has since become a mentor figure to him despite Omega's scepticism.
Storme has frequently pledged his loyalty to CGS Wrestling. In September 2010, he announced that he had agreed to half his pay to prevent the fed from going bust. He was the only person to take a pay-cut but urged others to follow his example. Storme was previously the highest paid member of the roster but his efforts were in vain - CGS closed in December 2010.
See also
Main article: Steve Storme quotes