Stephanie Kaufman is an American professional wrestler, better known as Stevie Swing. She currently works for Sin Wrestling and has previously wrestled for New Era Wrestling, Great Lakes Wrestling Association, Totally Fictional Wrestling Federation, Viking Wrestling Federation, The Crusade, and Victory Wrestling. Her greatest professional success came in New Era and Sin Wrestling. Before finding success in professional wrestling, Stevie found a modicum of fame as a professional dancer, touring with the likes of Madonna and Janet Jackson in the 1990s.
Extended Biography
Stephanie Kaufman was born to middle-class Jewish parents on February 27, 1979, as Steven Andrew Kaufman. Brought up as a pious, God-fearing young man, Stevie wound up being the oldest of two children in a Chicago suburb. As children, Stevie and her sister were taken to see Staying Alive, John Travolta's 1983 flop sequel to Saturday Night Fever. Four year old Steven was forever addicted to dancing.
His parents allowed and supported Stevie's wishes, paying for lesson after lesson, instructor after instructor. He was a sponge for information, learning everything she could about classical and modern forms, from ballet to breakdancing, from jazz to salsa. He entered his first competition at the age of 12 and, shocking everybody, he won. After winning several more championships, he dropped out of high school at age 19 to try out for Madonna's Ray of Light Tour. Whatever shred of piousness Stevie had left was whisked away on long bus rides from city to city. He claims that his first sexual experience was early on this tour, though it is now known that Stevie maintained relationships with two girls through high school. What is certain, however, is that it was on these tours that Stevie first felt that he had been born in the wrong body.
After completing tours for both Music (2000) and Janet Jackson's All For You (2001), Stevie went home to Chicago and outed herself as a transexual woman to her mother and father, who responded by kicking her out of the house. Stevie lived for a time with Jennifer Cohen, her high school sweetheart. The two began partnering at dance competitions to make money. The two dominated the Chicago dance circuit until the night Jenny botched a relatively easy move, catching Stevie right on the nose with her heel. Stevie's relationship with Jenny quickly deteriorated – they'd stopped dancing, and Stevie spent much of her time on the couch, watching pro-wrestling. She absorbed everything that she saw.
One night, Jenny came home to find Stevie sleeping with Amanda Ortiz, mutual best friend from high school. Jenny took off for Japan, and Stevie vowed never to dance again. She threw herself into wrestling, studying every move, match, and tape she could get her hands on.
In 2004, Stevie Swing married Amy Ortiz, who supported Stevie while she geared up to make her wrestling debut as "The Dancing King" in New Era Wrestling, adopting a standard cis-male gimmick and identity due to wrestling's lack of acceptance of women wrestlers, let alone transwomen. He signed for the company in 2005, debuting at an event called The End of Independence. The wrestling world would never be the same…
Essential Information
Name: Stevie Swing
Short Name: Stevie
Nickname: The Dancing King (pre-2007), The Dancing Queen, The Sword, Dangerous Devil Queen, Neko-chan, The Ironwoman of Sin Wrestling, Stevie Christ
Height/Weight: 5'7"/105 lbs.
Body Type: Thin, anorexic 
Alignment: Heel
Theme Music: "Artificial Death in the West" by Death Grips
Appearance: Stevie Swing is a skinny, pierced, tatted up freak; someone you'd expect to see jamming for the world's most stereotypical roller derby team or going down on some dude's dick for an alt-porn website. In the ring, she dresses in an outfit that's largely a nod to her past life as Sin Wrestling's one-time Dancing Queen. Though her top, were she an ancient warrior, would be something like plate-armor. Since she's a professional wrestler, it's low cut, pushes her breasts up, and is also somehow a mirrorball, reflecting light back into the arena as if Stevie were the focus of the world's most neurotic disco. She wears leather hotpants, fishnets, and wrestling boots because she's a chick and she wrestles. Her face is a miasma of glitter—her eyebrows and lips are covered in metalic, shiny shit, she vajazzles her forehead with an inverted, rhinestone cross, and her eyeshadow changes from match to match. She's a real trendsetter, that one. In addition, she wears a gauntlet of similar material to her top on her left hand, and of questionable legality in the ring. She justifies it as protection for a hand that's still healing from being stabbed, but she's added several moves to her arsenal that take advantage of the gauntlet, among them left-handed strikes and the dreaded Tongan Death Grip. 
Gimmick: Stevie Swing is one of the most successful competitors in the histoy of Sin Wrestling, though much of that success has been accidental/due to her surprising longevity. Rightfully considered one of the worst human beings to've ever set foot within the squared circle, Stevie has largely accepted that designation and thrown in her lot with Horatio Q. and the Department of N.I.C.E., a ridiculous assortment of freaks and failed wrestlers who've been promoting Stevie Swing as a kind of new-age Jesus Christ to hopeful junkies, porn addicts, stupid club kids, and children. Having once again been kicked out of the house by her wife, and having finally had gender reassignment surgery, Stevie could give a fuck about what her fans and her haters think about her. She's just concerned with building an empire.
So, too, is Horatio Q., and there've been rumors circulating that the Department of N.I.C.E.—formerly known as the Department of H.A.R.M.—are something much less innocent than a death cult devoted to a dumb professional wrestler. Horatio has quite the past as an international arms dealer and drug supplier, and has managed to avoid life in prison largely by playing the fool in Sin Wrestling. But he and the Department are up to something, and Stevie Swing appears to be the figure head. Of what, who knows? How Stevie will react when she finds out? Time will decide.
Wrestling Style: Aggressive/High Risk/Dirty/Japanese Joshi Style
Stevie is definitely a risk taker – she is quick to go to the top turnbuckle and lives and dies by her speed and quickness between the ropes. She doesn't just do trampoline moves though: Stevie is as adept standing up and on the mat as she is in the air. With a vast array of innovative offense, Stevie can beat an opponent any way she pleases, though her stand-by is a simple superkick.
Over the years, Stevie has shown quite the ruthless streak. She has never shied away from even the most hardcore of matches and is prone to explosions of violence both backstage and in the ring. Some of her actions, like her brutal attack on former best friend Morgana, attacking and blinding Aaran Hayden, attacking Sebastian York with a razor blade, and, perhaps most famously, stabbing long time partner Creature in the kidney with a sharp object, have led some to speculate that Stevie suffers from I.E.D., or intermittent explosive disorder. Stevie has yet to address those rumors.
Strengths: Stevie Swing is a wrestler who has been in a state of near-constant evolution since her debut in 2005. While she has always relied on the quickness and agility that were boons to her career as a professional dancer, she has become exceptionally adept at mat-based technical wrestling, and has learned how to get away with just about everything behind the referee's back. She is also exceptionally strong for a woman, being able to life opponents who are twice her size.
Weaknesses: Stevie's strength has limits, obviously, and her massive ego, if bruised, can get her into trouble. In addition, Stevie's biggest physical weakness is her neck, which was purposely broken by Jean-Paul Lacklan in 2006. While it has significantly healed over the past seven years, it isn't exactly the kind of injury that goes away.
Move List
FINISHER: (1) The Last Dance, (2) Go to Fuck, (3) Five Star of David, (4) Dragon Sleeper (5) Instant Crush FINISHER DESCRIPTION: (1) Super Kick, (2) A top rope Go to Sleep, (3) Five Star Frog Splash w/yamaka, (4) Dragon Sleeper (5) The Victory Star Drop
TRADEMARK MOVES:
Dancing Toe Hold – Your basic spinning toe hold, only Stevie adds a dance move before every revolution to add insult to injury.
Dance Dance Revolution – Depending on the situation, Stevie springboards into the ring from the top rope with a leg drop, hurricanrana, or missile dropkick. Before going for the cover, she makes sure to do a little dance.
Human After All – Shooting Star Leg Drop
Brainwasher – Vertebreaker
Death Grip - Tongan Death Grip
PPV BENOIT TRIBUTE LIST
No Hands Springboard Somersault Plancha
Moonsault Double Stomp
720 DDT
John Woo Kick
The Morgasm - moonsault into a twisting 450 splash
THE REST
Seated Corner Dropkick to the Face
Johnny Cage Cock Punch
Shining Wizard
Face Wash
Seated Yakuza Kick
Seated Dropkick
Pink Mist
Missile Dropkick
Asai Moonsault
Springboard Moonsault, Dropkick, Splash, etc.
Baseball Slide to Headscissor Takedown
Springboard Lucha Armdrag
Satellite Headscissors to DDT, Bulldog, etc.
Muta Lock
Headscissors Choke
Strangle Hold Gamma
Tornado DDT
Snap Piledriver
Short Hurricanrana
Japanese Ocean Suplex
Liger Bomb
Throat chops
Palm strikes
Career
New Era Wrestling: 2005-2007
Stevie Swing began her wrestling career innocuously enough, forgetting of course that she wrestled as a man for two years. After winning a non-descript dark match in Japan, he (we'll refer to Stevie as "he" for the time being) was booked in a "Make a Wish" Battle Royal, with the winner receiving a title shot at any belt that wasn't the Ultimate Title. Stevie won, shocking many by superkicking future NEW Hall of Famer Ty Dhomie over the top rope, and declared his intention: To face Hall of Famer Blair for the title he made famous: The Trinity Championships.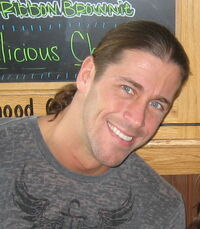 There was one slight problem: they, and Blair, were retired. Stevie issued challenge after challenge to Blair, only to be told that his goal was impossible. Finally, Stevie turned his focus onto another Hall of Famer and his belt: URGE and he retired EDN Championship.
Again, Stevie was told that the match he wanted was impossible. URGE eventually relented, giving Stevie his first shot at gold. He won. Stevie then did the next logical thing – challenged Blair yet again.
Around this time, NEW was under siege from a rival promotion long thought to be defunct – Rampage World Wrestling. Many had defected, from Killer Instinct to Creature, regardless of affiliation with the former federation. Not seeing any reason to stay with a company that refused to fulfill his Make A Wish contract, Stevie defected, which brought Blair out of retirement with the titles in tow.
The final conflict between NEW and RWW was set to take place in a 5 on 5 cage match at Collision Course. Stevie proved himself worthy of being in the prestigious match despite a losing streak and put on the performance of the night, outlasting his team and all but one opponent – Matt Michaels, Mr. Collision Course. It was not without great effort that Matt Michaels made Stevie tap out to his devastating Executive Control submission maneuver, but before giving up, Stevie pinned Blair, winning the Trinity Titles in yet another stunning upset.
Stevie lost the Trinity Titles in short order to Ty Dhomie. He was then booted out of RWW. Stevie struggled to stay in the main event for the rest of 2005, failing to impress against Killer Instinct and missing out on a chance to unify the RWW World Title, the Ultimate Title, and the Trinity Titles in an Ultimate Purge match. Things were about to change…
After failing to capitalize on the hype and momentum of 2005, Stevie announced his retirement from the wrestling world, convinced that he was unable to make it in the big leagues. In his final match, Stevie was slated to team with Creature to take on Lennox Armstrong and Demon. Things were complicated when Killer Instinct announced that the show was going off the air…before Stevie's final match.
Enraged, Stevie changed his mind about retirement and plotted revenge against Killer Instinct, who no longer saw the Dancing King as a threat. All of that is somewhat unimportant and secondary compared to the match itself, which still took place for the benefit of those in the arena and watching on-line. Those few fans were to witness the somewhat innocent birth of one of the most influential tag teams of all time: Stevie Swing and Creature – Cake and Ice Cream.
It was also during this time that Stevie picked a fight with Chuck Norris, a fight that would land Stevie in the hospital before his "retirement match." It was at the hospital that he met Nico Chau, then 17 years old, volunteering for some high school class. The two quickly became inseparable and today are planning to have children.
Stevie Swing and Creature, by this time both outcasts without a fed to call home, were solidly allied, even if Creature was somewhat unwilling. The first pairing of the two was a throw away tag team match on an episode of Bloodzone, but with the C&I vs. Lewis/Demon match and Killer Instinct's subsequent cockbaggery, the two were together.
KI and RWW co-owners Rob Gamble and Sean Cole tried to take advantage of this fact by booking Stevie Swing in a cage match against Killer Instinct. It wasn't bad enough that Stevie had shown a seeming inability to beat KI, but the referee for the contest was Cervantes Cortez who, one week earlier, had ordered his huge bodyguard Raheem to chokeslam Nico off of the Bloodzone stage on her very first night before the cameras. Swing was ordered not to touch Cortez or suffer an automatic loss and a pink slip.
This was unquestionably the biggest match of Swing's career. Creature had been trying hard to reinstate New Era Wrestling, which had been killed at the conclusion of the Collision Course match. An "All or Nothing" match between RWW and TPW was scheduled and, depending on the outcome of the cage match NEW, the entire existence of which was pinned to Stevie Swing. Also on the line was Creature's career.
In an effort that nobody is quite able to explain, Stevie withstood 17 Killer Instinct chair shots and beat KI via a swandive from the top of the cage. Not only had Swing inserted NEW into the All or Nothing match, he gave it all the momentum: Creature and a team of NEW Legends won the match, and NEW was back.
Nico, hurt and afraid after Raheem's attack, found her way to a night club in Bangor, ME: Salvation's End, which was owned by Jean-Paul Lacklan. Nico found a sense of home within Salvation's End, but her involvement with Lacklan and his Minions would soon alter the course of Cake and Ice Cream.
On the road to Deadly Conflict and the return of NEW, Stevie would pick up the Anarchy Title from Chris Titan, who would become an on again/off again rival when Stevie wasn't busy with something worthwhile. At Deadly Conflict, Stevie faced Cervantes Cortez with Nico's honor and an anytime/anywhere shot at the Ultimate Title on the line. Before the no holds barred match, Nico directed a group of Lacklan's minions to attack Stevie brutally backstage, leaving Swing in no condition to fight.
Stevie still made it to the ring and put up a valiant effort against Cortez, but after falling through a glass table from a scaffold and having a crown of thorns pounded into his skull, he was finally beaten. After the match, a dazed, bleeding Stevie Swing was confronted by Lacklan, who demanded to know what made Stevie think he was worthy of teaming with Creature. Stevie responded by making fun of Lacklan, who responded by breaking Stevie's neck.
Stevie recovered from his injury much faster than anybody anticipated, making his return to the ring during the Parallel Apocalypse battle royal at the Pay Per View of the same name. Using his best friend Porkins as a decoy, Stevie eliminated Lacklan and progressed to the final three of the battle royal. When Stevie, Snuggles, and Kevin Steele were all declared to have been eliminated at the same time, a triple threat last man standing match was booked to determine the winner. Kevin Steele won, but Stevie Swing was back in a big way.
Cake and Ice Cream's bond grew stronger during this time, Creature accepting Swing's eccentricities, Swing learning everything he could from the Ultimate Champion. They quickly found themselves against Matt Michaels and Fear, the ForeFathers, NEW's Tag Team Champions.
Booked into a tag match against the champions with a title shot on the line, Stevie had to face the recent betrayal of Nico Chau, costing him a guaranteed shot at the Ultimate Title, and the ominous words of Jean-Paul Lacklan, a long time rival of Creature's. Cake and Ice Cream won the #1 Contendership match, but a brutal attack by Kevin Steele, #1 Contender to Creature's Ultimate Championship, left Creature unable to compete. The World Tag Team Championship match would be a 2 on 1 affair.
Stevie spent much of the week in a non-descript Training Barn eating waffle fries until Creature showed up to put Stevie Swing through a training program that would make Yoda blush and John Rambo throw up like a bitch. The problem, Creature asserted, was that Stevie didn't want to win for himself, but for Creature. He needed to stop being a sidekick if he was ever going to beat two of the best NEW had to offer. After denying a direct order from Creature to attack him, the Ultimate Champion declared Stevie ready for the task. At Bloodzone, Stevie faced both Matt Michaels and Fear, and he won.
Meanwhile, Kevin Steele was tragically rendered unable to compete at End of Independence due to a plane crash. As a result, Sean Cole placed Stevie Swing in a match against Jean-Paul Lacklan to determine who would face Creature in the main event. Stevie beat Lacklan in the opening match of the Pay Per View and then pulled off the upset of a lifetime, beating Creature for the Ultimate Title. Not only did Swing capture the title, but he was the first man to best Creature in singles competition in 18 months.
Stevie's reign was short lived – the following week, Cervantes Cortez would cash in the title shot he won against Stevie and would win the title with the help of Raheem and a 20 steel cage enclosure. Nevertheless, the damage had been done – Cake and Ice Cream would never be the same.
New Era Wrestling was undergoing a swift transformation at the time, going from a fed overflowing with superstars and fan favorites to a promotion filled with one or two standouts in the midcard and very little else. However, NEW's success was continued during this time due to the goings on of the so-called NEW Musketeers: Creature, Stevie Swing, and Lacklan.
It was their feud that brought viewers to their televisions and fans to the arenas, but it was also that feud that would eventually destroy New Era.
After losing the title to Stevie, Creature began to plot the destruction of his tag team partner, to show that his victory at End of Independence was a fluke. Stevie continued on his merry way, until Jean-Paul Lacklan dropped a bombshell: Nico Chau had been sleeping with Creature.
That Nico had been sleeping with Creature is true. What was also true, though unknown to Stevie, is that Nico had been doing so at the behest of one of Lacklan's lieutenants in an effort to drive a wedge between the two.
At an episode of Bloodzone, Stevie and Creature stood face to face with Nico in-between them. Creature apologized to Stevie and the two embraced to the roar of the crowd. Things quickly turned sour though. Creature suddenly collapsed to the mat, bleeding from the side. In Stevie's hand was a knife, handed to him by Nico.
Cake and Ice Cream immediately split-up and were stripped of the NEW World Tag Team Titles, having gone undefeated in over a year of competition. Stevie, in a desperate bid to win Nico back, pledged his services to Jean-Paul Lacklan, who christened Stevie "The Sword of God."
Stevie beat Killer Instinct and Xavier Newborne in a #1 Contenders match shortly thereafter and signed the contract for Creach-Swing II, which was more hotly anticipated than their first singles encounter. Creature had also once pledged his life to Lacklan, having been christened "The Fist" by Lacklan who was "The Voice." Lacklan, spurred on by a mysterious advisor known to some as The Oracle, believed the three men to be the Three Kings of Wrestling, three men destined to purify the sport in the name of God, who just so happens to be a huge wrestling fan.
So the Sword and the Fist were set to collide. Swing went into the match seeking vengeance. Creature went into the match vowing to redeem himself for allowing Swing to fall. In perhaps the greatest match in New Era Wrestling history, Creature beat Stevie Swing, which quickly fractured the Swing/Lacklan working relationship.
To settle the feud once and for all, the three agreed to meet in a Triple Cage match at Collision Course. The winner would walk away with the Ultimate Title. The losers would lose their right to challenge for that title as long as the winner held it. There would be a resolution.
Three cages could not contain the hatred between the three men, all former allies at one point in time, all now bitter enemies. What Creature-Swing II was in terms of a wrestling masterclass, the Collision Course cage match was in terms of sheer brutality as Swing's daredevil tactics went against Creature's blunt force and Lacklan's brutal Japanese style.
Creature survived the match, but there was no real victor. During the match, Lacklan set fire to the cage structure. This eventually turned against him as Creature shoved Lacklan into the flames, further burning Lacklan's already flame-scorched face. Lacklan disappeared shortly after the match to tend to his wounds. Creature was exposed as a hypocrite and was unable to reform Stevie Swing. Stevie himself was a bitter, warped man, far removed from the Dancing King of old.
Barred from competing for the Ultimate Title, Stevie set his sights on the one singles championship that had eluded him: The PrimeTime Title. Winning the belt would earn Stevie the distinction of being the third man to claim Universal status in the company, meaning that he'd won the Ultimate, Trinity, PrimeTime, Tag Team, and EDN Championships, a feat that would likely never be done again, as Stevie had to reactivate four of the necessary seven championships to do it himself.
Stevie won the PrimeTime title in a tag team match and was immediately scheduled to defend it in a match of his own creation: The Dance Dance Revolution Deathmatch. Christopher Titan, Stevie's challenger and the former champion, was injured, necessitating the substitution of an unknown man who went by the name of Senor Caliente who, oddly enough, wrestled an extremely similar style to Titan.
Caliente shocked the world, beating Stevie Swing and claiming the PrimeTime title in Stevie's first defense. Swing snapped, beating the new champion within and inch of his life. He picked up a microphone and began to run down the fans for not caring about him or his achievements. He then emphatically quit the federation and proceeded to walk away from the industry.
However, Stevie was seen at Bloodzone the very next week. He entered the ring with a microphone and said that he was privy to information that would ruin Creature forever and bring down the federation he had fought so hard for. All Creature had to do was give Stevie an Ultimate Title match, contrary to the stipulations of Collision Course. Stevie was told by New Era officials that this was impossible, and his threat was shrugged off.
Creature had a new #1 Contender, Ryan Rage. An imbecile who filmed himself listening to RATT while riding his expensive car on abandoned roads, Rage quit the fed a mere week after claiming the #1 contendership, which left Creature without a partner going into a match against Night and Caz Armour. Stevie Swing volunteered, promising to uphold Cake and Ice Cream's undefeated legacy. What actually happened that night remains a mystery to most fans, as Bloodzone was not seen on television, and the arena was overrun with law enforcement officers and FBI agents.
Stevie, following through on his threat, turned over information of a highly damaging nature to Federal authorities. Xavier Newborne, a former NEW competitor and perennial Ultimate Title contender, created and marketed a highly potent, highly illegal performance enhancing narcotic: Drive. Not only did Stevie Swing leak this to authorities, he also turned over the names of its two most notable users: Ultimate Champion Creature and NEW owner Sean Cole. New Era Wrestling was dead.
However, NEW wound up coming back, not once, but twice. The first time, Stevie managed Sin Wrestling's Morgana in a tournament to determine a new Ultimate Champion. Morgana dominated the tournament, which was ultimately left incomplete. The second time, Stevie returned to the promotion for a shot at 8 Ball, a NEW legend who had returned and laid claim to the Ultimate Title. Stevie won the belt, but drifted aimlessly, leaving the promotion for good at the end of 2007, when he lost the Ultimate Title to Alexander Grimm.
Sin Wrestling (2007-Current)
Stevie Swing entered Sin Wrestling at their first show off a hiatus, The Next Wave. After winning his debut match, Stevie has been on a role, defeating former Lust champion David Cage and Arran Hayden in rounds one and two of a tournament to determine the number one contender to Morgana Ashton's World Title.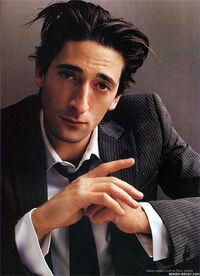 Swing has also been involved in a growing feud with Arran Hayden, starting with their first confrontation at The Next Wave that saw Stevie blind Arran in one eye. Since then, the two have fought just once, with Swing coming out the victor. Before the match though, Stevie shoved Arran in the path of a moving car that hit him. After the match, in a shocking replay of Stevie's run-ins with Killer Instinct, Arran delivered 17 chair shots to his opponent, giving him a concussion.
Stevie would go on to win the tournament, setting himself up to face Morgana Ashton for the Sin World Title at Sin Wrestling's appropriately named 100th show, 100. It was wholly obvious that Stevie Swing had fallen head over heels in love with the beautiful World Champion, who, in turn, respected Stevie as a competitor and a friend. Stevie's love for Morgana actually cost him an eight match winning streak, as he dove into a lake to rescue a pair of Morgy's panties from a hungry crocodile.
Regardless of Stevie's love and adoration for Morgana and Morgana's respect and friendship with Stevie, the show they put on at 100 is unequaled in the history of Sin Wrestling. With the World Title on the line, the two pulled out all the stops and were evenly matched throughout, move for move. Swing and Morgana were counted out after Morgana made a death-defying leap onto Stevie, who was in the stands, but the match was restarted at the behest of the Champion, who promptly avoided a Last Dance superkick, hit Stevie with a dropkick to his other leg, and nailed the Dancing King with the Morgasm for the win. The next week, at Eternity #14, there would be a return match, but Stevie lost that as well.
Once Sin returned from summer vacation, Stevie reluctantly found herself embroiled in a feud with Morgana's tag team partner in Team Wifey, Adora Reed. After several encounters and the encouragement of "The Creep" Chris Carson, Stevie won the Sin Television Title, her first major championship in the promotion. Swing then found himself in a rivalry with Sebastian York, who was himself a relative newcomer to Sin and had, like Stevie, won a title. Sebby, as Stevie called him, wanted a shot at Swing to prove himself. Stevie wanted a match against Sebby because he found the guy annoying. The two would meet in a Ladder Match for their titles, which Sebastian won in surprisingly easy fashion. The next day, it was announced that Stevie was taking an unspecified amount of time off to deal with his mental health.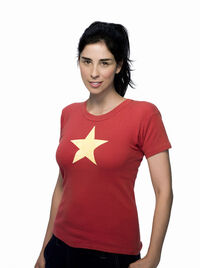 Stevie was out of action for a little over a month, coming back to answer an open-ended challenge from his long-time rival, Jean-Paul Lacklan. Stevie came back with everything the fans remembered—the charisma, the flashy moves, the acerbic wit—but something was...different, namely that the Dancing King had become the Dancing Queen. Stevie Swing, it seemed, had been and always was a woman, and the last three years of her career amounted to an elaborate ruse to secure bookings with promotions that were once gun shy about hiring women to fight toe-to-toe with men. The whole promotion kind of shrugged their shoulders and said "Well, that explains a lot," with the exception of Lacklan, who refused to believe he could be beaten by a woman.
All of that was secondary to Stevie, who was on a quest to win the Sin World Title for the first time. She entered Sin's Over the Top Rope Battle Royal as a severe underdog, but emerged victorious with the Sin Trophy, last eliminating Morgana. With the power that comes with the Sin Trophy, Stevie decided not only to book herself in a match with Declan Turner, who held the World Title, but with Morgana as well. Stevie went into Vanity having finally beaten Morgana in a singles match, but her high hopes came crashing down, as Morgana would win the match, pinning Declan as Stevie writhed in pain just inches away. As the pay per view drew to a close, Morgana was found severely injured in her hotel room, and Stevie Swing was found in her hotel room, drowning her sorrows in a bottle of Zima, the clearmalt.
Once it became apparent that Morgana could not defend her title at Back to School 5, she was stripped of her title, which was then put up for grabs in a ladder match involving the companies top stars. Conspicuous by her absence was Stevie Swing, who appeared to not be in the arena at all. Shocking the world that night was Generic Heel, a long-time jobber who claimed to hold a 3000-year undefeated streak and something like 60 major World Title reigns. In an odd twist, Generic Heel appeared to have undergone the same transformation Stevie Swing had earlier in the year, appearing first as an out-of-shape man, then as a woman. Generic Heel attributed this to the forces that overtook his body when he was sucked into a black hole during his Pay Per View encounter with Gaspard, but science doesn't work that way.
After weeks of speculation, Morgana returned at Eternity #37 and unmasked Generic Heel, who was revealed to be Stevie Swing! Furthermore, Morgana had video evidence documenting that it was Stevie Swing who'd attacked Morgana, due to a fit of jealous rage. The fans immediately turned on Stevie, who had been a steadfast fan favorite for most of her career. Contrary to their wishes, however, Stevie seemed to thrive on the hatred of the fans, taking Morgana to the absolute limit in a one hour Ironwoman Match at Illusions 2008, which Morgana won in overtime. Luckily for Stevie, the match was not for the World Title, which she would hold for over 100 days before losing it in an Ultimate Survival match to Casanova at Christmas at Stevie's, a PPV held in Stevie's front yard. The fans, upset about Casanova's win, burned Stevie's house down.
2009 didn't start any better than 2008 ended. Stevie lost a match to his longtime rival Chris Carson in Carson's home town. After the match, Stevie sulked off to the Creep's house, which she promptly torched. Carson's son was taken to the hospital for smoke inhalation, and Stevie publicly declared that she'd hoped his kid would have died. A full blown war between the two, long inevitable, was on. Their feud wound up taking center stage at Five Years Gone, Sin Wrestling's fifth anniversary show, where Stevie would take on Carson and World Champion Sebastian York for his title in the confines of a Steel Cage. The match was every bit as brutal as one would expect from an encounter between a father and the person who put his child in the hospital, and, in the end, it was Carson who would escape the cage, taking advantage of Stevie's ill-advised hurricanrana on Sebastian York from the top of the cage. Stevie then lost to Jean-Paul Lacklan for the first time on the following Eternity, increasing her losing streak to five. At Over the Top Rope 5, Stevie lost to Chris Carson in a World Title match and was unceremoniously eliminated from the battle royal by an interfering Jean-Paul Lacklan. Sin Wrestling closed up shop shortly thereafter, and that appeared to be all she wrote.
But Sin Wrestling was purchased later in the year by business magnate Horatio Q., who demanded that a new champion be crowned at Illusions 6. Stevie Swing was not booked for the event, but showed up at the end of the show to steal the title from newly crowned champion Teresa Quaranta. After weeks of bickering back and forth between the two, Stevie won her second reign as Sin Wrestling World Champion in the opening contest of How the Horatio Stole Christmas! Sadly for Stevie, the belt was up for grabs in that evening's main event Ultimate Survival match. She was eliminated from the match by Mike Phantasy less than two hours into her reign, giving Stevie the shortest reign in Sin history.
This set the stage for a somewhat whirlwind 2010, as Stevie saw her once iron grip on the Sin main event slipping away to new blood like Quaranta. She did two things: First, she hired former Sin owner Horatio Q. as her manager. Second, she went back to her image consultant, who told Stevie that she'd grab the fans attention again if she changed one fundamental part of her image: Stevie Swing would have to go straight.
The effect was two-fold. Stevie left her wife, Nico Chau, in an effort to seriously go straight. She did so the only way a 30-year-old woman can: By joining eHarmony.com during one of their free communication weekends under an alt profile. She set up and went out on a date, only to discover that she was going out with Kelvin Coolidge, himself a Sin wrestler and misanthrope. After a romantic evening of cheap booze and Taco Bell, Stevie and Kelvin went back to Stevie's hotel room and had unspeakably wild sex in full view of a cadre of hidden HD cameras. That footage was quickly auctioned off to the highest bidder, California porn company New Sensations, who produced a DVD that has, to date, sold millions.
Professionally, teaming with Horatio led to the creation of the
Department of H.A.R.M.
, a stable of jobbers whose
purpose was to assist Stevie Swing. Official members of the Department of H.A.R.M. included
Tsarmina Bloodmoon
,
Porkins
,
Generic Heel
,
CAPS LOCK
, and Kathlene and Michelle, the twin sisters who make up
Illegally Blonde
. Under Horatio's tutelage, Stevie entered into a war with
Kerry Windsor
, a Sin newcomer whose personality bore a strange resemblance to his old rival, Sebastian York. Stevie was briefly the laughing stock of the company for losing two matches in a row to Windsor, including a match on Pay Per View for the Television Title, but Windsor soon lost the TV Title to Jean-Paul Lacklan, who was booked in a "Last Motherfucker Standing" match at Sin's annual Over the Top Rope event.
At Over the Top Rope, Stevie Swing brutalized Lacklan in what is, to date, the pair's last encounter. Stevie handcuffed Lacklan and assaulted him with a steel chair until he was physically unable to respond to the referee's ten count and was declared unable to compete in the Over the Top Rope Battle Royale later in the evening. Stevie was, for the second time, the Sin Television Champion. A number of Sin superstars were either too injured or too fired to participate, so the Department of H.A.R.M. filled in, giving Stevie a distinct advantage. She used it, winning the battle royal and her second Sin Trophy.
Sadly, Sin Wrestling closed a week later, before Swing could cash the Trophy's contract in for an expected World Title match against her archrival, Chris Carson.
When Sin Wrestling returned in October 2010, Stevie returned to the promotion dressed as a Japanese cat girl, led to the ring by an odd gentleman by the name of Mr. Kagemusha. During Sin's haitus, Horatio Q. sold Stevie Swing's contract to the eccentric Japanese millionaire, who insisted that Stevie dress as she did and wrestle a style more becoming of a Japanese joshi. Stevie entered the one-night tournament held at Illusions 2010 to determine a new Sin Wrestling Champion, but was ousted in the second round by Jake Norton. Norton won a second straight match over Stevie Swing, who was to be pitted against Chris Extreme in an Ultimate Survival match at Sin's annual Christmas supercard. To prepare, Mr. Kagemusha reached out to Stevie's chief rivals, assembling a super-team for the purpose of taking out Extreme, the undisputed master of that match. At the same time, Horatio Q. returned to Sin Wrestling as the manager of WARPORK, the body of Stevie's old best friend Porkins possessed by the spirit of an ancient berzerker warrior who believed his task to be the eradication of Stevie Swing.
Still, in the weeks leading to A Merry Christmas, Stevie was able to win the Sin Wrestling Championship for a third time, pinning Norton in a triple threat match that also involved defending champion Chris Extreme. She successfully defended the title against WARPORK during the undercard of that show, but could not hang on during the Ultimate Survival main event, eliminated second to last by Teresa Quaranta, who was then eliminated by Declan Turner. When Travis Miller pulled a shocking upset over Turner on the first show of 2011, Miller found his championship celebration ruined by Stevie, who brutally attacked the new champion and left the arena with his championship. This set the stage for Swing's fourth championship victory, over Travis Miller at the penultimate PPV of the so-called "Golden Era" of Sin Wrestling, Broken Hearts. At Over the Top Rope: The End, Stevie Swing was named one of Sin Wrestling's "10 Legends," and she looked to defend her championship to the bitter end. Unfortunately for her, Teresa Quaranta beat her in a singles match just before the evening's main event battle royale, which was won by Chris Extreme. In one night, the title passed from Swing to Quaranta to Extreme, and that appeared to be it for Sin Wrestling.
But the promotion made an unexpected return in 2013, under the ownership of Chris Extreme, now calling himself
Overlord Christoph. Stevie Swing was convinced to return by the former Nazi, but before the first card of the relaunch she was abducted by Horatio Q., Tsarmina Bloodmoon, and WARPORK. The four were involved in a single-car accident that killed Bloodmoon and left Horatio with visions as Stevie Swing as the second coming of Jesus Christ. Though she initially resisted the embrace of the Department of H.A.R.M., now calling themselves the Department of N.I.C.E., Stevie eventually came to accept their presance in her life. She won the Television Championship for a then-record fourth time before losing it to Casanova, and inexplicably regained much of the popularity that eluded her during her previous runs in the company, complete with a cadre of fanatical followers who fund the Department of N.I.C.E. and worship Stevie as something far more than a celebrity.
Still, there has been a dark undercurrent to Stevie's current tenure in Sin Wrestling. With the promotion's return, Jean-Paul Lacklan came back to professional wrestling again, and with strength and drive unseen for much of his ten-year career. Lacklan, his personal PR representative Tragik, and even Stevie Swing's wife Nico Chau were all highly critical of Stevie's seemingly diminished abilities and her association with Horatio Q. She appeared thin, gaunt, and tired, and rumors abounded that Stevie had acquired a taste for crystal meth. When she found herself booked to defend her Television Championship against Tragik, Stevie brutalized the portly journalist far beyond what's typical, only stopping when her wife--Tragik's best friend--threw in the towel. On a post-match bender, Stevie Swing challenged stablemate Generic Heel to "the knife game" from the film Aliens, and wound up getting her hand stabbed clean through. She began wearing a special gauntlet over it and her forearm, and finally accepted the messianic role Horatio Q. imagined for her. After defeating Casanova and Redmaine for the right to challenge Lacklan for the Sin Wrestling Championship, Stevie defeated her hated rival in a brutal Four Corners of Pain Death Match for her record-tying fifth reign with the title. What remains to be seen is if Stevie is on the verge of collapse, or the edge of glory. She finds herself tenuously allied with Lacklan, the only other man standing against Overlord Christoph's Axis of Evil contingant, but that can't possibly last and, with a divorce from Nico Chau forthcoming, who knows where Stevie's mind is...
Great Lakes Wrestling Association (2007)
Stevie's stint in the Great Lakes Wrestling Association was brief, but notable in that she won the HSW Heavyweight Championship within the first two weeks of her run there. She unsuccessfully represented the promotion in the NWA Super J Tournament, losing to Joey Brannon in the first round, and left the regional promotion shortly thereafter.
Viking Wrestling Federation (2008)
Stevie had a brief run in the Viking Wrestling Federation, lasting from December to January, 2008-2009. After working her way onto VWF television broadcasts and earning a shot at the CaboWabo Middleweight Championship, Stevie left the promotion due to unknown circumstances.
Totally Fictional Wrestling Federation (2009)
Stevie Swing entered the TFWF in 2009 and, for the first time in a long time, had her gender questioned by her co-workers. Despite, or maybe because of that, Stevie put her all into gaining a foothold in her new promotion. Though she didn't feel like "one of the team," Stevie took home the win for Team TFWF in a match against Team PWR. That success led to a match with Mike Mitchell for the TFWF Light-Heavyweight Title, which Stevie lost. Mitchell would retire though, leading to a match between Stevie and Kent Clark for the vacant title, which Stevie won. She lost it the next night to Kirsta Lewis, lost a match to Joel Bryant for the TFWF Hardcore Title, and quickly found herself out of a job.
The Crusade (2010)
Stevie Swing won the Crusade's Hardknox Championship during her brief tenure with The Crusade, but the promotion folded quickly, and all footage of her time there has been lost.
Victory Wrestling & The AoWF (2012)
With Sin Wrestling closed, Stevie Swing was approached by Lisa Seldon to join Victory Wrestling, which was a member of the AoWF. She signed a contract and immediately went on an impressive undefeated streak in VW and interfed competition, chasing Teresa Quaranta and her VW and AoWF Championships. Quaranta had to vacate the titles due to a severe leg injury, and Victory folded before a new champion was crowned. Stevie lost interest in the AoWF and left shortly after losing in her bid to become the AoWF champion. Her time in Victory Wrestling is mostly notable for Stevie getting back together with her wife, Nico Chau, who had apparently become a vampire during Sin Wrestling's downtime. While promos from 2012 suggest that Nico also turned Stevie, it later became clear that she was just feeding from Stevie, and that Swing's vampiric behavior was just an attempt on her part to fit in with the crowd.
Tag Teams and Stables
Notable Rivals
Allies
Memorable Matches
Team TEW vs. Team NEW: Stevie stunned everybody by surviving to the end of this match, but submitted to Matt Michaels. (Collision Course 2005, Loss)
Cake and Ice Cream vs. The ForeFathers: For a shot at the ForeFather's NEW Tag Team Titles (Bloodzone, Win)
Stevie Swing vs. The ForeFathers: NEW Tag Team Titles (Bloodzone, Win)
Stevie Swing vs. Jean-Paul Lacklan: #1 Contenders Match for NEW Ultimate Title (End of Independence 2006, Win)
Stevie Swing vs. Creature: NEW Ultimate Title (End of Independence 2006, Win)
Stevie Swing vs. Creature II: NEW Ultimate Title (2006, Loss)
Stevie Swing vs. Creature vs. Lacklan: Triple Cage Match for the NEW Ultimate Title (Collision Course 2006, Loss)
Stevie Swing vs. Alexander Grimm: NEW Ultimate Title, and Stevie's last match in NEW (Bloodzone, Loss)
Stevie Swing vs. Morgana I: Sin World Title (100, Loss)
Stevie Swing vs. Morgana II: Sin World Title (Eternity #14, Loss)
Stevie Swing vs. Adora III: Falls Count Anywhere for the Sin Television Title (Illusions 2007, Win)
Stevie Swing vs. Chris Carson: Evening Gown Match (Eternity #21, Loss)
Stevie Swing vs. Sebastian York: Ladder Match for the Sin Television and Impulse Titles (Santa Claus is Dead!, Loss)
Stevie Swing vs. Jean-Paul Lacklan: Stevie's first match as a woman (One Minute 'Till Midnight 2008, Win)
Stevie Swing, Morgana, and Chris Carson vs. The Collective: Anything Goes Six Person Tag Match (Over the Top Rope 4, Win)
2008 Over the Top Rope Battle Royal: For the Sin Trophy (Over the Top Rope 4, Win)
Stevie Swing vs. Casanova: Bloodbath Match (Eternity #31, Loss)
Stevie Swing vs. Morgana III: Dumpster Match (Eternity #32, Win)
Stevie Swing vs. Morgana vs. Declan Turner: Sin World Title (Vanity 2008, Loss)
Stevie Swing (as Generic Heel) vs. Stryker Graff vs. Sebastian York vs. Chris Carson vs. Declan Turner: Ladder Match for the Sin World Title (Back to School 5, Win)
Stevie Swing (as Generic Heel) vs. Chris Carson: Sin World Title (Eternity #36, Win)
Stevie Swing vs. Morgana IV: Non-Title Ironwoman Match (Illusions 2008, Loss)
Stevie Swing vs. Sebastian York: Sin World Title w/Morgana as Special Guest Referee (Eternity #39, Win)
Stevie Swing vs. Casanova: Non-Title Match (Eternity #40, Win)
Stevie Swing vs. Chris Carson: Singles Match (Eternity #42, Loss)
Stevie Swing vs. Chris Carson: Singles Match w/Sebastian York as Special Guest Referee (Eternity #45, Loss)
Stevie Swing vs. Chris Carson vs. Sebastian York: Steel Cage Match for the Sin World Title (Five Years Gone, Loss)
Stevie Swing vs. Jean-Paul Lacklan: Singles Match (Eternity #46, Loss)
Stevie Swing vs. Chris Carson: Sin World Title (Over the Top Rope 5, Loss)
Stevie Swing vs. Teresa Quaranta: Sin World Title (How the Horatio Stole Christmas!, Win)
Stevie Swing vs. Chris Extreme: Sin World Title (Eternity #50, Loss)
Stevie Swing vs. Chris Carson: Singles Match (Eternity #52, Win)
Stevie Swing vs. Kerry Windsor: Stevie's $10 Million vs. Kerry Windsor's Television Title (Wonderland 2010, Loss)
Stevie Swing vs. Kerry Windsor: 2/3 Falls Match (Eternity #56, Loss)
Stevie Swing vs. Jean-Paul Lacklan: Last Motherfucker Standing Match for the Sin Television Title (Over the Top Rope 6, Win)
2010 Over the Top Rope Battle Royale: For the Sin Trophy (Over the Top Rope 6, Win)
Win/Loss/Draw Records
NEW: 30/16/1
SW: 53/41/3
GLWA: 2/1/0
VWF: Unknown
TFWF: Unknown
Crusade: 1/0/0
Victory Wrestling: Unknown
AoWF Interfed: Unknown
Titles and Awards
New Era Wrestling
3ed Man in NEW History to Become "UNIVERSAL," meaning that Swing won five major titles, the Ultimate, PrimeTime, Trinity, a Tag Team Championship, and a Hardcore Title (EDN)
Great Lakes Wrestling Association
Totally Fictional Wrestling Federation
The Crusade
Sin Wrestling
Sin World Title (x5)
Sin Television Title (x4)
Sin Trophy (x2)
Sin Wrestling Hall of Fame (Class of 2009)
2007 Newcomer of the Year (w/Morgana)
Voted #2 on 2007's Top 10 List
2008 Wrestler of the Year
2008 Champion of the Year (w/Declan Turner)
2008 Feud of the Year (against Morgana)
The 2008 Pay Per View of the Year, Christmas at Stevie's, was held at Stevie Swing's house.
2008 Moment of the Year - Generic Heel unmasks, revealing Stevie Swing
2008 Finisher of the Year - The Last Dance
Voted #1 on 2008's Top 10 List
Voted #4 on 2009's Top 10 List
Wrestler of the Month x4
Feud of the Month x6
Match of the Month x11
Face of the Month x2
Heel of the Month x3
Inferiority Issues and Morgana Complex
Even a casual onlooker could tell you that Stephanie Kaufman has utterly failed to separate herself from the role of Stevie Swing. She is Stevie and Stevie is she, and there are no two ways about it, which means that your typical Stevie Swing promo is an absolutely accurate reflection of the way she lives.
The way Stevie lives is with a group of sycophantic Überjobbers who perform incredibly basic tasks for Stevie, like cleaning her huge estate in Rosedale, doing her laundry, and making sure her obscenely expensive ring robes don't get any sweat, blood, or spit from the local fans on them as she flings them off before her matches. All of this is encouraged by her manager, Horatio Q., and goes uncommented upon by Stevie's wife, Nico Chau, who seemingly has a singleminded focus on raising her and Stevie's child with a minimum amount of Stevie's craziness getting in. She seems aware of Stevie's various infidelities, but remains silent about them.
While a casual fan would probably say that Stevie's obsession with self-image and becoming immortal started with her shocking losses to Kerry Windsor, long time fans know that it started with Morgana, whose first words to Stevie were, reportedly, "Go to Fuck." Stevie, known for her (at the time, his) passion and intense dedication to her goals, did not go to fuck, and actually wound up winning Morgana's respect as she won her first eight matches in Sin Wrestling, mirroring Morgana's debut performance the year before.
Stevie and Morgana entered a friendly rivalry/sometime partnership around the time she became the number one contender to Sin Wrestling's World Title. It became obvious that Stevie wanted to sweep Morgana, then in a suffering marriage, off of her feet, but it simply wasn't to be. Morgana beat Stevie Swing two matches straight to end the 2007-2008 Sin Season, and Stevie continued perusing Morgana, even to the point that she bought a house in her neighborhood (despite being unable to afford it at the time) and named it Casa Morgana.
When Sin returned from summer vacation in 2008, Stevie shocked the world by eliminating Morgana from the Over the Top Rope battle royal to win the Sin Trophy. She then made the dubious move of unnecessarily booking Morgana into what would have been a singles match between her and Declan Turner, who was then the World Champion. Things seemed to be looking up for Stevie, who actually beat Morgana in a dumpster match, becoming the first person to beat Morgana in a singles match in Sin, but it was all for naught as Morgana won her second reign with the World Title at Vanity. Morgana was mysteriously attacked at the conclusion of the show, resulting in her being declared unfit to compete, and the title was made vacant.
Weeks later, the masked Generic Heel, who stunningly won the title in a six person ladder match, unmasked to reveal that he was really Stevie Swing after a video was played showing Stevie to be Morgana's previously unknown attacker, a fact that Morgy knew all along. The two former friends battled in an epic Ironwoman match at Illusions in 2009, which Morgana won in overtime after tying the match at two falls with less than five seconds to go.
Stevie has never quite gotten over the fact that Morgana won their series, or that Morgana seemed uninterested or put off by her sexual advances, both in her male and female guises, and that obsession began to manifest itself as Stevie began to dye her hair pink and introduce Morgana's finishing moves to her arsenal. Horatio Q., the deposed former owner of Sin Wrestling, promised to make her a bigger star than the retired Morgana ever was, which was all the bait she needed to sign her career over to him. One would think that with all the attention Stevie has generated with her sex tape and subsequent photo shoots and in-ring successes, Stevie would be well on her way to getting over her thing with Morgana, but old flames die hard. Stevie is rumored to have searched out the vampire Casanova in an effort to live forever and eclipse Morgana's legend that way, and while she has moved towards a more hard hitting, Japanese style of wrestling, an EXTRA INCREDIBLE MORGANA TRIBUTE subset of moves remains.
Needless to say, Stevie's obsession with Morgana is an extremely easy one to exploit. Mention "Morgana" and "coattails" in the same sentence, and watch her explode.
Personal life
Stevie Swing was married to Amanda Ortiz in Niagra Falls on September 19, 2004. While their marriage was never legally binding in the United States, Stevie's disguise made it such that their union appeared to be legitimate. While the two had been a couple for some time before their marriage, the pressures of Stevie's career and her stunningly unhidden acts of adultery doomed the relationship, and the two dissolved their Canadian marriage a mere twelve months later.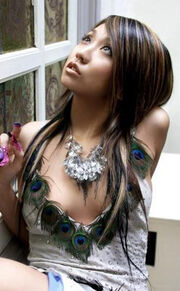 After a period of sleeping around, Stevie met Nico Chau in February, 2006. Nico was a volunteer at the hospital Stevie found herself in after sustaining seventeen chair shots in a match against NEW Legend Killer Instinct, and the two hit it off immediately, even though Nico was nearly half Stevie's age. When Stevie brought this up, Nico ran away from the orphanage she was brought up in to be with Stevie.
Things weren't always peas and carrots with Stevie and Nico, as Nico fell in with Jean-Paul Lacklan's Inner Circle, betrayed Stevie, slept with Creature at Lacklan's behest, and was just plain mean. Nico is also rumored to have fallen in love with Pierce, Lacklan's wife and the so-called Oracle, who displayed psychic powers. It is believed by Lacklan's cult that, under the Oracle's tutelage, Nico also began displaying these powers.
Regardless, Stevie and Nico worked through their incredibly tangled web of issues and were married in Toronto, Ontario, Canada on April 16, 2007. Out of sympathy or penance for her sins against Stevie, Nico has put up with her egomaniacal wife's obsessions, including her psudo-stalker relationship with Sin megastar Morgana Ashton, an extremely public sex tape with Kelvin Coolidge, and an affair with Tsarmina Bloodmoon, who is the business partner of Stevie's manager, Horatio Q.. Then again, maybe it's a two way street, as Nico, the owner of Toronto's Oedipus Complex, is still worshiped by Lacklan's minions, many of whom would do anything for her.
Stevie and Nico had their first child, Shinkou, in December 2009 thanks to the wonders of in vitro fertilization. Stevie has yet to figure out that "Shinkou" is not pronounced "Shinobi," nor is it likely that she ever will.
Other Relationships
Jennifer Cohen: Stevie's high school sweetheart. The two met as members of the Cheerleading squad, which they were cut from after being caught making out underneath the bleachers. Jennifer is largely responsible for Stevie's beginnings as a dancer, and her cousin was responsible for the costume and makeup that enabled her to join male-dominated wrestling promotions as something more than a diva. The two talked about getting married in Niagra Falls, but Jennifer walked in on Stevie having sex with Amanda Ortiz, and that was all she wrote. Stevie married Amanda instead because the date was already booked and the deposit was non-refundable, and Jennifer went to Japan, learned how to wrestle, and became Jenny Sparks, who had a short, undistinguished career in Japan and Stateside.
Kelvin Coolidge: When Stevie Swing's image consultant suggested that she publicly become straight, Stevie obliged by creating a fake profile on eHarmony. She traveled to New York City as a result of her correspondence with a man during eHarmony's Free Communication Weekend, but was initially disappointed to learn that she had been duped (nevermind how Kelven felt upon finding out he was talking to Stevie). The two got ridiculously drunk, ate a few Taco Bell Five Buck Boxes, and had sex like two eagles falling out of the sky. Their one night stand was filmed and put out on DVD, selling millions. The two remain friendly (if awkward), and it appears as though what happened in New York will stay there.
Tsarmina Bloodmoon: Horatio Q.'s business partner was stranded at the North Pole by Mike Phantasy and Chris Extreme. After months on an ice drift with no company besides the polar bears, Tsarmina showed up at Casa Morgana with a voracious sexual appetite that the incredibly old Horatio couldn't hope to satisfy. Tsarmina jumped Stevie one night, and the two have been sleeping behind their respective mates backs ever since.
Random Facts
Coming Soon
Links
Coming soon
Ad blocker interference detected!
Wikia is a free-to-use site that makes money from advertising. We have a modified experience for viewers using ad blockers

Wikia is not accessible if you've made further modifications. Remove the custom ad blocker rule(s) and the page will load as expected.