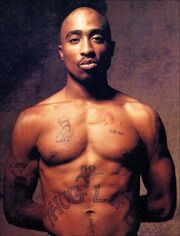 T-Money
Statistics
Real Name
Terrence Burt
Ring Name(s)
T-Money
Nickname
T; The Money Master
Height
6 ft 4 in
Weight
235 lbs
Born
December 17, 1978
Hometown
Orlando, FL
Current Federation
Classic Wrestling Federation
Former Federations
MWWF, CWF, RWF, IOA, SAW, AIW, NAW, NCW, MCW, GWC
Debut
December 1997
Terrence Akin Burt (born December 17, 1978 in Orlando, Florida, USA), currently known as T-Money, is an American professional wrestler.
Early life
Terrence Burt was born in Orlando, Florida to Carolyn Burt, a single mother. He grew up in the western part of Orlando on Mercy Drive off of Brinell Avenue. T-Money has described his childhood as "empty". He has made innumerable references in his wrestling promos and vignettes to his previous occupation as a cocaine dealer, although he rarely provides exact details of his childhood in interviews, besides the fact that he was raised by a single mother and that he excelled academically in grade school. However, there is no doubt that T-Money was involved at least to some degree in the illegal cocaine trade, and he was even the brains behind the operation of the slightly defunct T's Boyz, an extensive criminal organization which operated in the Southeastern region of the United States. T-Money is very tight lipped about this aspect of his life and has denied on many occasions any ties to the organization.
Leaving The Streets Behind
After being kicked off of his high school football team as a result of an altercation with a teammate, and ultimately being expelled, Carolyn pleaded with her son, whom she had recently kicked out because of constant disputes, to go to boot camp. By him being only a minor at the time, there was still hope for him to get his life on track before facing serious time in a federal prison. She said that he needed to learn true discipline, something that he greatly lacked at the time.
Upon his release from boot camp shortly after his eighteenth birthday, T-Money reluctantly signed up to become a member at Carolyn's friend, James' gym, which he had operated from the inside of his home garage. Beginning with basic boxing training, T-Money was a fast learner, so he quickly advanced and moved on to learn a few wrestling techniques. It was around this time that T-Money began spending every waking moment of free time he had at James' gym rather than getting into trouble with his friends in the streets.
In November 1997, James had taken T-Money and two of his other students down to Miami for an annual regional amateur wrestling tournament. Surprisingly, T-Money ended up placing second out of twenty competitors. After the tournament was over, a wrestling promoter by the name of Mohammed Shirazi approached him and told him that he had really liked what he saw, despite T-Money's defeat. Mohammed told T-Money that he had a lot of potential for his young age and he offered him a developmental contract with his federation, Mo's World Wrestling Federation, on the spot. Turning down the immediate contract signing, the two exchanged contact information and stayed in touch, and when T-Money had returned to Orlando, he discussed the whole idea and the contract in its entirety with James and Carolyn. They fully supported him and by December 1997, at the ripe age of nineteen, T-Money had signed his first professional wrestling contract.
MWWF/CWF
T-Money quickly made a name for himself in the MWWF, being the youngest performer on the roster. Although never winning any titles, he had befriended quite a few of his fellow superstars and eventually went on to start his own stable, T's Boyz. Future CWF star Bain was a member of T's Boyz. The stable didn't last for too long as the other members began to complain to management at how controlling T-Money had become. To avoid any further confusion, the stable idea was immediately canned. A little while after the incident, MWWF staff member, Mark X, reassured T-Money that everything would be fine and then he invited him to join his company, the Classic Wrestling Federation, an organization he was about to reopen. It was T-Money's close friendship with X that really got things rolling for his career. Since his development deal with the MWWF was non exclusive, he joined the CWF in the summer of 1998.
The second era of the CWF began with Thursday Havoc on June 11, 1998. T-Money's debut was successful as he defeated Blood via disqualification and introduced his new stable, the Ruff Ryders, along with tag team Just In Credible. At the Summer Smash pay per view on June 26, 1998, T-Money became the first ever CWF Unified Champion and his stablemates, Just In Credible, captured the Tag Team Titles. One of T-Money's greatest matches to date took place on August 27, 1998 at the Got Blood? pay per view when he recaptured the Unified Title by defeating Sammy Salerno in a brutal no disqualification and no count out match. Shortly after, management decided to take their liking of T-Money to the next level and they made him apart of the biggest angle in the CWF at the time, and that was X-Rated, a heel stable that always received face crowd reactions. X-Rated consisted of X, Maniac, "Studly" Steve Dart, Freeze, "The Golden One" Jeff Jericho, and "2BAD" Jamal Williams. X-Rated was the heart of CWF and kept the fans tuning in week after week due to their entertaining antics. T-Money had formed a close relationship with all of the members of X-Rated and really enjoyed working with them. To this day, he still refers to all of them as men that he greatly respected and admired. Right before the Halloween Extreme pay per view on October 31, 1998, X and T-Money had a falling out over a creative control disagreement.
T-Money was scheduled to compete in a three man number one contender's match against The Stalker and "Street Wise" Bryan Slade, but T-Money's involvement in the match never took place. He accidentally missed his flight to Pontiac, Michigan, where the event had occurred, but X interpreted this as T-Money trying to intentionally ruin the event since he had become such a recognizable name in the company. Still frustrated with X and his staff, T-Money took a short leave of absence and soon after, CWF went on a two month hiatus in December 1998 and returned by February of 1999. During this time, T-Money and X had worked things out and T-Money was set to return to action at Snowstorm on February 15, 1999. He defeated JL Stinger, Sammy Salerno's manager, with the help of old friend, Jeff Jericho, and that same night, T-Money was instrumental in forming The Superstars Corporation with Jeff Jericho, Triple-X, 2Bad, and Freeze. The Superstars Corporation, or T.S.C., was seen as a more mature version of X-Rated and management was very high on the stable. At Super Card II, CWF's main pay per view, on February 22, 1999, T-Money was unsuccessful in the Classic Showdown, a thirty man battle royal where the runner up walked away with the National Title and the winner walked away with the World Title. T-Money was then betrayed and fired in March 1999 from T.S.C. by leader, Jeff Jericho, but shortly after, he rejoined the reunited version of X-Rated, who engaged in a feud with T.S.C.
At Retribution and with the help of stablemates Maniac and Steve Dart, he recaptured the Unified Title for the third time against Bryan Slade. On the April 18, 1999 edition of Sunday Brawl, T-Money's then real life wife and valet, Miss Money, turned on him and cost him and his partner, Tony Ca$h, the Tag Team Titles. She had the help of a mystery man who was revealed at the Red Alert pay per view, and it was his brother Jason, who was also known as J-Money. T-Money defeated Jason at Red Alert, and the memorable match and very emotional feud helped to put T-Money over as one of the company's biggest faces. It was this rift, among other things, between T-Money and his wife that would lead to their eventual divorce in 2005. T-Money and his brother have since patched things up. CWF shut down in January 2000 but reopened with Super Card III: Arising From The Ashes on March 29, 2000. After CWF closed once again one month later, it re-opened the spring of 2001, but by then, T-Money's contract had expired and he took a short break from in-ring competition. By the spring of 2002, he was recruited by the Internatioanl Organization of Anarchy. The CWF closed and re-opened again in late 2005, but T-Money was not aware of this.
RWF
CWF staff member, Steven Duarte, approached T-Money about working for his new federation, the Rebel Wrestling Federation. T-Money's contract with CWF was also non exclusive, so he joined without much thought and went on to immediately capture the Television Title. Backstage morale in the RWF began on a high note, but it quickly declined because of a slight quarrel between Xamin and Duarte, and eventually closed its doors. A lot have compared the RWF as a cheap imitation of CWF, but T-Money greatly enjoyed his brief stint with the company.
IOA
While competing in the Internatioanl Organization of Anarchy, or IOA, T-Money was reunited with some of his old CWF co-workers, and although this was a good thing, he despised his stint with the company. T-Money has constantly said that the IOA staff held him down and didn't let him compete at his full capacity. And although staying in the IOA for nearly two years, T-Money and management constantly butted heads and after his departure by the fall of 2003, irreconcilable differences was cited as the reason for T-Money permanently leaving the organization. T-Money briefly feuded with CEO, Mike Van Pro, in the CWF, and he feels that Van Pro's resentment towards him had a lot to do with the way things turned out.
SAW
Invited by his good friends, Pledge Alligence and "The Nitemare" Rob Osbourne , T-Money signed with Supreme Action Wrestling in the summer of 2002. At the federation's first pay per view, Genesis, T-Money defeated Jack Mason to capture the World Heavyweight Champion. This signified his first ever World Title win. The SAW was short-lived, and the federation closed its doors because of financial reasons. T-Money still currently has the World Title encased at his home in Orlando.
AIW
Rob Osbourne's wife, Christina Danky, started a federation of her own after SAW had closed, and she invited T-Money to come compete in it. Hesitant at first because of his current workload in the IOA, T-Money didn't give Mz. Danky an answer right away, but by September 2002, he joined the federation and immediately hit it off with Hispanic cruiserweight sensation, El Pollo Loco. AIW management took note of their backstage chemistry and wanted to push the two as a cohesive, angry minority unit. The two formed a tag team, T.H.U.G.S. (The Highly Unique GangsterS), and went on to capture the Tag Team Titles. The two were forced to split because of an executive order, and they were reluctantly thrown into a feud with one another. AIW, unfortunately, was also short-lived and after they closed their doors, T-Money briefly remained in contact with El Pollo Loco, but over the recent years, the two lost touch.
NAW
In the spring of 2004, T-Money signed a contract with Chris Penncross' New Age Wrestling. The two had become acquainted with one another in the CWF. On the first edition of Sunday Night Fire, T-Money formed a stable called The Streets, along with Gary "Chemical X" Scarletti and D'Shaun Jackson. The Streets didn't last for too long and neither did NAW, and eventually, T-Money went on to take a three year hiatus from wrestling. When he got word on a new federation, the Global Wrestling Coalition, opening in January 2007, T-Money decided it was time to return to the sport he had grown to love with all of his heart.
GWC
T-Money made his in-ring return after three long years on the January 31 edition of Wednesday Night Asssault.by becoming a dual winner, along with Ryder, against Cool Dad, Drake Kencedro, and Jamal Carter, who T-Money surprise attacked after the match. Carter would eventually go on to become T-Money's biggest rival to date in his nine plus year career. On the night of his return, T-Money drew a large amount of heat from management as he managed to sneak a pistol into the Tingley Coliseum and pistol whip G-Money and his manager, Benedict, backstage. No criminal charges were filed against T-Money as he later apologized and agreed to never do it again. On the February 7 edition of Assault, T-Money would continue to draw a numerous amount of heat as he insulted, provoked, and spit in the face of NBA legend, John Stockton, who was in attendance that night in Salt Lake City, Utah, the city Stockton used to play for. Stockton was so infuriated that he even tried to leap over the guardrail and attack T-Money, but he was restrained by security.
As T-Money's feud with Carter escalated and became more personal, T-Money tracked down Carter's childhood friend, Derrick Johnson, who is also known as DJ, and his deceased best friend's mother, Gloria Bishop, in Birmingham, Alabama and got them involved. DJ has had a strong resentment of Carter for an entire decade because he believes Carter played a role in the murder of his cousin, Omani Tate Bishop, in 1997. DJ became T-Money's manager, as he wasn't too interested in the physical, in-ring part of the business, just the behind the scenes aspect. Gloria, who considered Jamal to be her second son, appeared to be on his side, but she shocked everyone when she turned on him and aligned with T-Money after his defeat to Carter at the Alpha pay per view on February 21. Four days before the Unholy Coronation pay per view, T-Money was arrested on charges of aggravated assault and aggravated burglary and faced up to a decade in federal prison for breaking into Jamal Carter's Birmingham, Alabama home when Carter was not present.
Nearly a month after this highly publicized incident, T-Money went to trial, entered a no contest plea agreement, and was sentenced to one thousand hours of community service and six years of formal probation. But despite all of his legal commotion, T-Money rounded up a few individuals whom he had taken notice of and formed the infamous stable, The Highly Untouchable Gangsters, who is also known as T.H.U.G., and was even placed into the World Title hunt by CEO Danny Vice. At Reign of Terror on April 18, T-Money defeated Thunder, Reckless Jack, Creeping Death, BA Monk, and Rick Mad in an Annihilation Complex match to become the GWC World Heavyweight Champion. On the April 25 edition of Wednesday Night Assault, T-Money once again shocked everyone when he had Xavier Cross turn his back on Carter, a good friend of his, and join T.H.U.G. At Kingdom Come, GWC's largest pay per view, T-Money once again faced Thunder and unsuccessfully defended his World Title due to interference by returning GWC superstar, Skyler Striker, an individual who secretly had a hidden disgust against T.H.U.G. for weeks.
At Vindication on June 20, the five month feud between T-Money and Carter came to an end when T-Money defeated Carter in a mind blowing steel cage match and became the number #1 contender for the World Heavyweight Title. On June 27's Wednesday Night Assault, T-Money once again became the World Champion by defeating Thunder. At the memorable Viva La GWC pay per vew extravaganza on July 18, T-Money retained the World Title by defeating Stargazer, Yukio Blaze, Xavier Cross, and Drake Kencedro in an Ultimate X match. This victory signified a milestone in the federation by keeping the company's control under the leadership and guidance of Danny Vice, who ironically, T-Money is currently at odds with. Shortly after Viva La GWC, T-Money booted Bishop from T.H.U.G. and on July 25's Wednesday Night Assault, he turned on Xavier Cross for his allegiance and loyalty to Danny Vice. For the second time, T-Money was defeated for the World Title, this time by The Stargazer in a triple threat match with Ryder on the August 8 edition of Assault.
After his loss to former rival, The Stargazer, on the November 14 edition of Wednesday Night Assault in a #1 Contendership match for the Television Title, T-Money went on a hiatus from in-ring competition. There has been no word on when he'll return or if he'll return at all. On December 18, T-Money became the first ever GWC superstar to be inducted in the GWC Hall of Fame. The ceremony occurred live a day before the GWC Revelations PPV at the Shrine Auditorium in Los Angeles, California.
Personal life
T-Money divorced his wife of seven years in 2005. The couple had no children. T-Money was once rumored to have dated model Kim McCullum.
After his divorce and in hopes of finding himself, T-Money began to regularly attend church services at the New Destiny Christian Center in Apopka, FL, which was under the leadership of the late Pastor Zachary Tims. He has also deemed Pastor Michael Moore from Birmingham, AL as a mentor and spiritual father. T-Money never took an interest in spiritual affairs until he heard God speak to him through close friends and relatives.
T-Money released an autobiography entitled "More Than An American Gangster: Crime & Consequences" nationwide on January 1, 2008.
Trivia
T-Money's middle name "Akin" is Nigerian for "Warrior, Hero, Brave Man."
Claims that at the height of his CWF popularity, T-Money was the company's only recognizable name to never win the World Title.
T-Money currently resides in Isleworth, a gated community/subdivision outside of Windermere, Florida. Pro golfer, Tiger Woods, also has a home in the Isleworth community.
T-Money also owns and operates his own independent record label, Lives Game Recordings. His good friend DJ raps and was the first artist to release material on the label back in 2007. He hired his brother Jason as the label's President in 2008 since his schedule made it hard to handle the day to day affairs of the company.
T-Money regained contact with his former boss Mark Xamin and good friend "Nitemare" Rob Osbourne in 2007.
After Hurricane Katrina, T-Money opened his home to various victims in an effort to help them have a safe place to stay.
During his hiatus from professional wrestling and shortly after his divorce, T-Money was arrested on charges ranging from possession of a firearm to possession of marijuana.
Previous Championships
1X RWF TV Champion
1X SAW World Champion
1X NCW World Champion
1X AIW Tag Team Champion
1X MCW Intercontinental Champion
Previous Tag Teams
X-Rated w/ Tony Ca$h
Overdose w/ James E. White
Murder Inc. w/ Kurupt
Da Brotherhood w/ LaRico Anderson
The Corporate Champions w/ Chad Dixson
T.H.U.G.S. w/ El Pollo Loco
Previous Entrance Music
"It's All About The Benjamins" by Puff Daddy
"Ruff Ryders' Anthem" by DMX
"Money Ain't A Thang" by Jay-Z feat. Jermaine Dupri
"The Illest" by Mobb Deep
"We Right Here" by DMX
"Right Where You Stand" by Gang Starr feat. Jadakiss
Ad blocker interference detected!
Wikia is a free-to-use site that makes money from advertising. We have a modified experience for viewers using ad blockers

Wikia is not accessible if you've made further modifications. Remove the custom ad blocker rule(s) and the page will load as expected.