Talia Skye
Talk

0
11,354pages on
this wiki
Natalya Skyler
(age 26), is a Canadian-born professional wrestler and manager currently signed to
Premium Championship Wrestling
under the ring name
Talia Skye
where she is the manager of
Da Xtreme Dynasty
. She previously was signed to WWE Revolution and then for
Premium Womens Wrestling
where she was the inaugural
PWW Womens Champion
, as well as Libertarian Wrestling. During her run in the first era of PCW, Skylar was one of the few women's wrestlers to appear on both
Rapture
and
Knockout
shows (only Danielle Lopez and Heather Monroe did this on a regular basis). She also worked for
WWE Legacy™
in its DIVAS Brand. Skylar is one of the few Divas in WWE Legacy's history to hold the Unified Divas Championship, and is the only woman to hold the
PCW Womens Championship
while also being a one time
PCW Brawl Champion
. She has never been pinned in Legacy.
Personal life
Natalya Skylar was born in Scarborough, Ontario, Canada. She was born into a rich family, her mother running a highly successful fashion magazine. Due to this she was spoiled as a child, always getting the latest clothes. She began watching wrestling at the age of 14, and for the first time, fell in love with something other than herself.
At the age of 18 she began to train with Lance Storm. Once finishing training with Lance, she went to Japan and Mexico for a year at a time to train in other styles. Once finishing in Japan, she returned to Ontario and instantly went into the independent companies. Skylar was easily hated and became a major heel in the independent circuit. Eventually after 2 years of dominating the independent women's divisions she decided it was time to make an impact in a major federation.
It was in the independent scene where she met her four best friends, Jane Isis, Nathan and Aaron Warrens and Damon Wilson. They five formed an alliance backstage that allowed them to take over the 'indies' in secret. After meeting these four, Skylar began to change her ways, donating to groups such as PFLAG Canada and the World Wildlife Fund. She donates thousands upon thousands annually. She dated fellow wrestler "Sinister" Chris Mitchel who owns a wrestling gym. The two ended their relationship after Chris became furious at Talia's Mafia gimmick. Skylar dated fellow Generation Xtreme/Weapon X stablemate, tag team wrestling legend, J.T. Banks, who also competed alongside her in Libertarian Wrestling. Little is known about the break up, and it is not known if she and J.T. are on good terms. Talia dated Tylor Riott, her former manager. The two split up, but remain good friends. In December 2012, it was confirmed that Skylar and Banks began dating again.
Professional Wrestling Career
World Wrestling Entertainment: Legacy™ (August 2009 - April 2011)
Dominant Beginning
Skylar made her debut in WWE:Legacy under her ring name Talia Skye, on the company's rookie show FCW's second episode teaming with Yoshi Tatsu to defeat Tyson Wind and Piper Crystal. The following week Talia defeated Rosa Mendez. She repeated this performance the next week rolling up Rosa Mendez with a small package. After seeing how dominant she was, Talia was immediately moved up to the main roster.
Going to the Extreme
Talia soon made her debut with then boyfriend Drew McIntyre when Drew faced off against, and defeated Goldust. Although she didn't have much to do with the match, she slapped the Bizarre One after the match for good measure. This was repeated several weeks later when Drew once again defeated Goldust. Weeks later Talia made her in ring debut pinning Melina. The next week Talia helped Drew McIntyre defeat Zack Blaze, tripping Zack, allowing Drew to hit the Scot Drop. Later that night she made her ECW in-ring debut against a local competitor, whom she dominated, and won with Re-Talia-Tion, a Michinoku Driver.
The Next Generation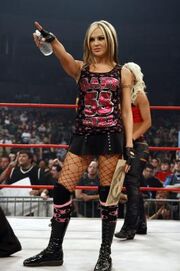 After more victories on Superstars, Talia earned a Unified Divas Championship match and soon joined the new ECW stable, Generation Next alongsaide Drew McIntyre, Zack Blaze and Shaemus. At Survivor Series Talia continued her win streak, defeating Amber Wattkins to become the new Unified Divas Champion. Over the next couple of weeks Talia defeated Maria, and Amber Wattkins, before destroying Kelly Kelly at Wildcard to retain her title. After the win, a video package aired threatening Talia that her Title reign would end soon. Drew was fired due to the Wilcdard match, leaving Talia without her boyfriend. The ECW after Wildcard she defeated Maria again, and again the video package aired. The following week Talia and Sheamus defeated Shelton Benjamin and Amber Wattkins, and the video aired again. On Smackdown Talia defeated Kelly Kelly with Re-Talia-tion, and then told the Diva behind these videos that she isn't intimidated. Another video aired stating she would reveal herself soon. Weeks later on ECW Talia attacked a returning Victoria. Talia went on to retain her title against Victoria at the Royal Rumble. On the first ECW of February Talia Skye and Ezekiel Jackson lost to Leon Lonewolf and Victoria, when Leon made Ezekiel tap out. Though they lost the match Talia is still technically undefeated, having never been pinned or made submit. Talia defeated Victoria again at No Way Out. She is presently in a feud with fellow Canadian Natalya Neidhart. They battled at the grandest stage of them all, Wrestlemania, where Talia lost her title by submission to Natalya.
DIVAS
As of April WWE moved all WWE Divas to their own brand, with their own bi-weekly show, DIVAS. Talia Skye participated in the main event of the first episode. She cashed in her re-match clause against Natalya for the Unified Divas Championship. She won, but due to the DQ victory, did not regain the title, as a mysterious woman attacked her. WWE Legacy would soon go on hiatus, effectively ending the DIVAS program.
Premium Championship Wrestling (August 2010 - June 2011)
Feuding with Heather Monroe and Danielle Lopez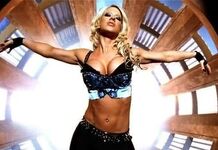 Natalia recently signed a contract with Premium Championship Wrestling under her ring name Talia Skye. She has yet to debut, but was given a welcome of sorts by
"The Lethal Latina" Danielle Lopez
on Lopez's video blog. Talia responded by telling Danielle "the Queen of Women's Wrestling is coming for her throne. It's time people get a glimpse of True Beauty." At the recent PCW Pay Per View Anarchy, Talia Skye made her first appearance at a PCW show by interfering in the match between
Heather Monroe
and
Bob Osbourne
, causing Heather to win via Disqualification bye repeatedly hitting her with a steel chair. The Rapture following Anarchy, Talia attacked Heather again, but her foe gained the upperhand. The next Rapture Talia cost Heather Monroe her match against
Robert Gilmour
. The last Rapture before
Pyramid Battle
, Talia made her in ring debut in a losing effort against Heather Monroe, which was declared by Danielle Lopez " This could possibly be the match of the year." Talia went on hiatus for several months. She made her return a week before the Asylum of Slaughter PPV, on an episode of Rapture. She came out and hit
Jade Cao
with a DDG (Hairflip/Snap Butterfly DDT), helping Aaron Warrens gain the victory. This cemented her position in the new PCW stable, The Deadly Sins. Talia (Greed) is alongside long time friends Nathan (Pride) and Aaron (Envy) Warrens, and new friend Damon Wilson (Lust).
Face Turn and Generation Next
Talia was set to face Danielle Lopez at the final PCW PPV of 2010, Battle Finale II. The match took place and has been called the greatest match in women's wrestling history. Danielle Lopez ended up getting the victory, but celebrated with Talia Skye holding twin PCW Unofficial Women's Championships. After the match Talia announced the Deadly Sins new direction as Generation Next, turning them face. Later that night Talia ran out during a title match between Israel Steele and Draven Logan Kennedy when DLK's partner-in-crime Alice attempted to cost Israel the match and title. She attacked Alice and prevented Draven from gaining the victory. At the PCW Diamond Awards Talia Skye and the rest of Gen-Next presented Rob Osbourne the "Jobber of the Year Award", before attacking him and putting him through a glass table. Talia made her return to in ring competition successfully, alongside Damon Wilson and Jane Isis, defeating Carnage Inc.
Generation Xtreme Membership, Championship Reigns and the Face of Sunday Night Knockout
At PCW Blackout, Talia became a part of Generation Xtreme, a super stable comprised of Da Xtreme Dynasty and Generation Next. On the March 12th edition of Rapture Talia Skye briefly captured the Brawl Championship. Talia and Damon Warrens lost to Michael Morrison and Heather Monroe. Weeks later Danielle Lopez and Talia Skye teamed up as the Black Rose Mafia and defeated The Heathers.
Just weeks before PCW's pay-per-view Shellshock. The company formed a female division where they could showcase the women of PCW that did not always get showtime on Rapture. Talia Skye was named PCW Womens Champion on the first episode. In the main event she and former rival Athena teamed up in a losing effort against Heather Monroe and Momo Uzuki. Talia and her partner were attacked by the newly formed group Toxic. The next episode Talia attacked Momo who had won the number one contenders battle royal to face Talia at XX. The third show Talia teamed with Danielle Lopez and Desiree Miles to face the Glamorous/Vicious Connection and Momo Uzuki in a 6 woman tag match, which Talia's team won. Afterwards Danielle, Desiree and Talia revealed their own stable, the Black Rose Mafia. At XX Talia faced Momo Uzuki in a cage match. The match ended in spectacular fashion when Talia hit a diving moonsault off the cage to the outside, taking out Jane Isis, Toxic, and her fellow Mafia members. Talia and Momo had to be stretchered out.
On PCW's last show, Cataclysm, Talia along with her stablemates in the Black Rose Mafia, Jane Isis and Damon Warrens, attacked PCW's Jobbers for Hire before announcing that Sunday Night Knockout would continue under the new company of Premium Women's Wrestling. Later on that night. Talia, Kevin Styles, J.T. Banks and Aaron Warrens attacked members of a frightful five way match. Talia, as a part of Generation Next, was inducted into PCW's Hall of Fame and won an award at the Night of Heroes, as a part of Generation Xtreme.
Premium Womens Wrestling (July 2011 - January 2012)
PWW Womens Champion and Feuding with Morgan Simmons/Toxic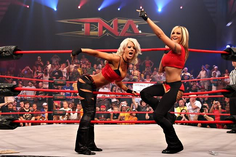 On the first PWW SNK, Talia introduced her new protegé,
Alexis Landry
, whom Skye had began to train during the last months of PCW. She was also presented the
PWW Womens Championship
, as the PCW Championship was defunct (making her the only champion in the title`s existence). In her PWW in ring debut on the second episode of PWW's Knockout, Talia Skye teamed with her student Alexis Landry to battle the Lively Sisters. Talia picked up the victory for her team after she and Alexis decimated Sandra Lively with a Russian Legsweep/Botox Injection (Bicycle kick) combination known as the Makeover. The following week Talia Skye, teaming with Desiree Miles, Danielle Lopez and Heather Monroe, lost in an 8 women tag match to CHAOS, Morgan Simmons and Rosalie. The four PCW Women's Originals suffered a vicious post match attack at the hands of CHAOS and Toxic.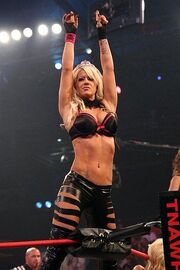 Here to Stay
was a big night for Talia. Alongside Danielle Lopez, she welcomed long time rival Heather Monroe to the Black Rose Mafia. Soon after Talia rushed out to make the save for Alexis Landry and Sunny Storm, whom were on the receiving end of an attack by Christina Pérez and Ivette Hernandez. After making the save Talia attacked Sunny Storm before stating she would never be Mafia material. In the Main Event Talia, accompanied by her boyfriend
J.T. Banks
and his partner
Kevin Styles
, faced Hikari Richards, joined by
Chris and Alex Richards
, for Talia's PWW Women's Championship. After interference by the Richards Brothers caused both the Richards and
The Xtreme Killah's
to be thrown from ringside,
Terry Richards
took advantage of a knocked out ref and slammed Talia with a steel chair. He gave the chair to Hikari, who didn't know if she should use it or not, meanwhile Damon Warrens, PWW commentator and PCW Hall of Famer ran to the ring and brawled with Terry. Hikari decided to toss the chair to ringside and turned in time to receive a Botox Injection bicycle kick from Talia, which gave the win to Talia. Talia and her fellow Mafia members brawled with Toxic, saving their teammate Heather Monroe from a post match attack on SNK IV. On the same episode Talia taught her protege Alexis Landry how to cut a promo and trash talk. On episode V Talia helped Alexis choose a signature weapon, a can of hairspray. This came into play later in the night when Talia faced Toxic's Alisyn in singles competition. Alexis Landry sprayed Alisyn in the face with the hairspray, which Talia took advantage of with a Botox Injection, gaining the victory. Talia then challenged Terry and Hikari Richards to an intergender tag team match with PWW Commentator Damon Warrens as her partner for the next show. On Episode VI, the episode before Eve of Destruction Talia announced her match against number one contender and Toxic leader, Morgan Simmons would be a stretcher match. Talia and Alexis played mind games with Toxic by destroying their lockerroom and leaving a bouquet of black roses scattered throughout the room. Later that night Damon Warrens and Talia Skye teamed in a losing effort against Terry and Hikari Richards after Talia was hit in the face by Morgan Simmons with a fireball. Post match Toxic and Syn attacked Hikari, Terry, Damon and Talia. Talia and fellow Mafia stablemates Desiree Miles and Danielle Lopez participated in a quick pre match interview at Eve of Destruction. Talia then went on to defeat Morgan Simmons in a Stretcher Match to retain her PWW Championship, debuting her new finisher, a Tombstone Piledriver known as the Barbie Killer. On the next episode of Sunday Night Knockout it was announced Talia would defend her championship against Hikari Richards and Morgan Simmons in a triple threat match. Two weeks later on SNK Talia opened the show confronting Morgan Simmons and Christina Fierce. Talia defeated Fierce in that night's Main Event with a DDG, but was attacked post match by Morgan Simmons. Hikari Richards came to the champion's rescue and fended off the attack. On the last SNK before Femme Fatale Talia Skye again confronted Morgan Simmons, before aiding Hikari Richards and Nicole Allen battle Toxic. Sadly PWW closed its doors, and Talia Skye left to the Indy Scene.
Libertarian Wrestling (August 2011 - September 2011)
Making a Statement and Weapon X Membership
On August 1, 2011. Talia signed a contract to compete for Libertarian Wrestling. With her boyfriend already in the company, Talia felt it was a good move for her. A week later, her friend/Black Rose Mafia teammate Danielle Lopez signed a contract with the promotion as well, effectively starting up rumors that Banks, Talia and Danielle would unite once again.
On the first LW show entitled Liberty I: The Foundation. Talia made her debut in the company, helping J.T. destroy Liam Reilly and Syn. Her and J.T. were getting outnumbered until Danielle also made their debut for the company. Afterwards, Danielle, J.T. and Talia cut promos about the things they've done in the business. From womens divisions, to being a pioneer in women beating men, to the tag team division. They announced that they were forming a stable called Weapon X. The show ended as all three of them celebrated with one another.
On the second episode of Liberty, Talia will make her LW in-ring debut as her and Danielle Lopez team up to take on JC Epick and Stevie Wicked in a tag team match that is scheduled to be the Main Event of the show.
Talia and Danielle won the match on the last show of LW.
Premium Championship Wrestling (April 2012 - August 2012)
It was announced on April 30, 2012 that Natalia Skylar had resigned under her ring name Talia Skye with Premium Championship Wrestling. Talia Skye was seen on Rapture having attacked a Jobber For Hire and leaving a message scrawled in lipstick on the wall announcing her return. This was also the first televised appearance of Talia with new boyfriend Tylor Riott. The two have not been seen together since, but it was been announce that Talia Skye will be reuniting with Danielle Lopez as the Black Rose Mafia to compete in an upcoming tournament to crown the new PCW Tag Team Champions. Later Talia Skye aided Damon in fighting off Nightrain backstage before leaving with Warrens and their former Generation Next stablemates to a month long tour in Asia. Recently Talia and her friends have engaged in an internet war with former friend Alexis Landry and ex-boyfriend J.T. Banks. Talia, the Black Rose Mafia, and Generation Next waged war with a new incarnation of Toxic for several shows. Talia Skye along with the rest of Generation Next asked to be released from their contracts, following the controversial firing of Damon Warrens. This request was granted. On her last appearance in PCW in 2012 Talia was attacked by Toxic and suffered a serious ankle injury.
Return to WWE (August 2012 - Present)
It was announced that Natalia Skylar had resigned with WWE under her ring name Talia Skye.
Premium Championship Wrestling (February 2013 - Present)
It was announced that Talia Skye would be returning to PCW, however this time in a managing capacity. Talia returned at Wrestle Extravanganza III: St. Valentine's Massacre where she managed the newly reunited Kevin Styles and J.T. Banks as Da Xtreme Dynasty. This was a momentous night as she managed the two to victory over at the time PCW Tag Team Champions The Bull and Ape Alliance, and Da Dynasty was crowned the new champions. Talia Skye and Morgan Simmons agreed to face off one last time at Battle Finale. To prepare for the match Talia defeated Alexis Landry. At Battle Finale Talia Skye lost to Morgan Simmons, and the two rivals shared a moment of respect. Talia then announced her in-ring retirement, before being interrupted by a returning Damon Warrens, whom attacked his former friend. She got her revenge on a later episode of Rapture, chasing off Damon. Talia then aligned herself with Team Lethality and said that she would not retire, that she had unfinished business. At Slamathon Talia managed her BFF Danielle Lopez to victory and the World Heavyweight Champion. On July 3 Talia will return to the ring alongside longtime BFF and former Black Rose Mafia stablemate Danielle Lopez against former friend Angelina Williams and Angelina's Mi Pi Sexy teammate Reyna Carter.
Japan Pro Wrestling
Talia Skye is the current JPW Caijin Champion and owns victories over Gishiro Tensai and Tim Mesashi.
In Wrestling
Finishing Moves

Clear Skyes (Flipping Guillotine Leg Drop)
DDG / Drop Dead Gorgeous (Hairflip / Snap Double Arm DDT)
Re-Talia-tion (Michinoku Driver)
Shattered Mirror (Top Rope Pedigree)
Botox Injection (Running Bicycle Kick)
Barbie Killer (Tombstone Piledriver)

Signature Moves

Beautiful Disaster (Jumping Roundhouse Kick)
Beauty Mark (Sitout Facebuster)
Facial Reconstruction (Spinning Heelkick to an Opponent holding a Steel Chair)
Blonde Ambition (Inverted Backbreaker)
Canadian Maple Leaf (Single-leg Boston Crab - can be used as a roll-through countering to an oncoming opponent)
Facial Scarring (Curb Stomp)
Missile Dropkick
Mirror Smash (used for Hardcore matches only)
Springboard into either a clothesline, or a dropkick
True Beauty (Corckscrew Top Rope Cross Body Block)
UFB / Unidentified Flying Blonde (Springboard spinning wheel kick)

Tag Team/Stable Finishers

Fallen Angelz

Extreme Makeover (Angelina and Lexi hold the opponent face up at waist height, Talia jumps from the top turnbuckle hitting a front flip double foot stomp to the gut)

With Alexis Landry

Hollering Elbow (Double elbow drop, with theatrics)
Makeover (Russian Leg Sweep (Landry) / Running Bicycle Kick (Skye) combination)
Simultaneous roundhouse kicks to the abdomen (Landry) and the back of the leg (Skye)
Sleepin' With Da Bitches (Gory Bomb (Skye) / Stunner (Landry) combination)

With Danielle Lopez

California Sunset (Running Bulldog (Talia) / Springboard Moonsault (Danielle) Combination)
The Lethal Injection (Potential Brain Damage (Danielle) and Botox Injection (Talia) at the same time to an opponent)
Rose and Thorn (Leg Sweep (Danielle) / Heel Kick (Talia) Combination)
Full Nelson Suplex (Talia) / Jumping Leg Lariat (Danielle) Combination

Entrance Themes

"Poppin" by Utada Hikaru (WWEL)
"The Beautiful People" by Christina Aguilera Burlesque (WWEL/PCW)
"Rockstar" by Prima J (PCW)
"Blood" by Jim Johnston (PCW)
"Generation" by Simple Plan (PCW - used when with Generation Next )
"California Love" by 2Pac (PCW)
"Killa Queen" by Dale Oliver (WWE Revolution/PWW/Libertarian Wrestling/PCW - Current)
"Dead Memories" by Slipknot (Libertarian Wrestling - Used when with members of Weapon X)
"Brooklyn 2.0" by Jim Johnston (PCW/PWW - Used when with Black Rose Mafia)

Signature Weapons
Tag Teams/Stables
Fallen Angelz (with Lexi Rayne and Angelina Williams)
Generation Next (with Sheamus, Drew McIntyre, Zack Blaze and Ezekiel Jackson)
Deadly Sins/Generation Next (with Nathan Warrens, Aaron Warrens, Damon Wilson/Warrens, and Jane Isis)
Generation Xtreme (with Nathan Warrens, Aaron Warrens, Damon Wilson/Warrens, Jane Isis, James Baker, Danielle Lopez, J.T. Banks, Kevin Styles, Desiree Miles, Israel Steele, Kelly Steele and Terrel Ryder)
The Black Rose Mafia (with Desiree Miles, Danielle Lopez, Heather Monroe and Alexis Landry)
Weapon X (with J.T. Banks, Danielle Lopez, Damon Warrens, Nathan Warrens and Kevin Styles)
The Black Rose Mafia (V.2) (with Danielle Lopez)
Da Xtreme Dynasty (with J.T. Banks and Kevin Styles)
Championships and Accomplishments
WWE Legacy™

WWE Womens Champion (1 time)
WWE Divas Champion (1 time)

Premium Championship Wrestling

PCW Womens Champion (1 time, only)
PCW BRAWL Champion (1 time)
Stolen PCW "Jobber of the Year Award" from Rob Osbourne "who could not accept".
PCW 2011 Hall of Fame Inductee
PCW 2011 Tag Team/Stable of the Year Award" as a part of Generation Xtreme
Managed Da Xtreme Dynasty to become the PCW Tag Team Champions
Managed Danielle Lopez to become PCW World Heavyweight Champion

Japan Pro Wrestling

JPW Caijin Champion (1 time, current)