Teresa Quaranta
Talk

0
11,342pages on
this wiki
Teresa Quaranta
Statistics
Real name
Maria-Teresa Cordova
Ring Names
Teresa Quaranta
Height
6'3
Weight
190
Date of birth
February 3rd
Place of birth
Toronto, Ontario, Canada
Date of death
{{{death_date}}}
Place of death
{{{death_place}}}
Resides
Boston, Massachusetts
Billed from
Toronto, Ontario
Trainer
{{{trainer}}}
Current
federation(s)
Victory Wrestling
Previous
federation(s)
Absolute Pro, Epic Wrestling Organization, Sin Wrestling, True Glory Wrestling, New Frontier Wrestling, Pioneer Wrestling Association
Handled by
{{{handler}}}
Win/Loss Record
53-15-2
Debut
July 2007
Retired
{{{retired}}}
Maria-Teresa Cordova is a Canadian professional wrestler better known as Teresa Quaranta. She is currently employed by Victory Wrestling.
Biography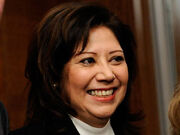 Born February 3rd, 1985 in suburban Toronto and raised by a single mother (the details of her fathers abscence aren't known to the public yet). Had a fairly loving but chaotic childhood. Her mother, Melissa, was bipolar or pretty close to it, and a steady stream of weirdos and layabouts would crash at her house for extended periods of time. Her exposure to all these, uh, advanced adults rubbed off on her, maturitng her for her years but ostracizing her from her classmates. Partially to help Teresa become more comfortable with herself as she went through the changes of puberty (but mostly to get her out of the house and away from the TV), she enrolled Teresa in her first martial arts course around 14, an old school Korean Tae Kwon Do course. Melissa was also a moderately successful comedienne, and spent most of Teresa's teenage years on tour. Her time under
extremely
loose supervision (a friend popped in from time to time during these years to make sure things went smoothly) allowed her to focus on her physical and spiritual development, but it also allowed her to be an awful student who did massive amounts of drugs.
Somehow, despite having crappy grades, she managed to con her way into a foreign exchange program, where she spent a year and a half in Washington D.C., where she lived with Micah Castille's family, striking up a relatively amicable relationship with him - she also started her wrestling training in the US, which she kept up even after returning to Canada.
What is it that the kids today call themselves when they don't want to acknowledge that they've spent the vast majority of their life stoned and watching reruns of Family Guy? Philosophers? Well, Teresa Quaranta was one of Canada's foremost philosophers for the majority of her life. While investigating the deepest secrets of the universe from her couch senior year of high school, she met a Zen Master in the clever guise of a cockroach, and received a holy mission to free the world from the forces of oppression and fear. And what happened to be on her table but a plane ticket to Africa and a plan written in mysterious handwriting? So after selling the plane ticket, using the proceeds to buy weed, and smoking it with some weird paper that had a lot of blather about getting some 'Ron Paul' dude elected in the States, Teresa joined a glorified circus and the rest was history.
Professional Career
Independent Era
After taking lumps in training for a few months, turned the corner and really, really kicked lots of ass in the Toronto/Detroit/Pittsburgh/Montreal/DC/ New York circuit. But success came with its own stresses as it always does, and after doing some Very Bad Things to other members of the roster (even by professional wrestling standards), she was forced to move on.
New Frontier Wrestling
TV Title Era
Teresa quietly entered the company's TV Title division in July 2007 as a Discordian who worked to "profliferate absolute chaos and strike terror into the hearts of (her) enemies" along with Minion #1, a brawny cohort she at least implied was ordered from a mail-in catalog. These efforts (mostly centered on getting creepy black robes and cool filming locations and other Gothy accoutrements) usually failed miserably, with hilarious results.The work in the ring went well, but after a couple of matches, her attention was drawn to Joe the Plumber, who was NFW TV Champion at the time. The greasy goblin's ramblings seemed so substandard that she immediately threw her hat into contention for the belt. Unfortunately, it wasn't long after that that Kin Hiroshi, who was NFW World Champion at the time and suffering from a mental breakdown in the aftermath of a long feud with Felix Red, drew Teresa's attention - between him and Joe, she thought the two main champions were so poor that they embarassed the company. After pretty much handing Hiroshi his head to him in a verbal back and forth, management decided to pull her out of the race for the Plumber's Television Title and mover her up in the company, in a tournament to crown the company's first National Champion.
National Championship Tournament
The list of contenders wasn't exactly a list of pushovers - NFW Management had put together a list featuring a bunch former champions from other champions - Maggot, Rook Black, and Sean Stevens among others, and seasoned veterans like Dusk and Phil Atken in a double elimination tournament stretching through the fall and winter months where the last person standing would be awarded with the title.
Road To Wrestlestock
Legion RIsing
Black Hearted
Absolute Pro
After a few months of inactivity that included a gig at Epic Wrestling Organization Pay-Per-View, Teresa found herself, completely without explanation, at a worldwide level of exposure and publicity - publicity that tied her to the newly opened Absolute Pro promotion. The allure of doing a worldwide tour and a desire to get to the bottom of her sudden and irrational rise to fame inspired her to sign on. After putting together an impressive string of wins, she secured a world title shot at Rio, the company's first Pay-Per-View.
The Basics
Name: Teresa Quaranta
Nickname: The High Priestess
Height/Weight: 6'3" / 190 lbs.
Body Type: Athletic
Hometown: Toronto Ontario, Canada
Alignment: Face
Theme Music: "Clarissa" by Mindless Self Indulgence or "300 Mhz" by At The Drive-In
Appearance:
Gimmick: While she frequently airs off-camera segments showcasing her efforts at obtaining world domination - efforts that almost always fail miserably - in reality, she's one of the show's most cunning competitors. Whatever your plan is, she's probably thought of it first. Of course, she might really be an idiot pretending to be a genius instead of the other way around. Who's to say, really?
Wrestling Style: Works a fast paced strong / cruiserweight hybrid. Lots of stiff chops and kicks and stuff, but tends to run and use top rope moves as well. Is a passable grappler, but has been relying more on the striking attacks and cool flashy flippy moves as of late, toning down the chain wrestling based stuff.
Strengths:
Adaptability- Thanks to a steady and constant defense of illogic, Teresa is practically impossible to headgame out of the ring. Is extremely adaptable inside - can pull reversals with the best of them.
Pain Tolerance - Teresa can give / absorb a massive amount of pain through a match.
Highly Manipulative - Has a level of charisma typically seen only in cult leaders and Bond villains, and can attract friends and enemies practically at a whim.
Weaknesses:
Easily Distracted - For someone who plans so meticulously outside of a ring, she will sacrifice momentum in a match at the worst possible moment, chatting up the referee, tying her boots, staring at something shiny... anything.
Suicidal - Goes for ridiculous high spots at inopportune times, and more often than not, crashes and burns. Easily Bored - Unless the match is against an archrival, she'll lose emotional interest during a long match and go through the motions.
Frequently used moves:
Air Raid Crash
Aurora Special
Bakatare Sliding Kick
Blue Thunder Bomb
Canadian Backbreaker
Capture Suplex
Implant DDT
Shoulder Block
Springboard Shooting Star Press To Floor
Standing Rolling Fireman's Carry / Standing Moonsault Combination
Tarantula
Signature moves:
Lady Of The Lake - Curls into a ball and offers hand. When accepted, rolls into an armbar. Only attempted at the opening of a match.
Spanish Inquisition - Backflip kick. Nobody expects it!
Eunuch Provocateur - Second Rope Corkscrew Knife Chop
Divine Intervention - It's a modified BME with a double stomp instead of a splash.
T.I.M.N.I - Dropsault
Atheist Purge - Royal Butterfly
Finishing moves:
Process Of Illumination - Crossarm Diamond Cutter
Death Of The Future - Argentine Leglock'
Cruelty's Heart - Flying Crucifix Armbar (This move has only been used twice in her career, causing long term damage each time.)
Fights like: Pretty much a cross between Kumiko Maekawa and Christopher Daniels.
Rivals and Allies
Friends
Felix Red (not reciprocated, really)
Nova
Chelsea Pryce
Q
Riona Langly
Rivals
Legion
Phil Atken
"Triple X" Sean Stevens
Joe the Plumber
Kin Hiroshi
Steve Knox
Jake Norton
Simon Kalis
Marvin Wood
It's Complicated
Rook Black
Micah Castille / Karina Cecilla
Estelle Webb
Career Achievements
Notable Matches
vs. Dusk, Phil Atken, and Sean Stevens : NFW National Title @ Crash TV 43 (won)
vs. Rook Black : NFW National Title @ SuperCrash I (won)
vs. Sean Stevens : NFW National Title @ WrestleStock II (won)
vs. Nova : NFW World Title @ CrashTV 45 (lost)
vs. Legion and Luci4 : Looking Glass Match @ CrashTV 47 (won)
w/Nijs Landzaat vs. Aaron Shadows & Jake Norton : AbsoluteTV (won)
w/The Blacklist vs. Adams, Albrecht, and Franchise @ Animosity 10/22/09 (won)
vs. David Blazenwing, TGW World Title @ Animosity 11/09/09 (won)
SW World Title Tournament @ Illusions 2009 (won)
vs. Stevie Swing: SW World Title, How the Horatio Stole Christmas! (lost)
vs. Chris Extreme: SW World Title, Steel Cage Match @ Eternity 52 (lost)
vs. Travis Miller, SW Ultraviolence Title @ Wonderland (won)
vs. Kelvin Coolidge @ Eternity 59 (draw)
vs. Chelsea Pryce @ Eternity 61 (won)
Battle Royal, SW Over The Top Rope 2010 (lost)
vs. Riona Langly: PWA Chaos 10/26/2010 (won)
vs. Team Rebel Pro: War Games @ Good vs. Evil (won)
PWA Rumble in the Bronx 2011 (won)
vs. Daniel Kalis @ PWA Chaos 1/25/2011 (won)
vs. Estelle Webb: SW TV Title @ Broken Hearts (lost)
vs. Simon Kalis: PWA World Title @ Genesis XI (won)
vs. Stevie Swing: SW World Title @ The End (won)
w/Karina Cecilla vs. Anna Matthews & Estelle Webb @ Victory TV #5 (won)
vs. Marvin Wood @ Victory TV #7 (won)
vs. Lisa Seldon, Simon Kalis, and Alexander O'Ryan: AOWF World Title @ Honor Bound (lost)
Win-Loss Record
New Frontier Wrestling: 16-4-0
Absolute Pro: 5-0
True Glory Wrestling: 6-0
Sin Wrestling: 17-7
Pioneer Wrestling Association: 12-2
Victory Wrestling: 4-2-1
Titles, Acheivements And Other Silly, Pointless Things
SW World Champion (x2)
PWA World Champion
TGW World Champion
PWA Rumble in the Bronx 2011
SW Tag Trophies 2010

SW Ultraviolence Champion
NFW National Champion (x1, first)
SW TV Champion (x2, last)
Sin Wrestling Hall of Fame
SW Wrestler of the Month (x2)
SW Match of the Month (x5)
SW Face of the Month (x2)
SW Heel of the Month (x2)
PWA Match of the Quarter
PWA Wrestler of the Quarter
PWA Wrestler of the Month (x2)
PWA Feud of the Quarter
PWA Promo of the Week (x4)
PWA Promo of the Month (x2)
PWA Promo of the Quarter (x2)
PWA Shocking Moment of the Quarter
PWA Rookie of the Quarter
PWA Rookie of the Year 2010