The Demon

The Demon in 2006.
Ring name(s)
(The) Demon
Billed height
6'10" (2.08 m)
Billed weight
318 lb (144 kg)
Born
April 1
Debut
March 2006
Brandon Carson (born April 1), best known as The Demon (sometimes shortened to simply Demon), is a professional wrestler currently signed with Global Wrestling Association where he is a one-time GWA Tag Team Champion. The Demon has previously made appearances for various promotions, most notably with Total Non-stop Action Wrestling where he once won the NWA Tag Team Championship and twice won the TNA Hardcore Championship before being inducted into the TNA Hall of Fame in 2011.
Wrestling career
Early career (2006)
The Demon made his career debut in Absolute Intense Wrestling in March 2006 before appearing elsewhere throughout the year in other promotions thereafter such as All Magnitude X Wrestling, World Championship Wrestling, and Extreme Championship Wrestling. The Demon went onto win the WCW Hardcore Championship during his run with World Championship Wrestling beofre teaming with Eclipz in Extreme Championship Wrestling. The duo of Demon and Eclipz was short-lived after the death of his tag team partner just weeks after they began teaming in July 2006.
Total Non-stop Action Wrestling (2006–2011)
The Demon made his Total Non-stop Action Wrestling debut in April 2006 and feuded against Mike Dimter on the Impact brand. He would become the inaugural winner of the TNA Hardcore Championship and held the title for a month before losing it to Kriz Viper; this match would be the last appearance made by Demon until later in the summer. Then in August, Demon returned but his personality would be more focused on women, going as far as stalking members of the female roster with the likes of Alicia Marie, Princess, and Trish Stratus. Meanwhile, Demon quickly found success during his return on Xplosion while teaming with Edge. The duo would go onto win the NWA Tag Team Championship soon afterward, defeating Country Girl and April Hunter-Murdock. Edge ultimately left the company, however, and Demon was soon left without a partner to defend the titles. Thus, the promotion vacated the titles.
The Demon then entered a feud against Game. After trading victories against one another, Demon finally defeated Game in a rubber match. Per stipulation, Game's then-wife, Jackie, would be of service to Demon. Meanwhile, Demon attacked Benjamin Jameson on an episode of Impact and stole Jameson's TNA Hardcore Championship, thus making Demon a two-time winner of the title. By the summer of 2007, Demon entered the biggest feud of his career while chasing the then-vacated TNA World Championship. At the June pay-per-view, however, Demon was not able to obtain the title in a three-way non-elimination match against Cole Henry and Joker at Slammiversary.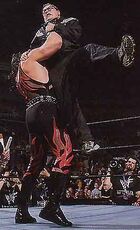 After a four month hiatus from wrestling, Demon finally returned to the wrestling in January 2008 and quickly engaged in a feud against Sting. Although Demon was a heel for most of his career, he began to show mixed emotions of good and evil; this persona would be the catalyst of their rivalry. However, Demon abruptly left the promotion by the end of the ensuing month and that would be the last time he would be seen on television until three years later.
In March 2011, Demon returned to TNA three years after his last appearance for the company. The Demon soon appeared in various vignettes involving him and Kito Magnusson. The duo would form a team, known as The Paradox, and acquire several victories. Meanwhile, Demon's persona reverted to being a sadistic monster whose repressed anger made him lash out on random members of the roster. Also, Demon reengaged in a brief feud against longtime nemesis, the Game, by calling him out by his birth name. To further escalate the drama, Demon was involved in a sexual relationship with the Game's then-wife, Jackie, whom Demon had prior relations with in the past. Ultimately, Jackie decided her love for the Game and left him for Demon. The Demon's partnership with Kito would prematurely end when Magnusson chose to take a leave of absence while unable to give an estimated timetable to return. Weeks later, Demon becoming a single's competitor until further notice, lost to Benjamin Jameson at Collision Course. After two months of not being seen on television, Demon made his return at the HomeComing: 2011 pay-per-view event. Facing Cole Henry for the TNA Intercontinental Championship, the bout was billed as a rematch the two men had four years ago at Slammiversary. Unfortunately, much like the 2007 result, Demon lost to Henry again and would not be seen in TNA thereafter.
Sporadic appearances (2011–2012)
The following year after making his last appearance with TNA, Demon would surface sporadically throughout various promotions. The Demon appeared in Empire Wrestling, attacking his former nemesis Mike Dimter. The Demon was then spotted months later at a show hosted by Underground Wrestling Federation, attacking Eliza Gray with a chokeslam. Several months afterward, Demon played a mask assailant during an appearance in World Elite Wrestling, kidnapping Emily Martin. A week later at the Beach Brawl pay-per-view event, Demon addressed his reasoning of abducting Martin in a vignette. During the video, Demon was seen without a mask, revealing a silhouette of his face for the first time in his wrestling career. However, this would be the last appearance Demon made in the company as he left the promotion just days later before making an appearance as a masked assailant in Xtreme Wrestling Federation, attacking Max Savage and stalking Heather Helmsley.
Global Wrestling Association (2012–present)
The Demon made his Global Wrestling Association debut in a backstage segment at Genesis, interrupting an interview involving Lori Sanders and Trevor Adams. In the following weeks on Shockwave Demon established himself by being a menacing stalker and began pursuing Sanders, going so far as to abducting her in a janitor closet and binding Sanders with rope. With Sanders receiving help from Gaylord Bondage, Demon was unable to keep Sanders in his possession and thus causing causing to challenge Bondage at Road to Glory. At the pay-per-view event, Demon unfortunately was not able to be victorious after placing his focus away from Bondage and onto Sanders, who was ringside in support of Bondage's efforts and was physically involved in the bout by slapping Demon before Bondage won the match. Afterward, Demon transitioned his gimmick into being a backstage recluse, being seen by himself throughout the arena during the end of an interview or a promo. The Demon then randomly attacked Zyther, who had recently signed with the promotion and was offering an open challenge to any member of the company's roster. This ignited a temporary feud between the two, resulting in both men facing against each other at December 2 Remember in a no disqualification match. The Demon lost the bout and was almost unmasked by Zyther after the match before hurrying backstage in much to the dismay of the audience.
Teaming with Trevor Adams (2013–present)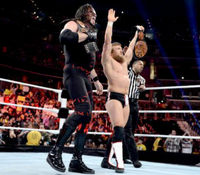 The Demon was not seen on television until reappearing on an episode of Shockwave in January 2013 where he lost a match against Trevor Adams. Later on in the show, the two bickered back and forth as both men claimed the other was cheating in the said bout. A week later with both men almost coming to blows backstage, Benjamin Jameson placed Demon and Adams together as a tandem in a tag team match in which the winner was entered in a number one contenders match at the ensuing pay-per-view event. And even with the arguing and the infighting during the bout, Demon and Adams inadvertently defeated The Dudebusters (Sebastian Cross and Zachary Stone). A week later at Inception, the newly formed tag team of Demon and Adams defeated The Foundation (Samir Wahad Abdul Gaddafi and Mohammed Basara) and became the top challengers to the GWA Tag Team Championship. In the ensuing episodes of Shockwave, Demon and Adams proved to be an efficient tandem while providing comedic relief during shows and backstage segments as the two were clearly not satisfied in becoming a duo while continuously professing their hatred for one another. At Chaos in a Cage, Demon and Adams defeated The Natural Express (Maxwell Richards and Taylor Richards) in a steel cage match. The Demon and Adams began to enhance their partnership, with noticeable improvement of their chemistry as tag team partners during matches. The tandem also aided each other during singles matches, especially if their opponent had been receiving outside assistance. Continuing to build their unity as a team, Demon and Adams took on other tag teams within the division in order to let their presence amongst the tag team division be known. Ultimately, Demon and Adams faced the Foundation in another tag team match but with the GWA Tag Team Championships on the line at March Madness. The fascinating duo of Demon and Adams easily prevailed, quickly dismantling Mohammed Basara while Gaddafi continued to look on from the apron. After the match, the Dudebusters came down and began to attack Demon and Adams before being saved by the Steel City Sinners (Blade Ambrose and Eli Jordan). Not before long did the Natural Express come out and try to make the odds uneven before Demon, Adams, and the Steel City Sinners fended off everyone else.
After March Madness, Demon and Adams became a large target in the tag team division as every duo began fighting to become the newest number one contender. Defeating the Dudebusters in singles and non-title matches, the Steel City Sinners became the newest contenders after a tag team battle royal, with Demon and Adams even congratulating the winning pair afterward. Weeks later at the Annihilation pay-per-view, Demon and Adams faced the Steel City Sinners for the GWA Tag Team Championship. In a hard fought bout, Demon and Adams eventually lost the titles to Ambrose and Jordan. The two met in the ring with handshakes before being assaulted by the Richards brothers, which led the Dudebusters into entering the melee and thus having the scene coincide with what had happened a month earlier with the members of all four teams brawling each other.
A month later at Cyber Mayhem, all four teams finally faced each other in a four-way tag team ladder match for the GWA Tag Team Championship. Unfortunately, Demon and Adams were unable to become champions after the Dudebusters were the first team to retrieve the titles. On the ensuing episodes of Shockwave that led up to the following pay-per-view event, Demon and Adams continued their rivalry against the Natural Express. Ultimately at Battle Grounds, Demon and Adams, along with Chase Andrews and Darren Hughes, defeated a quarter comprised of Ramon Rodriguez and the trio from The Enterprise. Weeks later at the Independence pay-per-view, both Demon and his tag team partner were placed in the Independence Battle Royal where the winner was named the number one contender for the GWA World Championship. However, both failed to win the match but had ignited a friendly rivalry against the Steel City Sinners after Demon eliminated both Blake Ambrose and Eli Jordan, Adams had come from behind and eliminated Demon. Both teams eventually faced each other at the ensuing pay-per-view show, Supremacy, but neither team earn a victory after all four competitors were disqualified via double countout. A month later, both teams wrestled in a match at Retribution where the winner was named the number one contender for the GWA World Tag Team Championship but Demon and Adams failed to win the bout after Adams suffered and injury during the match.
In wrestling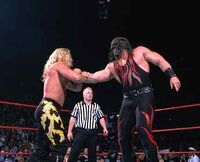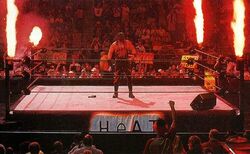 Managers

Ashley Dimter
Jackie
Lori Sanders
Nicknames

"The Deacon of Destruction"
"The King of Hellfire and Brimstone"
"The Lord of the Underworld"
Championships and accomplishments
External links
Male wrestlers

Ace Montgomery • Austin Young • Blake Ambrose • Chase Andrews • Clyde Ray • Colby Jackson • Darren Hughes •

Demon

• Derek Kang • Eli Jordan • Frasier Reed • J.J. Curtis • Keith Parker • Maxwell Richards • Mohammed Basara • Monterrey Jackson • NBT • Nick Wolfe • Ramon Rodriguez • Samir Wahad Abdul Gaddafi • Sebastian Cross •

Slash

• Taylor Richards • Trevor Adams • Victor Sinclair • Zachary Stone • Zyther

Female wrestlers

Ariana • Bethany • Bianca Rhodes • Cassie B • Elena Martinez •

Jeanette Ayers

• June • Maya Carter • Pepper Jackson • Rayven • Stella Wonder

Other talent

Benjamin Jameson

• Dennis Payne • Frank Richards • Harold Epstein • Jack Stiles • Jerry Olsen • Lori Sanders • Ms. Gioletti • Philip Malone • Samuel Root

Stables/tag teams

American Werewolves • The Dudebusters • The Foundation • Steel City Sinners • Team Showtime
Template:Template other
The Natural Express
(
Maxwell Richards
and
Taylor Richards
) •
Demon
and Trevor Adams • Steel City Sinners (Blake Ambrose and Eli Jordan) • The Dudebusters (Sebastian Cross and Zachary Stone) • The Foundation (Samir Wahid Abdul Gaddafi and Mohammed Basara) • American Werewolves (Austin Young and Nick Wolfe) • Team Showtime (
NBT
and Clyde Ray) (current)
Template:Template other
Class of 2005

Alex Chance • Gail Kim • Haylie McAdams • Jason Harris • Jeff Hardy • Kane • Lita • Matt Hardy • Mercedes • Randy Orton • Rose • Sean Mason • Shawn Michaels • Sunny • Vivica Johnson

Class of 2006

Alex Murdock • Princess • Stephanie McMahon • Torrie Wilson • Triple H •

Stormy

• The Undertaker • Vince McMahon

Class of 2007

Angel • April Hunter •

Benjamin Jameson

• Country Girl • Jackie Gayda • Lynden G • Madison McKenzie • Rod Moore • Sting • Trish Stratus

Class of 2008

The Game

Class of 2010

Brandon Michaels • Candice Michelle • David Arnold • Lindsey Callaway • Maryse Ouellet • Matt Michaels • Robert Michael Freeman • Strangler • Tia

Class of 2011

Chad Hyatt • Chris Legend • Cole Henry • Danny Richmond •

Demon

• Edge • Fyre • Jamie Conwell • Lord of Darkness • Mike Dimter • Mike Maddox • Shane Trudex • Stacy Keibler
Template:Template other
Rose and Gail Kim • Team X (Matt Hardy and Jeff Hardy) • Alex Chance and Alex Murdock • John Thompson and Jeff Hardy • Jason Harris and Mason • Jason Harris and Gail Kim • Jason Harris and Rose • Bounty Hunters • AJ Styles and Rob Van Dam • April Hunter and Country Girl • Edge and
Demon
Template:Template other
Demon
• Kriz Viper • Ryan Ford • Roxi Testaverde • Sandman • Cactus Jerry • Frank Stevens • Bobby Weitbrecht •
Alex Slash
•
Benjamin Jameson
• Jeff Hardy • Eric Draven
Template:Template other
Ad blocker interference detected!
Wikia is a free-to-use site that makes money from advertising. We have a modified experience for viewers using ad blockers

Wikia is not accessible if you've made further modifications. Remove the custom ad blocker rule(s) and the page will load as expected.