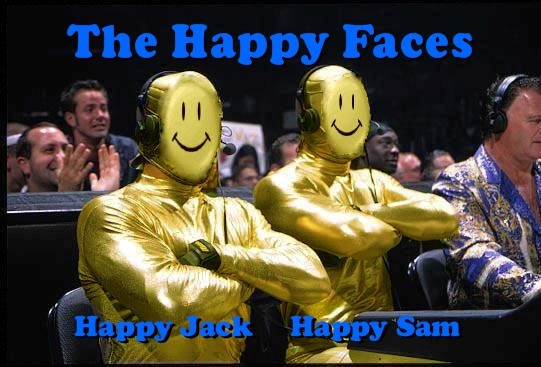 "Wrestling's Ambassadors of Goodwill and Good Times"
History
The Happy Faces are a tag team currently wrestling for the Shootclub Wrestling Alliance. The team is made up of two masked gentlemen named Happy Jack and Happy Sam. Both wear the same ring attire--yellow body suits, yellow boots and full-face see-through masks with a smiley face on them.
The Happy Faces got their start in the early-nineties at an event called Rowdy Rumble '92. They took a number of years off until returning to the ring in 2006. Not much is known about the actual history of the team except that they were original members of Aye Phelta Thi with Roscoe Law in their early career. Law is currently their manager, handling the administrative aspects of their career and not normally at ringside, although he will make an appearance for major matches.
In December 2008, Happy Jack joined the EEW roster as a solo competitor.
Style and Demeanor
The Happy Faces speak as if they are kind and gentle souls. They are always in great spirits and are upbeat whenever they talk about someone. But they will "badmouth someone in a good way". Their promos are good examples of this. Happy Sam is usually the antagonist while Happy Jack plays the "good cop".
However, their actions say something completely different. They are brutal in-ring competitors and not above cheating in getting their way. They will bloody and batter a fan favorite and then wave to the crowd for approval, which usually doesn't happen.
Titles Held
-Hardkore Britain Tag Team Champions (2x)
-SWA United States Tag Team Champions
-SWA International Tag Team Champions
-WAM Tag Team Champions (3x)
-WAM Tijuana Tag Team Champions (2x)
---*during 2nd reign, title became WAM Tijuana Trios Championship
-WAM Tijuana Trios Champions (w/Wasp Man)
-VSW Tag Team Champions (6x)
-VSW Deuces Wild Tag Team Champions (3x)

Awards
-WAM Tag Team of the Month [September & October 2007]
-VSW Tag Team of the Month [May & July 2008]


Ad blocker interference detected!
Wikia is a free-to-use site that makes money from advertising. We have a modified experience for viewers using ad blockers

Wikia is not accessible if you've made further modifications. Remove the custom ad blocker rule(s) and the page will load as expected.