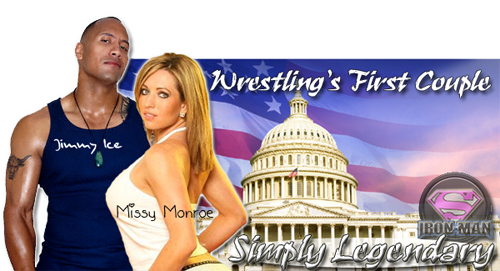 ---
"The Iron Man" Jimmy Ice (aka Calvin St. James)
[[Image:{{{image}}}|{{{image_width}}}px|Image of "The Iron Man" Jimmy Ice (aka Calvin St. James)]]
Statistics
Real name
Jimmy Ice
Ring Names
{{{names}}}
Height
6'5
Weight
275 lbs.
Date of birth
June 10, 1981
Place of birth
Dallas, Texas
Date of death
{{{death_date}}}
Place of death
{{{death_place}}}
Resides
{{{resides}}}
Billed from
Same
Trainer
{{{trainer}}}
Current
federation(s)
ECWF, PWO, NBA, XPW
Previous
federation(s)
IHW-HOP, IWF, UHW, XWA
Handled by
Rock
Win/Loss Record
{{{winloss_record}}}
Debut
2005
Retired
{{{retired}}}
Jimmy Ice, also known as The Iron Man, is an American professional wrestler. Jimmy Ice is currently part owner and under contract of the Elite Championship Wrestling Federation
Youth
Jimmy Ice was your All-American kid. The 2nd of 3 kids, between an older sister and younger brother and the product of 2 loving and dedicated parents, born into a very well to do and close family, Jimmy was athletic and smart all his life. He was a standout in 3 sports in high school. Like a house afire, Jimmy broke records in baseball, football and wrestling becoming the stuff of high school sports legends. But being named MVP more than once, winning numerous awards and being the ever popular athlete in school wasn't enough for Jimmy. His academic side was equally impressive earning him top honors as Valedictorian of his Senior Class. Nicknamed "The Iron Man" for his seemingly never-ending ability and stamina, by the time Jimmy graduated from high school, his list of achievements, including school President, Team Captain in any sport he played, numerous awards for academics and leadership, was stunning.
School/College
Jimmy accepted a full ride scholarship to the University of Texas where he graduated with a degree in education and a double minor in history and physical education. During his college tenure, Jimmy attended a small, just off campus wrestling school in what little spare time he had called The Back Alley School of Wrestling. Jimmy was a quick study and along with his naturally athletic abilities and sometimes super human power, Jimmy came to love the sport of wrestling. He trained through out college becoming an expert in mat tactics and submission fighting. But he didn't stop there. After college, he dabbled and quickly became familiar with other martial arts styles including, karate, Krav Maga and Muy Thai fighting.
Indies/IWF
With the support of his family, Jimmy joined, through the Back Alley School, a small Indy fed known as the Independent Wrestling Federation. Jimmy was very quick to work his way up through the ranks and defeated the resident Champion, Dallas "Prime Time" Sharp in one of the most storied rivalries in IWF history to become the new and soon to be longest reigning Champion the IWF ever came to know. Along the way, Jimmy became the first ever double Champion when he teamed with his brother to form The Wrecking Crew and won the World Tag Titles within 2 weeks of teaming. More gold would come to the amazing brother team as Jimmy's younger brother, Jonny would become the IWF Welterweight Champion. The brothers would hold all 3 sets of titles for another 3 months until an injury to Jonny forced him to vacate the Welterweight Title. Jimmy went on to defend the Tag Titles alone, winning 3 matches before being defeated by up and comers, and good friends, Australia's Finest, Paul and Brian Kennedy. Jimmy reigned as IWF Champion for over a year before being called and accepting a deal in the "big leagues" with the IHW. Jimmy left the IWF, vacating the World Title which his good friend Paul Kennedy went on to win in a rumble match after Jimmy's departure.
Wrestling
IHW
Jimmy broke into the business with the Impact Hardcore Wrestling Federation (IHW). As a rookie, Jimmy was a quick study of the business, shooting to the top and entering a Main Event feud with Mustafa Hassan. Things got personal really quick between the two men as Mustafa did his best to anger Jimmy, using politics and racism to being the feud to a boil. Jimmy and Hassan squared off the first time in a C4 Cage match that saw Jimmy lose by interference from Hassan's new stable. Handcuffing Jimmy into the cage, Hassan blew it up and, as many thought, figured he had ended Jimmy Ice. But true to his name, The Iron Man returned and took his revenge and gaining his first ever World Title in under three months. Jimmy held the title until the company folded. In a meeting of the Superstars, Jimmy Ice, Shauna Angle, Wrestling God and Kid Krunch would assume control of the IHW after the disappearance of the GM and revamp it, heading it up as a partnership and turning it into Impact Hardcore Wrestling – House of Pain.

IHW-HOP
The foursome ran HOP with skill, seemingly taking it to the next level. But backstage tension between Jimmy, Shauna, Krunch and WG soon escalated and resulted in WG leaving all together. Shauna and Krunch formed a team with Shauna in the GM Role and took it to Jimmy Ice, trying to dethrone him as the HOP World Champion. Jimmy put up one hell of a fight and came out on the winning side. Soon after Krunch would retire, leaving the wrestling business. Shauna too would take her leave, leaving Jimmy in control of the IHW-HOP. Soon after, Jimmy reconciled with Wrestling God who returned to help him. In the mean time, a friendly face in the West Coast Wonder would step up and help Jimmy run the company. Jimmy's truce with WG was short lived though and soon WG disappeared again. Not long after, a new face came to the HOP and called out The World Champ. This was the first time Jimmy Ice ever came face to face with the Hoodfella, Sean Gotti. Coming over from the ICZ, Sean was looking for a challenge. What most don't know is that behind the scenes, Sean and Jimmy ushered in, with the help of ICZ GM Steven Partain, a merge that would create the powerhouse company . . . ECWF.

ECWF
Before Jimmy and Sean ever faced off, the merge was completed and the Elite Championship Wrestling Federation was born. Sean would enter a feud that would see him win a unification match between him and Kid Krunch (who returned and won the IHW-HOP World Title from the Iron Man by interference from a returning Shauna Angle) and be crowned ECWF's first ever World Champion. Iron Man in the mean time started his tenure in the ECWF behind the scenes. Now and experienced businessman in the wrestling business, Jimmy soon found he had a gift when it came to business ventures and eventually became the controlling member of the ECWF with a 51% share. The rest was left to stockholders. Now at the helm of the company Jimmy soon put together a Board of Directors, whom he charged with running the company since he was an active wrestler and didn't want have an unfair advantage. Jimmy added a rule to the Guidelines that stated even though he was the Head of the ECWF, that he could not over ride the decisions of the GM or be involved in backstage affair save for being the locker room leader, unless the Board granted him the power to do so OR he retired from active wrestling and resumed his duties. It was than that Jimmy hired a CEO of the ECWF, Timothy Cash. It's no secret that Tim Cash and Jimmy Ice are not friends. But Jimmy knew that if there was one man who could run the ECWF effectively, it would be Cash. With all his business matters settled, Jimmy got back to wrestling and it wasn't long before The Iron Man had his long awaited clash with the Hoodfella, Sean Gotti. In a rivalry that some would say is the greatest ever, Sean and Jimmy clashed with some bad blood that had never been seen before. Soon after, Sean formed his stable, the Street Sweepers. A faction that has yet to be equaled. The Iron Man fought the Sweepers on multiple occasions and is to date, the only man to hold pinfall victories over all three. Finally, Sean and Jimmy would clash for the battle to end it all in a Three Tiers of Terror Match. After a hellacious battle, Sean finished Jimmy off with his famed Hood Hop finisher off the top tier, picking up the win. The next week, as the ultimate sign of respect, Jimmy came to the ring and shook Sean's hand, signaling that the past was behind them for good. Jimmy would go on later to have another storied feud with close friend Matt "No Nickname Needed" Ackerman and would result in Jimmy becoming the next ECWF Elite World Champion. Jimmy would go on to hold the title for four months, before stepping into a feud with Mr. Reality, Shane Warner. Shane's and Jimmy's feud would rival that of the Gotti/Iron Man feud and would be the channel with which Steve Partain would try to take down The iron Man for good. Partain's hatred for Jimmy Ice was never more evident than the night that Shane and Jimmy faced off Stage of Legends for the Elite World Title. During the match, Jimmy would hit Shane with his finisher and try for the pin, but would be attacked from behind by Steve Partain, who then put Shane on top of Jimmy to secure the win and take the title off Jimmy. The Stipulation for the Match had been Loser Leaves ECWF. Partain had finally done it. After the match he stepped into the ring and officially fired The Iron Man. With Jimmy gone from ECWF, Partain would then focus his energy on making CO-GM Beverly Hyatt miserable. Finally things escalated to the point where it was do or die. Two teams would face off in a Survivor Series type match pitting GM against GM. It was Team Partain vs. Team Hyatt for everything. As the teams were nearly finished being made. Team Partain stood in the ring, under the leadership of Shane Warner and Steve Partain and called our Team Hyatt. With Partain's team at full strength with five members and Bev's only with four, Partain tried to one up his counterpart. But Beverly had one more ace up her sleeve and named her fifth and final member and the Team Captain of Team Hyatt . . . The Iron Man, Jimmy Ice. Partain and Warner looked on in shock as Jimmy Ice returned to the ECWF. They faced off in the Main Event Survival of the Fittest and Jimmy Ice would exact a measure of revenge, pinning Shane Warner to pick up the win for his team. After the match, Steve Partain tried to contest the result on to walk into the famous Iron Slam for his troubles. It was announced at the beginning of the show that Jimmy Ice would indeed be staying retired due to some family issues. The night that Jimmy had been fired, he walked backstage to receive the horrifying news that his sister had been in a car accident and was in the hospital, clinging to life. Jimmy went to be with his sister, along with his girlfriend Missy Monroe. Jimmy then returned to help Bev and finish what was started and then, took his leave with Missy and stepped out of the spotlight to tend to their family.

The Master of Destruction Pete Jones, after a long and storied feud with The West Coast Wonder, pinned West Coast Wonder to become the new Ultimate Internet Champion. Afterwards, WCW along with fellow the Street Sweepers member HardcoreFool would torment Pete, constantly jumping him from behind or double teaming him in the ring. Week after week Pete did his best to hold them off. Finally, taking matters into his own hands, Pete made a phone call to a old friend. After making things official through the proper channels, Pete Jones and new GM Claire Annette gave ECWF its hero back as they announced a Hall of Fame special show for the September 4th Monday Night Massacre. With the Street Sweepers in the ring, Pete made the announcement to the world and brought back the man who would help him defend his title at Body Count, due to an injury. That's when The Iron Man stepped out onto the stage to a deafening roar of approval from the fans. Jimmy officially returned and joined forces with Pete Jones as the new tag team in the ECWF. Battling criticism from a small group of enemies, Jimmy proclaimed to the world that the King of the Mountain was back and here to stay.

But the stable known as Ratings Inc. was short lived. During a feud with up and comer Craig Lovecraft, Craig super kicked Pete off the stage and sent the Master of Destruction tumbling to a career ending injury . . . or so everyone thought. In a brilliant plan, Jimmy took on Craig claiming that he had ended Pete's career. He told the world that if Pete couldn't be in Ratings Inc, then he wasn't going to keep the team going. Jimmy parted ways with youngster Rob Sattler, Pete's protégé and set in to do battle with Craig. The feud came to the final match for the King of the Deathmatch Championship. With the ref down and out, Jimmy and Craig, in a C4 Deathmatch, both took a massive fall, with Jimmy landing on top of Craig. Jimmy's plan finally came to pass as none other than Pete Jones, officially sanctioned as a referee for the match came down and made the count. Jimmy was crowned the new KOTD Champion. Pete Jones would stay out with a herniated disc in his back but made his return at the end of two thousand seven to join his old friend in the ECWF Tournament as a part of Team Iron Man.
Recently, Jimmy regained the ECWF Elite World Championship by defeating perhaps his greatest rival to date in Venom. In a classic back and forth battle, Jimmy pulled out the win by a hair, gaining not only his 2nd title reign, a new achievement in being the only Triple Crown Champion . . . but most importantly, gained the respect and friendship of his long time rival (Venom) leaving many to wonder when Iron Man vs. Venom II is going to happen.

PWO
The Iron Man joined the PWO in mid two thousand six, under the ring name Calvin St. James, looking for some new competition outside the ECWF. He made his PWO debut against then World Champion Justin Blake. The Iron Man shocked the world by pinning Blake in a non title match, entering the PWO with a bang. He went on to briefly join a group called The League but the group soon dissolved after Lex Cannon and Synn left PWO. Iron Man soon became frustrated, feeling he was lacking some direction. After a show one night, Iron Man was approached by PWO GM Dave McIntyre and made an offer he couldn't refuse. On the next show, Iron Man came out to seemingly aid a friend, only to shock the world and turn on him to join Dave McIntyre's new stable, The Establishment. Under Dave's direction, Iron Man flourished even more. Iron Man had always been the fan favorite and never a heel, but he was taking his role and running with it. Today, The Establishment stands at the top of the PWO and Iron Man, as a two time and current PWO US Champion, holds the record for the longest US Title reign in PWO history at nearly 9 months and counting. He has had numerous title defenses, putting down all comers. With the start of the New Year, Dave McIntyre, Maverick (World Champ), Chris Nielsen and The Iron Man are looking to further monopolize the PWO and continue their reign as the greatest stable in the business.

XPW
The Iron Man's latest adventure has been in the Xtreme Pro Wrestling Federation (XPW), the brainchild of ECWF's resident mobster, Anthony Tarantino. After a call and an offer from Anthony, Iron Man came aboard and has been unstoppable, having yet to lose a match. His biggest match in the XPW came against company icon The Enigma, Violator. Iron Man beat the seemingly unstoppable Violator in a controversial finish that was later voided by GM Torch. Not long after that, The Iron Man assisted Team XPW stop an uprising by Venom and his old XWA faithful, finishing them off once and for all. Now, Iron Man has his sights set firmly on a certain Champion and only time will tell how it all plays out.

XWA
After his loss in XPW, Venom decided to bid farewell to the XWA properly with a One Night Return show. Playing on the history from the company before it closed own, Venom put together a huge card, complete with a Main Event World Title Match. Venom contacted Jimmy Ice, asking him if he wanted to continue where he left off. Jimmy enthusiastically agreed. Now, Jimmy looks to pick up where he left off last year and capture the World Title he was chasing but never got to compete for. Stay tuned . . .

NBA
Before the end of two thousand seven, Jimmy fiancée Missy Monroe asked him for help to find an old friend. Jimmy came to the New Breed Alliance (NBA) in search of Beverly Hyatt, and ended up signing a contract. Joining forces with an old friend in Ben Zenith and Missy's sister Meggan, they have been feverishly searching for Beverly, Along the way, Jimmy fought and won the new NEW Universal Championship after a hard fought battle with Craig Lovecraft and Ethan Everhart. Now, Jimmy, Missy, Ben and Meggan find themselves in a plot that goes deeper than they could imagine. Only time will tell how it plays out.
Missy Monroe
When "Supergirl" Missy Monroe first came on the scene, it was as a backstage interviewer, ring announcer, and color commentator for NBA Wrestling. She eventually became an executive assistant to Miss Beverly Hyatt and finally a professional wrestler. She first saw action when she was forced to team up with "Xpac" in a handicap match against the 6'8" Canadian monster "Rage". She shocked everyone, when after the match a bloodied Missy struck "Rage" with multiple chair shots and like a pitbull, locked in a Dragon Sleeper on Rage. It took several referees along with a pleading Miss Hyatt to get her to let go of the hold. Several wrestlers began to call her "Supergirl" afterwards, and the fans wanted to see her compete more. It was revealed afterwards that she had been trained in Professional wrestling and in many forms of Martial arts. Although Missy plays the part of a shallow blond ditz, she is actually a certified genius. Not only did she graduate form High School at the age of 13, She also holds a Ph.D in physics from Stamford University. She is highly regarded as one of the best technical female wrestlers today, and has even forced, on occasion, male wrestlers to submit. Recently her sister Meggan decided to join the NBA and is currently working the FTW Rampage shows as an interviewer, while in training to follow her sisters footsteps. Meggan is currently being trained by Ben Zenith. Missy is truly a Legend before her time and a true force to be reckoned with inside the squared circle.

She first became enamored with "Ironman" Jimmy Ice of the ECWF when Mr. Natural decided to attack Missy during an in-ring interview. Thankfully, Jimmy Ice came to her rescue and chased Natural out of the ring. They would later be involved in a serious relationship which led them to get engaged. Although she is an NBA "Hottie" & the NBA Women's Champion, she still remains by his side and the two are inseparable to this day.

Missy is a former ECWF Elite Women's Champion. She defeated "Extreme Diva" for the title on the same night that "Ironman" became ECWF World Champion. Missy is also a 2x NBA Women's Champion, and is currently the longest reigning Women's Champion in the NBA. She was named NBA's 2006 & 2007 "Hottie of the Year". She has been featured on the covers of many magazines, including MAXIM, STUFF, PEOPLE, COSMOPOLITAN, SEVENTEEN, SHAPE, GLAMOUR, ROLLING STONE, NEWSWEEK, TIME MAGAZINE AND PLAYBOY. She has also written two books that were on the NEW YORK TIMES best sellers list. Her first book was an autobiography entitled "MISSY MONROE: THE TRUE STORY OF THE REAL LIFE SUPERGIRL", and her second book is an action/romance fiction novel that has Jimmy Ice as the lead character, entitled "IRON IMPACT". she has been involved in several movie projects and has had several cameo appearances in shows such as SMALLVILLE, HEROES, LAW AND ORDER, & WHO WANTS TO BE A SUPERHERO. She is set to appear on "THE BIONIC WOMAN" late in the fall.
Key Feuds
ECWF:
Sean Gotti
West Coast Wonder
HardcoreFool
Matt Ackerman
Shane Warner
Craig Lovecraft
Mr. Natural
Anthony Tarantino
Venom
PWO:
Doomsday
Dante Leonhart
Brian Kennedy/Daniel Golding
Michael Reeves
Interesting Facts
1. 3x Iron Man Triathlon Champion
2. Has landed some movie roles for 2007
3. The only man to have a pinfall or submission win over every member of TSS.
4. Is close friends with Dwayne "The Rock" Johnson.
5. Started his ECWF Title reign the same night as his fiancee' Missy became the ECWF Women's Champ.
6. Wrestled wtih his brother in the Indies becoming the first ever Tag Team with both members as Double Champions. (IWF)
7. Longest recorded Heavyweight Title reign in the Indies (IWF)
8. Recently purchased a home in Australia
9. Loves Comedy, Music and Movies.
10. Is a natural and gifted business man with more than a few personal projects. Its rumored that he also has his own successful business, though it has yet to be confirmed.
11. Major Share Holder and Controlling Member of the ECWF.
12. Has a red truck, his "pride & joy", completely tricked out with every luxury imaginable and the trademarked "IRON MAN" license plate.
13. Has 3 dogs referred to by Missy as their "babies." A Pure Bred German Shepherd named Samson. A Retriever/Lab mix named Archer and Missy's pure bred Shitzhu named Teddy. Needless to say, Teddy is the spoiled one.
14. Does commercials for Oakley, Nike and is a spokesman for the Iron Man Triathlon.
15. Loves practical jokes and is very creative when it comes to pulling one. Specifically loves to joke with NNN, Shane, Pete, Countdown. Texas Jack and Rob.
16. Has a Master's in Education from the University of Texas with a double minor in History and Business Studies.
17. Was roommates with ECWF's resident cowboy, Texas Jack. He learned a few things from him and in turn kept Jack in school.
18. Went to college on a baseball scholarship.
19. Competed in an MMA match after a fighter claimed wrestling was fake, specifically targeting The Iron Man. Needless to say, the Iron Man is 1-0 in the world of MMA with a victory by KO.
20. His brother, although a gifted wrestler, left the business to finish his schooling and is currently a College Professor. Says he wouldn't rule out the possibility of working an angle with The Iron Man whom he is very close to.
21. Spent time in the Air National Guard during college to help with school. Learned to fly helicopters during his 3 year tenure.
22. Both Missy and Jimmy are spokespeople for numerous children's charities and other charities
23. Was made an honorary Fire Fighter by the City of Dallas for his efforts in the community.
24. Has received numerous awards and honors for his and Missy's work in the community and with charity.
25. Has never been submitted or KO'd in a match.
26. Has only been pinned CLEANLY on 3 separate occasions.
27. Currently the longest reigning United States Champion in PWO History.
28. One of only two Triple Crown Winners (Held the ECWF, XPW and XWA World Titles)
Overall Record as of January 1, 2008: 87 Wins – 16 Losses – 2 Draws
Nicknames/Aliases
"The Iron Man" Jimmy Ice (ECWF, NBA, XWA, XPW, IWF)
"The Iron Man" Calvin St. James (PWO, UHW, ICWF)
Tag Teams/Partners
The Establishment (Iron Man, Dave McIntyre, Maverick, Chris Nielsen – PWO)
Ratings Inc. (Iron Man, Missy Monroe, Pete Jones, Vixen, Rob Sattler – ECWF)
The Wrecking Crew (Jimmy & Jonny Ice – IWF)
Signature and Finishing moves
Jimmy Ice - Finishers
• **Finisher** Cold & Critical (Rock Bottom)
• **Finisher** Winter Shock (The People's Elbow)
• **Finisher** Frozen Rope (Sharpshooter)
• **Finisher** Legendary Finish (Canadian Destroyer)

Calvin St. James - Finishers
• **Finisher** Cold & Critical (Rock Bottom)
• **Finisher** Iron Slam (Military Press, dropping them into a face first Rock Bottom)
• **Finisher** Iron Vice (Sharpshooter)
• **Finisher** Calvin's Cross (Lifts or catches his opponent like a Samoan Drop but instead hits a standing back suplex, driving the opponent onto their neck, into the mat from any position. e.g - Standing opponent, opponent jumping off the ropes, etc. A knockout blow. As he lands the move, Iron Man uses the momentum to flip himself over, using his body to hold his opponent down for the pin)

Jimmy Ice - Signature Moves
1. The Legend's Cross (Samoan Drop)
2. Cock Block (Used mostly as a counter - Iron Man is whipped into the ropes. Instead of bouncing back, he holds on. His opponent charges and at the last second, Iron Man lashed out with a devastating shoulder block knocking his opponent down, dazed.)
3. Jacked by Jimmy (Jackhammer)
4. Iron Cutter (Suplex Into Spinning Neckbreaker)
5. Chill Factor (Impaler DDT, Edgecution)
6. Cold Steel (Sit Out 3/4 Powerbomb - opponent lands on their neck with their bodyweight coming down on them)
7. Code Blue (Inverted Facelock Elbow Drop)
8. Iron Vice (Elevated Inverted Leg Lace Stretch)
9. Lethal Injection (Impaler DDT into a Rock Bottom)
10. Iron Slam (Iron Man grabs an opponent around the waist and hits a standing back suplex, driving his opponent onto his neck and into the mat. Usually a stunning blow.)

Calvin St. James - Signature Moves
1. Cold Steel (Sit Out 3/4 Powerbomb - opponent lands on their neck with their bodyweight coming down on them)
2. Code Red (Inverted Facelock Elbow Drop)
3. Lethal Injection (Impaler DDT into a Rock Bottom)
4. St. James Special (aka the SJS) (Impaler DDT, Edgecution)
5. Iron Grip (Sleeper Hold)
6. Tribute to The Rock (Rock's Spinebuster)
7. CSJ Slice (aka CSJS) (Backbreaker over the knee)
8. C-Jack (Jackhammer)
9. Cock Block (Whipped into the ropes and holds on. Opponent charges as Iron Man explodes off the ropes with a shoulder block, usually dropping his opponent)
10. Iron Cutter (Edge O'Matic)
Title History/Achievements
AWARDS
• #37 on EWRT's Top 200 E-Fedders of 2006.
• #1 on EWN's Top 120 E-Fedders of 2007 (Mid-Year)
• #1 on EWN's Top 120 E-Fedders of 2007 (Year-End)
• Voted "Face of the Year" in ECWF's Year End Awards (2007)
• Voted "Face of the Year" in ECWF's Year End Awards (2006)
• Voted "Mr. ECWF" in ECWF's Year End Awards (2006)
• Voted "Face of the Year" in EWN's Year End Awards (2007)
• Voted "World Heavyweight Champion of the Year" in FAW's Year End Awards (2008)
• Voted "Face of the Year" in FAW's Year End Awards (2008)
• Voted "Wrestler of the Year" in FAW's Year End Awards (2008)
• Won "Match of the Year" in FAW's Year End Awards (2008) (Elimination Ladder Match)
• Won "Feud of the Year" in FAW's Year End Awards (2008) (Jimmy Ice vs. Shane Warner)
• World Championship Triple Crown (ECWF, XPW, XWA) (2nd)
• World Championship Triple Crown Champion (ECWF, XPW, XWA) (1st)
ECWF
• Majority Owner of the ECWF
• ECWF Elite World Champion (2 Times)
• ECWF King of the Deathmatch Champion (1 Time)
• ECWF Hall of Famer (1st Class)

FAW
• FAW World Heavyweight Champion (4 Times)

IHW-HOP
• IHW-HOP Heavyweight Champion (1 Time)

IWF
• IWF Heavyweight Champion (1 Time)
• IWF Tag Team Champion (w/ Jonny Ice, 1 Time)

PWO
• PWO United States Champion (2 Times)
• PWO Hall of Famer (1st Class)

NBA
• NEW Universal Champion (1 Time) (Only)
• FTW World Champion (1 Time) (Last)
• NBA Major League Champion (1 Time) (Only)

XPW
• XPW World Heavyweight Champion (1 Time)

XWA
• XWA Xtreme Heavyweight Champion (1 Time - Current)
Theme Music
Click, Click Boom! By Saliva
Let's Go by Trick Daddy
I Walk Alone by Saliva (Current)
Ladies & Gentlemen by Saliva (Current PWO Establishment Theme, Formerly Ratings Inc Theme)
Quotes from Friends and Fellow Superstars
Torch (ECWF, XPW) – "Iron Man is the type of hero a boy can worship and then meet, and not be disappointed. He is the total package."

Rob Sattler (ECWF, XPW) – "Iron Man is the greatest athlete in wrestling today, He raised me up when I was a young lad just gettin started. He was a father figure to me and he showed me the light. Iron Man is a god"

Brian Kennedy (UHW, PWO) – "Iron Man is one hell of a guy. We have faced each other in the ring and I love his ring skills. He is someone that I could team with and know that he will give 2000% every night just like me."

Craig Lovecraft (ECWF) - "Iron Man is the type of guy who, no matter what the odds are, one way or another, will always come out on top"

Dave McIntyre (PWO, ECWF, NBA) - "Cal (Jimmy) is the future of our buisness, long after I have gone people will still be talking about Calvin St James (Jimmy Ice). He is a legend in the making, and it is my privilege to have had the chance to work with him."
Ad blocker interference detected!
Wikia is a free-to-use site that makes money from advertising. We have a modified experience for viewers using ad blockers

Wikia is not accessible if you've made further modifications. Remove the custom ad blocker rule(s) and the page will load as expected.