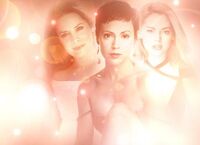 What happens when three sisters from a foreign country join forces with a veteran Canadian ... you get the New Era!
Biography
Stable: Beginning
The New Era got their beginning in NWA-TNA. Cody encouraged it with the others falling in suit except for the hard headed Kiana.
Stable: Appyling the Name
The Name was originally used in the NWA-TNA as a defiant act. It has since followed the group from fed to fed.
Stable: The New Era
Members
Kiana Araneta
Brooke Araneta
Naomi Araneta
Cody Crow
Accomplishements
Championships
Kiana Araneta
ROH
Womens
GWE
Tag (w/ Cody) Womens
NWA-TNA
Tag (w/ Brooke) Queen of the Hill 06
WoWL
Womens
EWE
womens
ACWA
Womens
Brooke Araneta
NWA-TNA
Tag (w/ Kiana)
Cody Crow
ROH
Tag (w/ Kazz Darkblade) Internet Pure
GWE
Pure Tag (w/ Kiana)
ACWA
World
WoW
World
WoWa
Tag (w/ Smokey McPot) European Hardcore
CWA-R
Tag (w/ Rick Stevenson) World
BRAWL
North American Media
AWA
World Tag (c/ Carnation O'Niell)
CWA
Tag (c/ Blade Crow, Gunner Crow, Rick Stevenson, Dave Strong, Ryan Tritt) World (x2) Cruiserweight fastest pinfall
Naomi Araneta
None as of Yet
Ad blocker interference detected!
Wikia is a free-to-use site that makes money from advertising. We have a modified experience for viewers using ad blockers

Wikia is not accessible if you've made further modifications. Remove the custom ad blocker rule(s) and the page will load as expected.