Tony Fanuci
Talk

0
11,352pages on
this wiki
Tony "Fat Boy" Fanuci
Statistics
Real name
Anthony Carluzzi Fanuci
Ring Names
{{{names}}}
Height
5'10
Weight
545 lbs.
Date of birth
May 9, 1966
Place of birth
South Philadelphia, PA
Date of death
Place of death
Resides
Braddock, TX
Billed from
Strasburg, PA
Trainer
Bobby The Chunk
Current
federation(s)
WNWA
Previous
federation(s)
{{{previous_efeds}}}
Handled by
Win/Loss Record
{{{winloss_record}}}
Debut
2000
Retired
{{{retired}}}
Tony "Fat Boy" Fanuci, (born Anthony Carluzzi Fanuci on May 9, 1966) is an Italian-American professional wrestler, chef, male prostitute, waiter and manservant currently working for the WNWA and The Liberal Librarian.
History
Fanuci was born on Ritner Street in South Philadelphia, PA. His father Angelo worked at a warehouse in South Philly and was heavily involved in labor union politics and allegedly involved in organized crime. Angelo Fanuci was the great grand nephew of Massimo Fanucci. Fanuci's mother ran an Italian dessert stand at the Italian Market in South Philly. Fanuci has battled obesity since he was two years of age and was given the nickname "Fat Boy" by his father.
Fanuci began following wrestling in the early 1990s and was a regular attendee of Eastern Championship Wrestling (later Extreme Championship Wrestling) at the Viking Hall (better known as the ECW arena) in his neighborhood. Following the murder of his father Angelo, Tony took his inheritance and he and his mother started an Italian restaurant and pizza parlor called Strasburg Pizza in Lancaster County's Amish Country. One day in 1999 Bobby The Chunk, fATAS and Leroy Ahoy visited the restaurant and Bobby signed Fanuci to a developmental wrestling contract. Fanuci debuted in 2000 using a Shawn Michaels "boy toy" gimmick. Fanuci had an extremely successful career with the exception of never beating his arch nemesis the Kansas City Chef and retired in 2004 to devote more time to his dream of starting a Bon Jovi tribute band. However, the wrestling bug (and a lack of money) bit him and he mounted an ill-fated, half-hearted comeback in 2006. Fanuci no showed several events, was late for even more, and began to eerily stalk female fans. He crossed the line by sexually harrassing Amelia and trying to feud with Prince Charming. Finally, driven to madness by a lack of success with women, Fanuci kidnapped and attempted to rape Amelia. Thankfully his enormous stomach blocked all of his dastardly attempts and Amelia was rescued by Prince Charming and Pike. The two finally squared off in a Straburg Street Fight after Charming burned Strasburg Pizza to the ground. During the match the Kansas City Chef brutally attacked Fanuci and shoved him in front of a Christian Tours tour bus, knocking Fanuci into a coma. Fanuci was sent to Lancaster General Hospital recovering from the coma with his Mama Mia Francesca Fanuci (whom he considers "a saint") by his side, dutifully sponge bathing him and emptying his colostomy bag. He was miraculously cured by a direct injection of italian sausage marinara into his stomach by his friend Big Vulva.
Fanuci made his in-ring return at Season's Beatings against Bobby Bell. The coma caused him to lose much of his strength and skill. The Liberal Librarian attacked Fanuci during the match causing him to lose. Later in the show Fanuci, Big Vulva and Vinny Two Chins returned the favor costing Frustrated Inc. a match against The Insiders. Since then, Fanuci has been humiliated time after time by members of Frustrated Inc, and was forced into signing with the group in March 2007 to help pay for his mother's medication because they were bankrupted after the restaurant burned to the ground without fire insurance and due to Fanuci's enormous medical bills from his coma. After yet another loss to a jobber, The Lib forced Fanuci to use The Rolling Stones' "C*cksucker Blues" as his entrance music. The two have been engaged in a bit of a war on the popular Website MySpace.com in recent weeks. This rift has led to his greater humilation as Da Crunk forced Fanuci to gratify Ms. Shitifa sexually. The Lib further humiliated Fanuci by forcing him to act as caregiver to David Downs and Letravis Gorman who have often overpowered and sexually assaulted him. The Lib has also forced Fanuci to become a male prostitute and perform disguating sexual acts on super morbidly obese women. Fanuci is suffering from depression and has gained 100 pounds in the past six months. The Lib brought on further humiliation after he forced Fanuci to move with him to Braddock, TX in May 2007, forcing him to leave his mother in his beloved Strasburg, PA. Fanuci is now living with The Turd in a low income housing project called Brownview Apartments in Braddock, near the Braddock Motel where Shitifa lives.
Fanuci lost a match at Memorial Day Massacre forcing him to give ownership of Strasburg Pizza over to The Lib, who then moved it to Braddock, TX and renamed it An Inconvenient Cafe owned by Frustrated Inc. non-profit organization with portions of all sales being donated to the Hillary Clinton election fund and Planned Parenthood. Fanuci was further humiliated when Shitifa went into labor while giving him "Sweet Ass Music" in the ring and covering him in afterbirth. Later that night Fanuci gained a small measure of revenge by costing The Lib his match against Ass Butte and thus preventing The Lib from winning the World Heavyweight Championship. However, The Lib was not through with Fanuci. He forced Fanuci to serve as the Sexy Stud to Letravis Gorman and David Downs at The Liberal Librarian's Wrestling Circus and also act as the waiter for the attendees. Around the same time he also lost the love of his mother, who turned on him and joined Furstrated Inc.
After more and more humiliation, Fanuci finally developed Stockholm Snyndrome toward The Lib and The Turd. Fanuci enabled The Lib to win the WNWA World Heavyweight Championship against Ass Butte at ILL Gotten Gains. Butte then severely beat Fanuci in a cage match on an episode of WNWA Wrestling causing Fanuci to suffer a severe concussion and to begin speaking like Curly Howard of the Three Stooges.
Fanuci's handler, The Turd, has begun playing the muted trumpet note "wah, wah, wah, waaaaaaah" anytime Fanuci loses a match or does anything humiliating.
Fanuci recently held the WNWA Women's Championship. This belt was awarded to him by the Liberal Librarian who was tired to toting it around and remarked on the enormous size of Fanuci's man-breasts. Unfortunately, this title reign was short-lived as Fanuci was destroyed by his beloved Amelia in squash match at Libapalooza. This defeat has proven to be one of Fanuci's most humiliating defeats ever.
Personal Life and views
Fanuci suffers from gout.
Fanuci is a Roman Catholic though he rarely attends mass.
Fanuci has been linked with mafia bosses Big Vulva and Vinny Two Chins.
Despite his bragadoccio, Fanuci has never been on a date with a member of the opposite sex. He does stare at them longingly, often stalking them. Fanuci especially likes the captive audience of waitresses, however, since becoming one and being forced to be on the receiving end of such harrassment, he realizes such behavior is abhorrent.
Fanuci has been a part of several failed Bon Jovi tribute bands.
Fanuci has been known to use the wheelbarrow that he hauls his enormous hanging Grade 4 panniculus in as a weapon during matches.
Fanuci was very rude to the customers of Strasburg Pizza, especially females and southerners. He often makes fun of customers who have accents, particularly foreign or southern accents. Now that he has moved to Texas and no longer owns his restaurant, he has had to adapt.
Trivia
Fanuci has been forced by The Lib to use Patrick Swayze's "She's Like the Wind" as his entrance music.
Fanuci has an affinity for mid 1980s Chevrolet Camaro IROC Zs, sex (though he's never had it-willingly), eating, mafia, crime, reading true crime books, Italian cookbooks, wrestling, and cheap gold jewelry.
Salary
$63,000 Per year.
Title History
Moveset
Finishing and signature moves
Flying elbow drop
Side suplex
Boston Crab
Cross body block
Blog
Fanuci keeps a blog entitled Fanuci's Male Fantasies here: [1]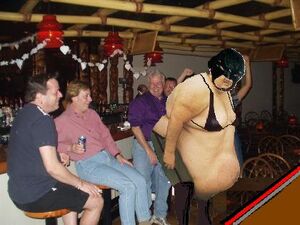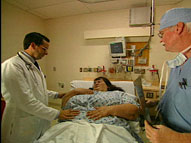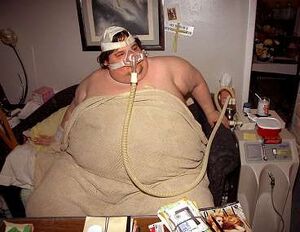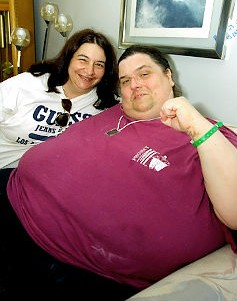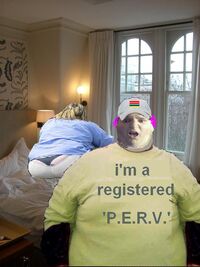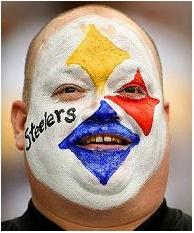 .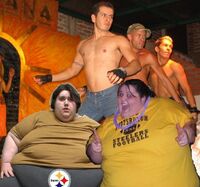 .