Tony Field, or "Real Deal" as he is known, is a highly successful wrestler in the world of e-wrestling. He's held multiple championships and prides himself in his do anything to win style. Most known for his cocky attitude, he's gained both love and hate from fans and wrestlers alike. One of his most famed quotes would be "Even God is a Real Deal Fan
Tony Field
Statistics
Real name
Anthony Santino Carmangelo
Ring Names
{{{names}}}
Height
6'2
Weight
227 lbs.
Date of birth
May 5th, 1977
Place of birth
Chicago, Illinois
Date of death
{{{death_date}}}
Place of death
{{{death_place}}}
Resides
St. Louis, Missouri
Billed from
St. Louis, Missouri
Trainer
Derek Daughtery
Current
federation(s)
universal Wrestling
Previous
federation(s)
TWC, Tradition, NNW, xWf, Reckless, hWo, IWA, Trem0r, tW
Handled by
Donnie House
Win/Loss Record
{{{winloss_record}}}
Debut
{{{debut}}}
Retired
{{{retired}}}
Pre Wrestling
Family History
Tony Field, born Anthony Santino Carmangelo, is the middle child born to his father, Anthony Santino Carmichael of Italian/Sicilian descent, and his mother, Mary Louise Field. Tony has a older brother, Luciendo Silvio Carmangelo II, and a younger sister, Maria Andrea Carmangelo. Also, at a young age, Tony's cousin, Thomas Harris Field, was adopted by his family shortly after the death of his parents.
The roots of Tony's family has always been a topic of discussion. The Carmangelo's immigrated to the US in the early 1900's. Rumor has it that when Luciendo Carmangelo I (Tony's grandfather) made his initial move to the Chicago area that he inherited the drug and gambling trade. Then, upon his death Santino Carmangelo became the new head of the Carmangelo family. They are said to have full control of all organized crime in the St. Louis and Chicago areas.
Early Life
Born with a silver spoon in his mouth, Tony was moved to St. Louis at a very young age as rumor has it his father had taken over the "family" business in that area. At an early age Tony took interest in sports, playing both pop warner football and wrestling AAU along with his childhood friend, Dustin Jacobs. As time went on and Tony grew older, he took notice of and began to question where his family fortune came from. Wanting something different for himself, Tony kept his nose down and focused on sports and school while Luciendo (Lucas) took a great interest in the family business. This caused a slight family riff as Tony was always seen as more of a spitting image of his father and his father wanted him to be the heir of the family business.
Tony recieved a full ride scholarship to UCLA to play both football and wrestle. Tony saw this as his way out of the family, so he jumped at it. As a Freshman Tony was the starting quarterback and earned much rave with the football team, nearly leading them to a conference championship. In wrestling he was a national champion in his weight class. This is when his family name came back to haunt him however. Rumors began to surface of illegal activities behind Tony's acceptance and scholarship offer to UCLA and soon after Tony was delcared inelgible for NCAA play.
Devastated, Tony dropped out of college and opted to enter the NFL draft as a Freshman. This, however, created more controversy as Tony was inelgible by guidelines and was forced to sit out a year before he could be drafted. Upon becoming elgible for the draft, too many teams saw him as a risk between his year off, and his "history" and Tony went undrafted. Upset that his entire future was crushed due to his last name, Tony opted to change his name to that of his mother's family name, Field, and headed to Europe.
Europe
Tony had a face and great charisma and confidence to boot. After his sports career came to an end, Tony headed to Europe where he did some small modelling jobs and acting in some foreign films. Also, while in Europe, Tony met Belgium model, Anne Chantraine. The two quickly fell for one another, but the relationship was cut short when Tony was called back home for the death of his grandmother.
Wrestling Career
IWA
Shortly after the death of his grandmother, Lucas came to Tony with an offer. Lucas had been trying to find an "in" to wrestling, but many found him unmarketable and he was denied. Tag team wrestling had reached a peak, so at the request of Lucas, Tony began training to become a professional wrestler under the guidance of retired Heavyweight Champion, Derek Daughtery. Not long after beginning their training, Tony and Lucas recieved a contract with Internet Wrestling Alliance as the babyface tag team "The Fab Field Brothers". Together, they dominated the tag team scene, holding the titles on and off for a year, amassing three title reigns. Problems came however, when Lucas, still seeking a singles career, took an offer to turn on his brother and assume the gimmick of Demon Knight. Shortly after his brother's turn, Tony walked away from IWA.
xWf
Immediately after leaving IWA, Tony and his newly aqcuired manager, Christoper Michaels, headed back to Europe to expand Tony's horizons in wrestling. Also, while in Europe, Tony once again hooked up with Anne Chaintraine, and after three months, the three returned to the states and Tony signed a contract with xWf.
In xWf Tony began to hone his singles wrestling, quickly dominating through the roster, going undefeated. Tony clashed with the front office, however, never garnering a shot at the Heavyweight Belt, instead, he was stuck in what he called "mid-card hell" as the X Champion. After a long term feud with the federation President, Dan Perry, Tony was both stripped of his title and fired from xWf.
Upon his firing, Tony began to invade shows with his "New Generation" of wrestlers. Lead by Tony, his childhood friend Dustin Jacobs along with Assassin and Des!l, began to wreak havoc for Dan Perry and xWf. Dan Perry was out of places to go. Finally, Tony squared off against Callous, the dark face of xWf in a match what would either earn Tony his contract back and a title shot, or would send him packing for good. In what was long fought battle, Tony suffered his first and only loss in xWf and was never again seen in xWf.
NNW
Not long after his departure from xWf Tony was signed by the much publicized NNW, an upstart federation owned by legendary ewrestling mind, Steve Heady. Along with Dustin Jacobs, Tony Field quickly won the tag team titles in his first match, and not long after captured the United States Championship.
Only weeks after winning the United State Championship, Tony would finally find his destiny. After earning his number one contendership, Tony Field became the first ever NNW Heavyweight Champion. This is when Tony began his legendary feud against Rock Startling. For four months these two men traded shots back and forth and back and forth. But it wasn't until Steve Heady hired a new commissioner, former xWf owner Dan Perry, that Tony Field was ultimately defeated by Rock Startling, surrendering his title. This was, however, when things finally went right for Tony.
UWA

Not long after being defeated by Rock Startling, Tony signed a big money contract with Universal Wrestling Alliance. He left NNW, took some time off to marry his long time girlfriend, Anne Chaintraine, and then made his debut in UWA. Right away Tony made a friendship with a new up and comer, Ashton Crowley. Together the two formed the faction Dysfunction, and began to take uW by force. Their tactics were stength by numbers and taking what was there's, not waiting for someone else to give it to them.
Within only weeks, Tony had won the Universal Championship and Ashton Crowley the Southeast Championship. UWA owner Christian Keaton, however, grew tired of the antics of Dysfunction and stripped Field of his title and forced him to fight all his matches in the Extreme Ring, a ring placed outside the arena that had no padding, composed mostly of busted up pieces of splintered wood, rusted turnbuckles, and worn barbed wire for ropes. Still not happy with the way Dysfunction presented themselves, Keaton took to kidnapping Field and holding him "hostage".
After a month of being searched for, Keaton finally returned Field to his family forever a changed man. For the first time in Tony's career, he was now playing the compassionate fan favorite. After finally aiding Nicole Keaton, Christian Keaton's enstranged wife, in taking charge and sending Christian packing, Tony set his sights on the title again. However, he was quickly sidetracked as a strange figure by the name of Shawn St. James turned up, claiming Tony and his family were responisble for the death of his girlfriend. It was in his first match against Shawn St. James that Tony injured his neck and was forced to take time off for the first real time in his career.
uW
After taking months off to let his neck heal up, Tony was set to make his return. However, as he watched on from home, UWA had become something he had no taste for anymore. It was only a shell of what it used to be and it was being ran in the ground. That's when Tony decided to let bygones be bygones.
In a shocking turn of events, out of nowhere, the "Franchise" showed up, consisting of former Universal Champions Tony Field and Jeff Robbins, with Christian Keaton at their side. Their mission was to put Christian back in charge of his company, which they quickly did. It was this point that the company became known as uW, universal Wrestling, dropping the Alliance from the name. It was this time that Tony wanted to make another bid for his title, but Keaton had other plans for Tony.
Trem0r vs uW
Christian Keaton had got financial backing of a major corporation, and with that money he opened Trem0r, a side project of uW. He quickly put Tony Field in charge of the company, who then went out and hired many old names from his past, along with some up and comers he'd watched from afar.
Trem0r got off to a huge start, but it was when Universal Champion Drachenfyre jumped ship to Trem0r that problems began. Field and Trem0r had become too competitive for Keaton and uW and tension between Field and Keaton began, so Keaton made Field an offer he couldn't refuse. If Field would agree to hand over all Trem0r roster and titles to uW and allow Keaton to fold it up, he'd grant Field a shot at the one thing he wanted more than life itself, the Universal Championship. Field agreed.
One Final Run in uW
After first losing in a triple threat match against Drachenfyre and Percy Snow to crown Snow the new champion, Field finally beat Snow one on one to begin what would be the longest running Universal Championship run in uW/UWA history.
As they say, though, all good things must come to an end. As the head of Trem0r Field worked hard to restore Thomas McGibbons back to the glory he once reached in IWA. As the Trem0r champion, McGibbons wasn't too pleased with Field when he agreed to combine Trem0r with uW, thus taking him from the main event title holder, to nothing more than a midcarder. So when Field took the title, McGibbons made his move and won the contendership and went on to fight Field in what would be a great series of matches.
In his first title defense, Field would beat McGibbons to retain the title, but due a questionable pin, McGibbons was given a rematch at the next Pay Per View in what was dubbed an "Iron Man Match". After 60 minutes of grueling back and forth, Field and McGibbons walked away with a surprising 0-0 tie. Field retained.
In a quest to garner one last shot at the belt, McGibbons offered to let Field name any match he wanted for the rematch. Field, knowing his experience and undefeated streak, chose to bring back the Extreme Ring for this special match. In what would later become one of the bloodiest matches in uW/UWA history, McGibbons beat Field at his own game and won the Universal Championship.
The next night, just as Field was about to declare his rematch, Shawn St. James reappeared. Stifled, Field disappeared for weeks, before returning and attempting to take St. James out. His attempt failed however, and he was forced into a match against St. James when St. James threatened the life of Field's then pregnant wife. Field accepted and in a Two Tier Cage Match, Field would once again injure his neck at the hands of St. James and be sent packing from wrestling.
TWC
After retiring due to his neck injury, Field was enjoying his time off with his family and newly born dauther, Faith. Tony, however, was drug back into wrestling. Some time after the closing of uW, Thomas McGibbons had bought his own wrestling promotion, Tradition Wrestling Council. Problems had surfaced when Seamus, Thomas' brother, started to take control. Out of desperation, McGibbons called Field to his aid, offering him the one thing he knew Field couldn't say no to, the Heavyweight Title, in return for his help.
Field then returned with the newest variation of Dysfunction, featuring Tony, Ashton Crowley, and Stephen Rawlings. With Dysfunction playing the fan favorite for the first time, they helped McGibbons fight off the impending hostile take over of TWC, and Field was soon after granted his title shot. One month away from his big match Field did the unthinkable. He walked away from his title shot and walked away from TWC, deciding he'd done it all, and he was ready for something new.
Reckless
Tony bought all rights to Reckless and opened it under his own ownership, and brought with him half the roster of TWC. Tony had went as far as to hand pick his own Reckless Champion, stacking the odds for either his life long friend, Ashton Crowley. Things took an odd turn, however, when Stephen Rawlings upset Crowley and had words with Field over his favortism. This is when Field made a deal with the devil, and hired in his mortal enemy Shawn St. James, for the sole purpose to take out Rawlings and to give St. James the title.
Once again, however, Field's plan was foiled as Chase Martelle became the first ever Reckless Champion, farther upsetting Field because he couldn't handle the fact that his champion was a woman. After months of trying to take the title off of her, Field finally beat her himself to become the Reckless Champion, but was later trumped by his wife, who took the company from Field and sent him packing.
TWC: The Return
This is when Field made his big return to TWC, along with Ashton Crowley, manager Derek Daughtery, and NightTrain at his side as Dysfunction. Stephen Rawlings wasn't happy with Field's departure, he wanted his revenge, so he, too, made the jump back to TWC. Knowing Field was seeking the title, Rawlings threw his name in the hat, and quickly won the belt. Now Field had a reason to fight Rawlings, and fight he would.
After finally getting his title match against Rawlings, however, Field would suffer a huge defeat. Unable to handle the defeat, Field called out NightTrain the following week and blamed Train for his loss. As the egos clashed, Dysfunction turned on Train and thus a blood feud was born.
Once Field had dumped the "trash" he finally went on to win the Tradition Championship and began what would be a nearly year long reign as champion. Not long after winning the title, Rawlings was booked in a one on one match against Field. Field, trying to avoid the match, realized his contract was up and left TWC, taking the title with him.
tianium Wrestling and Tradition
Christian Keaton had opened up a new project, titanium Wrestling. Field jumped over, taking his new protege', Cady Coleman with him. Tony quickly began to run through the roster, defending his Tradition Championship outside of the promotion it belonged to. It wasn't long until Stephen Rawlings turned up with a concrete contract giving him the rights to fight for the belt and to take it back to TWC with him.
It was around this time that Field's former manager bought all rights to TWC, changed the name to Tradition, and persuaded Field's return with the belt with the promise that he'd keep the belt as long as he saw fit.
Upon Field's return, Rawlings finally got his match, but failed against Field as Field continued his reign. NightTrain threw his hat in the mix next, but thanks to the smart booking of Derek Daughtery, Field was able to keep the title and avoid giving NightTrain a true shot at the belt.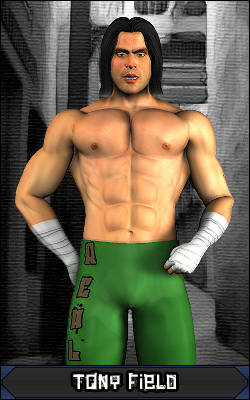 A dark horse was coming, however. After years of being in Field's shadow, Tony's best friend and brother in-law, Ashton Crowley, was thrown into the mix of a triple threat match for the title. The match was set: Field vs Crowley vs Train in what was intended to be a handicap match to assure Field kept the title. Crowley couldn't do it though, he couldn't play second fiddle anymore as he finally pinned Field to win the Tradition Championship.
Outraged, Field began a brutal attack on Crowley, putting him in no condition for the rematch that would give Field the title back. The reign was short lived this time though, as Josh Cantrell, the fastest rising star in Tradition history, defeated Field to win the belt in a Loser Leaves Tradition Match
uW Returns
Not long after leaving Tradition, word leaked out that Tim Reigns had bought the rights to uW sometime after the death of Christian Keaton and sought to reopen the federation. Tony jumped at the idea. Despite the fact that it was starting small, almost independent like this time around, Tony chose to work for free, not under contract. Upon his return, Field recieved a huge reaction, and for the first time in years, had full support of the fans behind him. Field quickly rose amongst the ranks as up and comer after comer fought after the belt. Field finally was crowned a three time Universal Champion. A short time after Field won the title he retired as the champion, hanging up his wrestling boots.
Current
Tony Field retired three months after winning the Universal Championship for the third time. While The Real Deal hasn't ruled out a come back to the ring at this point, he's enjoying his life sitting at home spending time with his family and raising his daughter Faith and his newborn son, Chance.
Retirement didn't agree with Tony. After 3 years, Tony has recently made his return, alongside friend and partner, Ashton Crowley, to try his hand at dominance of PWA.
Misc.
Notable Matches
NNW

Tony Field (c) vs Rock Startling - NNW Heavyweight Championship

Winner: Rock Startling
Reckless

Tony Field vs Dante Saffron

Winner: Tony Field
TWC/Tradition

Tony Field vs Terence Madison - Cage Match - Number One Contendership

Winner: Tony Field
Tony Field vs Stephen Rawlings - Best of Seven Gimmicks

Winner: Tony Field
Tony Field vs NightTrain vs Josh Cantrell vs Stephen Rawlings - Vacated TWC Heavyweight Championship

Winner: Tony Field
Tony Field (c) vs Stephen Rawlings - Tradition Championship - Ladder

Winner: Tony Field
UWA/uW

Tony Field vs Tyler Bayne - Universal Championship

Winner: Tony Field
Tony Field vs Shawn St. James - No DQ

Winner: Shawn St. James
Tony Field and Christian Keaton vs Drachenfyre and Percy Snow - Control of UWA

Winner: Field and Keaton
Tony Field vs Percy Snow vs Drachenfyre (c) - Universal Championship

Winner: Percy Snow
Tony Field (c) vs Thomas McGibbons - Universal Championship - Iron Man

Winner: Draw
Tony Field (c) vs Thomas McGibbons - Universal Championship - Extreme Ring

Winner: Thomas McGibbons
Tony Field vs Shawn St. James - Two Tier Cage Match

Winner: Shawn St. James
xWf

Tony Field vs Callous - First Blood Match

Winner: Callous
Title History and Awards
IWA

3x Tag Team Champion (w/ Lucas Field)
NNW

1x Heavyweight Champion
1x Tag Team Champion (w/ Dustin Jacobs)
1x United State Champion

Reckless

Tradition/TWC

1x Tag Team Champion (w/ Shawn St. James)
2x Tradition Champion
uW/UWA

3x Universal Champion
1x Tag Team Champion (w/ Shawn St. James)
Feud of the Year (Field vs McGibbons)
Heel of the Year
Wrestler of the Year

xWf

1x Tag Team Champion (w/ Dustin Jacobs)
1x X Champion
Factions
New Generation

The Franchise

Friends/Enemies/ETC
Known Friends

Known Enemies

Common Characters

Anne Field - Wife
Brad Fargo - Childhood Friend
Christopher Michaels - Agent
Derek Daughtery - Manager/Trainer
Faith Field - Daughter
Frankie Bones - Bodyguard
Lisa Wix - Ex-GF, High School Fling
Luciendo (Lucas) Field - Brother
Maria Field-Crowley - Sister
Thomas Field - Cousin
Basic Info
Basic Moves
asai moonsault
belly to belly suplex
boston crab
clothesline
crucifix
drop kick*
drop toe hold
elbow drop, snake eyes
eye rake, low blow
indian deahtlock
leg drop
piledriver
rear naked choke
russian leg sweep
school boy
senton splash
side headlock*
sitdown powerbomb
shooting star press
sleeper
snap suplex
spinning wheel kick
swinging neck breaker
Trademark Moves
Every variation of the DDT
Sealed Deal (elevated Texas cloverleaf)
Finishers
Field Envy (pedigree)
Real Deal (superkick)
Entrance Themes Used

30/30-150 - Stone Sour (uW Theme, Theme when retired, current theme)
Attitude - Sepultura (face theme)
Get Naked - Methods of Mayhem (New Generation Theme)
Push It - Static X (Dysfunction Theme)
Turn Me On Mr. Deadman - Union Underground (Tradition theme)
Walk - Pantera (heel theme)
External Links
Ad blocker interference detected!
Wikia is a free-to-use site that makes money from advertising. We have a modified experience for viewers using ad blockers

Wikia is not accessible if you've made further modifications. Remove the custom ad blocker rule(s) and the page will load as expected.