Tony Morales
Talk

0
11,353pages on
this wiki
Tony Morales
Statistics
Real name
Antony Douglas Morales
Ring Names
Tony Morales
Height
6 ft 2 in (1.88 m)
Weight
218 lb (99 kg)
Date of birth
April 22, 1984 (28 ages)
Place of birth
Havana, Cuba
Date of death
None
Place of death
None
Resides
Chicago, Illinois
Billed from
Havana, Cuba
Trainer
CM Punk
Current
federation(s)
WWE
Previous
federation(s)
ROH
Handled by
Tony Morales
Win/Loss Record
0/0/0
Debut
February 14, 2008
Retired
None
Antony Douglas Morales (born April 22, 1984), better known by his ring name Tony Morales, is an Cuban-American professional wrestler, musician, songwriter and actor who is currently signed to World Wrestling Entertainment (WWE), where he is the current World Heavyweight Champion in his first reign. He is also known for his appereance with the Ring of Honor (ROH).
In pro-wrestling, Morales has won 7 championships in total, including 6 World Titles (a record 4 reigns ROH World Champion, WWE Championship and World Heavyweight Championship each one). In addition he also won the ROH World Tag Team Championship with Joseph Mitchel and the 2012 WWE Raw Money in the Bank.
Morales started his professional wrestling career in 2008, wrestling for Ring of Honor, where he deld the ROH World Championship. In 2011, Morales signed a contract with the World Wrestling Entertainment (WWE) and was sent for 1 month to Ohio Valley Wrestling (OVW).
Outside the wrestling, Morales has released with his rock band, one album, will be debuted at No. 1 on the US Billboard 200 chart and starred the role of "Robert Turner" in the saga films Countdown and Countdown 2.
Early life

Tony Morales is the son of Christopher and Annah Moore Morales
, and the younger brother of Luke. Their father died of brain cancer in 1994, when Mark was seven. He developed an interest in motrocross aged 12 and got his first bike, a Honda VT 600C Shadow, at age 13. He had his first race when he was ninth grade. Tony Morales played baseball as a chld, but had to stop after he crashed during a motocross race, injuring his arm. He also played football during high school as a midfielder and playmaker. He briefly competed in amateur wrestling in high school and playing sports, and he chose wrestling. Tony's favorite subjects in school were Mathematics and Art, which he did for extra credit.
Professional wrestling career
Ring of Honor (2008-2011)
Tony Morales was signed to a contract with Ring of Honor and began his training with the ex superstar of this company, CM Punk. After training for six months, Mark Red made his debut as a face in ROH under his real name. Morales would compete in a matches against the likes of Tyler Black, Charlie Haas, Shelton Benjamin. That is Morales earned the nickname, The Sky Emperor meaning fearless as he would put on a show for the fans. Morales was involved in the ROH Tourbuckle who whill decree the first ever ROH World Television Champion. However he came in semifinals next to Christipher Daniels and winner Eddie Edwards. Morales following this started a rivalry with Eddie Edwards and would face him for his ROH World Television Championship at live event where Morales was defeated. The two would continue the rivalry for the next two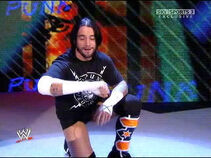 months before it was ended and Morales started a rivalry with Christopher Daniels which lasted for eight months. Following his long and heated rivalry with Sangriento, at a very special televised show Morales would go on to defeat at the time current ROH Champion, Jeff Jarrett. This was the start of a push for Morales, and at Survivor Blood, Tony and Jarrett were the last two standing to win the traditional elimination match. Morales began an on and off tag team with Jeff Jarret, which eventually led to a respectful feud between the two. The scripted rivalry continued at "The End of Days", when Tony defeated Jeff Jarrett to become the numbner one contender for the ROH Championship. In the weeks leading up to the J ungle Rumble, Morales and Chris Harris engaged in a personal feud, which began when Harris kicked Morales's father, Christopher, in the hea d in the storyline. Morales, in retalion, performed a Good Night on Harris from the top of the ROH set and see med to have al the momentum after coming out on top in their encounters. Tony, however, lost the title match at the Jungle Rumble, but was named as one of sic men to compete in an Elimination Chamber match at "No street Out", where he survived to the final two before being eliminated by the eventual winner, Jeff Jarrett.
During the March 3 episode of ROH, Tony Morales appeared on Tyler Black's "My Best Show" segment as a special guest, but ended up attacking Black. This led to an #1 contender match on the following week where Tony Morales dropped the contract to Black. Off-screen, Morales dropped the match after he was suspended for sixty days, as of Match 11, for his first violation of the company's Substance Abuse and Drug Testing Policy. Morales was also removed from the special PPV of ROH, "Time of Glory" after the suspension was announced. Tony return on the May 12 episode of ROH, defeating Shelton Benjamin. This reignited the rivalry between the two, and they met in a Falls Count Anywhere match at One Day Stand, which Tony won. On June 23, 2008, Morales was drafted from X-Division brand to the Main Event brand, as a part of the 2008 ROH Draft. Morales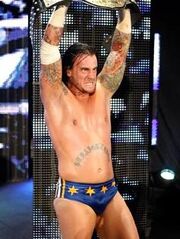 made his debut on the July 4 episode, defeating Logan. Tony participated in the ROH Championship Scramble match at Hellgiven and also challenged for the Championship at No Pain and Electro Sunday, but failed to win each time. He was originally scheduled t
o be in the ROH Championship match at Survivor Challenge, but, in storyline, was found unconscious in his hotel, allowing the returning Christopher Daniles to replace him in the match and win the title. At "Vengeance in Fog" in December 2008, Morales defeated the defending champion Daniels and Jarrett in a triple threat match to capture the ROH Championship, his first world heavyweight championship. In January 2009, Tony's next storyline led to his involvement in scripted accidents, including a hit-and-run automobile accident and an accident involving his ring entrance pyrotechnics. At the 2009 Jungle Rumble, Tony lost his ROH Championship to Jarrett after Tony's brother, Luke, interfered on Jarrett's behalf and hit Morales with a steel chair. The buildup to this feud involved Luke implying that he was responsible for all of Morales's accidents over the past few monthis, and at "Time of Glory", Morales was defeated by Luke in an Extreme Rules match. In a rematch at "Next Wave", however,Tony defeated Luke in an "I Quit" match.
At Steel Blood and Scars, Morales defeated Jarrett to win the ROH Championship in a ladder match. Immediately after the match, however, Kenyon Kyle cashed in his #1 contender contract briefcase, which gave him a guaranteed world championship match at any time he wanted, and defeated Tony to win the championship. Morales received his rematch at The Great Hell, and won the match via disqualification, with Kyle still retaining the title. At Night of Kings, however, Morales won the ROH Championship for the third time by defeating Kyle. At the WinterSlam pay-per-view in August, Tony lost the tile back to Kyle in a Tables, Ladders, and Chairs match. On the August 28 episode of ROH, Kyle defeated Morales in a steel cage rematch for the ROH Championship,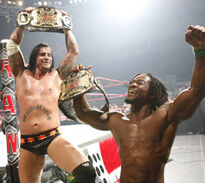 resulting in Tony being forced to leave ROH, in storyline, per the pre-match stipulation. This storyline was put in place to allow Red to leave ROH to heal his injuries, including a neck injury.
After defeating Joseph Mitchel in two singles matches and losing to him in their third match, Morales choice him as his new tag team partner in the winter 2010. On January 3, have beaten The Carnage Crew and The American Wolves in a Triple Tornado Tag Team Match. The following week, the duo failed in their first shot at the ROH World Tag Team Championship against the former champions Austin Aries and Roderick Strong, but on January 28, they managed to defeat Chris Hero and Claudio Castagnoli to win the championships. After this victory, the two guys begin to called as Antigravity Factor showing a great performanced. On February 12 at wrestling tapings, defend the ROH World Tag Team Championship against The Briscoe Brothers.
After this victory, they get a largest undefeated winning streak, finished on March 5, when they lost the belts, due to Mitchel leaving Tony Morales to fight by himself. Mitchel's heel turn led to a feud between the two which finished at "Death Before Dishonor" where Joseph Mitchel defeated Morales with a Swinging Reverse STO. After the match, Tony was bleeding from the mouth and being stretchered when Mitchel pulled him back into the ring with stretcher and delivered another Swinging Reverse STO to Tony's injured nose. The nose required surgery and for Morales to miss one month and half. On April 7, was sent a promo, where Morales sayed it will regain the ROH World Champion. Three days after, he made his return by attacking Robert Terry causing an injury. The following week, beating Super Delfin, Morales earns a place in the Eight Man Tournament, defeating Mr. Perfect in the first round match. At the semifinals at "Nobody Stop Me" Mark first wrestled Eddie Edwards to twenty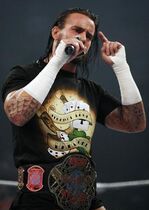 minute-limit draw, after which Rob Feinstein ordered a five minutes period extra time. After that a second five minute extra time period also ended in draws, it was ruled that Edwards was unable to continue and the match ended in a no contest. 23 of the same month, Tony Morales defeated Cassandro, but immediately after it was announced that both Morales and Edwards would advance to the finals at "Winde of Change", where they would compete with Christopher Daniels in a three-way match. On May 3, Morales wrestled Davey Richards.
On May 14, at live event of "Winde of Change" Morales turned heel whit Jay Lethal and Cary Silkin and with their help defeated Edwards and Christopher Daniels to win the ROH World Championship fort the fourth time. Meanwhile, Morales debuted a new rapper character, using freestyle messages as he explained the reasons behind his turn. At Turning Perfect Tony retained his title in a defense against Sangriento, a replacement for Christopher Daniels, who was sidelined after suffering a concussion during an attack by Mark. On the following episode of ROH, Silkin presented Morales with a new design of the ROH Championship, which he dubbed the ROH World Championship. At "Luck is for Losers" in June, Morales successfully defended the championship in a rematch against Sangriento after incapacitating the special guest referee Christopher Daniels and having a replacement refeee count the pinfall.
On June 17, 2011, Morales made his debut for New Japan Pro Wrestling (NJPW) at Wrestle Kingdom VI in Tokyo Dome, where he successfully defended the ROH World Championship against Sushito Nakazawa. On the episode of June 24, Morales defeated Tyler Black and Logan. In the following PPV, "Glory by Honor", Red beats El Generico in an Extreme Rules match without the title up for grabs. Subsequently he defends the belt against Colt Cabana, Steve Corino and Jimmy Jacobs. On August 13, he lost the championship by Jay Lethal. Two days later, trought his Twitter account, announced that he left the company to move in WWE.
WWE (2011-present)
Debut at Raw (2011-2012)
Tony Morales, after a very small experience in Wrestling Kings Federation, signed a contract with the international federation, World Wrestling Entertainment. Here, on August 27, he made his debut with the same gimmick, expressing his willingness in going for the world championship. On September 9, he defeated Sin Cara. The following week, with Alberto Del Rio defeated John Cena and Rey Mysterio. On September 20, Morales defeated Alberto Del Rio to became the first contender at the WWE Championship. Three days after, Tony is chosen by the fans as a substitute of Sheamus in the Royal Rumble. Tony will take part at Royal Rumble 2012. On September 27, at "Vengeance", Morales defeated CM Punk by disqualification, and as a result, Del Rio retain the championship. On 1 October, Tony defetead Kane and The Miz.
Five days later, Morales defeated CM Punk in a non-title match. On October 9, Tony Morales defeated Kofi Kingston. On October 11, Morales defeated R Truth. On the Raw Supershow, Morales defeated The Great Khali. On October 18, Morales defeated Zack Ryder, while seven days after he defeated Sheamus. On October 29, Morales announces the debut of Adam Cole and with him, the same night, defeated the WWE Tag Team Champion Air Boom. On November 5, in the special episode "Halloween in WWE", Morales has lost against Dolph Ziggler.
On November 11, Tony received his revenge by fighting and winner against Dolph. Morales challenge Ziggler in Survivor Series 2012 event. On November 18, Morales & Ziggler defeating The Usos but Morales was given the Zig Zag by Ziggler after the match. At SurvivorSeries Morales defeating Ziggler by a Breakdown. The following week, on December 5, Morales lost against Mark Henry by an interference of Alberto Del Rio. On December 14, Morales defeating Big Show. After the match, Morales was attacked by Del Rio and Ziggler. On December 19, Morales lost to Zack Ryder. On December 30, Morales lost against Dolph Ziggler after an interference from John Lauritainis. On January 2, Morales win against John Cena and Ziggler to became #1 contender at WWE Title. On January 8, Morales defeated CM Punk in a non-title match. On January 15, Morales wrestled Kane and the following week won against Ziggler by disqualification; as a result, the title remained with Ziggler.
At 2012 Royal Rumble event, Morales participated in the Royal Rumble match, entering at #19. He lost by the winner Sheamus, thus earning a main event championship match at Wrestlemania XXVIII. On January 30 episode of Raw, Morales interfered in a match between Ziggler and Zack Ryder, attacking Ziggler. On February 2 of Smackdown supershow, Morales made his debut at Smackdown. He defeated Mark Henry and the same night, attacking the WWE Champion CM Punk choose to compete for him title. On February 9, Morales with Big Show, defeated Daniel Bryan and Wade Barrett. On February 13, on Raw Supershow, Morales defeated Dolph Ziggler. On February 20 at Raw, Morales lost to The Miz, but on Smackdown (February 23) he defeated Great Khali.
On February 27 Morales won against Chris Jericho, and on the 1st of March he defeated R Truth. The following week, Morales defeated Cody Rhodes. At RawSupershow, he defeated Alberto Del Rio. On March 26, Morales was defeated by Kane after an interference of CM Punk. Three days after, on Smackdown, Morales defeated Dolph Ziggler. At Wrestlemania XXVIII, Morales defeated Dolph Ziggler and Alberto Del Rio to became #1 contender at CM Punk's title. The following day, at Raw Supershow, Morales defeated The Miz. On the April 6 edition of
Raw SuperShow
, Morales was defeated by CM Punk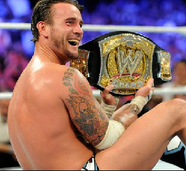 via disqualification, thus earning CM Punk the campion. At Over the Limit, Morales, Randy Orton, Del Rio and Ziggler was defeated by CM Punk in a fatal-four-way match for the WWE Championship. On the June 25 episde of
Raw
, Morales announced that he would enter in his first Money in the Bank ladder match at the Money in the Bank pay-per-view.
Mr. Money in the bank; WWE Champion (2012-2013)
At the PPV, Morales would win the Money in the Bank ladder match, earning himself a contract that woul grant him a shot at the WWE Championship anytime over the next year. The next night on 1000th episode of Raw, Morales cashed his contract against CM Punk to win for the first time the WWE Championship. On Summerslam 2012 he defetead John Cena to retain WWE Champion. At NOC, Morales retained the WWE Championship after he fought Cena to draw. On October 28, Morales defeated John Cena. At the ppv Survivor Series, Morales defeated John Cena and The Miz to retain WWE Champion. On December 4, Punk underwent surgery to repair a partially torn meniscus removing him from his title match against Ryback at TLC. Morales returned to in-ring action on the January 7, 2013, episode of Raw, retaining the WWE Championship against Ryback.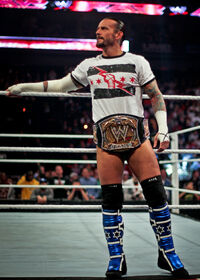 At the Royal Rumble on January 27, Morales defended the WWE Championship against John Cena. At Elimination Chamber event Morales defeated The Miz, Alberto del Rio, John Cena, CM Punk and Rey Mysterio in an Elimination Chamber match and retain WWE Champion. At Wrestlemania 29 Morales defended the title against John Cena. The following day, Morales began a rivalry with Mark Henry, after he saved Morales from a post-match assault from Ryback only to attack Morales himself. On may 19 at Extreme Rules, Morales retained the WWE Championship against Mark Henry in a Last Man Standing Match after Mark Henry rammed Morales and himself into the electric backdrop at the top of the ramp, resulting in a no contest.
On June 16 at WWE Payback, Morales defeated Mark Henry in a 3 Stages of Hell match to retain the WWE Championship, with Morales losing the Lumberjack match and winning the Tablels match and the Ambulance match. The following night on Raw, Morales was attacked by the returning of Ryback, who feigned his "retirement", with Ryattack, sparking a rivalry beetween the two. On July 14 at Money in the Bank, Morales defeated Ryback via submission to retain the WWE Championship. The next night of Raw, new Raw general manager Brad Maddox announced that he would allow Morales to choose his own opponent for Summerslam. Later in the night, he chose Daniel Bryan. On August 18 at the pay-per-view, Morales lost the WWE Championship to Bryan, with Triple H as the special guest referee, ending his reign at 391 days. The following night on Raw, Morales announced that he would undergo surgery for a triceps tear and would be out for 3 to 5 months.
Return; World Heavyweight Champion (2013-present)
On the October 7 episode of Raw, SmackDown General Manager Vickie Guerrero announced that Morales would be returning at Hell in a Cell, to face Alberto Del Rio for his World Heavyweight Championship. On October 27 at the pay-per-view, Morales defeated Del Rio to win his first World Hevyweight Championship. The following night on Raw, Morales defeated Damien Sandow in his first title defense after Sandow attacked Morales before the match and cashed in his Money in the Bank contract. Morales successfully defended the World Heavyweight Championship against Del Rio at Survivor Series. On the November 25 edition of Raw, Tony Morales suggested that there only be "one champion" in WWE, so Triple H stated there would be a unification match beetween him and Randy Orton at TLC.
In Wrestling
Finisher Moves:

Time to Sleep (Fireman's carry dropped into a knee strike to the face) 2008–present
Last Hate (Arm trap triangle choke) 2010–present
Trademark Moves:

Diving Elbow drop
Running knee strike / running bulldog combo
Roundhouse kick
Diving crossbody
Hurricanrana to an opponent seated on the top rop
Jumping hammerlock
Slingshot somersault senton
Snap scoop powerslam
Springboard clothesline
Ste-up enzuigiri
Suivide dive
Swinging neckbreaker
Tilt-a-whirl backbreaker
Nicknames:

The Cuban Pride
The Wrestling Messiah
The Blindside Flanker

Entrance Themes:

​" Hipnotic " by Dangerous Faith (ROH; February 14, 2008-August 13, 2011)
" Enemy " by Dangerous Faith (WWE; August 27, 2011-present)
Championships and accomplishments
Ring of Honor

ROH World Championship (4 times)
ROH World Tag Team Championship (1 time) - with Joseph Mitchel

World Wrestling Entertainment

​World Heavyweight Championship (1 time, current)
WWE Championship (1 time)
​Mr. Money in the Bank (2012)
Other Media
Music
In the mid 2010s, Morales wrote a monthly column for Metal Edge magazine focused on the rock scene. The column only ran for about a year. Always in 2010, Morales performed vocals "Hipnotic", his unpublished single. After that, Morales declars the birth of rock band "Dangerous Faith".
Morales is the lead singer for the rock band Dangerous Faith. Their debut album "Songs from the Edge of Sanity ", was released on April 25, 2013. In the summer 2013 the US Billboard 200 states that where sold has 170,000 copies of the album. On their website the band posted that the second album will be called "White Lines and Asphalt". The date of release is not decided yet.
Albums
Songs from the Edge of Sanity (2013)
Film
WWE Studios, a division of World Wrestling Entertainment which produces and finances motion pictures, produced Morales's first movie - Countdown. Filming begin in February 2012 and ends in April. The film was released in cinemas from May 28 and has been prolonged for the second chapter. Countdown 2 will be released on January 1, 2014.
Filmography
| | | | |
| --- | --- | --- | --- |
| Year | Film | Roles | Notes |
| 2012 | Countdown | Robert Turner | |
| 2014 | Countdown 2 | Robert Turner | Filming |