Total Championship Wrestling is a Yahoo Groups organization which has been around since 2002. It is run by Joel Potter.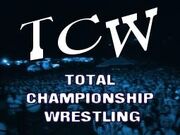 Total Championship Wrestling
Federation Name
Total Championship Wrestling
Abbreviation
TCW
Shows
Anarchy (weekly)
Previous names
None
Time open
2002 - ?
Owner(s)
Joel Potter
Based in
United States
Federation type
Roleplay and Angle based
Pay-per-views
Every other month
Website
None as of yet
Website - Boards
http://www.e-wrestling.com
Staff
Owner(s): Joel Potter
Anarchy Announcers: Judd Jennrich and Adam Brooks
Interviewers: Erin Robbins, Rebecca Hardin and Sean Sharpe
Referees: Tom Nerison (head ref), Terry Dale, Big John Ellers, Emily Westbrook, Bruce Durnham
Ring Announcer: Angela Fischer
Security Head: Agent Orange
Secretary: Rae Ann Enders
Current Champions
| Championship | Current champion(s) | Held since |
| --- | --- | --- |
| TCW World Heavyweight Championship | Alexei Morozov | February 28th, 2010 |
| TCW Global Coast Championship | Christopher Knowles | May 23th, 2010 |
| TCW Triple Threat Championship | Yuki | April 25, 2010 |
| TCW Tag Team Championships | Explicit Content (JasonTaylor/Diork Dagger) | April 25th, 2010 |
| TCW Streetfight Championship | Crazy Jenna | February 28th, 2010 |
| USWF Championship | Arch Angel | April 25th, 2010 |
Championships
PPV Events
February - Storm Warning
April - Final Retribution
June - Summer Wave
August - Emotional Trauma
October - Hell's Holiday
December - Resurrection (Big PPV Event)
Pay-per-view Schedule
Shows
Anarchy- Sundays on FX Network
Upcoming PPV Event
Final Retribution - April 2010
Roster (in Alphabetical order)
TCW Exclusive Match Types
Joining TCW
If you would be interested in being a part of an active fed who produces shows regularly on a weekly basis. Please feel free to email me (Joel Potter) at jcphitman@yahoo.com.
Just let me know that you found TCW on the wikias pages and are interested in joining. We can get started from there. Thanks.