Total Wrestling Annihilation
Logo
Opened
October 2006
Headquarters
The Wrestling Asylum Forums
Operated By
Buford, Foppa, Infinity, The Role Model, and TehEliteOnez~~! of the TWA Council
Link
Total Wrestling Annihilation
Total Wrestling Annihilation
Overview
TWA is a Role Play based E-Federation that opened it's doors in October 2006 and is the official E-Federation of TheWrestlingVoice.com (hosted on it's forums TheWrestlingAsylum.com). It is the follow up to the higly succesful Total Wrestling Federation that ran on the old TWV forums from 2004 through 2005. From opening it has released a weekly show called "Unleashed" every Saturday which has run from its inception weekly, with the exception of pay-per-view weeks (however, since TWA's return in January of 2009, the Unleashed show does not exist anymore). The federation incorporates a number of different character types, from real life wrestlers to created ones, even including women. Since the beginning, TWA has put out a Pay Per View show once every two months, with this format changing to a 6 week pay per view timeline, starting with it's latest event, Chaotica on August 5th, 2007.
TWA Demise
In late November of 2007, TWA was forced to shut down due to inactivity. A couple months before, TWA almost shut down as well, but the council instead announced a two month "Off-Season" for the roleplayers, and "Season Two" of TWA Unleashed would start on November 10th. The Season Two Premiere show was a success, but after that, participation declined once again. TWA was shut down once this was apparent, to prevent the fed from "fading away" slowly. Instead, TWA was closed while it still at least looked strong.
TWA: The Restitution
Ever since TWA initially closed, some of the members were planning a "TWA Reunion Show". That show happened on January 18th, 2009, and it was named "Curtain Call". It featured the culmination of old rivalries in TWA (Helms vs. McCann, Esco vs. Kennedy, High Rollers/Edge and Christian/Chemical Darkness) , as well as re-kindling old rivalries dating all the way back to the TWF days.
What was supposed to be a one night stand, ended up being a full time return of the federation. Ever since Curtain Call, TWA has been running shows every month. However, the Unleashed weekly TV series does not exist anymore, they only run PPV shows monthly.
Click here to view the TWA Roster.
Shows
Television
Unleashed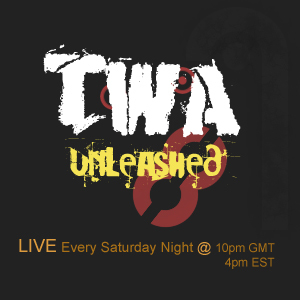 Unleashed was the weekly television program TWA ran in their initial run. It aired on HBO every Saturday night at 9:00 PM EST. Unleashed featured amazing matches, moments, twists and turns, and was the focal point for carrying on storylines and rivalries within the federation. The shows generally had 2-4 matches, announced beforehand always, and was loaded with eventual interviews and segments.
TWA also held special editions of Unleashed every once in a while, including Unleashed: Genesis Edition, Unleashed: Night of the 666 Edition, and Unleashed: High Stakes Edition. These weren't quite at the level of Pay Per Views when it came to matches, but they were bigger events than the usual episodes of Unleashed. The Genesis main event featured Edge and Kyler McCann vs. Chris Helms and Christian Cage, the Night of the 666 main event was Will Esco and Tadd Starr vs. Undertaker and Tai Burns vs. Chris Foppa and Kyler McCann in a Three Way Tag Team Match, and the High Stakes main event was Will Esco successfully defending his TWA Global Championship against Undertaker and Raven.
Unfortunately, TWA has not signed any television contract since its return. Instead, they only run monthly Pay Per Views, for the time being. It is rumored however that TWA will be holding Unleashed televised events once a month over the summer, mainly to hype for their Pay Per Views. There won't be shows every week, just every month before their PPVs.
Pay Per Views
Ad blocker interference detected!
Wikia is a free-to-use site that makes money from advertising. We have a modified experience for viewers using ad blockers

Wikia is not accessible if you've made further modifications. Remove the custom ad blocker rule(s) and the page will load as expected.