Tracie Bottoms
Statistics
Name
Tracie Bottoms
Birth Name
Tracey Claudia Borden
Debut
2006
Height
6'0"
Weight
115 pounds
Measurements
34-24-35
Date of birth
October 14, 1985
Hometown
Norfolk, Virigina
Retired
MIA
Resides
Fort Lauderdale, Florida
Place of death and date
N/A
Tracie Bottoms (born Tracey Claudia Borden, October 14, 1985 in Norfolk, Virginia) is the valet and girlfriend to Tommy Polo. She is the one to tame the "Menace" when he tends to get uncontrollable.
THE AMERICAN DREAM
Tracie Bottoms lived an average life in Norfolk, Virginia. As a child she dreamed of being a star, a famous actress. While growing up, she enjoyed watching pro wrestling with her older brothers and pretending to be the hottest valet in the business. Her parents saw her gift of acting and enrolled her in various dance and acting schools where she practiced ballet and drama. He landed the lead in several school plays all through her grade school years and was voted "Most Likely to Live the American Dream" in high school.
While in college (University of Miami), Tracie continued her studies in the Performing Arts and Dance. She was a cheerleader for both the football and basketball teams, as she was recognized for her tight physique and lengthy legs. She dated, but not often. She dated the schools starting power forward on the basketball team for 2 years before they broke up over a misunderstanding. They remain friends but the trust was gone from the relationship to maintain it. She continued her studies and obtained Dean's List honors for exceptional work in her field of study. She would then be given a chance to pose nude in the Playboy College Campus Edition issue of Division 1A sexiest cheerleaders, but she declined.
Tracie graduated from the University of Miami with a degree in Performing Arts with a minor in Dance. She would return home to Virginia, where she had a hard time finding work. She landed a position at a local dance school where she taught little girls from the ages of 6-13 the basics of ballet and dance. She grew tired of what she was doing and wanted more. In her down time, she would attend local wrestling promotions that would come to the nearby areas, just for the fun. At one show, she came across a man who would later change her life.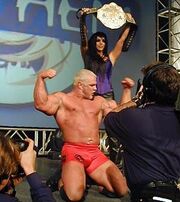 ENTER TOMMY POLO
Tommy Polo and Tracie would become close friends after meeting at this wrestling event. Polo then would tell Tracie that she would be perfect for him in his quest to become a world champion. With Tracie liking wrestling and Polo, she obliged in becoming Polo's valet in the promotion he was a up and coming superstar, SFW.
The Plan
In early 2006, Polo would bring Tracie to the ring with him, as the men in the crowd drooled over her looks and with her being at ringside, caused a distraction to many of Polo's opponents. The plan was working as the beauty of Tracie was working to Polo's advantage. With the success that the two were earning, the two became much more closer than friends. The two officially became a couple and the longer Tracie stuck with Polo, she often took on his character traits. She went from American Pie, standing outside of the ring and looking cute, to the valet that would get involved. To further submerge herself into Polo's world, she even changed her appearance, going from blonde to jet black hair, and dressing more sleazy, Polo's style. Nothing could stop the two as they were the hottest commodity in SFW as Polo captured the SFW United States Brute Championship and held the title for 4 months. She would accompany him to the ring as he posed and she held the belt up high.
During that reign, Polo acquired the services of Deanna Dimarco, the valet of SFW Tag Team Champions, The Knockaround Boyz (Smooth Sonny and The Don), for a month after he defeated Smooth Sonny in a match where the loser loses their valet. This infuriated Tracie as she felt Polo's attention was on another woman other than herself. This caused a small rifted in the relationship with Polo but he assured her that it was all business and to get under the skin of his opponents because he wanted the tag team championship.
Tracie and Polo continued their reign of terror over SFW until Polo lost the United States Brute Championship to Smooth Sonny, where Tracie 'accidentally' caused Polo the match. Some speculated that this will be the beginning of the end of their relationship.
TIME OFF
After Polo's championship loss, Polo became upset and Tracie tried her best to get him back on track. Polo needed time to think about things and informed SFW that he was going to take an indefinite leave of absence. Whereever Polo goes, Tracie goes. Polo took time off in the early summer of 2006, not long after her debut, and Tracie went along with him. She felt that no one in SFW could take her to the top as Polo is capable of, so she sat out along with him. You can say that they are joined at the hip.
Short return to SFW
When Polo returned to SFW in February 2007, Tracie was right at his side. But things weren't the same between the two. Tracie went back to her original self, with blonde hair and was 'nice' again, the complete opposite of Polo. Before a warm up match against Jim Rourke, Tracie tried to seduce him and make advances that she's in need of help. Rourke wasn't buying it due to her affiliation to Polo and she ran off crying. She hasn't been heard from since.
MANAGED WRESTLERS
RUMORS
Polo used to beat Tracie when he lost his temper. But made it up to her with rough sex, something that a good girl always wants. This can't be confirmed because she never had any visible bruises on her body and always seemed happy.
Tracie had become pregnant and had Polo's baby. This could be the real reason why the two took off early summer 2006 and returned in late February/early March 2007. It can not be confirmed as they relatively kept out of the public eye while gone and the timing isn't right unless she delivered premature.
Ad blocker interference detected!
Wikia is a free-to-use site that makes money from advertising. We have a modified experience for viewers using ad blockers

Wikia is not accessible if you've made further modifications. Remove the custom ad blocker rule(s) and the page will load as expected.