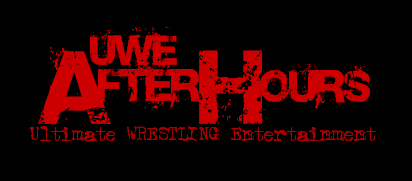 UWE After Hours is a professional wrestling show for Ultimate Wrestling Entertainment. The show is run by General Manager Dirty Drew and airs live every Thursday. UWE After Hours is complimented by it's sister show UWE Rapture, which is run by Destiny.
After Hours
Show/Brand Name
After Hours
Creator
uWe
Current GM
Dirty Drew
Opening Theme
Out of Control by Hoobastank
Country of Origin
Canada
Running Time
2 hours
Format
Live
First Aired
January 12th, 2006
Original Running Time
January 12th, 2006 - Present
Federation type
Role-play based
History
After Hours was created as the primary show for Ultimate Wrestling Entertainment at the beginning of the year 2006. After Hours was created to replace Friday Night Fear, but instead of airing on Fridays the show would air on Thursdays. When Rapture came into play Rapture aired on Mondays. This would return UWE to it's roots with two weekly shows.
Current Titles
Roster
Superstars and Divas
Staff
Drew Reynolds - General Manager
Funaki - Backstage Interviewer
Lillian Garcia - In-Ring Announcer
Maria - Backstage Interviewer
Todd Grisham - Ring-Side Announcer
Danger - Ring-Side Announcer
Ad blocker interference detected!
Wikia is a free-to-use site that makes money from advertising. We have a modified experience for viewers using ad blockers

Wikia is not accessible if you've made further modifications. Remove the custom ad blocker rule(s) and the page will load as expected.