Analicia Morales
Talk

0
11,354pages on
this wiki
Analicia
Statistics
Real name
Analicia Marie Morales-Lokamp
Ring Names
Ana Marie
Analicia Morales
Analicia
Evangela
Height
5'5"
Weight
138 lbs.
Date of birth
June 27th, 1986 (Age 26)
Place of birth
New York, NY
Date of death
Still Alive
Place of death
Still Alive
Resides
Ft. Lauderdale, FL
Billed from
Harrisburg, PA
Orlando, FL
Reading, PA
Ft. Lauderdale, FL
Trainer
UWF School
Current
federation(s)
World Wrestling Championship Federation
Previous
federation(s)
Underground Wrestling Federation,
What The Federation,
Wrestling Federation Association,
Sunrise Pro Wrestling,
Ring of Beauty,
Psycho Saint Wrestling
Handled by
A.M.
Win/Loss Record
104-31-11
Debut
July 15th, 2006
Retired
Still Active
Analicia Marie Morales-Lokamp (born June 27, 1986), better known simply as Analicia or by her maiden name Analicia Morales, is a female American professional wrestler of Puerto Rican descent who is currently signed to World Wrestling Championship Federation (WWCF) where she is the current WWCF X-Champion, a former three time WWCF World Heavyweight Champion and current ambassador for the company. Morales is the first and only woman to win the WWCF World Heavyweight Title in the history of the company, having first won the title on the July 23rd, 2009 edition of Pulse, regaining the championship on November 14, 2010 at WWCF Revenge and winning the championship an unprecedented third time at WWCF New Revolution on January 16, 2011. She is also the first female Grand Slam Champion, having won all the WWCF singles titles and is a member of the WWCF Hall Of Fame as part of the 2010 class of inductees. Along with those respective singles titles and a reign as WWCF Women's Champion, Ana had two reigns alongside Joshua Lokamp and Kris Kristian respectively as a WWCF Tag Team Champion. Aside from the current company she has a deal with, Analicia is known for her short time in Psycho Saint Wrestling, Ring of Beauty where she was the last RoB Television Champion, What The Federation (WTF) where she was the first crowned WTF Universal Champion and Wrestling Federation Association (WFA) where she is a former WFA Tag Team Champion.
Wrestling career
Early Career/Independent Circuit
After graduating high school, Analicia began to set herself up for college where she was studying to become a health adviser but that all changed when her former friend Destinee took her out to see a local wrestling event. Witnessing the sacrifice and physical skill involved with the sport she completely dropped all her plans and began strength training with the hopes to become a professional wrestler. Analicia's decision to drop out of college infuriated her parents, especially her father who went as far as to throw Analicia out of the house until she decided to go back to school. Analicia, however, chose to stick with her decision and sought shelter with her older sister Lucia, who had by then gotten an apartment of her own back in New York. After moving in, Analicia began to perform "odd-jobs" in order to not only pay her portion of the rent but to also pay for her wrestling training and one year later, at the age of 20, Analicia began working for small independent promotions, most notably a Chicago based one owned by Aaron Beck called the Underground Wrestling Federation. Analicia was built up in the beginning as the ultimate babyface and her career started off strong, with her skill set getting better and better each match all while maintaining an undefeated streak which lasted close to three months. However her career took a strange turn when she was signed to an exclusive contract with the UWF. Analicia began to notice the federation crumbling which didn't please her or her sister at all who was struggling to keep the apartment. After a few shaky months,the emotional effects began to show, her boss Aaron was giving her void checks and manipulating her to the point where her dreams of being a professional wrestler were turning into a living nightmare. However knowing deep down that she needed the money, she swallowed her pride and continued with the company, still feeling as though she was in a rut but not nearly as bad as before. As a result of these personal issues, Analicia adopted a new more brutal style of wrestling that still incorporated some of the high flying moves she used before but mainly focused on damaging her opponents as much as possible and along with her new style, Ana found herself a new ally and partner in mega-heel Destiney Van Sangue. The two together demolished the competition, quickly becoming top contenders for the Tag Team Championships and were the key parties involved in the destruction of fellow UWF diva Kimberly, their attack causing the young woman to have her neck broken and have major surgery, ending her career as a professional wrestler. Although Analicia did not feel any remorse in regard to the incident, she did find herself feeling uncomfortable with the way she was being presented as well as the wild lifestyle of her partner Destiney. The two began having fights backstage and were separated as a duo, their rivalry culminating in a match where Analicia defeated Destiney. Morales would stay in the UWF only for a few more weeks, having her final match in a Chicago show before being approached backstage by WWCF Hall of Famer, Joshua Lokamp.
World Wrestling Championship Federation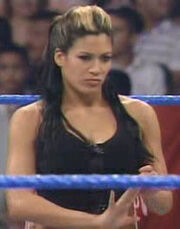 Analicia officially made her debut on an episode of WWCF Pulse, clotheslining top female face Julia Easter and proceeding to hop the guardrail and attack her during a six person tag team match. After her attack on Easter was done Analicia celebrated with Point Blank Inc., revealing herself as one of its newest members, the newest diva to join WWCF and Joshua Lokamp's girlfriend. Analicia made her official in ring debut the following week going one on one with the woman she attacked, Julia Easter and defeating her, using her Bruja-Lock submission for the victory. Over the next few weeks, Analicia would establish herself as a top performer, gaining several victories over divas in the WWCF and also battling the men alongside her boyfriend Josh, even tangling with then World Champion Chris Simmons in an intergender tag team match. One of the most controversial moments that occurred during Ana's time in Point Blank Inc. was when she faced off against former WWCF diva Becca Sunshine in a one on one match, the match would end in a disqualification but the brutality had just begun. Becca and her lover, then top face Kris Kristian were attacked by Point Blank Inc. and after both were busted open with steel chairs, Kris Kristian and the rest of the wrestling world were forced to witness Analicia drive Becca Sunshine through a table with a top rope powerbomb, sending Becca to the hospital and bringing an end to her career as a wrestler due to many medical complications that followed. This heinous act, along with Analicia's unapologetic attitude showed just how vicious Analicia can be and easily branded her as the top female heel in the WWCF but her dominance in the company had only just begun.
Women's Champion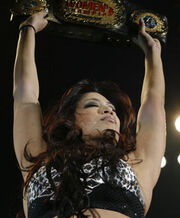 On August 24, 2008 Analicia took part in an open invitation match for the vacant WWCF Women's Championship, taking on the former Women's Champion Callisto. The two women battled back and forth with Analicia coming out with the victory, once again using her Bruja-Lock submission to make Callisto tap out. One of her first challenges as champion came in the form of rival Julia Easter who called Analicia out shortly after her title victory, claiming that she needed to beat a real champion to lay claim to the title. The two had a series of both title and non-title matches and finally clashed for the Women's Title a final time in a 15-minute triple threat Championship Scramble match that also included then-WWCF diva Sabrina Bryce. Easter and Morales would exchange pinfalls until finally Analicia got the last fall on Sabrina, retaining her Women's Title and ending her rivalry with Julia Easter as the two would become friends after the event. Analicia's title reign would last another month until she lost the title to Sabrina Bryce in a controversial fashion after another WWCF diva Madison McKenzie involved herself in the match, brutally attacking Analicia with a lead pipe, damaging her knee and setting it up for Sabrina to take advantage and steal the title.
Face Turn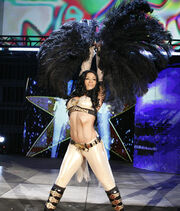 Following the Total Chaos pay-per-view and the heinous assault by her then-former boyfriend (and current husband) Joshua Lokamp, Analicia's status changed from one of the most hated women in the WWCF to one of the fan favorites. Analicia would go on to form a short lived tandem with former rival Julia Easter and constantly did battle with heel divas Sabrina Bryce and Madison McKenzie. Their rivalry went to a whole new level though when Analicia was screwed out of the Women's Title and following that loss, she gained multiple victories over then champion Bryce and McKenzie as well, but stated that she didn't wish to pursue the Women's Championship anymore because it had "lost its prestige", so instead Morales-Lokamp gained her final measure of revenge against the two in a survivor series style tag team match where she defeated both of her opponents in a very dominating fashion. However the night wasn't over for Analicia because as soon as she was done celebrating her match and ready to leave the ringside area she was assaulted by a masked man and kidnapped. Nobody would hear from or about Ana's status for a whole entire week until the masked man revealed himself to be WWCF Hall of Famer and current Underground Champion Acid Burn. But luckily for Ana, a new rookie superstar would come to her rescue and begin to feud with Acid on her behalf. The romance that developed between the two was short lived though after her relationship interfered with her own goals to gain more gold and also came as a result of Analicia feeling that she couldn't trust anybody anymore due to her friend and Liberation stablemate Kris Kristian turning his back on her and joining the side of her captor Acid Burn. The betrayal infuriated Ana but she didn't allow this to consume her and began her quest for the WWCF X Division Championship, being involved in a triple threat match for the title against Ace Montana and Richy but came up short in the contest despite not being pinned. Analicia then went on to earn another shot at the championship but didn't win the title due to having won her match via disqualification after a former partner from her past Destiney Van Sangue got involved in the match. After a short one week break following New Year's Evil to rest up her nagging knee injury, Ana faced off with and defeated former rival Madison McKenzie once again in a dominant fashion. The following week, Morales-Lokamp made her first attempt at becoming one half of the Tag Team Champions, reluctantly teaming with Cole Connors in a tag team turmoil match at New Revolution. This effort fell short though when Connors was pinned. Following the pay-per-view Analicia found herself on quite a singles' roll, not only defeating a former World Champion and current number one contender in Kris Kristian but even scored a non-title victory over the WWCF Champion Andrew Carter. Analicia then went to a no contest with Brent Daley at the WWCF pay-per-view Adrenaline after Shane McMahon came out and stopped the match deeming it unnecessary for the two to face off due to it being signed by the power hungry Jase Chaos just for his own pleasure.
Second Heel Run/High Society/Tag Team Champion
Throughout the weeks leading up to Adrenaline both Analicia and her boyfriend at the time Joshua Lokamp, who she had gotten back together with sometime after the New Year's Evil pay-per-view, had been committing some questionable acts that had the WWCF fans confused as to their status due to the couple having previously been seen as babyfaces. At the February 15th pay-per-view all the questions were put to rest as the couple revealed that not only was the Lokamp/Campbell rivalry that has seemingly been developing a hoax to gain attention but that all three had joined forces with Andrew Carter to form the stable "High Society" which officially started Analicia's second heel run in the company. The following night on Oblivion, High Society began to make their mark as a dominant stable with Analicia and Joshua winning the WWCF Tag Team Championships, the couple defeating Acid Burn and Kris Kristian after Kris abandoned the team, leaving Acid prone to a thorough beating that ended with Morales getting the pin for her team. On the next edition of Oblivion the couple had their first title defense against Brent Daley and Go-D with the match ending in a no contest. Before their championship reign could truly kick off though contract negotiations between Analicia, Joshua and the WWCF fell through with the couple leaving the company.
What The Federation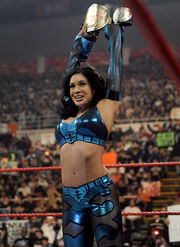 After having a fallout with the WWCF as well as owner Shane McMahon, Analicia Morales-Lokamp took a two week break from professional wrestling and moved in with Joshua Lokamp down in Florida. The two lived happily together during Analicia's downtime but then had another break up soon after the vixen found herself back in the squared circle for the company WTF. Morales-Lokamp debuted in the first WTF show, teaming with an unlikely partner in Acid to take on and defeat the team of Jason Silver and Jaime Conwell in the main event. After the event the two began to regularly team up with one another claiming more victories while Analicia also established herself as a single's competitor garnering up an undefeated streak that lasted until she left the company. Before she made her eventual exit, Analicia gained several more notable victories against Brent Daley, Jason Silver and Demon and even won a championship in the company in the form of the Universal Title. Morales-Lokamp became the inaugural champion after defeating Seth Genesis in a viewer's choice match at Race To Fame with a schoolgirl pin after the two wrestlers were voted in by the WTF fans. Shortly after the pay-per-view event however, Analicia's short-term contract with the WTF expired and negotiations began days later with the company offering her less money than her previous deal despite her holding a title in the company. This immediately caused Morales-Lokamp to shred up the contract and walk out of the company, severing all ties with the wrestlers there, and go on back home to Joshua who spent some more downtime with her, the two fixing their issues and getting back together as a couple again.
Evangela/Savior's Tour
Toward the end of her run with WTF, Analicia made the decision to undergo a complete transformation, changing her in-ring persona and even went as far as to change her wrestling name to Evangela prior to her return to the WWCF. The rechristened starlet, alongside her then-pupil Arianna, who unfortunately passed away in 2010, began traveling and performing as a huge face duo on a "Saviors' Tour" in the Wrestling Federation Association (WFA), having an immediate impact, winning the company's Tag Team Championship within their first month there. The "Saviors' Tour," as Morales-Lokamp and Tae called it basically had the duo face off with fellow superstars and then try to enlighten them with wisdom and goodness. Shortly after winning the Tag Team Titles in the WFA however, both Analicia and Arianna had issues with their contracts and left the company, vacating the titles and Analicia then joined Sunrise Pro Wrestling with Arianna as her manager. Morales-Lokamp was set to make her debut but then for reasons unknown the federation closed its doors before Morales had the chance to debut. A short while later Analicia Morales-Lokamp was asked to rejoin the WWCF, alongside her longtime boyfriend Joshua Lokamp and after accepting the offer, Analicia stopped wrestling under the name Evangela. Morales-Lokamp is still recognized by that name though at times and has also decided to call one of her trademark moves "Evangelista" as a way of still showing that part of her still exists. Analicia also helped her then-pupil get into the WWCF, who before her untimely passing, had a somewhat successful run, winning the company's Xtreme Championship before leaving and retiring from wrestling.
Return To World Wrestling Championship Federation
After taking another two week break from the mainstream world of professional wrestling both Analicia and her then-boyfriend Joshua Lokamp found themselves given an amazing offer to re-join the WWCF which the two quickly accepted, with Morales-Lokamp stating in an interview she had around the time that she was "feeling the urge to get back in the ring and I knew that with my passion returning and Josh's coming back as well that it was the right time to...go home." After their contracts went through the two made their return to WWCF television on the May 21st edition of WWCF Khaos during the show's final segment standing alongside ally Andrew Carter like they did previous to their original exit from the company. Analicia and Lokamp both made a successful return to the WWCF, teaming together to defeat The Frontline in tag team action. After the match however, both decided to focus on their solo careers and severed ties with Andrew Carter who left the company shortly after. Ana then entered a short feud with Sheena Montgomery, who was a newcomer at the time defeating her in their first encounter but was then attacked shortly after the match backstage. Morales-Lokamp then competed the following week in an over-the-top rope battle royal for a shot at the WWCF World Championship at the company's grandest event of the year Freedom. Analicia made it far into the match, eliminating her then-rival Sheena Montgomery but after making it down to the final three, she was accidentally taken out of the contest by her then-boyfriend Joshua Lokamp who was blinded after a thumb to the eye. As a result of not winning, Analicia faced off with and defeated Sheena Montgomery for the second time at Freedom for a future shot at the World Title which was won by her current husband and then-boyfriend Lokamp the same night.
WWCF World Heavyweight Champion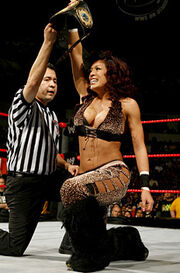 On the July 16th, and final edition, of WWCF Thursday Night Khaos, Analicia made the official announcement that as a result of her victory over Sheena Montgomery at Freedom that she was the new number one contender for the WWCF Championship. She also informed her then-boyfriend and WWCF Champion Joshua Lokamp that she had two weeks to invoke her shot and chose to face off against him at the special 3-hour edition of WWCF Pulse that was set to air on July 23, three days after her one year anniversary with the company. At the event, Morales-Lokamp defeated Joshua in a hard-fought back and forth contest which featured not only intense action but also clearly showed the frustrations the couple were having at the time. As a result of her victory, Analicia became the first woman to be featured in a WWCF World Heavyweight Title contest as well as the first and only woman to win the prestigious championship. Following the championship victory, Analicia's relationship with Lokamp fell apart for the first few months of her championship reign with the beginning stages of that shown after the title match itself when Morales-Lokamp looked to embrace her then-boyfriend only to be ignored by Lokamp who exited the ring and left the new champion to show off her glory all on her own. Shortly after the Pulse broadcast ended it was announced on the official WWCF website that Joshua Lokamp invoked his rematch clause for July 30 edition of Pulse and would serve as Analicia's first defense. Morales-Lokamp would be successful in her first defense after hitting her patented Lucia-Driver on Joshua. Before the title match took place, the main event for Summerbash was set which featured an interesting tag team match teaming Morales-Lokamp and the man she now calls her husband but rival at the time against Brent Daley and Kris Kristian with the stipulation that whoever gained the pinfall would be the World Champion. On the Pulse prior to the pay-per-view Analicia and Josh Lokamp successfully team up and defeated Kris Kristian and Sean Mason after Lokamp forced Mason to submit but showed some dissension during the contest. Then at the Summer Bash pay-per-view Analicia once again teamed with Josh but due to an incident earlier in the night where Brent Daley got attacked, the duo ended up facing Kris Kristian in a handicap match. Morales-Lokamp went on to retain the championship after hitting Joshua with a steel chair and pinning Kris Kristian. The victory in turn lengthened her already historic title reign and it was noted at the end of the August 16th pay-per-view that Analicia's reign is now officially longer than Kris Kristian's first reign and Josh Lokamp's second reign combined, which to this day Analicia finds both gratifying and hilarious. Two weeks after that match Analicia returned to action, teaming up with Lynn Storm to defeat the up-and-coming team of AJ and Evan but following the match the duo were attacked by Sudden Impact. The following week Analicia was scheduled to face off with Sudden Impact alongside David Arnold but after David got arrested in the beginning of the Pulse broadcast, Analicia had to go into the match on her own but was saved from harm by her husband and then-rival Joshua Lokamp. Following the tag team match Analicia was ordered to stay out of the ring for a few weeks due to a concussion and returned at the WWCF Tribute To The Troops Special where she, alongside David Arnold and Kyle Davis defeated Joshua Lokamp, Chris Simmons and Randy Orton. The next week Analicia was victorious yet again in tag team action, teaming with David to defeat Lokamp and Simmons but was attacked after and put on the shelf for another two weeks. Analicia returned to live television on Pulse and following that appearance defended the WWCF World Title against David Arnold at Slamoween.
Semi-Retirement/Assistant Of WWCF Affairs
After her title defense at Slamoween, Analicia made one final pay-per-view appearance as an active competitor for some time when she competed in a war games style match and then dropped the World Title to Dave Messiah who cashed in his briefcase and attacked Analicia after the match. Morales-Lokamp then took a necessary break from the ring as she found out she was pregnant with her first child, a baby she would eventually give birth to on April 7, 2010 and reveal to belong to her current husband Joshua. However due to a binding contract, Analicia was not released from the company but instead placed in a non-wrestling role at the request of WWCF figurehead Shane McMahon. After appearing on WWCF programming on and off for the beginning of 2010 as an enforcer and on air "Assistant of WWCF Affairs", Morales-Lokamp returned to the ring after giving birth to her son Ryan, guest refereeing a match a submission match between Starr Jackson and Candy Banks but then disappeared from television again to prepare for her comeback.
Return To Active Competition
Following her one time stint as a referee, Analicia made a few on camera appearances prior to the WWCF Crisis event where she officially announced her return to the ring in controversial fashion, showing up following Vanessa Nightwing-Connors being crowned the new Women's Champion at the time and hitting her with the "Violet Flip" before exiting the ring. Analicia was then seen backstage with her then-boyfriend Joshua Lokamp, discussing the matter, openly speaking for the first time about their son Ryan and declaring that she was coming back to the ring full-time. Analicia made her return to the ring in a tag team contest against Triple H and Ethan Jones, with Joshua Lokamp as her tag team partner. The back and forth contest was thrown out however after Analicia and Joshua were attacked. A brutal onslaught on Lokamp followed the attack and it was then revealed that a mysterious man had taken Analicia's child hostage. The masked man appeared on WWCF television the following week, demanding a steel cage match against Morales-Lokamp at the Out Of Control pay-per-view which Ana quickly accepted. The following week, Analicia was involved in another controversial tag team match, this time involving Lynn Storm who was injured during the contest leaving Analicia to fend for herself until her long time lover Joshua Lokamp showed off to fend off the attack from her opponents that night, Dave Messiah and Randy Orton.
WWCF Xtreme Champion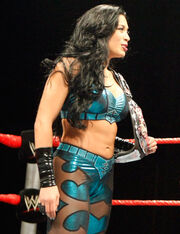 For the weeks leading up to the Out Of Control pay-per-view both Morales-Lokamp and her husband, then-boyfriend, Joshua were tortured by the mysterious man who kidnapped their son but after it was all said and done when Analicia faced off with kidnapper at the June event, she not only emerged victorious in dominating fashion, but after the culprit was revealed to be Randy Orton, the steel cage match was declared to be for the WWCF Xtreme Championship which Orton held at the time, making Analicia the new champion at the time. After the match however, Analicia did not right away get her son back, instead she received one final mind game from Orton which ended up sending her husband Joshua Lokamp into a trap where Orton attacked him with a lead pipe. Luckily for Analicia though she was able to get her son back toward the end of the night after finding him in the locker room she shared with the stable she was in at the time, PBI. Following the pay-per-view, on the June 24th edition of WWCF Pulse two major announcements were made concerning Analicia and her career. The first was that at the 9th anniversary of Freedom, Analicia was scheduled to take part in an important "Past vs. Present vs. Future" triple threat match against former WWCF star Casey J. Parker and Vanessa Nightwing-Connors, who at that point was a rising star in the company. The second announcement was that Analicia was being inducted into the WWCF Hall Of Fame as part of the class of 2010. Morales-Lokamp also found out that the induction would be made by none other than Joshua who proposed to her later that night in front of the Pulse audience to which Analicia accepted. On the July 8th edition of Pulse, Analicia made an appearance to hype the match but was attacked by both Parker and Nightwing-Connors but gained the advantage and ended up standing tall at the end of the brawl just as she did at the Freedom event itself when she defeated both women in the triple threat match after pinning Casey Parker following her patented Lucia-Driver. After the match Morales-Lokamp moved on and successfully defended the Xtreme Title on the July 22nd Night of Champions edition of Pulse when she defeated Mike Dimter. Two weeks later Analicia competed in a six-person tag team match, teaming with then-fiance Joshua Lokamp and Kris Kristian to face Rain Nightwing, Ethan Jones and Drake Connors. The match didn't end so well though due to the team falling apart with Joshua refusing to tag in while Kristian was in the ring and demanding his wife to do the same, leaving Kristian to get beaten down and eventually attacked by Joshua's cousin Chase Campbell. It was also announced during that broadcast that Analicia was scheduled to defend the Xtreme Championship against Poe at the Summerbash pay-per-view event which she did successfully after a hard fought match. Following the match, on the September 2nd edition of Pulse, Analicia took part in a battle royal to determine the top 10 contenders for the WWCF World Heavyweight Championship with Analicia ending up one of the last two standing before getting eliminated by Drake Connors which left her as the number two contender for the World Championship. After the Pulse broadcast it was announced that at Total Chaos, Analicia would be competing in a title for title match against then WWCF Legacy Champion Triple H, with both superstars aching for victory because at the time, both needed the others' title in order to attain Grand Slam Champion status.
Ring Of Beauty
Following her recaptured success in the WWCF, Analicia decided to branch out from the federation and eventually found herself signing a contract with Ring of Beauty on June 23, 2010. Analicia made her debut taking part in a fatal four way match for the number one contendership for the Ring of Beauty Television Title against Angel Kash, Roxxxie and Lana Holmes. Morales-Lokamp was successful in her debut match, being ruled as one of two winners after a controversial double pin. After the hard fought contest both Morales-Lokamp and Lana Holmes, the other victor, attacked Television Champion Cassandra Chase and challenger Mary Katherine during their match, causing a no contest and as a result of that it was announced by Ring of Beauty co-owner Christian Gardner that at the next event Blaze Of Glory 3 that Analicia would have to face off against Holmes, Mary and Cassandra in a fatal four way ladder match for the Television Championship. Analicia came out victorious, winning Ring of Beauty's Television Championship in just her second match with the promotion. After Analicia's title win it was announced that on Primetime #56, she would be defending the championship in a singles contest against Heidi Apocalypse. Unfortunately the match never took place as Ring of Beauty closed.
WWCF Legacy Champion
The weeks leading up to Total Chaos proved to be interesting ones for Analicia as once again she found herself split from her now-husband Joshua and also found herself as the chosen partner of then-Tag Team Champion Kris Kristian following the September 9th edition of Pulse, which made her a two time Tag Champion as a result. When it came time for the pay-per-view match itself though, Morales-Lokamp found herself both successful and defeated, losing the Xtreme Title but gaining the Legacy Title which solidified her status as a WWCF Grand Slam Champion which was historic as Analicia was the first woman and is the only woman to this date to have achieved that status. On the Thursday Night Pulse immediately following Total Chaos Analicia and partner Kris Kristian successfully defended the WWCF Tag Team Championships against EV 2.0 and Tha Real Deal but were attacked by The A-List after the contest and a week later, then A-List member and number one contender Drake Connors squared off against Analicia, losing a singles contest to her which provoked an attack from him but before any damage can be done, masked WWCF star Shining Tiger, who was later revealed to be Rain Nightwing, came to the aid of Morales-Lokamp. The next week Morales-Lokamp and Kristian faced off against The A-List in a tag team elimination match for the titles but were defeated after Kris was eliminated first and Analicia was left to defend on her own, which she almost did, having eliminated Drake Connors during the match before falling to Davisson Cage after a fan jumped the barricade and distracted Morales-Lokamp. Analicia then went on and defended the WWCF Legacy Title against Ethan Jones in a brutal "Wicked Edge of Sin" double dog collar match at Slamoween, also receiving a World Title shot as a result of her win. The following Pulse just four days after the pay-per-view, Analicia teamed with Kristian again against the A-List for a chance at a rematch, however Kris got pinned ending those chances and Analicia was then informed that at the Revenge pay-per-view she would be having her World Championship opportunity against both Kris Kristian and Drake Connors.
Two Time WWCF World Heavyweight Champion
Over the weeks leading up to WWCF Revenge, Analicia waged a mental war against then-World Champion Drake Connors, costing him matches and getting the better of him at almost every encounter they had. She also made it very clear that despite having a rumored relationship with Kris Kristian, to which she never confirmed or denied to this day, that her only priority was becoming the WWCF World Heavyweight Champion once again. Things finally came to a head on November 14 at WWCF Revenge where Analicia defeated both Kris Kristian and Drake Connors to make history again and win the WWCF World Title for a second time, making her not just the first and only female champion but also the first woman to win the top prize two times, along with also being the holder of the WWCF Legacy Title at the time. Following her World Title victory Analicia lost a controversial decision to Tony Tran with the Legacy Championship on the line due to interference from another former rival in Richy and a few weeks following that title loss, faced another hard hitting defeat when she lost the WWCF World Heavyweight Title in the fifth ever Glass Cell match where she faced off against Kris Kristian, Davisson Cage and the man who went on to win the match and the title, Ethan Jones while Drake Connors served as a very biased special referee. Analicia was quick to try and invoke her rematch clause but was then informed that in order to get a shot at the then-champion Jones, that she had to earn it.
Three Time WWCF World Heavyweight Champion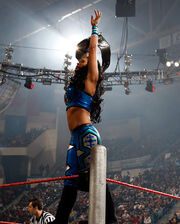 Following the loss of the World Title, Analicia found herself having to earn her rematch after being placed in another top ten contenders battle royal to determine the World Title rankings and the next challenger for the World Heavyweight Championship. Morales-Lokamp ended up winning the heavily contested battle royal and following the match, attacked the then-World Champion Jones after he came out to confront her, announcing at that point that the two would face off for the championship at the January 16th WWCF pay-per-view event New Revolution. Morales-Lokamp also brought a surprise to that match announcing that due to the controversial officiating that occurred during the Glass Cell match that she was given the right to choose a special guest ref, deciding on none other than her then-boyfriend and current husband Joshua Lokamp. Lokamp served to be a fairly impartial referee in the championship match which saw Analicia defeat Ethan Jones to win the coveted World Heavyweight Championship for a third time. However after the match, Analicia embraced Josh in the ring and Lokamp seemingly turned on her delivering the Stryke Out to her and laying her out in the middle of the ring. Following the shocking ending to New Revolution, Analicia called out Lokamp and confronted him only for it to be revealed that the post-match attack was just a ruse by the couple to get things going in the direction that they wished but following her title loss to Ethan Jones in a rematch at Adrenaline, Analicia went under the radar once again and quietly left the WWCF after finding out that she was once again with child.
Time Off/In-Ring Return/Retirement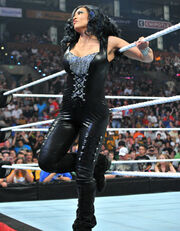 Analicia's time away from the ring lasted from Adrenaline to late June but this time around the vixen didn't intend on making a full comeback like she did the last time. Morales-Lokamp made it clear that following her pregnancy complications and birth of her second child Rosanna, who was born June 9, 2011, that she had every intention on retiring from in-ring competition after one last match at the grandest WWCF of the year, the tenth anniversary of Freedom. Analicia officially made her on screen return to WWCF television at the Out Of Control pay-per-view event when she attacked the woman who turned out to be her Freedom opponent Julia Easter after Easter officiated a match, the two then setting up the match seemingly to be contested for pride in a respectful manner. Following the post Out Of Control show on Pulse the wrestling world was shocked with the news that before the tenth anniversary of Freedom Analicia would take part in an 8 person tag match alongside Kris Kristian, Vanessa Torres and Sheena Montgomery, with Julia Easter in their corner against Age of the Fall. Ana's team was successful in the match but after the pinfall by Sheena, Analicia went on a rampage, attacking every member of her team, with the exception of Kristian who was attacked by his own long time rival and Analicia's husband Joshua Lokamp. Things quickly turned from friendly to heated between Easter and Analicia who ended up brawling and brutalizing one another all over the arena in a last woman standing match at Freedom in what was believed to be Analicia's retirement match with the Angelical Vixen coming out victorious against her long time rival at the grandest WWCF event of them all.
Return To Competition/Psycho Saint Wrestling
Following what was believed to be her retirement match, Analicia took a few months off from the professional wrestling scene, occasionally appearing on WWCF television in an ambassadorial role but following a fallout, Morales-Lokamp left the company and continued living the retired lifestyle. However on the October 23rd, 2011 Psycho Saint Wrestling pay-per-view Hallowicked it was revealed in a promo that Analicia had signed a contract with the company, officially coming out of retirement to actively wrestle once again. After the announcement Morales-Lokamp made an appearance on the November 14th, 2011 edition of PSW Monday Night Madness, attacking Rain Nightwing before it was made official that the two would be competing at the next PSW pay-per-view Poultry Pandemonium in a strap match. Analicia went on to defeat Rain in the match, once again solidifying her status as one of the elite wrestlers out there. Shortly after the event the company folded however Analicia vowed to reporters once questioned that it wouldn't be the last time she would be seen in a wrestling ring.
Return To WWCF Reborn
After taking another few months off from in-ring competition, Analicia made the announcement that she was set to make her return, having signed a new deal with the WWCF, which was coming back from its own hiatus. Analicia made her on screen return on the first edition of Pulse, July 12, making a return speech as well as having a few confrontations. The next appearance made by Morales-Lokamp was on the July 26th edition of Pulse where she attacked WWCF rookie Steve Beck following his victory over Dustin Holt, laying him out with the Violet Flip. After the attack, it was announced that Analicia would be making her return to the WWCF ring in a singles match against Holt, a match in which Analicia was victorious. Following the match, Beck came out for a confrontation of his own, announcing that at Summerbash, the two would face off in a match but Morales-Lokamp wouldn't be out-done by the announcement, having a confrontation of her own with Beck after his tag team match, leveling him once again, this time with the Crimson Kiss Goodnight. Analicia's next match was a handicap punishment match where she and Lynn Storm defeated Anne Marie Douglas who got in trouble with management after attacking an interviewer. After the match, Analicia was confronted by Steve Beck concerning their match but Morales-Lokamp turned the verbal tables on Beck, tricking him into making their match a No Holds Barred contest, with it being later announced in the program that the match would determine the first X-Champion since WWCF's rebirth. Following the announcement and a week off from competing on Pulse, Analicia took part in the first pay-per-view event since WWCF's revival, Summerbash where she defeated Steve Beck in a No Holds Barred match to become the WWCF X-Champion, winning the title for the second time in her career.
Personal life
Analicia Morales is a woman of Puerto Rican descent that was born in New York City but moved to Harrisburg, Pennsylvania with her family at the age of two. She is the second of four children born to parents Miguel and Maria Morales. She was raised in a traditional environment where the Catholic religion was heavily enforced, along with gender roles and the importance of an education. After graduating high school, Analicia finally spoke out against all the strict rules her family enforced and decided against going to college to pursue her pro-wrestling career. Morales-Lokamp currently does not keep in contact with any of her family members aside from older sister Lucia due to the rest of her family's ongoing disapproval of her life choices.
Analicia is bilingual and speaks both English and Spanish fluently. Due to this fact and her international appeal, along with being an ambassador for the company, Morales-Lokamp also serves as an international correspondent for the WWCF when they go out to travel to Spanish-speaking locations.
Analicia is currently married to former pro-wrestler and WWCF Hall Of Famer Joshua Lokamp. The couple got married sometime during Analicia's second pregnancy but due to the couple wishing to keep things private, an exact date is unknown to the public. Before their marriage, Analicia and Joshua were together on and off from 2008-2010, having broken up two times and being previously engaged for a short time. The couple have two children together, a son they named Ryan, who was born April 7, 2010 and a daughter named Rosanna who was born on June 9, 2011.
Analicia Morales-Lokamp currently lives with her husband and two children, son Ryan and daughter Rosanna, in Fort Lauderdale, Florida. Prior to moving in with Lokamp during her second pregnancy Analicia previously lived in New York City, Harrisburg, PA, Reading, PA and Orlando, Florida.
Morales-Lokamp is known to be close friends with current WWCF starlet and former rival Julia Easter, Jasmine Reyes who is Analicia's cousin, Vanessa Connors who had a small rivalry with Analicia during her first return in 2010 and former WWCF star Callisto Everhart.
Wrestling Moves
Finishing Moves

"Lucia-Driver" (Kudome Valentine)
"Violet Flip" (Code Red)
"Roll Of A Rose" (450 Splash Pin)
"Bruja-Lock" (Muta Lock)
Signature Moves

"Dreamsastrous Descent" (Sunset Split Pin)
"Ban-Ana Split" (Split Legged Hangman's Neckbreaker)
"Spira Bar" (Tilt-A-Whirl Headscissors Into A Fujiwara Armbar)
"Rose Drop" (Backbreaker Followed By A Gutbuster)
"Evangelista" (Neckscissors Choke Into A Headscissors Takedown)
"Tangled Flower" (Modified Single Leg Bow And Arrow Lock)
"Bittersweet Swirl" (Kip–Up Frankensteiner)
"Coravine" (Leg Trap Full Nelson)
"In Your Place" (Indian Deathlock/Hair Pull Curb Stomp Combo)
"Crimson Kiss Goodnight" (Super Kick)
Nicknames

"The Angelical Vixen"
"The Premier Diva"
"The Reawakened One"
"Beyond A Diva"
"The Enraptured Rose"
Wrestlers Managed

Joshua Lokamp
Chase Campbell
Managers

Destiney Van Sangue
Destinee Lynn
Arianna Tae
Joshua Lokamp
Wrestlers Trained

Arianna Tae
Jasmine Reyes
Mordea Duvin
Stables

Point Blank Inc.
The Liberation
High Society
The Saviors
Entrance Themes
Underground Wrestling Federation

"Toxic" by Britney Spears
"Gone" by Kelly Clarkson

World Wrestling Championship Federation

"Break The Ice" by Britney Spears
"The Naughty Song" by Cory Lee
"Roll It" by J-Status feat. Rihanna & Shontelle
"Circus" by Britney Spears
"Diva" by Beyoncé
"Virtual Diva" by Don Omar
"The One" by Mary J. Blige
"Hard" by Rihanna feat. Jeezy
"Kill The Lights (Rock Remix)" by Britney Spears
"XXXO" by M.I.A.
"The Ballad Of Mona Lisa" by Panic At The Disco
"Forgive Me" by Group 1 Crew
"Danza Kuduro" by Don Omar

What The Federation

"Imma Put It On Her" by Day 26
"Bad Girl" by Danity Kane

Wrestling Federation Association

"I Miss Those Days (Ghost)" by Mixi

Ring Of Beauty

"Virtual Diva" by Don Omar
"XXXO" by M.I.A.

Psycho Saint Wrestling
Championships And Accomplishments
World Wrestling Championship Federation

WWCF World Heavyweight Champion (3 Time)
WWCF Legacy Champion (1 Time)
WWCF Xtreme Champion (2 Time, Current)
WWCF Tag Team Champion (2 Time, With Lokamp, With Kristian)
WWCF Women's Champion (1 Time)
WWCF Hall Of Famer (Class Of 2010)
WWCF Grand Slam Champion
2010 Superstar Of The Year
2010 Most Memorable Moment (Shared With Triple H)
2009 Superstar Of The Year
2009 Diva Of The Year
2009 Couple Of The Year (Shared With Joshua Lokamp)
2009 Feud Of The Year (Shared With Joshua Lokamp)
2008 Diva Of The Year
2008 Couple Of The Year (Shared With Joshua Lokamp)

What The Federation

WTF Universal Champion (First)

Wrestling Federation Association

WFA Tag Team Champion (1 Time With Arianna)

Ring of Beauty

RoB Television Champion (1 Time, Final)