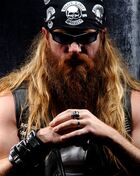 Statistics
Real Name
Victor Harrison
Ring Name
"Wild" Victor Diablo
Manager/Agent
Mr. Seven
Height
6 ft 5 in
Weight
245 lbs
Date Of Birth
August 3, 1968
Current Alignment
Neutral
Hometown
South Burlington, Vermont
Resides In
Clayton, North Carolina
Billed From
Clayton, North Carolina
Promotion
GWC
Debut
March 2008
Victor Harrison, known to the worlds of rock music and wrestling as Victor Diablo. Harrison was a guitarist in a band called Anarchy based out of his home state of Vermont. It consisted of him, one of his childhood friends, and two guys he met in college. After a few years of success with the band, he decided that he wanted to carry out his other dream, wrestling. He began training himself vigorously to get in better shape.
Personal Life
Harrison was born on August 3, 1968 in South Burlington, Vermont to Wesley and Janet Harrison. Harrison never went to college, but in high school he met two other aspiring musicians. One of them, Austin Nevon played bass guitar and the other, Billy Killinger played drums. They began without a singer, until Harrison found out that his good friend, Charles Newsom, who he had not talked to in a couple years due to Newsom moving, had developed a great singing voice over the years as well as being able to play guitar. They formed the band Anarchy.
After a while, Newsom left the band and was replaced by Ant Prefetto who could sing and play guitar just like Newsom. Making the band the following:
Vic Harrison: Lead Guitarist, Back-up Vocals
Ant Prefetto: Lead Vocals, Rhythm Guitar]
Austin Nevon: Bass Guitarist
Billy Killinger: Drummer
Harrison got married in 1988 to a girl he met in high school, Elizabeth Harley. They had two children, Kyle and Luna. Kyle was born on January 3, 1988 and Luna was born on March 23, 1990. Elizabeth had to drop out of college due to her first pregnancy. Eventually, Elizabeth filed for divorce, thinking that Harrison's band would never get anywhere. She gained custody of Kyle and Luna, but Harrison was still able to see them.
Currently, his daughter is a model and actess and his son is the lead guitarist for Anarchy, replacing his father while he carries out his dreams of wrestling. Kyle lives on his own with his girlfriend, Luna helped pay for a large house for her and her mother to live in.
Global Wrestling Coalition
Victor Diablo signed a contract with GWC in March 2008. His new agent, known to everyone as Mr. Seven, is his current manager. Diablo has a long dirty blond beard and long dirty blond hair. Most of the time, Diablo wears a bandanna. His wrestling and entrance attires are the same. He wears a leather or jean biker jacket on top of either a plaid flannel shirt, white or black tank top, or a t-shirt for a band (Disturbed, System of a Down, Metallica, and Ozzy are his favorites). Most of the time he is seen wearing a skull ring on his right ring finger. He usually carries a guitar to the ring with him (Guitars he owns can be seen in the Guitar Pictures Section).
In Wrestling
Finishing and Signature moves

Powerslam
Clothesline
Samoan Drop
Diving Headbutt
Piledriver
Camel Clutch
Superkick
Thrash Mania (Brainbuster)
Wildfire (RKO)
Finishing Move: Heavy Metal (Top Rope Tombstone Piledriver)
Theme Song(s)

"Perfect Insanity" by Disturbed (March 2008-Present)
Pictures of Family & Friends/Acquaintances
Left to Right: Mr. Seven, Kyle Harrison, Luna Harrison
Harrison's Guitars
Ad blocker interference detected!
Wikia is a free-to-use site that makes money from advertising. We have a modified experience for viewers using ad blockers

Wikia is not accessible if you've made further modifications. Remove the custom ad blocker rule(s) and the page will load as expected.