WNWA: Library Losers
Show Name
WNWA: Library Losers
Creator
GM Luke Leftwich
Network
OIL TV
Format
Reality TV/Wrestling
Opening Theme
Father Figure by George Michael
Country of orgin
United States of America
Running Time
One hour per episode
Starring
GM Luke Leftwich, Katie Peachy and the stars of the WNWA
First Aired
March 6, 2007
Last Aired
July 20, 2007
Original Run
March 6, 2007 - July 20, 2007
No. of episodes
26 per season
WNWA: Library Losers is a weekly, Tuesday afternoon reality program that airs exclusively on OIL TV. It showcases several stars of the WNWA and employees and patrons of the Braddock County Public Library.
The reality show follows GM Luke Leftwich in his attempts to recruit potential wrestlers from his library employees. We see him build a stable of male and female wrestlers, heal rifts among the members of his stable, and attack members of Frustrated Inc. some of whom are renegade library employees. Also featured are Leftwich's repeated attempts to protect Katie Peachy from the sexual advances of other men, while he unsuccessfully attempts to seduce her himself.
Leftwich is obsessed with Thunderlips' show, Thunder Knows Best, and sometimes rips off plots from it in order to make his reality show more exciting.
Each episode features at least one poor quality, fan-cam shot match from a WNWA house show or a wrestling event at Truman Marlin's World Famous Boys2Men Powerhouse Gym or the Braddock County Public Library.
Season One Episode Guide
Pilot - Leftwich brings hot dogs to a staff meeting. As they are not Hebrew National, Jody Boskivitz cannot eat them. Being vegans, The Yeti (who will eat sardines) and The Liberal Librarian also cannot eat them, and are offended that Josie's dietary needs were overlooked. The staff meeting breaks up as a fistfight ensues. Later Leftwich contacts Rabbi Rage to get advice on kosher food, and attempts to appease these slighted staff members by inviting everyone to a party at his McMansion, where Katie Peachy ruins the day by accidentally heating up the catered barbecue and the kosher meat in the same microwave. Rabbi Rage, Yeti, and the Lib respond to this by trashing portions of Leftwich's McMansion. At show's end, Joy is seen hiding in a corner secretly scarfing down a sandwich of non-kosher Parker Bros BBQ, straight from its Jesus is Lord wrapper. Bonus fan-cam match of Karma McCarthy def. Leon Sky by count-out.
Jabbajaw gets Married - Jabbajaw and the Guardian announce that they have secretly gotten married while away on vacation to a Star Trek convention. Leftwich throws a wedding reception at Jabbajaw's house. The Lib crashes his 2nd Prius. The Guardian begins his passive-agressive vendetta against the Lib, which gets increasingly problematic as Jody insists on constantly scheduling the Lib and the Guardian on desk at the same time. Later that night, Jabbajaw and The Guardian consumate their marriage as The Guardian appears nude wearing only Spock ears and an airplane bottle of champagne covering his manhood. Jabbajaw def. Mike Milligan at a BCPL event.
What is a Texan? - Leftwich attempts to infiltrate the Braddock County Cattlemen's Club, but first needs to know how to act like a proper Texan. He sees native Texan Big Pimpin' Ernest in the library liquor store, and asks him for advice on how to blend in. They go downtown to buy Leftwich a new suit and hat, and to practice a proper Texan walk. Hilarity ensues at the Cattlemen's Club induction meeting that night when Leftwich behaves exactly as Ernest told him to. Meanwhile, Aaron Whitaker and Chad Folsum are forced to attend Staff Forum with BCPL's pseudo-hetero director Kelly Millis alone! Curtis Lowe goes to the BCPL Public Computing Center and gets his doctor of divinity through the University of Nigeria Online. Da Brothas def. Mennonite Mafia at BCPL.
What's in a Name? - Leftwich holds a committee meeting to decide on a name for his new stable of wrestlers. Jody Boskivitz, not a member, also appears, taking minutes of the meeting to "make it official." The Yeti and the Lib are left to staff the reference desk alone for six hours as Leftwich's meeting drags on. Shamookey Sanders meets Jabbajaw and asks her to help him prove who his real father is. He is excited to learn that his daddy is a doctor, and hires Daniel O. Agbor to help him sue his father for child support. Shamookey Sanders def. CityD at Truman Marlin's gym.
GeneFestThree - Jabbajaw decides to have an outdoor genealogy festival in Texas in June!! Aaron Whitaker and Steven Grant are incredulous over this decision. Jabbajaw decides to take a three week vacation and tells them to plan the whole thing. Leftwich offers to help, but only gets in the way. Upon hearing that Shamookey Sanders will be making a presentation about deadbeat dads, The Guardian insists that the staff all wear umpire chest protectors to the event in case violence breaks out. The cameras reveal that Jabbajaw has not gone on vacation, rather she is gorging herself on porkrinds and Fritos while watching the Catholic channel and Sci-Fi non-stop. In the fracas at GeneFest, The Guardian loses his glasses. As the show concludes, we see The Lib obstructing a terrorist investigation at BCPL. Kevin Knox def. Poor Mike Skills after botched interference by Poor Matt Skills.
The GOP at the Braddock County GOP - Leftwich takes over the Braddock County Young Republicans. The Lib ruins his first meeting as president by having the GOP, Letravis Gorman and David Downs, crash the party. Shenanigans ensue! Jabbajaw, still on vacation, spies on the female staff members of BCPL trying to catch them in the act with Aaron Whitaker. Katie Peachy is given some type of pill by Leftwich, but he passes out before she does!! Yeti goes missing when he just doesn't show up for work one morning. The Lib wants to file a missing persons report, but fears Sheriff Washburn finding out about the obstruction of the terror investigation. Letravis Gorman def. Claudie Clay.
New Employee Orientation - BCPL hires a new employee to head the Public Computer Center and Leftwich closes the Reference Services Division so all employees can attend Jen Bryan's orientation luncheon at Chili's. Leftwich orders a Fungarita, Quesadilla Explosion and an Awesome Blossom and gets raging diarrhea. Retro's "Cummy Bear" manufacturing facility is discovered by CityD in the third stall of the third floor men's room. Wearing a bikini top and miniskirt, Katie Peachy goes to youth group meeting at Braddock Community Christian Church. Yeti is still missing, and Jody Boskivitz is almost in tears as a result. "Richard Nixon" def. Yeti after an Ass Butte run-in.
Jabbajaw's Triumphant Return - Jabbajaw returns from her three week vacation as Steven Grant comes down with a stomach virus. Jabbajaw refuses to let him take sick time however. Whitaker is depressed that Jabbajaw has returned and decides he is going to kill her. Jabbajaw steals Da Crunk's motorized shopping cart, and Whitaker attempts to turn her in to Sheriff Washburn. Davis is arrested instead. The Lib learns that Yeti is incarcerated at the Braddock County Prison Farm. The next day, Jabbajaw blows the motor on Davis' cart, spins out of control and crashes into the bookstacks knocking them all over. Leftwich asks Jabbajaw if she's doing alright 28 times in ten minutes. Grant vomits on Jabbajaw. As the show concludes, we see the Lib in Judge Jennings' office seeking his cousin's realease. Katie Peachy def. Karma in a bra and panties match.
As the Bean Curds - Someone has gone into the employee refrigerator and eaten Aaron Whitaker's hummus. Whitaker throws a minor fit and Leftwich has a video camera installed in the break room. Yeti's secret is revealed. Jabbajaw has a stroke at Tom Thumb and buys Mexican queso and beef tongue which she puts on her head. The Lib has diarrhea but has to spend his entire shift on the desk!! Jody Boskivitz reveals her secret crush to Jabbajaw, who has Aaron Whitaker announce it immediately over the intercom. The Guardian finds his glasses. Katie Peachy goes home early with menstrual cramps. Leon Sky battles the Guardian to a draw.
TLA - Leftwich , Peachy and The Liberal Librarian attend the Texas Library Association meeting in Dallas. Leftwich demands that The Lib wear a tuxedo with tails but Judge Jennings grants The Lib an injunction. Aaron Whitaker's application to attend TLA is turned down in favor of Katie Peachy. Whitaker plots his revenge by loading up his hummus with laxative. "Richard Nixon" and Ass Butte crash TLA and lay a savage beating on Leftwich and The Lib. Jen Bryan brings Whitaker some Goose Creek ice cream and tea back from Pennsylvania, but Jabbajaw gets to it first! Jabbajaw calls in sick. Ass Butte def. Billy Bell. Aaron Whitaker switches the outro theme tape for Leftwich Knows Best to The Rolling Stones "Sweet Neo Con."
You call yourself a Christian/ I think that you're a hypocrite/ You say you are a patriot/ I think that you're a crock of shit/
How come you're so wrong/ My sweet neo con.
Braddock County Wars - Fan-Cam footage of Yeti def. Kevin Knox. Jabbajaw decides to raise awareness about Texas' involvement in the Civil War, and hires some re-enactors to stage a battle in Digger Barnes Memorial Park, adjacent to BCPL. Leftwich invites all the re-enactors over to his McMansion for dinner the night before the event. The Confederates decline, being hardcore re-enactors and insisting on eating 1860s-era foods before any battle. The Yankees accept. Aware that many Yankees are Jewish, Leftwich decides to play it safe and serve only kosher food. Unfortunately, he told Katie Peachy not to store the kosher food in his fridge with the non-kosher food. So she left everything in an ice chest in Leftwich's garage, forgetting to add the ice. As a result, the Union forces were rushed to Braddock Memorial Hospital for treatment for food poisoning. Leftwich scrambled to find replacement re-enactors so BCPL Director Kelly Millis wouldn't be disappointed by the cancellation of his battle. Leftwich drafted every Yankee he knew to play the Union Army, including CityD, and the pacifists Yeti and The Lib. While this was happening, Rev. Dr. Curtis Lowe was staging a demonstration to protest the flying of the Confederate flag and glorification of the Confederacy. Meanwhile, Captain Redneck and Dale Taylor got wind of the protest and decided to play cavalry for the Confederate Army, driving through the park in Taylor's oversized pickup just as the Union forces opened fire. This caused some of Lowe's protestors to run off while others scrambled to get out their own weapons. As the melee ensued, The Guardian called Sheriff Washburn in to save the day. As the show closes, we see that several windows of the library were shot out by stray bullets.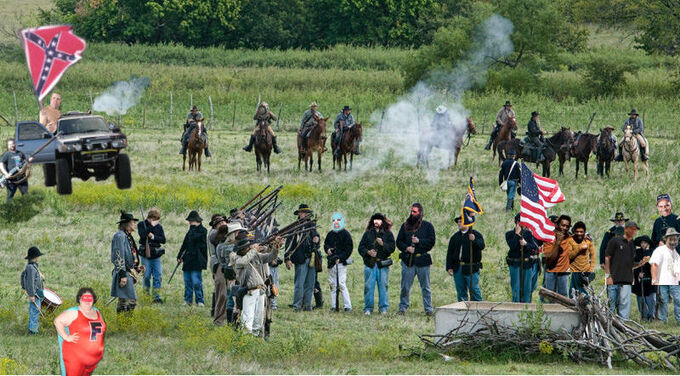 Where did all our money go? - BCPL staff members run out of printer cartrdiges, and can't afford to buy any more because Leftwich has been siphoning off funds to pay for Katie Peachy's daily rose bouquet, lunches at Chili's and expensive kosher hot dog parties. To make matters worse, most of the office supplies are missing, having been stolen by The Guardian to use in defense of Jabbajaw. And now there's no money to buy any more. What's worse, Retro has destroyed several hundred books with his recipe experiments, and there's no money to replace those either. What's a GM to do? Why hold a charity bachelor auction to raise money for the library of course. As the show concludes we see Leftwich announcing the list of bachelors to be auctioned off include: Da Crunk, Curtis Lowe, CityD, Yeti, The Lib, Steve Grant (Jabbajaw signed him up for this), Metro, Letravis Gorman, and Daniel O. Agbor. Sam Bash def. David Downs.
Bachelor Auction - This show centers around the charity bachelor auction Leftwich has arranged to raise money for the library. We see the auction and the "dates" afterwards. Steve Grant ends up with an insane woman who calls herself Porky or Chop Chop and keeps requesting that Steve type a love letter to Alan Jackson for her. Jabbajaw wins a date with Da Crunk and repeatedly asks him not to rape her, even though Da Crunk stays as far away as possible. Leftwich goes on a dream date with Katie Peachy who crushes him by saying she is seeing someone! The Lib is crushed when Jody Boskivitz bids on Yeti instead of him, and sadly watches them leave for their date at Parker Bros BBQ. Karma paid big bucks for a date with Letravis Gorman. BCPL Library Board member T. Diana Belle-Little purchased a date with Daniel O. Agbor and flaunted her "new man" in front of Curtis Lowe, who shouted to Agbor to "wear a glub". CityD and The Lib were the only two unpurchased "prizes" and left together. Special attraction: The 2000 Dixie Pool Hall Brawl featuring then World Heavyweight Champion Lord Shaftsbury taking on Captain Redneck with Redneck winning the World title.
Childrens Library- Kelly Millis hires a new supervisor for the Childrens Library. All the worthy candidates are passed over in favor of Millis's close, personal friend Retro!!!! Millis waives the policy that the supervisor must have experience, an MLS and no felony convictions. Leftwich interviews for the position of assistant director but breaks out in hives right before the interview!!! Katie Peachy and Aaron Whitaker are in the break room and Katie says hello to him prompting rumors by Jabbajaw. Jabbajaw finds out the other Librarian IIs went to lunch together without asking her. Her paranoia reaches its peak!! In response, The Guardian passive aggressively refuses to fill an ILL! Special bonus match: The Liberal Librarian destroys Beau James.
The Green-Eyed Monster- Katie Peachy excitedly tells Leftwich that J.R. Ewing has offered her her own TV talk show, Life's Just Peachy. She says that Jesus laid it on her heart to accept the offer, and that J.R. has said that every Friday she can use the show to offer a poolside testimonial to her Lord while modeling the latest fashions in swimwear. She is very excited, and Leftwich is beside himself with jealousy and anxiety. He makes Katie promise to still be on his show, and to film her poolside Friday sermonettes from the pool at his McMansion, saying he will even be her cameraman! Meanwhile, Jabbajaw is less than thrilled with this news, and plots with The Guardian to approach J.R. about getting her own Catholic show of herself reciting the rosary each evening. Also, The Lib continues to struggle to come to terms with Jody's growing feelings for Yeti. Special bonus match: Metro def. Delbert Johnson.
How Green Does Your Garden Grow?- Leftwich decides that library staff should give up their own free time to plant flowers around BCPL. As an expert on the environment, Yeti is put in charge of the process. Yeti insists on gardening in raised beds as if he's still in New England, and this requires a tremendous amount of extra watering to keep the plants alive through the hot Texas summer. After seeing the great care and vast amounts of water and plant food that Yeti is daily giving his flower beds, Dale Taylor sneaks onto the library property one night and replaces Yeti's plants with some of his own marijuana seedlings, thinking Yeti can just do all the work of growing them for him. Yeti can't tell the difference and continues to raise the little plants as his own. All is well until Sheriff Washburn comes to the library to threaten Leon Sky, a new ex-con who has moved into his district. Washburn spies Yeti lovingly watering a bed full of pot on county property, and arrests Yeti once again, telling him "Boy, since you like to dig in the dirt so much you can join the county chain gang and dig out the stopped up sewer main." As the show closes, we see that The Lib has observed Yeti's arrest. Deep in thought, he goes up to his office, and encounters Jody Boskivitz, who asks him what's going on. He replies, "nothing." Special bonus match: Rabbi Rage def. Jost Schmucker.
Wither GM?-Leftwich receives the shocking news that he has been passed over in his quest for promotion to Library Operations Manager in favor of the closet-Nazi Inez Mitchell thanks to the influence of retiring Library Operations Manager Liz Bien and Library IS Manager Joannie Saulright. Leftwich flees into the hinterlands of West Texas. Katie Peachy is left in charge of RSD. The Lib turns up the heat in his attempts to seduce Jody, inviting her to come for a ride on his new Veg-moped. Jabbajaw takes great pleasure in Leftwich's pain as she realizes he will continue to be her boss as she has an innate fear of the unknown and a heightened sense of her own worth. With new wind in her sails she drives Aaron Whitaker to the brink as she yammers on and on about everything under the sun. Steven Grant is on vacation in Corpus Christi. Yeti suffers greatly at the hands of Sheriff Washburn. Retro offers Leon Sky a job in the Children's Dept as a visiting summer storyteller. Big Pimpin' Ernest gleefully trashes a week's worth of recyclables with no interference from the absent Yeti. Special bonus match: Jabbajaw def. CityD in a sparring match at Truman Marlin's Gym.
Jailtime for Jabbajaw-Aaron Whitaker places an anonymous call to Sheriff Washburn filing a missing persons report on Leftwich and accusing Jabbajaw of kidnapping him. He plays Washburn a spliced together tape of Jabbajaw comments that appears to be the smoking gun. Washburn arrives at the Texas Collection and takes Jabbajaw away in cuffs. The fun doesn't last long for Whitaker and Grant however, as Katie Peachy decides to put The Liberal Librarian in charge of the Texas Collection in Jabbajaw's absence! Jabbajaw has a hard time adjusting to life at the Prison Farm. The Lib weeds most everything of historical value in the Texas Collection with the exception of items related to African-American history. Big Pimpin' Ernest is forced to recycle dozens of boxes of old books and paper from this project, with no Yeti to help. Whitaker makes contact with Leftwich and tells him what all is going down and how Jabbajaw is secretly out to get him. Leftwich says he will be back soon, but first wants to know if everyone is "doin' alright?" The Lummox successfully defends the WNWA World Tag Team Championship against Karma and CityD
Missing Persons Report-The Guardian has no idea what has happened to Jabbajaw, having been in a meeting with Inez Mitchell for his performance evaluation while the arrest went down. Whitaker timed his betrayal well. We see The Guardian, with help from Shamookey Sanders, searching BCPL and the adjacent Barnes Park for signs of Jabbajaw. Meanwhile, Jody goes on a search of her own for Yeti, checking all his regular campsites. Ms. Shitifa goes looking for Tyrone Jefferson. Karma, desperately missing her daily affirmations from Leftwich, hires BCPL Security Guard Bill Jones, who moonlights as a Private Investigator, to find the GM. To prevent The Guardian from calling Sheriff Washburn to file a missing persons report (and finding out where Jabbajaw really is), Steve Grant sends him off on a wild-goose chase, telling him Jabbajaw had been complaining of becoming addicted to her various prescription medications, and had talked of entering Sue Ellen's Place, a rehab facility for rich white women that was set up by Sue Ellen Ewing. With Shamookey in tow, the Guardian sets off for the Center. Special bonus: Da Crunk and Ms. Shitifa def. Jabbajaw and The Guardian.

Back and Better Than Ever- Leftwich returns to BCPL wearing a cowboy hat and cowboy boots. He informs the RSD staff that he simply went on vacation and that he had withdrawn his name from consideration for the Library Operations Manager position before the decision was made, so therefore he really wasn't passed over. Mitchell begins acting like she is already in that position and begins overstepping her bounds. She begins a covert witch-hunt with Joannie Saulright to put Aaron Whitaker and the younger librarians in their place without Leftwich's knowledge. Leftwich learns of Jabbajaw's imprisonment from a reluctant Aaron Whitaker and goes to the Braddock County Prison Farm to bail her out. While there he discovers the Yeti and Curtis Lowe have also been imprisoned, so he bails them out as well. He asks Lowe for spiritual advice on dealing with backstabbing employees. Lowe says for him to "beat that fatass bitch into da ground, foo!!!" Jabbajaw discovers that The Lib has weeded 90% of the Texas Collection in her absence and declares war on him and Katie Peachy for leaving The Lib in charge. The Guardian tries to show some affection to Jabbajaw who shoves him away. Leftwich assumes command of RSD and calls a meeting. He tells his staff that a Judas is among them and that he has been betrayed-how right he is, but he suspects Jabbajaw rather than the real Judas, Mitchell. Jen Bryan pays the IT guys, Chet and Johnny to sabotage the computer system so she won't have to teach a beginning porn surfing class in the PCC. CityD attacks Hampton in the 3rd floor restroom. Retro debuts his newest pastry, "Creme Horns" for the RSD staff meeting. Aaron Whitaker wisely demurs, saying he can't eat such a carb-unfriendly dessert. Retro protests that they are much higher in protein than carbs. The entire RSD staff, with the exception of Whitaker, call in sick the next day. Special bonus match: Leftwich def. Piss Pants Milligan after interference by Jabbajaw.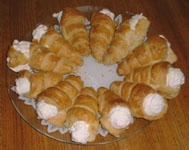 This Summer, Boldly Go- Not to be outdone by Retro's summer reading program for children, Leftwich puts The Guardian in charge of a summer reading program for young adults. The Guardian decrees that nothing speaks to young people like Captain James T. Kirk, and he implements a program designed to turn all the youths of Braddock into Trekkies. The highlight is a re-enactment of various episodes of the original series, re-enacted by various BCPL staff and patrons, excluding the liberal faction of the staff, who all prefer to spend the summer hosting anti-war demonstrations. As Leftwich gathers volunteers, Jabbajaw is very excited and signs Steve Grant up for this, since he is the spitting image of Dr. "Bones" McCoy and frequently responds to her medical tales of woe by saying, "Dammit Jaw, I'm a librarian, not a doctor!" Special bonus match: The Guardian def. Karma in a sparring match.
Vacation - Aaron Whitaker takes his annual vacation to Pennsylvania leaving Steven Grant all alone with Jabbajaw. Not to be outdone, Jabbajaw takes a vacation as well, leaving Grant to run the Texas Collection alone. Meanwhile, "Richard Nixon" makes several appearances throughout Pennsylvania's Susquehanna Valley as the Keystone State Heavyweight Champion. Coincedence? Leftwich asks for volunteers to help move books into new shelving, but no one obliges. Retro debuts his new bottled water, which has a very cloudy, lemonade-like appearance. This time, none of the staff takes him up on his offer. Ass Butte, sans Nixon, makes an appearance prompting Bill Jones to have to separate Butte and The Lib. The Lib triumphantly displays his new "title." Whitaker returns to discover that Jabbajaw has taken a vacation as well, and has left hundreds of unanswered e-mail and telephone queries for him to handle. Bonus match: "Richard Nixon" def. T.M.I. (a very badly costumed jobber who is supposedly radioactive) in Ronks, PA.
Slow Day in Braddock - An alarmed Yeti alerts Jabbajaw that he hears a mother beating her child in the library restroom. Jaw enters, and confronts Ms. Shitifa, who is spanking Papsmearia. Jaw attempts to reprimand Ms. Shitifa, but backs off quickly when Ms. Shitifa gets "up in her grill" and challenges her to a wrestling match right then and there. Jaw runs out of the restroom and into the safe arms of The Guardian. Later that day, Sheriff Washburn confiscates The Liberal Librarian's VegMoped from the library's bike rack. It is illegal to own or operate alternative-fueled vehicles in Braddock County, and the VegMoped is sent to the junkyard to be crushed. As the Sheriff attempts to ascertain the owner of the unregistered VegMoped, the Lib tells him the vehicle in question belongs to Karma. Washburn takes one look at Karma, asks no questions, and hauls her off to do 3 days at the prison farm. Bonus match: Jabbajaw and Jody Boskivitz spar at Powerhouse Gym in a match preparatory to Jabbajaw facing Shitifa at UnCivil War.
Capt. Bill Jones to the Rescue - Katie Peachy has been missing for three weeks, during which time Leftwich has gone increasingly insane in his mad search for her. Captain Bill Jones has been reviewing footage of Katie's show and discovered Leon Sky lurking in the background. Sky has been absent for the same three weeks as Katie, so Capt Jones alerts Sheriff Washburn and they storm Sky's trailer on the outskirts of Braddock. They find Katie drugged and being filmed by Sky in a series of movies for "WJJ Productions." Leon Sky is arrested and Capt. Jones receives a hefty reward from Leftwich, who has a tearful reunion with Katie. Meanwhile, Retro and Kelly Millis have their daily lunch at "An Inconvenient Cafe," where they are impressed by the talents of Tony Fanuci and decide to temporarily hire him to replace Sky as the BCPL visiting summer storyteller. The Liberal Librarian is loathe to let Fanuci go, but cannot cross Kelly Millis. Featured Match: Sheriff Washburn allows a cage brawl out at the Prison Farm between Leon Sky and Curtis Lowe, who have disrupted chain gang work repeatedly with their arguments over Katie Peachy. In a close match, Sky finally defeats Lowe, mocks him afterward, and makes a new enemy in the WNWA.
"How do you spell fake?" (season finale)-The mental deterioration of Jabbajaw continues as she asks Aaron Whitaker "How do you spell fake?" following yet another mini- stroke. Whitaker, thinking she said "vague" spells that word for her and Jabbajaw obligingly places it in an important memo. Shenanigans ensue when the city manager, Leftwich and Kelly Millis receive an e-mail referencing a "vague dickumen" (fake document). An enraged city manager demands that BCPL staff have no access to computers as they are obviously "porn freaks." The Lib, Aaron Whitaker, Jen Bryan and a few other staff members with guts form a protest that turns ugly when a raging Lib nails the city manager with the Cut and Run, followed by the Late Term Abortion. Since The Lib is not technically employeed by BCPL he can not be reprimanded. The seeds for Mitchell's Gestapo-like management of the library have been born. Bonus match: Da Crunk def. Piss Pants Milligan with the Cut a Y.
Season Two Episode Guide
Budget Battle - BCPL has a wrestling ring in its auditorium which is used for impromptu wrestling matches between patrons and staff to settle library fines and also between staff members to settle disputes. The Children's Dept and Research Services both make a money grab when Kelly Millis announces the new budget. Millis decrees that a wrestling match will determine which department gets the funding. Leftwich declares that The Liberal Librarian will represent Research Services, and Tony Fanuci happily volunteers to represent the Children's Department, as he has several old scores to settle with The Lib. As the match begins, Fanuci begins beating The Lib mercilessly, and The Lib calls on his cousin to help him. Having recently recovered from injuries at Memorial Day Massacre, Yeti enters the ring, climbing to the top rope while annoucing that he and The Lib will conquer Fanuci and spend the money putting in a huge new recycling center for the whole city of Braddock, which will allow Big Pimpin' Ernest to see that no recyclables inadvertently get thrown away. As The Lib and Yeti begin double-teaming Fanuci with Late Term Abortions and Ultra Liberal Legdrops, Ernest is heard to exclaim, "Aw HELL no!" and he thunders towards the ring. The super heavyweight Ernest makes short work of the flyweight Yeti and steroid-pumped Lib, who didn't realize that steroids make you bigger but not necessarily stronger. Ernest throws the cousins out of the ring and knocks them unconscious on the library's tile floor. Joy Bozkivitz rushes to Yeti's aid and drives him to the hospital where he is placed in a wheelchair with two injured legs. The audience files out. CityD takes pity on the abandoned Lib, and takes him to the 3rd-floor men's restroom to "clean him up." The children's department gets the funding, which Retro uses to build a peep-show theater, and Fanuci and Ernest vow further revenge on the two bearded cousins who have been ruining their lives for months.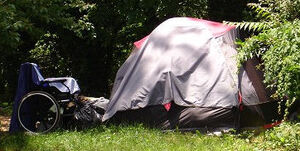 Judge Jennings to the Rescue
Upon hearing of The Lib and Yeti's loss to the unheralded Fanuci and Ernest, Judge Jennings calls a special session of the 9th Circuit Court of Appeals. That liberal court temporarily restored parts of the decision of the United States Supreme Court in Scott v. Ferguson of 1857 for the county limits of Braddock, TX!!! However, the court made certain super exceptions to that rule. The only legal slaves are Italian-American males born on May 9, 1966 in Philadelphia, PA by the name of Tony Fanuci and who weigh more than 500 lbs. Jennings restores Fanuci to The Liberal Librarian, however, he also rules that Fanuci must continue in servitude to Kelly Millis and Metro. Big Pimpin' Ernest goes unpunished by this ruling, however, he is savagely attacked by The Vagrants, the Bell Brothers, a wheelchair bound Yeti and The Lummox while The Lib looks on in arrogant silence. Meanwhile, The Turd and Retro announce a new kitchen collaboration- Creme Brownies- combining The Turd's delectable fudge brownies with Retro's creme filling. Special bonus match: The Turd def. Leon Sky following The Plop.
New Rivalries - Francesca Fanuci, AKA Mamma Mia Fanuci, comes to the library breakroom to eat lunch with her son, Tony, a temporary employee. Jabbajaw engages Mamma in conversation, which soon turns to Catholicism. Mamma declares that recent-convert Jabbajaw is not a true Catholic, while Jabbajaw claims Mamma is backsliding by her sinful behavior as hostess in An Inconvenient Cafe. The two get into a heated debate, which ends when Mamma gives Jabbajaw "The Miracle of the Rosary." Meanwhile, The Guardian is downstairs having trouble with a new library patron, T.M.I., who objects to the slanted Vietnam War books The Guardian has in his section. Leftwich declares this to be a perfect dispute to be settled in a library wrestling match, so the two enter the ring. The two incompentent wrestlers circle each other, with The Guardian "going Kirk on youo ass" while T.M.I. unsuccessfully attempts to lay a "radiation leak" on the Guardian. The match eventually ends in a draw, as neither man is really much of a fighter. The audience is disappointed and hurls garbage at both men's heads as they slink off in different directions. Kelly Millis hires Mamma Fanuci to be the head of Technical Services!!
Whatcha Gonna Do...- The Liberal Librarian, who is starting to show an impressive physique, introduces the staff to his new live-in girlfriend, Gail Donnelly. Unfortunately, Gail does not have an impressive physique. Leftwich, as is custom, takes Donnelly around the library and awkwardly introduces her to the staff. Jabbajaw stumbles around and clumsily offers Gail "congratulations" for her new job (despite the fact that Donnelly is not an employee). Aaron Whitaker asks Leftwich if there is ANY way Jabberjaw can be fired, but Leftwich simply looks at Whitaker with a vacant, grinning stare. The Lib announces that he is taking a weeks vacation to prepare for his Hell in the Cell match against Ass Butte at UnCivil War. He will be going to Venice Beach, CA to "Hang and Bang with the big boys." Joining him on this trip are The Lummox, The Yeti, The Turd, and Da Crunk. Meanwhile, Jabbajaw bumps into Gail Donnelly in the third floor women's room and says "Sir, you are in the ladies' room." Donnelly smashes Jabbajaw and runs from the restroom calling for The Lib. The Lib goes into a roid rage and starts trashing the third floor before eventually going into the Texas Collection and locking Jabbajaw in the Cross Face Leftwing. Steven Grant tries to pull The Lib off to no avail as Aaron Whitaker urges The Lib on, yelling "Pull, PULL!!! Choke her out!!!" The Guardian charges up the stairs as he hears the death wail of his wife. Eventually, several customers along with Grant, CityD, Leftwich and The Guardian manage to extract Jaw from the hold. The Guardian pleads with Leftwich to let him take on The Lib in the library wrestling ring. Leftwich tells him that he has no chance without help, so he, CityD, Steven Grant and Aaron Whitaker will help him in a five on one handicap match. All the competitors go to the ring, but Whitaker is "attacked" from behind by a short "Richard Nixon" whose body looked much like Chad Folsum. "Nixon" struck Whitaker with a roll of microfilm and Whitaker sold it like it was a cannonball. Whitaker smiles as he leaves the ring area with the fake "Nixon." This leaves The Guardian's team one man short. Leftwich, after seing Whitaker go down, realizes he has no chance and also feigns an injury. He tells Grant and CityD to make him proud. The Lib makes short work of these three fools, gaining the win with a brutal Partial Birth Abortion on The Guardian. Leftwich then sends Big Pimpin' Ernest charging to the ring, but The Lib sidesteps him and sends him crashing through the ropes and sprawling onto Leftwich, crushing the small man. The Lib then gets on the intercom and growls "Whatcha gonna do when LiberalMania runs wild on YOU!?!?!?" He and his cronies then head to the airport for their training trip.
The Night The Line Was Crossed (Series Finale)- After an intense investigation into the Internet habits of BCPL employees, Inez Mitchell decides to assert her authority by going after the most popular employee at BCPL, Aaron Whitaker, all on the accusation that he posted a supposed insult about Karma on a social networking site. When confronted with the news (not by Mitchell, Millis or Saulright who are deathly afraid of Whitaker and run as soon as they see him) by Jabbajaw, Whitaker cooly and calmly in his best Son of Sam impersonation says "what took you so long?" Whitaker, with pleasure, resigns immediately and swears revenge on BCPL. Chad Folsum, who had earlier quit the dump, tells Whitaker that Solie Public Library has the exact same position (actually with more responsibility, better health insurance, better pay, and a 401K plan) available and Whitaker accepts the position less than a week after quitting, causing Mitchell, Millis and Saulright to blow gaskets. Mitchell installs all kinds of surveillance and tracking equipment at BCPL and requires patrons to be patted down as they leave the library. The show ends with Whitaker being promoted to Collection Development Manager at SPL after less than three months while his former colleagues at BCPL suffer the wrath of their miscreant and incompetent administrators.
Ad blocker interference detected!
Wikia is a free-to-use site that makes money from advertising. We have a modified experience for viewers using ad blockers

Wikia is not accessible if you've made further modifications. Remove the custom ad blocker rule(s) and the page will load as expected.