The WNWA American Heavyweight Championship was one of the original titles in the WNWA. The title is no longer in existence. However due to a clerical error, the championship was not sold to J.R. Ewing by former WNWA owner Earl Nixon when Ewing purchased the WNWA. Nixon instead sold the title to Judge William J. Jennings in May 2007. Jennings changed the name of the championship to the United Nations/American Civil Liberties Union International Human Rights and World Peace Heavyweight Wrestling Championship and awarded the title to The Liberal Librarian on May 30, 2007.
Title History
Dante Inferno 3/20/97 Greensboro, NC def. Donovan Black in tournament final.
Captain Redneck 5/10/97 Spartanburg, SC def. Dante Inferno.
Title vacated on 8/3/97 when Captain Redneck was suspended for attacking WNWA President Earl Nixon. Title was dormant from 1997 to May 30, 2007.
The Liberal Librarian 5/27/2007 Braddock, TX def. Ass Butte by retroactive disqualification and awarded the title on May 30, 2007 by Judge William J. Jennings.
Title vacated after The Liberal Librarian threw it away upon winning the World Heavyweight Championship.
Images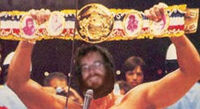 Ad blocker interference detected!
Wikia is a free-to-use site that makes money from advertising. We have a modified experience for viewers using ad blockers

Wikia is not accessible if you've made further modifications. Remove the custom ad blocker rule(s) and the page will load as expected.