WRV Arena

The Mosh Pit
The Red Zone
The Playground
Opened:
2007
Owner:
Chris Banks
Construction:
$213.5 million
Tenants:
Wrestling Revolution
Capacity:
Mosh Pit: 24570
Red Zone: 25000
The WRV Arena is an indoor arena in Roswell, Georgia. Completed in 2007 at a cost of $213.5 million, it is home to WRV live events and the other rock bands. It is owned and operated by WRV chairman, Chris Banks. The arena is actualy a complex, composed of two identical buildings and a football field. One building, the Red Zone, seats 25,000 for wrestling, and the other building, the Moshpit seats 18,000 for wrestling and concerts.
Bands in the Moshpit
Bands that have made special performanced at the Mosh Pit include the following:
- Saliva
- Korn
- Rise Against
- Fight Paris
- Three Days Grace
- Breaking Benjamin
- Rage Against The Machine
- Disturbed
- John Cena (The First And Only Hip Hop Artist)
The PlayGround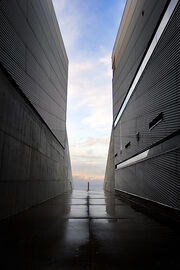 The Playground is a flat land area behind the arena used for various events, such as outdoor concerts. Not like the Pit, The Playground is easier to be rented out
See Also
Ad blocker interference detected!
Wikia is a free-to-use site that makes money from advertising. We have a modified experience for viewers using ad blockers

Wikia is not accessible if you've made further modifications. Remove the custom ad blocker rule(s) and the page will load as expected.