Willie Moleman
Statistics
Name
Willie Moleman
Birth Name
William Sam Martin
Debut
2007
Date of birth
December 11, 1955
Hometown
Sturgis, South Dakota
Retired
N/A
Resides
N/A
Place of death and date
N/A
Willie Moleman
, real name William Sam Martin, is a backstage and on-location interviewer, currently employed exclusively in the
Pro Wrestling Council
(PWC) and the
PWC: Ultimate Wrestling Association
(PWC:UWA). He is your classic backstage interviewer, who is harmless and cracks lame jokes from time to time. He will try to get what information he can from the interviewee and if he feels someone is doing wrong, he will bring it to their attention, which usually leads to some sort of confrontation.
EARLY CAREER
William started his career as the PA announcer for Thursday Night Mud Wrestling at the Hogs on the Hill nightclub and garage in his hometown of Sturgis, South Dakota. He was given the name "Wet & Wild" Willie because he would get so excited about the ladies in the mud, he would dive in and wrestle with them.
After a the nightclub was closed down due to repeated fire and safety violations, William got a job working at a mechanic's garage fixing up Harely's and other vintage hogs and motorcyles. He held that job along with working as a DJ at the local bowling alley, where his reputation as "Wet & Wild" got him any jobs working various parties and clubs around Sturgis.
He continued to work in the garage and DJ for several years until he injured his left hand when the throttle of a Harely kicked back and caused the engine to crack and hot oil burned him severly, burning through the skin and damaging nerves. Now he could not spin records and he definitely could not work on bikes, so he tried to find work using his voice.
William later found work as a local DJ on a small radio station that played country music in Sturgis. He became very popular with the locals and had picked up a few affiliate stations outside of Sturgis and into the bigger cities in South Dakota. William then grew tired of just DJ'ing and wanted more to do with wrestling, as he grew up watching it, but he didn't have the physical attributes to be an actual wrestler.
DREAM COME TRUE
One night when a local wrestling show came to town, up and coming superstar Golden Hulk defeated The Masked Grappler in the main event. As Golden Hawk celebrated his victory, he pulled William into the ring to pose with him, much to the delight of the fans. William had fun during this time as this would prove to William that he wanted to get involved with professional wrestling in some form or fashion full time.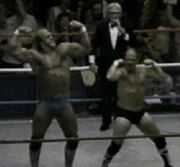 SEARCH FOR WORK
Even though William was a local celebrity in Sturgis and some parts of South Dakota, he wasn't known in many other regions. He tried to branch off and find work in other markets but it didn't work as the markets he was trying to get into were looking for more nationally known personalities.
He did not let this get him down and soon an opportunity came knocking when he was working a wet t-shirt contest in a small bar in Memphis, Tennessee, that he was discovered and offered a job by Tommy Polo and his girlfiend/valet, Tracie Bottoms.
The working relationship would be exclusive as Tommy Polo was having problems in the promotion he was working for and wanted someone to conduct exclusive interviews with him to get his side of the story, as he wasn't given a fair shake in getting his voice heard. William agreed to the terms that Polo came up with and he now was getting closer to his dream of being involved in professional wrestling.
THE UNKNOWN INTERVIEWER
Tommy Polo brought William to the federation he was working for and used him exclusively as his personal interviewer. During these interviews, William would attempt to introduce himself to the general public but something odd would always happen where he would not be allowed to say his name. It later became a running joke and he would be known throughout the federation as The Unknown Interviewer based on no one knows who he was and he had not said his name in any of his interviews he had conducted with Polo or a couple other wrestlers in the federation.
There were times where Polo and Tracie would verbally and physically abuse William. They would call him various names such as Poppa Smurf, Hans Moleman, Slick, Toad, and other derogatory names. He often questioned his position with Polo, whether it was deserving that he was being abused or if Polo was a total asshole. It was later revealed that Polo was simply on edge due to his position within the federation and he needed someone to take his frustrations out on verbally and physically every once in a while. William understood the situation and accepted it, as he felt, regardless of what's going on around or to him, he'll be noticed by a bigger and better promotion and move on.
Assaulted and left for dead
Tommy Polo has a knack of creating enemies and if those enemies can't get to him, they reach for the closest to him. During a feud that Polo was having with the champion of the federation, who was also a part of management, the champion assaulted William out of spite, and left William for dead. After this incident, William aka The Unknown Interviewer was not seen again in that federation and soon after, Polo quit due to his ongoing feud with management.
PRO WRESTLING COUNCIL
A new NWA-style promotion which started in March of 2008, hires William as their backstage and on-location interviewer. William will be working closely with the Pro Wrestling Council and one of their signed federations, PWC: Ultimate Wrestling Association.
OTHER TIDBITS
Being called all sorts of names throughout his career, the name Moleman stuck with him the most and he adopted it. He combined that name to his earlier DJ name and became Willie Moleman.
Ad blocker interference detected!
Wikia is a free-to-use site that makes money from advertising. We have a modified experience for viewers using ad blockers

Wikia is not accessible if you've made further modifications. Remove the custom ad blocker rule(s) and the page will load as expected.