The Xtreme Television title replaced the original TV title in march 2007 as an influx of young cruiserweights meant a weight limited title could be ran as an alternative to the US and World titles. The title is owned by
TWOStars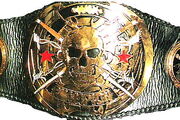 XTV title
The XTV belt is the equivelent of the Junior Heavyweight or cruiserweight titles found in other companies.
the title was retired when TWOstars became a 3 division company and the XTV and US title belts were retired in favour of the 3 major title belts.
Upon unification of those belts the TV title was brought back and the weight limit removed and now represent the 3rd tier title in the company
Xtreme Televison Title History
1st March 2007 The TV title belt is renamed the Xtreme Television Championship and will only be eligable for wrestlers at 240 pounds or under.
April 8th 2007 Wrestlenova 2007 Joseph Helms wins the title in an Xscape Match
June 10th 2007 Zero Tolerance Twiggie wins the belt in a triple threat match involving Sickness and Joseph Helms
August 23rd 2007 Sickness beats Twiggie in a match refereed by a biased Evil Gringo.
October 2007 The belt is retired.
Statistics
| Record | Record holder | Record number |
| --- | --- | --- |
| Longest reign | Twiggie | 74 days |
| Shortest reign | Joseph Helms | 63 days |
| Oldest champion | Sickness | 27 years old |
| Youngest champion | Joseph Helms | 23 years old |
| Heaviest champion | Sickness | 234lbs |
| Lightest champion | Joseph Helms | 165lbs |
Ad blocker interference detected!
Wikia is a free-to-use site that makes money from advertising. We have a modified experience for viewers using ad blockers

Wikia is not accessible if you've made further modifications. Remove the custom ad blocker rule(s) and the page will load as expected.